Last updated on 31st May 2023
In this article we're going to cover everything you need to know about small business video marketing.
If you have a small business then you need to start investing in video content. Video content is extremely popular with consumers these days, with people watching an average of 17 hours of online video content per week and 89% of people saying video has convinced them to buy a product or service.
In addition to that, 91% of people said they WANT to see more online videos from brands in 2023.
Those statistics are pretty amazing! But you're a small business owner. You're savvy. You want to know more before you start investing in a video content marketing strategy.
Well, read on…
What is video marketing?
Let's start at the beginning. Video marketing is the process of using video content to market your brand, product, or service.
The goal doesn't always have to be increasing sales. You can create marketing videos for a number of reasons. For example, to increase awareness of your brand, gain more followers on social media, promote brand loyalty, educate your current customers – the list goes on and on!
It doesn't matter if your brand is B2B, B2C, or even a non-profit. Every business can benefit from a video strategy.
Why 2023 is a great time to start video marketing
For a small business, video marketing has previously been something that was seen as perhaps too expensive to justify. But the truth is, in 2023, video creation is becoming more cost effective and accessible for everyone.
According to our Video Marketing Statistics 2023, 26% of video marketers think marketing videos are becoming less expensive to make and the majority of marketers (42%) spend less than $500 on an average video!
Pair that with the fact that 92% of video marketers say video gives them a good ROI and it's difficult to see why you wouldn't add video marketing to your content strategy!
5 types of video content to market your small business (with examples)
Before we take a look at the different types of video you can use to market your small business, it's worth quickly going over the different styles of video content you can make.
Live action
Live action video uses real people and real locations to tell a story. You can use actors in live action videos or show off your team to humanise your brand. Perfect use cases for live action video content include customer testimonials and behind-the-scenes footage.
Animation
Animation gives you the power to make your vision a reality. Basically, if you can think it and a designer can draw it, then animation can bring it to life. As such, animated videos are best suited for explainer videos.
Screen recorded demo
A screen recorded demo is exactly what it sounds like: a recording of a computer or phone screen with your app, platform, or software on it. These types of videos are best for sales demonstrations and even teasers that show off what your software can do.
Mixed media
Mixed media is essentially a mixture of any of the three marketing video types already mentioned. So, for example, you could have a live action shot of a person working at a desk and also show a screen recorded platform at the same time.
Within those different styles of videos, there's also other genres of video content. As a quick example, animation can mean anything from flat graphics to stop motion. If you want to find out more about different video styles, check out this article: 12 Types of Video and How to Use Them.
Now, let's get into some video marketing examples from real small businesses to take a look at how this works in practice.
1. Explainer videos
An explainer video is your chance to explain what your business does. Explainer videos are extremely versatile. You could use yours on your website homepage, to attract attention at an event or convention, or to increase awareness on social media.
Here's an example that we made for a small business called Group Social:
In just 60 seconds, this video explains what Group Social does for both brands and influencers, including a host of benefits.
The use of animation has made this unique, colourful, and bold, giving Group Social the best chance of standing out wherever they choose to use this video.
Standing out is something that's important for small business video marketing, especially on social media platforms that can be so competitive.
2. Social media videos
Speaking of social media, this is probably one of the best use cases for small businesses when it comes to video marketing.
Social media allows you to reach your target audience where they're spending most of their time online. According to Statista, the average internet user spends over 2 hours on social media every single day.
Here's an example of a great social media video from a small business: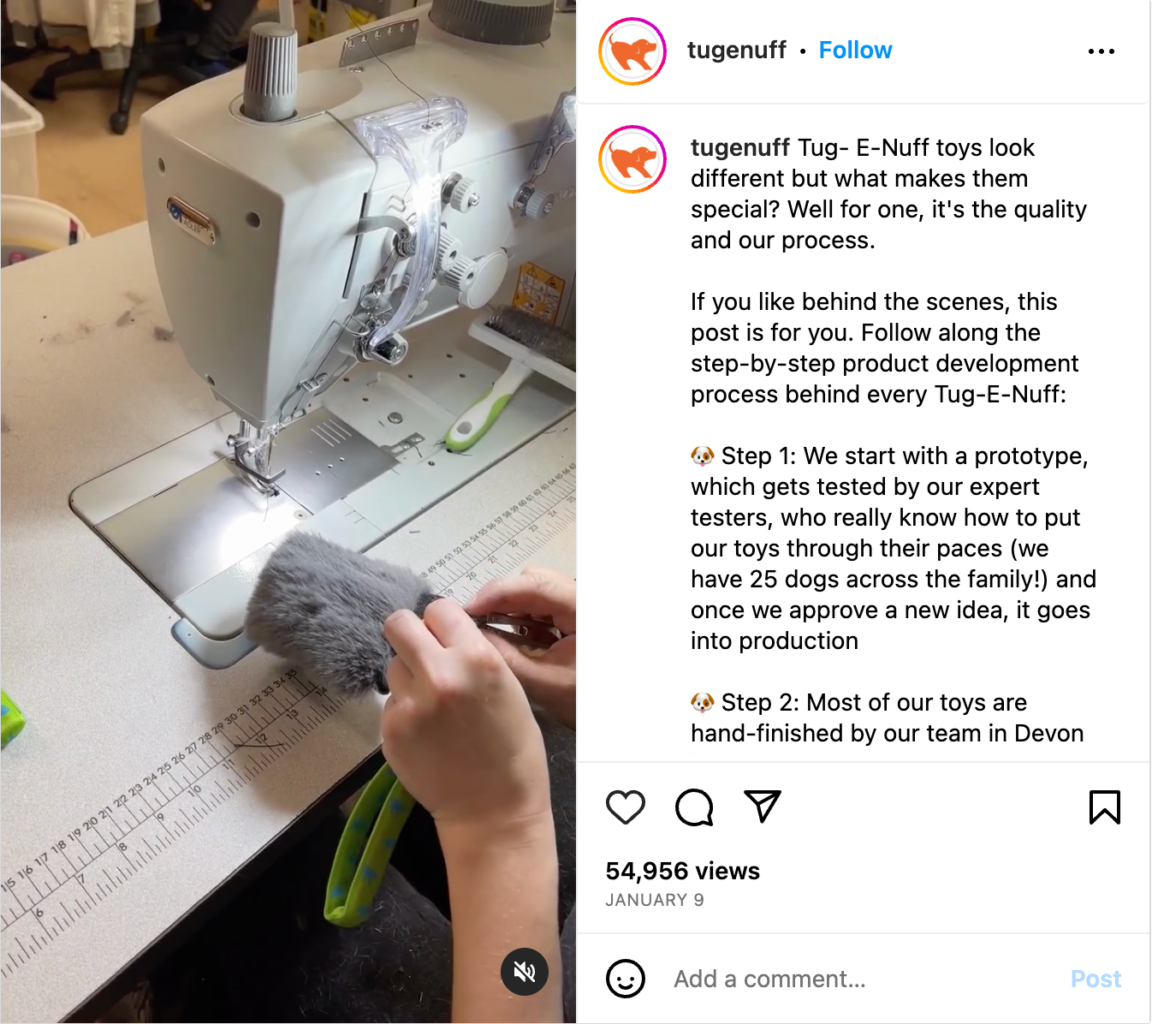 (Click here to watch the video)
This simple behind-the-scenes video from dog toy company Tug-e-nuff probably took very little effort to make. And yet, it clocked up almost 55,000 views and educated a lot of potential customers on the quality of their products.
This shows that you don't need to necessarily invest thousands into high quality video production to begin adding video to your digital marketing strategy.
3. Customer testimonial videos
A testimonial video is another way you can start creating video content for a low cost and time investment.
Testimonial videos are a great way to show potential customers that your business is trustworthy, which can be one of the barriers to conversion, especially for smaller, lesser-known businesses.
As a small business ourselves, we've created some testimonial videos with our amazing clients. Here's an example:
Customer testimonial videos like this one can do wonders for your business. According to our Testimonial Statistics, 2 out of 3 people say they'd be more likely to make a purchase after watching a testimonial video demonstrating how a business, product, or service has helped another person like them.
And all you need to make one is a camera, some simple editing software (like Windows Movie Maker or iMovie), and a happy client!
4. Video ads
A big barrier for a small business owner can be getting your product in front of the right people. Video ads are a great solution for this because with their targeting capabilities you can hone in on only the internet users that make up your target audience.
Here's an example from a small fitness company called Boho Beautiful:
(Click here to watch the video)
This video appears as a pop up on a landing page, but you can use video ads pretty much anywhere now – YouTube, social media sites, TV, and even Kickstarter campaigns.
Video ads are a powerful marketing tool for reaching new customers and increasing awareness of your small business.
5. Product demo videos
The last type of video we want to call out is the product demo. Product videos have a multitude of uses. You can use them as educational videos to improve user experience for existing customers, or you can use them to convince potential clients to move further along the buyer's journey – making them a fantastic tool for your sales team.
Here's a great example we made for BritBox:
This simple animated demo takes users through the steps required to redeem a gift subscription. This is just one of thousands of different use cases for product demo videos!
Creating a video marketing strategy for small businesses
1. Define your goals
The first step in creating a video strategy is to define your goals for your campaigns. You need to ask yourself who the video is for and what you want to achieve.
For example, do you want to create educational videos for existing customers?
Do you want to create an informational video for potential customers?
A branded video for social platforms?
The list is practically endless!
It's really important to be in depth about this as knowing your goals will help you remain focused when creating videos, and this will set you up for a better chance of success!
2. Research your target market
Once you know your goal, the next step is to research your target market. The better you know your ideal potential customer, the easier it will be to keep your audience engaged and hopefully realise your video goals.
If you already have a large customer base that you're aiming your marketing video at then you can do your research manually by sending out a survey to your email list or creating a poll on a social media platform, like Twitter or Instagram.
If you don't yet have a way of reaching your target audience and/or you want to expand your reach, you can use a survey tool, like SurveyMonkey.
SurveyMonkey allows you to quickly and easily create customised surveys, so you can find out more about your potential clients.
You can also use the tool to target your ideal customers, narrowing down by country, age, income and so much more:
This can help you to ensure you're asking the right questions to the right people, and this will hopefully help you to create videos that resonate.
3. Make your video
Now things get really exciting! It's time to create your brand video. Depending on the type of video you want to create, you can either make this in-house or you can reach out to a video production company.
If you have the funds, working with a video marketing agency is the best way to go. The world of video is so saturated that to make your video stand out in 2023 it's best to work with professionals who know content creation like the back of their hand.
In addition to creating a video with a high production value, an agency will be able to give you advice on what makes the most effective videos and how to get the best emotional response from your audience.
4. Promote your video
To really reap the benefits of video marketing, you need to promote your video as much as humanly possible! Send it out to your email list, create a blog post, create an SEO-optimised landing page, invest in paid advertising and, of course, post on social media.
Here's an email example: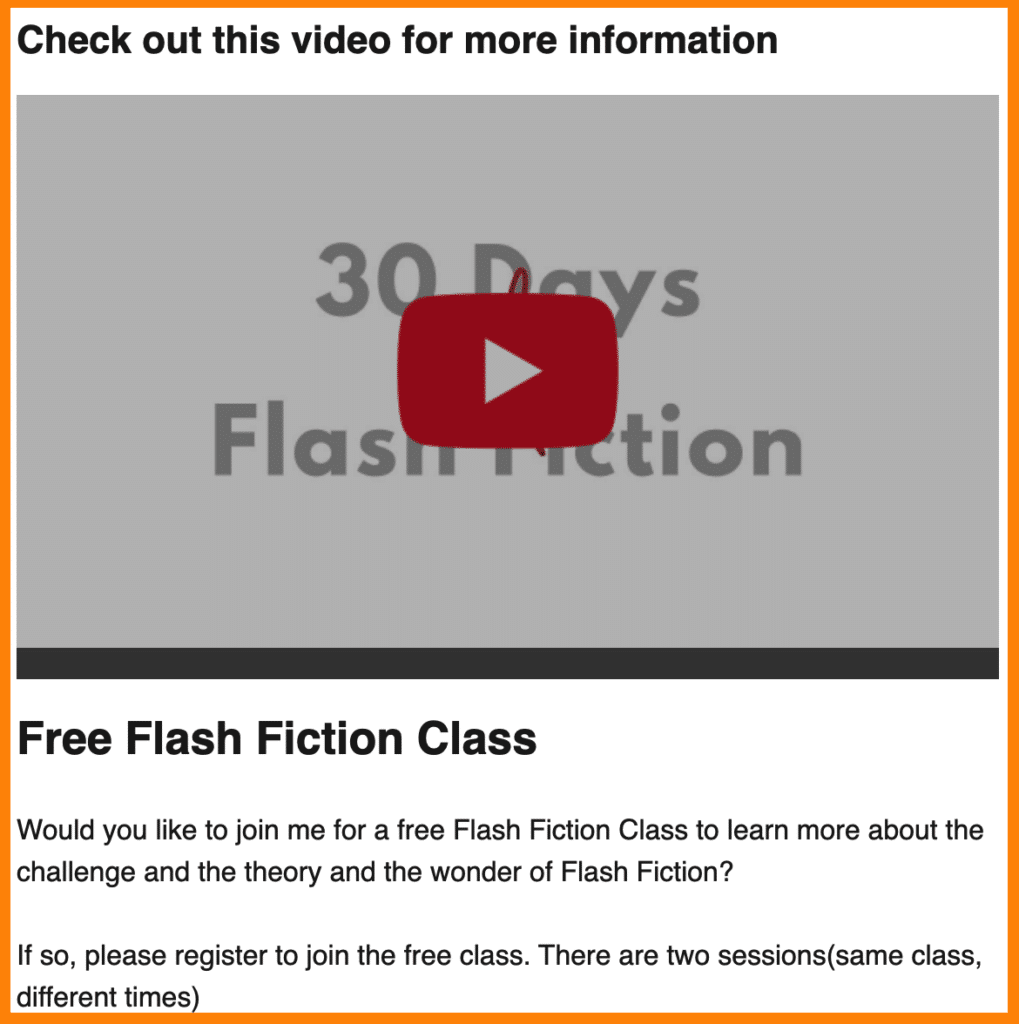 (Click here to view the full email)
It doesn't matter how great your video is, promotion is the key to success when it comes to video marketing, especially for small businesses.
(Click here to watch the video)
We get that this is an absolutely huge and daunting topic, especially if you're new to the world of making videos. But hopefully this article will help: 17 Powerful Video Marketing Promotion Strategies.
5. Measure your ROI
The last part of your video marketing strategy should be to measure the ROI of your video campaign.
This is likely going to be different for everyone, depending on your video goals and the type of video you've created. For example, if you created a demo video for existing clients then maybe you want to take a look at watch-time metrics and recurring customer stats, to see if you gained an increase in customer loyalty.
However, if you posted some short videos on social media then your ROI is more likely to relate to how many followers you gained and/or if you saw an increase in brand awareness or visits to your landing pages.
Here's some data from our Video Marketing Statistics 2023 that shows how different marketers view video success:
As you can see, there's quite a range there! All you need to worry about is tracking what's important to YOU, that's the only way you'll be able to find out if video works for your small business.
10 Small business video marketing tips
1. Invest in professionalism
Creating a video is a time-consuming venture for most small business owners, and in a lot of cases it's also a big investment in cost.
As video is so prevalent these days, and small business videos have to compete right alongside videos from huge multi-million dollar corporations, it's important to invest in professionalism.
This doesn't necessarily mean working with a video marketing agency, although that's a great idea – especially if this is your first time creating videos.
It also means, if you're making the videos in-house, that you need professional equipment, like a great microphone and a decent lighting set up. A professional voiceover is also important.
With consumers spending so much time online watching videos, they'll instantly be able to tell if a video looks professional or not.
2. Get the script right and the rest will follow
Planning your business video is crucial to ensuring that your video project stays on time and on budget.
Your video script will essentially act like a plan or blueprint for what you need to film or animate – and we recommend this every single time. Even if you're creating a 6 second YouTube ad, you need a script!
Once you have your script nailed down, everything will follow and you can ensure you won't miss little details or be forced to re-record because you changed your mind or no longer like your idea. Create a script. Make sure you're happy with it. And then start producing your video.
3. Keep it short
When it comes to video content, the shorter the better. Research suggests that the human attention span is shrinking even below that of a goldfish!
So, as much as you may want to cover all of the amazing features and benefits of your product and service in one video, try to keep it succinct.
4. Use emotion
If you want your videos to stand out, and have more chance of being talked about and shared, then it's best to use emotion.
Whether you make people laugh or cry, using emotion in videos is something that can help small businesses to stand out in a saturated market.
If you're looking for some social proof, check out this huge list of awesome explainer videos and see how many use emotion to tell a memorable and engaging story: 60+ Awesome Explainer Video Examples (2023).
5. Don't be afraid to be different
For small businesses, it can be tempting to play it safe when it comes to video marketing. But, think of those video ads that have stuck with you over the years – maybe your favourite ones of all time – it's almost a guarantee that you remember them because they had something 'different' about them.
A great example of this is the initial explainer video for Dollar Shave Club:
This video is all kinds of 'can't-look-away' weird, and that worked wonders for what was then a startup business with a modest budget of $4,500 for their video.
Hours after the launch of their product video, the brand's website crashed from too much traffic and that year they took $3.5 million in revenue! The company has since been acquired by Unilever for a reported $1billion dollars. And it all started with a video.
6. Look into several distribution channels
You'll want to post your videos in the obvious places, like YouTube, on your socials, and on your website – but it's important to share your video in as many different places as you can.
The more distribution channels you find for your videos, the more eyes you're going to get on it and this is exactly how to get your money's worth from video marketing!
There are probably more distribution channels out there than you think. This article is a great place to start: 15 Best Video Distribution Platforms for Video Marketing in 2023.
7. Measure your success
Don't forget to measure the success of every one of your videos. After all, that's the only way to know if your video marketing efforts are paying off.
This ties in with the goals mentioned above. Whatever goal you have for each specific video, measure the metrics that will signify success for that goal. For example, the success metric for a how-to video could be a reduction in customer queries, whereas the success metric for product videos might be an increase in sales.
Or, maybe you simply want to look at views, watch-time, and shares – whatever your goal is, don't forget to measure your success.
8. Don't stop at one
When it comes to your small business video marketing strategy, diversification is key. You want to work on creating a catalogue of videos that cover all different areas and different parts of the buyer journey, so you can delight new customers and loyal customers alike.
With our expertise in this area, we'd say that an explainer video is probably your most important video asset and a great place to start.
But from there, it's important to create different types of videos from how-to product videos (that educate customers) to fun social media videos that spread awareness of your brand.
One thing to remember when creating multiple videos is to keep them all uniform (same logo, same brand colours, same fonts, and so on), so that they're easily recognisable as belonging to your brand.
9. Take advantage of UGC
UGC stands for user generated content. It basically means that customers have created video content about your product, brand, or service. Here's an example from GoPro: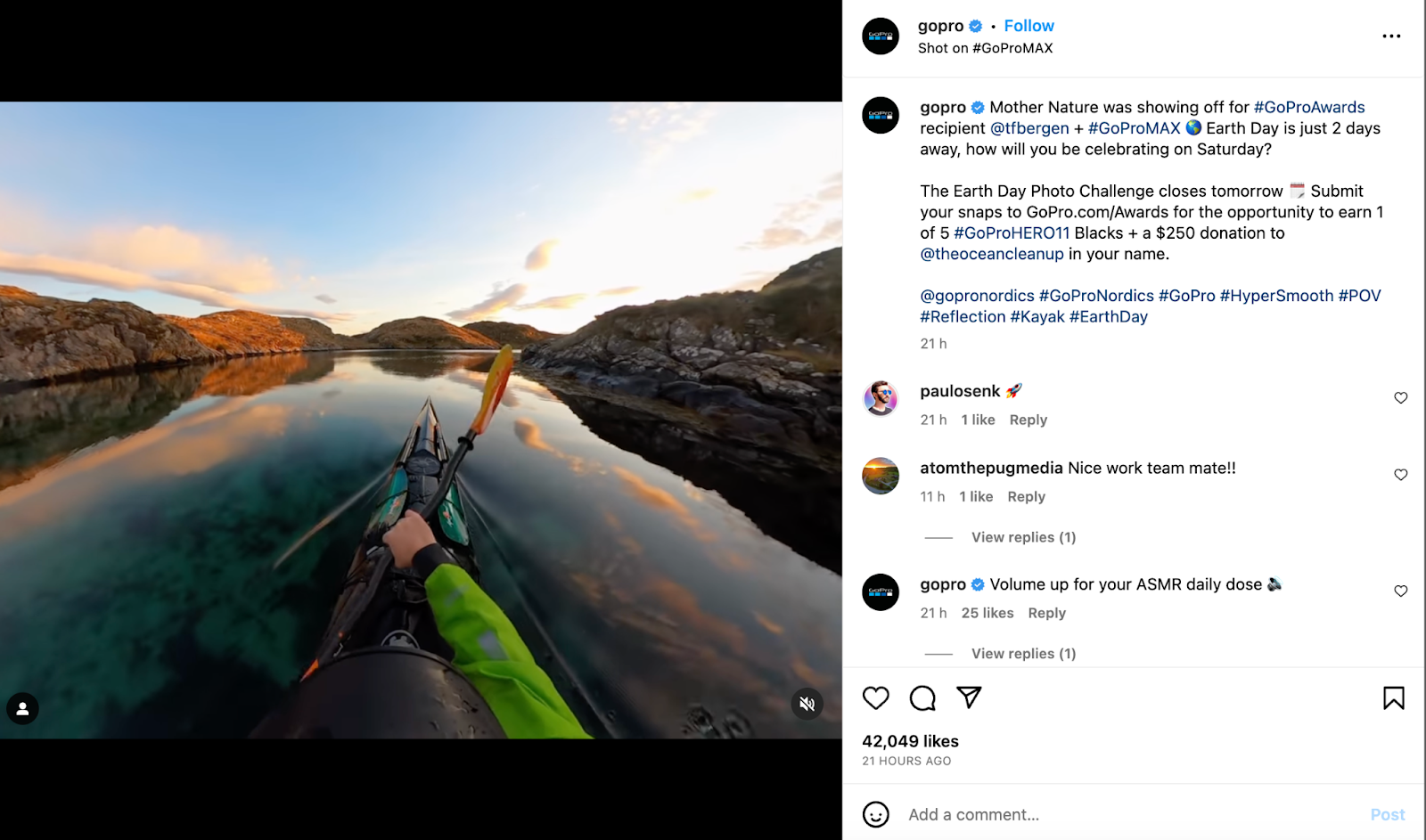 (Click here to watch the video)
However, GoPro is a huge brand. For small businesses, this could be a more difficult thing to obtain but it's definitely worthwhile when you consider that 9 out of 10 people say they trust what a customer says about a business more than what that business says about itself.
Here's another example, this time from a small business called Cottage Delight, in partnership with a social media influencer (and one of our very own writers!):
(Click here to watch the video)
How to's from ordinary people or social media influencers, as demonstrated in this video, give your product or service an invaluable level of social proof that you simply can't create alone.
10. Remember the importance of SEO
As amazing as your video may be, search engines don't have the power to watch it and so they'll struggle to index it without you helping them out with some solid SEO. This means including compelling copy and targeted keywords alongside your video.
Here's an example from our sister brand, Project.co on YouTube. As you can see, lots of relevant terms have been used in the video title and description:
There are other factors to consider as well, including your video thumbnail, the duration of the video, and the date that it was posted.
Video SEO is such a huge topic that we created our very own ultimate guide, check it out here: Video SEO: The Ultimate Guide.
Final thoughts
Video marketing is a great way for small businesses to spread the word about who they are and what they do.
Video can help you stand out, increase brand awareness, and ultimately generate more sales for your business.
If you're ready to find out more, take a look at our Explainer Videos page to get started!