Last updated on 9th August 2023
Who do you think is a more credible ambassador for your business, you or a satisfied customer? While you clearly know your stuff, that matters little to consumers – they want proof that you're the real deal. So the importance of testimonials cannot be overstated.
Our research tells us that nine out of 10 people trust what a customer says about a business more than what that business says about itself. As a result, customers are likely to spend 31% more with a business that has good customer testimonials, according to Spectoos. That's a gold mine waiting to be tapped.
Read on to find out why testimonials are important and how to use them in your marketing.
The importance of testimonials
Testimonials are the rubber stamp of approval that many modern customers need to seal the deal. In a world of fake news and "influencer" mistrust, consumers have grown weary of sensationalised sales claims. Which is exactly why testimonials are important – to customers and marketers alike – for building relationships.
Not yet sold on the importance of testimonials? Let us convince you with our top reasons for making testimonials a major part of your marketing strategy.
They build trust and credibility
Reputation is everything in business. Which company are you more likely to go for, the one with no reviews or the one with hundreds of positive reviews? Bingo. And therein lies the importance of testimonials for enlisting your most enthusiastic brand advocates to deliver some reputational flex on your behalf.
According to BigCommerce, 72% of consumers say positive reviews and testimonials make them trust a business more and 88% of consumers trust online reviews as much as personal recommendations. That's a huge amount of credibility you can leverage with some well-executed testimonials from genuine customers.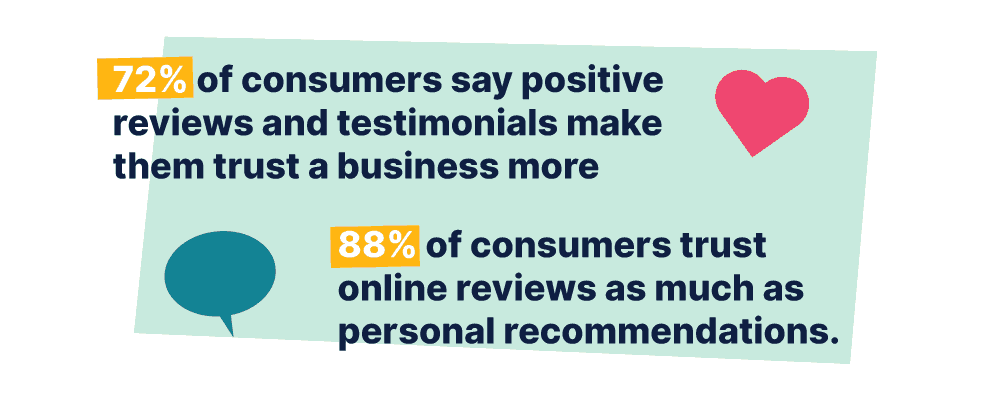 They provide social proof
Have you ever bought a product because a celebrity endorsed it? Or eaten at a restaurant because your friends and family swear by it? Perhaps you've joined a queue just to find out what all the fuss is about (we've all been there)? That's social proof. It's a simple case of "if it's alright for them, it's alright for me."
Used correctly this can be a very effective sales ploy. In fact, a staggering 95% of people say that reviews – whether positive or negative – influence their purchasing decisions, according to our own research. Because a great testimonial taps into our herd mentality and persuades us that we do need that product or service after all because everyone else can't be wrong, right?
They show how a brand's problems/pain points can be solved
A brilliant testimonial can illustrate how you were able to solve a recurring challenge for your customers. Better still, it can do it with way more immediacy than a brochure or press release would. Especially if you go down the route of a video testimonial.
According to our State of Video Marketing survey, 69% of people say they'd prefer to learn about a product or service by watching a short video compared to just 18% for text-based articles. By combining the power of video demonstrations with testimonials from genuine users, you're ticking all the right boxes for customer engagement.
They humanise your brand
We all love a good story. Our curiosity and empathy towards other human beings is ingrained in our psyches. Which is another reason why testimonials are so effective. They provide a human interest angle that enables customers to relate to, connect with, and better understand the products and services before them.
Big brands spend millions on glossy advertising campaigns to reveal the human side of their business. You can achieve the same outcome at a fraction of the cost by sourcing great testimonials. It's well worth the effort when you consider only 34% of B2B buyers are willing to consider vendor-related content as trustworthy.
They increase conversions
According to BigCommerce, customers who interact with a review are 58% more likely to convert and 50 or more reviews can generate a 4.6% increase in conversion rates. Wouldn't you like to grab a slice of that action? It just goes to show that the more positive testimonials you can get from your customers, the more likely it is you'll convert more.
It's easier than you think to get those testimonials too. Research gathered by G2 reveals that 80% of reviews originate from follow-up emails and that 68% of consumers have left a review for a local business after being asked. So you're much better off being proactive with a follow-up request for a review than leaving it to chance.
Yes, it's going to take some legwork, but just think of those conversions.
How to use testimonials
Now you know why testimonials are important, here are our tips on how to use them effectively.
On your website homepage
The first impression many new customers have of your business is your homepage. It's the digital equivalent of a shop window, so dress it up with an enticing display! This is no time for modesty; make your glowing testimonials nice and prominent, so visitors can see what a great job you do.
You only have a very limited amount of time to keep a website visitor's attention (15 seconds to be exact). So make it count. Some glowing testimonials can work wonders. If you're going to display customer reviews, it helps to have verifiable details – like full name, location, photo and links to their original review – to maximise credibility.
If you're a B2B company, it's worth adding quotes and logos from some of your more impressive clients. You could even include these in a slider/carousel banner at the top of your homepage for maximum visibility and impact. That way visitors don't have to scroll too far to find your testimonials.
If your company has been gaining decent press reviews, you might also consider featuring snippets from these testimonials on your homepage. Subscription shaving service Harry's add some serious clout to their typically no-fuss homepage with testimonials from big-hitting media outlets, like GQ and The Telegraph.
Harry's have positioned their testimonials at the foot of their homepage, which is a pretty standard technique. It's tantamount to a final gentle nudge once the customer has found out what they're all about.
On a product or service page
Of course, the next touch points in the customer journey are likely to be your product or service pages. While they're checking out the goods, it's a great idea to reinforce just how thoroughly brilliant you are at what you do with a well-placed testimonial here as well.
Here's a shameless plug within a plug if ever you saw one (!), because we actually do this at Wyzowl. All of our product pages feature a pull-out quote from some of our happy customers to demonstrate the worth of our services. It's a neat trick to subtly reassure your customers that you're legit.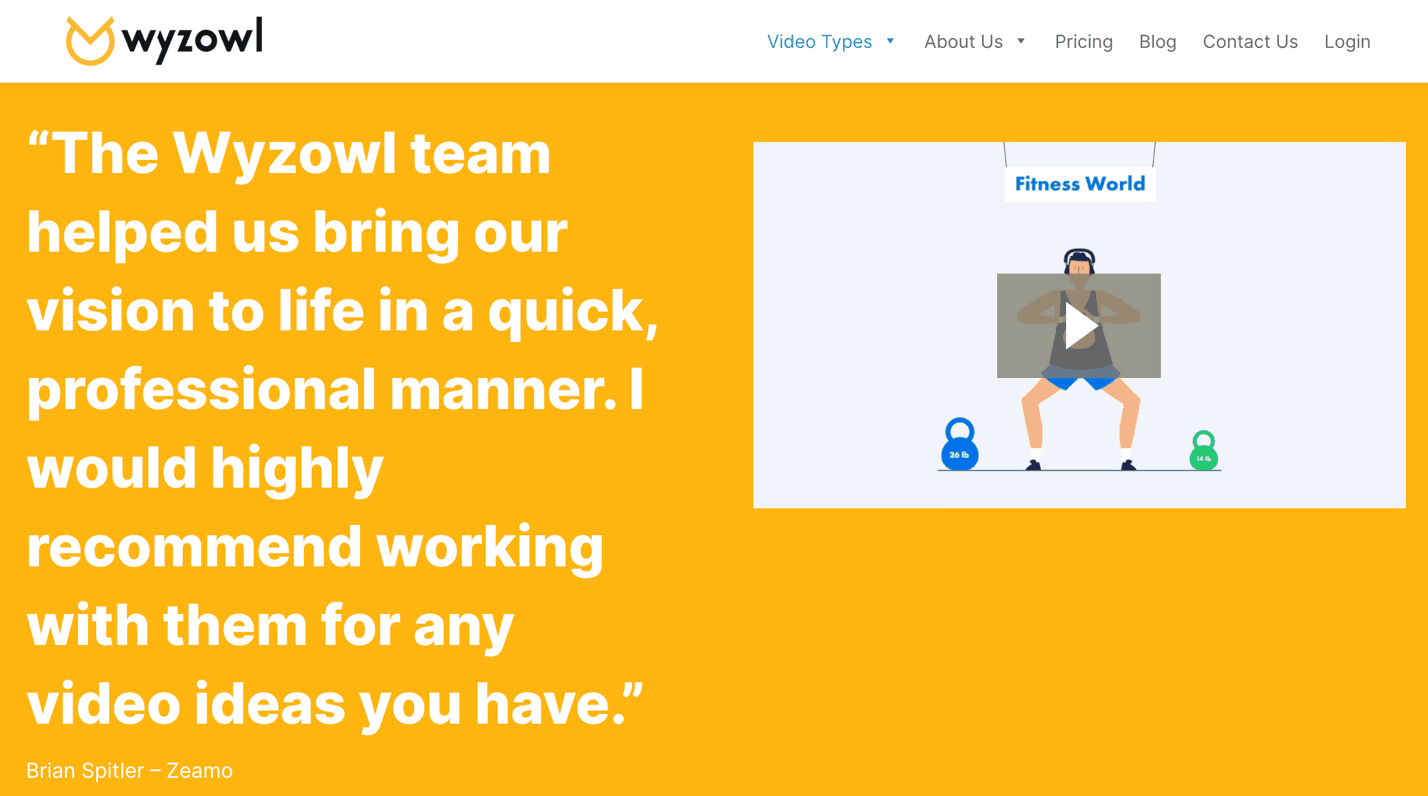 There's a certain reassurance you get from a timely testimonial when browsing a business' products and services. It's a reminder that other people – real people – have used your business and loved what you delivered. Every bit of positive reinforcement you can give will coax your customer closer to the finish line.
On social media
Social media is a great place to exert some social proof. We all display a certain amount of what's known as "implicit egotism," which is our unconscious bias for people and things that remind us of ourselves. The trick is to share testimonials on your social channels that tap into the pain points of your audience.
You can actually use social media for discovering those pain points by monitoring hashtags and topical discussion threads. LinkedIn is a great tool for gauging B2B opinions. Armed with the knowledge of what really grinds your customers' gears, you can tailor your testimonial content to speak directly to those concerns.
Let's say you've noticed a trending malaise regarding shoddy customer service in your industry. That's your "in" to collate all the testimonials that paint your customer experience in the most positive light and create some shareable content, like an insightful blog post, some eye-catching images, or an engaging video testimonial.
You could also set aside some budget for boosting your posts or creating paid adverts that get your testimonials in front of a bigger target audience. Check out this example below from American self-publishing platform Lulu Press. It's a nice visual testimonial that also leverages the customer's Trustpilot review for extra credibility.
As part of a crowdfunding campaign
If you're aiming to kickstart a crowdfunding campaign to raise much-needed funds to bring your idea to market, it's a great idea to include some testimonials from early adopters of your product or service.
When you're asking potential backers to put their hands in their pockets to support your vision, you need to quickly establish trust, belief and confidence in your business.
So by including genuine testimonials from enthusiastic fans – whether that be in the form of pull-out quotes, a detailed case study or a video interview – you're providing extra legitimacy to back up your funding plea.
Back in 2012, Oculus was a little known maker of virtual reality hardware. The company's founders launched a Kickstarter campaign to bring their Oculus Rift headset to market. Part of their approach was to produce a video packed with testimonials from industry influencers and software houses.
It worked. Not only did Oculus raise a cool $2.4 million through their Kickstarter campaign, but Facebook soon came knocking and bought the business lock stock and two smoking barrels for an even cooler $2 billion.
In an email campaign
There's only so many times you can tell your existing customers how great you and your products/services are in an email. Customer testimonials can move the narrative on without you sounding like a broken record.
One super-effective way to encourage customer engagement and gather meaningful feedback at the same time is to create an email survey campaign. With a compelling subject line and the right questions, you can gauge what your customers really think of your brand and what you have to offer.
They get the chance to relay their thoughts, you gain valuable insights and – as a welcome bonus – you have a legitimate reason to then share their opinions in follow-up emails.
Once again, it's worth asking your customers for their feedback to achieve the best results. According to Retail Week, Marks & Spencer (M&S) reputedly saw a 427% increase in customer feedback since adding customer reviews functionality into its post-purchase email campaigns.
In a blog/case study
Blog posts and case studies are great ways to expand on a customer's testimonial story. They're your chance to add an injection of colour and detail beyond a simple "great, product…highly recommend." So how do you go about doing that?
First, touch base with your customer to ask permission to feature their testimonial. Then, once you've got the green light, you can arrange to interview them to produce either a case study style blog or an interview piece that allows them to share their experience.
Either way, the aim of the game is to tease out the issues they faced, the solutions your brand was able to offer, and the results they enjoyed after using your product or service. For a little bit of effort you'll gain high-quality content that's credible, authentic and resonates with your audience, just like this case study by LinkedIn.
On a dedicated testimonials page
Okay, so you're amassing a good number of positive testimonials. Happy days! But how are you going to show them off to your customers? A dedicated testimonials page, of course. You can make this as flashy or low-key as your design skills and budget allow. There are countless plugins that will even do the job for you by pulling through reviews to your site automatically.
The main thing is that your customers' glowing testimonials get centre-stage billing. What you're doing is providing a hub for customers to find out exactly what other customers think about your products and services. This helps you to establish trust and encourages them to buy into your business.
Event software providers Bizzabo have created a testimonials page that positively oozes social proof. If prospective customers were in any doubt about their products, the pull-out tweets, client case studies and video testimonials leave no stone unturned to convince them to take the plunge.
In the wake of GDPR, it's not as straightforward as it once was to create a testimonials page. Whether you're based in the U.S. or Europe there are various legal hurdles you'll need to negotiate, as SEO guru Neil Patel outlines here. The main takeaway is to always, always, always get the written permission of the reviewer before using their testimonial.
In a sales presentation
A sales presentation is a chance to show off a solution that entices your prospects to purchase the product or solution on offer. If you show them how you can solve their biggest challenges (rather than simply telling them how great your products are), you're likely to face a much more receptive audience.
One of the major barriers of any sales pitch is overcoming scepticism. If you're pitching to a room full of salespeople or budget-conscious managers, the number one question you'll need to overcome is: "Why should we believe you?" It's a fair point but one you can sidestep smoothly with some well-placed testimonials.
Testimonials can be a really powerful way to break down any lingering doubts or misconceptions your potential buyers might have. Because they're not coming directly from you or your brand, your customer testimonials can add a touch of unbiased candour to your pitch.
Next time you're pitching for new business, be sure to include some positive testimonials in your slide deck to build up your credibility. Lookalike audience providers Rev (formerly LeadCrunch) did this to perfection in this sales deck, highlighting several impressive testimonials and following up with a slide full of happy customers' logos.
On your event materials
Traditional marketing materials have been on a steady decline as digital marketing has muscled in over recent years. But that's not to say that offline marketing materials have had their day. Far from it. There's definitely a time and a place for them, as part of a well-rounded sales and marketing approach.
Exhibitions and conferences are an obvious example. Trade stands, pop-up banners, leaflets and hard copy brochures are still vital tools in any sales and marketing team's arsenal. These are all great vehicles for displaying genuine customer testimonials that make a lasting impression on your audience.
In a video
Written testimonials are definitely effective. But a video conveys so much more meaning in a shorter space of time and with far less brain power needed on your audience's behalf. A recent survey of ours revealed that 79% of people have watched a video testimonial to find out more about a company, product or service.
Think about it; you've got visuals, audio and text all in one neat package. That's two out of the five senses working in unison to absorb your message. Seeing and hearing a customer's genuine enthusiasm for your business is far more appealing than receiving the same message from someone within the business.
We're big fans of video testimonials at Wyzowl. After all, video is what we do and we truly believe in its power. So we try to incorporate video testimonials from our clients as often as possible, like this one about recruitment agency marketplace platform, Hiring Hub.
You can create your own similar testimonial videos to promote your products and services. It's easier than you think to get your video made. The initial outlay for producing a video testimonial pays off several times over thanks to the evergreen content you'll inherit, which you can use across all your marketing channels for years to come.
Shameless plug: If you are interested in creating video testimonials from your customers then please get in touch. We offer video testimonial creation as a service. We do all the hard work and give you the final video testimonial files at the end of the process! See more about this on our video testimonials page.
Final thoughts
By this stage, you can surely be in no doubt as to the importance of testimonials. They're a vital tool for building trust, credibility and social proof amongst your customer base. Use them liberally across all your digital and offline marketing materials and you can hope to see an upturn in conversions and a boost to your profits in no time.
If you'd like to learn more about the power of customer testimonials, check out these 20 Super effective testimonial video examples for added inspiration.