Last updated on 19th May 2023
A great YouTube banner is a great first impression for your channel: it sends a clear message that your channel is well-maintained, well-loved and worthy of your viewers' time!
But before we dig in, let's clarify what a YouTube channel banner actually is and walk through some basics to bear in mind when creating any type of channel art.
What do we mean by YouTube channel art?
A YouTube banner is a header image that stretches to take up the top horizontal position on a page, much like a Facebook cover photo. These banners occupy a lot of space. As the very first thing someone sees when they visit your page, they're the perfect opportunity to show off your brand.
Let's take Converse's channel art as an example here. The clean background and bold text draws the eye in immediately, while the imagery is simple yet powerful due to to the strung up all-stars being instantly recognisable at a glance.
As people, we're inherently drawn more to visuals than text. In fact, people can remember 65% of visual content even after three days of viewing it. Consequently, the right banner here can work wonders in catching your audience's attention and leaving a lasting impression on them.
Not to mention, YouTube cover art should quickly give an idea of what your channel is about. In other words, the banner is a quick, visual representation of your brand that showcases your channel's personality too.
For a successful YouTube channel, you should aim to design a banner that serves all of these purposes. If you're only just getting started, our piece on how to create a YouTube channel can help you find your feet.
Great YouTube banner examples
There are tons of incredible YouTube covers for your inspiration. Take Adobe Creative Cloud's banner. The image will stop you dead in your tracks:

Colour, glorious colour! As a brand with an audience base of mainly creatives, Adobe know how to capture attention. The popping colour palette used here is instantly inviting, while the dominant shade remains red – Adobe's primary brand colour. Additionally, the parrot merging with the female character adds a clever dash of personality.
Similarly, Refinery29 does an excellent job with its YouTube banner:
The cover image is modern and slick, with subtle feminine elements (a nod to the fact that Refinery29 largely caters to females.) Interestingly, if you look up close, you'll also notice that photoshoot images of women make up the colours within the text, all giving us an idea of what the brand stands for – media, fashion and female empowerment.
Another interesting example is that of the Slow Mo Guys:
This is a good example of a cover image that captures the essence of the channel. Gavin Free and Daniel Gruchy shoot numerous videos with their $150,000 high-speed camera and show them in slow motion. Much slower, in fact, than what the naked eye sees. They always add an element of humour to their videos, which their banner reflects too.
Lastly, we'd also like to big up our own YouTube channel banner:
We've gone for the 'less is more' approach here. Our brand name and new logo take centre stage – not surprising, given we wanted to bring more attention to our big rebrand (you can find out more about that here).
YouTube banner size
The one thing that a channel art maker should never miss is the size. The wrong sized banner can mess up your design, and worse, have a negative affect on your brand by making it look unprofessional.
When starting off, make sure that the image you use is of high quality, but the file size is no more than 6MB. The point here is to make sure that your image doesn't become pixelated when displayed on large screens.
YouTube recommends banner sizes to be 2560 x 1440 pixels. However it's important to bear in mind that it'll look different on desktop, mobile and TV display, so picking a compatible design is key.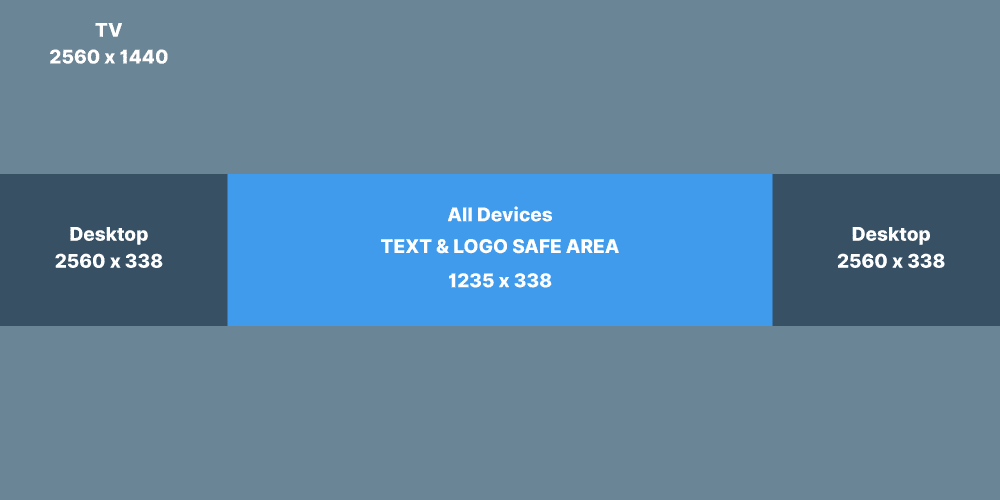 Another thing worth noting here is the text and logo safe area. This is the safe zone in your banner that doesn't cut off as the device changes. So the best thing to do is to add your logo or important details here, just as we've done in our channel cover.
YouTube channel art – top tips
While a Youtube banner maker can help you create a channel art cover like a professional, there's still a lot that depends on you, especially in the design department. To help you, here are our pro tips:
Ensure your cover design is consistent with your existing branding
Ever noticed Coca-Cola using the colour blue in their cover? Nope. That's because red is part of its branding – and, as you'd expect, it's the key accent colour on the brand's YouTube channel. You need to follow suit. Stick to your brand elements to make your channel recognisable across all platforms.

Make sure your banner is consistent with your channel's theme
Just as it's important to stay dedicated to your branding across various platforms, it's also essential that you focus on theme consistency too. People get to your channel either when a link points to it or when they come across a video of yours.
From there on, it is up to your banner to tell your viewers what your channel offers with its style, image, and tagline. For example, if you own a travel channel, your cover art should hint at that theme with its design:

Add your brand tagline
Including your brand slogan is another quick way to narrate what your channel covers. What's more, it can leave a memorable impression on your channel visitors. Include the tagline on the top or bottom of your banner and stick to a short and snappy tagline to avoid cluttering your design.
Err on the side of simplicity
A cluttered design with an overload of design elements can quickly distract viewers and make them switch off. Minimalism, on the other hand, shines the spotlight on your logo and tagline, making your cover clear and unforgettable.
Simplicity in YouTube cover art is also important from the size aspect. Odds are your tagline or logo in a heavily-designed cover may get cropped out on a specific device.
Focus on the middle
We've talked about the safe area above. When designing your cover, you need to see this safe zone as the sweet spot where your important branding elements go. In other words, your headline, illustration, tagline, and logo come over here.
Use a high-quality image with high resolution only
Poor quality images will appear pixelated on large screens and a hazy, unclear picture fails to capture a visitor's interest or build credibility. Stock photo sites such as Unsplash provide high-quality images. If you plan to use an original image for your YouTube art, you need to ensure that the quality is superb and the image is clear and crisp.
Choose the right font size and shape
For YouTube users on mobile devices, a small font would be challenging to read. Therefore, choosing a bold or large font is a wise move to make. This will ensure that your viewers can see your channel name clearly.
Besides, select a font that reflects your channel's style. Fonts communicate style and tone. Research agrees as it highlights that different fonts depict different personalities.
For instance, rounded fonts are known to communicate comfort, femininity, and softness. On the other hand, angular fonts convey durability and masculinity. Pay attention to the font and its size to ensure it reflects your brand personality. Finally it needs to be readable – but don't be afraid to inject some fun in there too. It's your brand after all!
11 Best YouTube banner creators – reviewed
Now for the bit you've been waiting for – the designing part itself! Here are 11 top Youtube banner makers that will help you design professionally without having to rely on a designer:
Canva
Canva is a simple yet powerful tool to use, drag and drop graphic design tool, offering a rich library of free colours, fonts, illustrations, images, and templates. You can upload images of your choice or pick from premium images too.
The best part is that you can prepare your banner in four simple steps. The only drawback is that you'll need to pay for accessing certain images and design assets. Choose from a free version, Canva Pro for collaborating with a small team, or Canva Enterprise to design with over 20 team members.
To see what else Canva can do, check out our full review.
Use Canva for FREE: Start on Canva's free account or start a trial of Pro. Check it out here: Go to Canva >>
Visme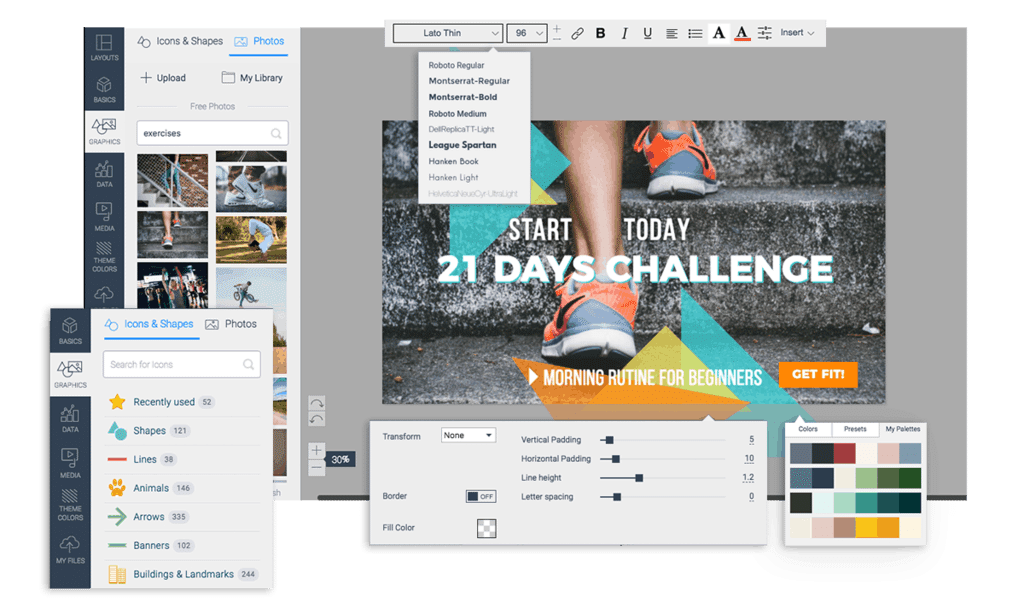 Visme makes it easy to create great designs, with an extensive collection of 50+ free templates and hundreds of fonts. Additionally, a bank of free images, filters, frames, vector icons, editable colour schemes, and other customisable shapes can help add life to your banner.
You can also upload your brand fonts, colours, and other design elements. However, you can only do so if you've Visme's brand kit set up, which requires you to purchase the standard package. This can limit your options if you're hoping to design a personalised, on-brand cover with the free version.
Use Visme for FREE: Start on Visme's free plan or start a trial of their paid plans. Check it out here: Go to Visme >>
Snappa
Snappa is a user-friendly channel art maker offering a wide variety of over a million high-resolution stock images with easy-to-tailor templates, graphics, text, and shapes. Its reserve of over 200 typefaces, and fonts can help add personality to your designs. Besides, you're free to upload your images and branding elements too.
The good news is Snappa offers a lot for free including its most powerful features such as automatic image resizing (woo-hoo!). This means you can repurpose your YouTube banner and use it for other social platforms by automatically resizing it. The only catch is that the freemium version limits you to 5 downloads and shares. The Starter plan for Snappa is free, whereas Team and Pro packages are priced reasonably.
If you'd like to know even more about Snappa, check out our full review.
Use Snappa for FREE: Start on Snappa's free plan or start a trial of Pro. Check it out here: Go to Snappa >>
Creatopy
Formerly known as Bannersnack, Creatopy is a user-friendly banner maker. The availability of pre-baked templates and in-built assets such as text presets, fonts, clipart, and more can help you quickly design your banner.
You're free to use personalised assets such as fonts too. One downside, however, is that design elements don't live in multiple banners. If you're designing multiple banners, you have to manually copy the elements, which can duplicate them and add to the work.
You can get started for free, but you're limited to 10 designs in the freemium version. In case you need more designs, you'll have to switch to the premium option, choosing between pricing plans for individuals or teams.
Venngage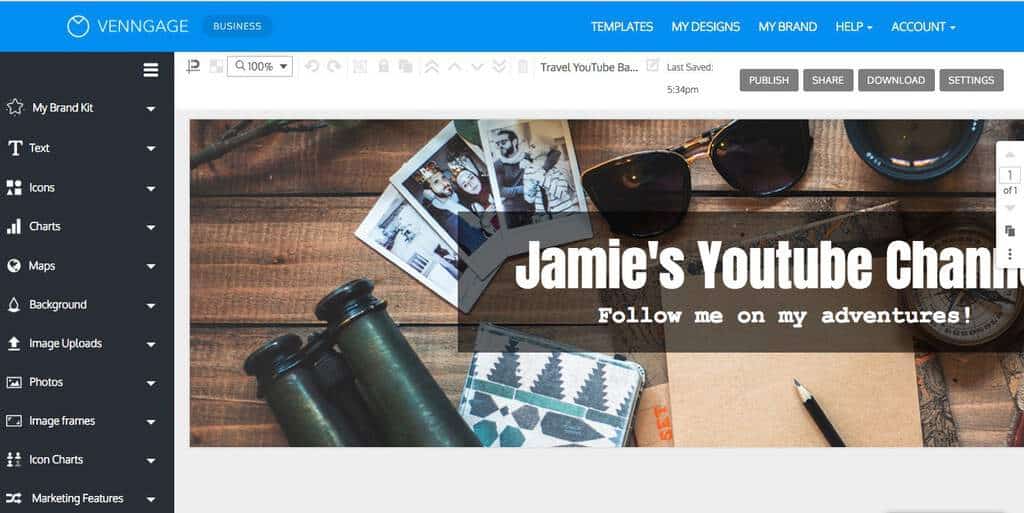 Venngage is an incredible, user-friendly tool. Start your design from scratch or customise the built-in templates to get the banner of your dreams. The design tool also boasts a collection of stock photos, illustrations, and icons. Alternatively, you can add your own images, logos, and other important design elements.
The only catch here is that your options for downloading your finished designs are limited. You can only export the file in PDF or PNG with no option of getting the cover in JPG format. Both freemium and premium versions are available with the premium version branching into separate paid plans for individuals and businesses.
Adobe Express
Abobe Express (formerly Adobe Spark) is another intuitive design tool. Its drag and drop system makes it super easy to make banners in a few simple steps. The tool offers several predefined banner templates to get you started. Customise the template, theme, layout, alignment, and text to create a banner that aligns with your branding. Adobe Express also gives you the option to upload your images.
A plus here is that the tool is available in desktop as well as mobile app (iOS and Android) versions. If you're already subscribed to Adobe Creative Cloud services, you can use the premium banner maker for free. All designs created on the free version have an Adobe Express watermark though. You'll have to switch to the premium version for a watermark-free banner.
PicMonkey
PicMonkey has applications for both iOS and Android and a desktop version. It offers designer-made templates for creating channel art as well as a pre-sized canvas to design from scratch.
Designs made in the PicMonkey editor are automatically saved in the tool's integrated storage. You can re-edit the saved designs at any time. This is a huge plus for maintaining a unified brand look. Get started with a free trial for seven days and go on to select from three packages – Basic, Pro, and Team. The free trial unlocks limited function though.
BeFunky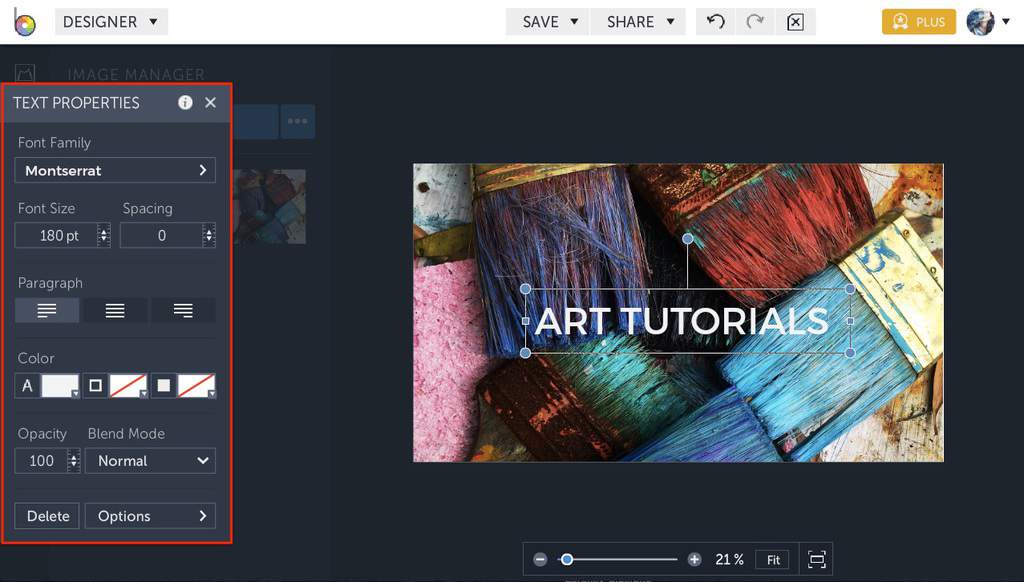 BeFunky is as fun as it sounds, and also happens to be simple and effortless to use. It lets you create your banner in four simple steps. The variety of professionally-designed templates and free stock photos (over a million of those!) can help the non-designer in you experiment with your cover design to your heart's content.
The only wrench in the works here is the limited options that BeFunky's free version offers. On the flip side, you don't need an account registration to get started with the free version. To get the most out of this channel art maker, you'd need to get BeFunky Plus for a monthly fee.
Fotor
Another amazing youtube channel art maker is Fotor. It's super simple to use, thanks to its drag and drop interface. You can start designing your banner with dozens of customisable templates or begin things from scratch. Fotor boasts a desktop version as well as mobile applications for designing on the go.
You can choose between a free version or a paid one. On the upside, the tool offers smart filters and effects. However, be mindful of the banner sizing when using Fotor because it doesn't offer pre-sized templates.
Placeit
Using Placeit is pretty straightforward. Start designing by picking from 130+ templates. Go on to tweak the design, changing the background, text, font, and other elements.
Using Placeit doesn't require an account registration so you can start designing right away. The only snag is that the final version of your banner comes with a Placeit watermark in the background – you can choose between paying a small fee or selecting a subscription plan to get rid of it. Just so you know, the subscription plan opens up a library of over 23,000 smart templates.
VistaCreate
Last but not least, it's VistaCreate – formerly known as Crello. This tool offers an extensive pool of templates and free photos. With their new identity came a new, much simpler pricing model.
The free, starter plan features 50k+ design templates, 1m+ creative assets, free fonts, music, animations, backgrounds and objects plus 10GB storage for files and projects. This means you essentially have everything you need to create a nice banner. But if you're looking to go 'next leve' you can upgrade for $10 per month, and this gets you access to a dizzying 50m+ creative assets, as well as unlimited storage.
What's more, VistaCreate can help make banners across all social media channels, so it's a good pick if you're looking to create a cohesive brand design.
Our favourite YouTube banner maker
All things considered, our vote for the best cover maker has to go to Snappa based on its user-friendly interface and its bank of customisable graphics, templates, shapes, typefaces, and fonts. The icing on the cake is that Snappa offers a lot in its free version so your creativity isn't stifled by a 'this-feature-is-locked' pop-up.
If you'd like to know more about the tool, check out our in-depth Snappa review.
Closing thoughts
A YouTube banner gives you the opportunity to win viewers over by displaying your brand personality and subtly showing off what your channel features. The design tools we've listed will help you create a professional-looking cover in no time.
If you've been having trouble with your newly set up channel, our post on how to get verified on YouTube can help. For more tips on diversifying your channel, head over to our round up of how to make YouTube playlists.