Last updated on 22nd February 2023
When it comes to marketing your business, image is so important. The images and designs you put out to the world help people to form opinions about your brand.
And, of course, you want to make the best impression you can. That's why you need a reliable design software, like Snappa.
In this article we're going to take a look at everything you need to know about Snappa – from onboarding to customer support – to see if it's a viable tool for your company in 2023.
TL;DR
Snappa is a cloud-based application that helps users create graphics in a snap! The UI is clean and easy to navigate, and the library features an impressive 6,000+ templates and 5,000,000+ HD photos and graphics. Plus, Snappa integrates with Facebook, Twitter, and Buffer, so it's easy to share your graphics to social media.
Pro 1: Easy to use
Pro 2: Free to get started
Pro 3: Excellent customer support
Con 1: Free plan is limited
Con 2: There are bigger libraries out there
Con 3: No mobile app
What is Snappa?
Snappa is a cloud-based graphic design tool. According to their website, Snappa helps users create online graphics in a snap – hence the name!
Snappa has thousands of pre-defined templates and assets that users can choose from to create stunning, professional graphics. The tool has been used to create over 25 million images, and counting!
Snappa's background
Snappa is a Canadian company based in Ottawa. It was founded in 2015 by Marc Chouinard (now the company's CTO) and Christopher Gimmer (the company's CEO). By 2016, the company had exploded from 0 users and $0 revenue to having 1,500+ users paying $10 per month (billed annually).
Interestingly, one of the first things the founders did to grow Snappa was to first launch a stock image site, StockSnap.io. The logic behind this was that if people were interested in free stock photos then they would also be interested in a tool like Snappa.
Co-founder Christopher Gimmer said in an interview: "[StockSnap.io] generates a lot of traffic and we use it to cross promote Snappa. Naturally, most people interested in free stock photos would also be interested in Snappa."
The company's current goal is to keep growing users and they hope to reach 10,000 users over the next few years.
Who is Snappa for?
Snappa is for everyone who wants to create professional and engaging designs, fast. It's best suited to people who aren't too design savvy and don't want to be overwhelmed by lots of tools and features that they may not understand.
Typical use cases for the platform include: freelancers, small businesses, enterprises, influencers, entrepreneurs, teachers, students… the list goes on!
Snappa's user experience
When you first create an account on Snappa, you'll be greeted by an onboarding video:
We love this! We've written extensively about the power of a great onboarding video and we've also made several for our clients.
After watching the onboarding video, you're free to explore the platform at your own pace. Useful prompts still appear here and there to direct users who may be struggling:
The homepage UI is clean with lots of white space:
This makes it easy to get started. For the purposes of this article, we created an Instagram post. We started by selecting a template:
From there, the editor opens and everything you need to update and personalise your image is available on one screen. You can update the background, the text, add effects, graphics, and more: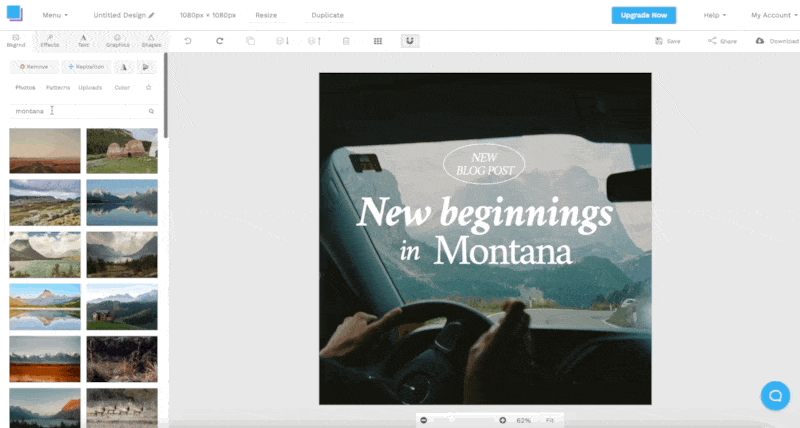 The drag and drop functionality makes everything super easy. And you can instantly undo an action if you want to revert back to an earlier version of the image: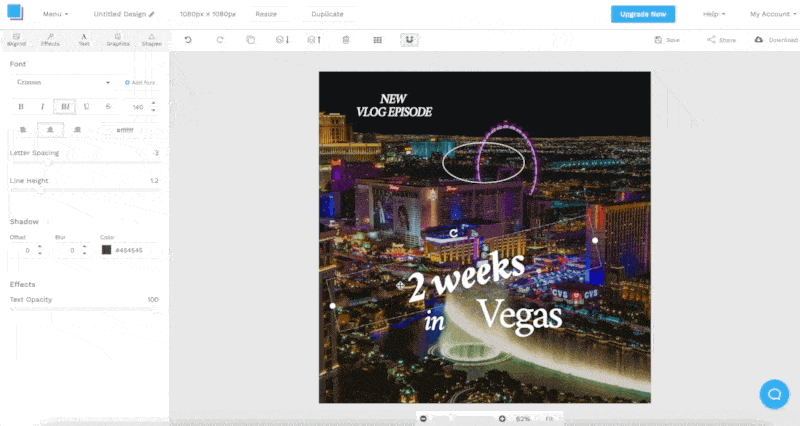 You can also easily search through the library here to find the perfect graphics for your image:
Snappa's UI is clean, clear, and easy to navigate, making this a stress-free user experience that yields impressive results in minutes.
Snappa's features
Snappa offers users an impressive 6,000+ templates and 5,000,000+ HD photos and graphics to choose from.
It's not immediately clear if there's a way to search or filter templates so it might take a while to find one you like. But when you do, it's easy to personalise using the image editor features (as seen above).
Snappa currently integrates with 3 apps: Twitter, Facebook, and Buffer. This makes it easy to post your designs online to your social media sites (through Buffer you can easily connect with your Instagram and Pinterest accounts).
To share a graphic to your Buffer account, all you need to do is hit "Share" while still in the editor and select Buffer:
If you want to connect Snappa to Twitter and Facebook, simply click "My Account" and then "Social Accounts":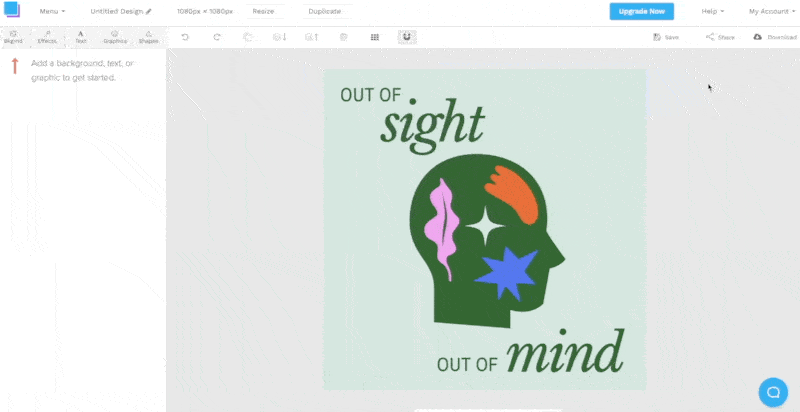 Login to your Twitter and Facebook pages and you're good to go!
Pros & cons of Snappa
Pro 1 – Easy to use
Snappa is a really user-friendly platform that makes it super easy to get started. You can instantly update images with a click, search for specific graphics that are relevant to your brand, and tweak templates until you are happy that they're perfect and ready to share with the world.
Pro 2 – Free to get started
The free plan makes Snappa accessible for everyone. This is especially important for startups and entrepreneurs who don't have the money to hire designers, but still require professional design content to grow their business.
Pro 3 – Excellent customer support
If you ever need help while using Snappa it's easy to find the answers you need by accessing their intuitive 'Instant Answers' section. If you still can't find what you're looking for, it's also simple to send a message to their support team who will get back to you as quickly as possible.
Con 1 – Free plan is limited
All (or most) free plans have limitations, and the same applies to Snappa. For access to all of the amazing features the platform has to offer, users need to sign up for a paid account.
Con 2 – There are bigger libraries out there
Snappa offers an impressive 6,000+ templates and over 5 million graphics but, believe it or not, there are design tools out there with even bigger libraries. This could be considered a con if you're looking to create the most unique images you can.
Con 3 – No mobile app
Snappa doesn't have an app that you can download to your phone or desktop, so users are required to log in to the website to use the design tool. While you can visit the website from your phone, it's not as easy to use as the desktop version.
Snappa pricing plans
Snappa offers new users 3 pricing plans to choose from: Starter, Pro, and Team.
The Starter plan is absolutely free and includes access to all templates, HD photos and graphics – which is really rare for a free plan! However, there are some limitations. The starter plan is for one user only and the account is limited to a maximum of 3 downloads per month.
The Pro plan costs $15 per month. This plan gives users access to unlimited downloads as well as social media integrations, custom fonts, and the ability to remove image backgrounds. Again, this account is just for one person.
The Team plan is identical to the Pro plan, but it allows for more users. Up to 5 users can access the account for $30 per month. There's also additional sharing functionality so that teams can collaborate with ease.
Snappa does seem to be able to accommodate teams that have more than 5 users, but there's no price available for that. Snappa has a contact form for larger teams to enquire about custom plans.
Snappa's main competitors
There are many other design tools out there, but looking at Snappa's direct competitors there are probably only two: Visme and Canva.
Canva is the tool that's most similar to Snappa. It's an online design and publishing platform that gives users everything they need to create professional custom graphics. Like Snappa, Canva also offers lots of free templates and assets to help users get started. Canva's library is actually a lot larger than Snappa's, but only paid users get access to the entire catalogue.
Visme is for users who are looking to create visual content that's a little more involved, think videos and infographics rather than social media ads and flyers. It's also similar because it's a cloud-based app, free to get started, and comes with templates that make it easy to begin.
More heavy-duty design tools are also available, like Photoshop. But this is really only for people who are serious about design, want more freedom to create bespoke graphics and have the skillset to understand a complex array of features.
Snappa's customer support
If you get stuck while using Snappa, you can click on the help icon at the bottom right-hand corner of the screen to see some "Instant Answers" to common questions:
If you don't immediately see an answer to your question, you can search for anything you want and the answers will update in real time.
We searched for "Can I upload my own font?" and received a detailed, scrollable article that answered the question in detail – complete with helpful screenshots!
If you're still struggling and need more help, you can toggle from "Answers" to "Customer Support" and send a message to the Snappa team: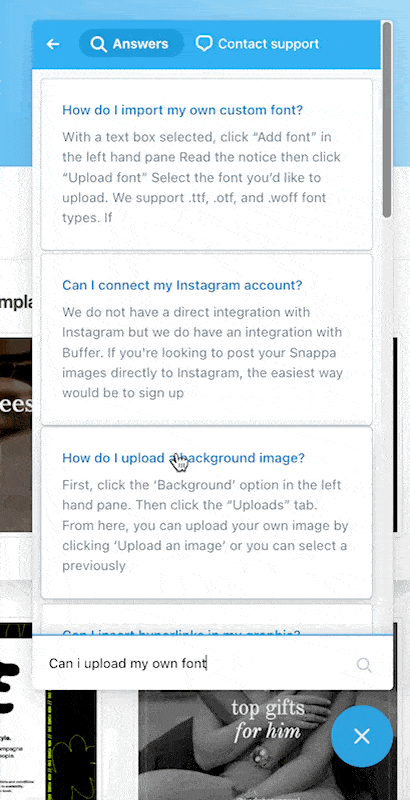 You can type your message all without leaving the pop up box:
It's a really nice touch to see photos of the support team here along with information informing users that responses typically take 24 business hours.
We were surprised when we received a response much quicker than that. Snappa's customer success team replied in less than one hour!
The response was friendly, succinct, and clear.
Snappa: Final score
Snappa is a great tool that's really easy to pick up and get started. You can make professional designs for your content marketing in seconds!
The customer support is great, the platform is easy to navigate, and there's thousands of templates and assets to choose from. If you want to create professional designs for your brand then this could be a great place to start.
However, if you're still feeling unsure then check out this article: Snappa vs Canva – Which is Better in 2023?