Last updated on 26th January 2023
Content marketing is so important for the success of any business in 2023. According to Hubspot's 2023 Marketing Strategy & Trends report, the top four formats marketers leverage in their content strategy are videos, blogs, images, and infographics.
So immediately it's clear to see just how important it is to have a great design software that can help you to create professional-looking imagery for your brand. And that's where this review of Canva comes in.
In this article we're going to take a look at everything you need to know about Canva – from onboarding to customer support – to see if it's a viable tool for your company in 2023.
TL;DR
Canva is an online design and publishing tool that has helped users create over 10 billion designs. The platform features over 100 million graphic elements, images, and videos, 610,000+ professional templates, and a huge app directory.
Pro 1 – Easy to use
Pro 2 – Free to get started
Pro 3 – Huge library of assets
Con 1 – Free plan is limited
Con 2 – Can't create unique design elements
Con 3 – Tough to use on mobile
What is Canva?
Canva is an online design and publishing tool that gives users the power to create professional custom graphics for everything from social media content and posters, to corporate presentations and business cards.
Canva is device-agnostic and is easy to use. It's a popular tool in the industry and according to their website, Canva has helped users create over 10 billion designs.
Canva's background
Canva was launched in 2013 by Australian entrepreneur Melanie Perkins. The mission of the company was (and still is!) to "empower everyone in the world to design anything and publish anywhere."
No small feat, but Canva exploded in popularity and in just five short years it was worth $1 billion, making Perkins one of the world's youngest female founders of a tech start-up valued over $1 billion, at just 30 years old.
The idea for the business began when Perkins was teaching students how to use design programs in her spare time. She said "people would have to spend an entire semester learning where the buttons were, and that seemed completely ridiculous. I thought that in the future it was going to all be online and collaborative, and much, much simpler."
So, aged just 19, she got to work on making that a reality!
This interesting and short interview gives a great insight into the different forms Perkins' idea took before landing on the finished product that Canva is today. It's definitely worth a watch!
At the most recent valuation in 2021, the company was said to be worth an incredible $40 billion.
Who is Canva for?
Canva is for everyone. It's an accessible one-stop shop design site for users with any level of experience.
The company currently has 100 million monthly active users in over 190 countries, and that's an increase from 60 million in 2021. So the company is still growing fast!
Most of the people who tend to use Canva are either in business, using the platform for social media, content marketing, and even to create logos and presentations, or are in education. The platform is used by a huge number of students and educators, and this is reflected in the pricing plans (which we discuss later on).
Canva's user experience
The theme with Canva appears to be 'quick and easy' and that begins with the short and engaging onboarding flow:
After signing up, users are offered natural pop ups and tours throughout the platform that explain how to get the most out of Canva:
The UI is very clean and this makes the platform easy to navigate, even as a first time user. To demonstrate this we thought we'd walk you through the process of creating a design from scratch.
The homepage has everything you need in one place: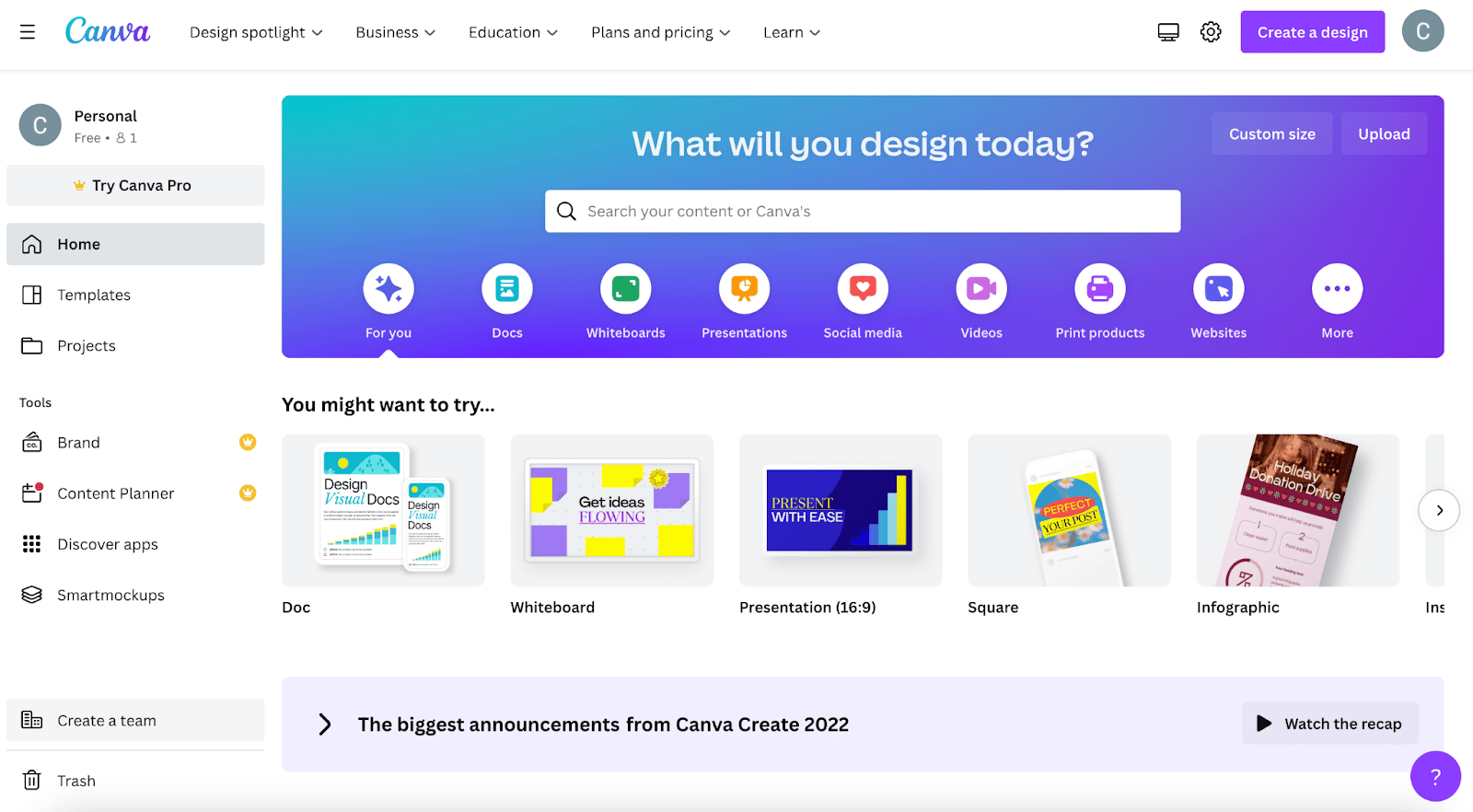 We decided to create an Instagram post for this example:
As you can see, there's tons of templates to choose from that make it easy to get started. You can also search for a keyword to find something more applicable.
You can then edit the template to better fit your needs. Again, this couldn't be easier. You just point, click, and edit:
You can also crop or flip the image, zoom in, change the position, and even add your own image. Plus, you can use Canva to add more graphics by searching their content library:
Once you're happy with your image, all you need to do is hit the Share button to post, download, or print it.
As you can see from this walkthrough, Canva is really user friendly and couldn't be easier to navigate. You really can create professional designs in seconds with just a couple of tweaks.
Canva's features
Canva has a lot of templates, assets, and features on offer. The site boasts over 100 million graphic elements, images, and videos (but 75 million are for premium users only) and 610,000+ professional templates (350,000+ of which are premium).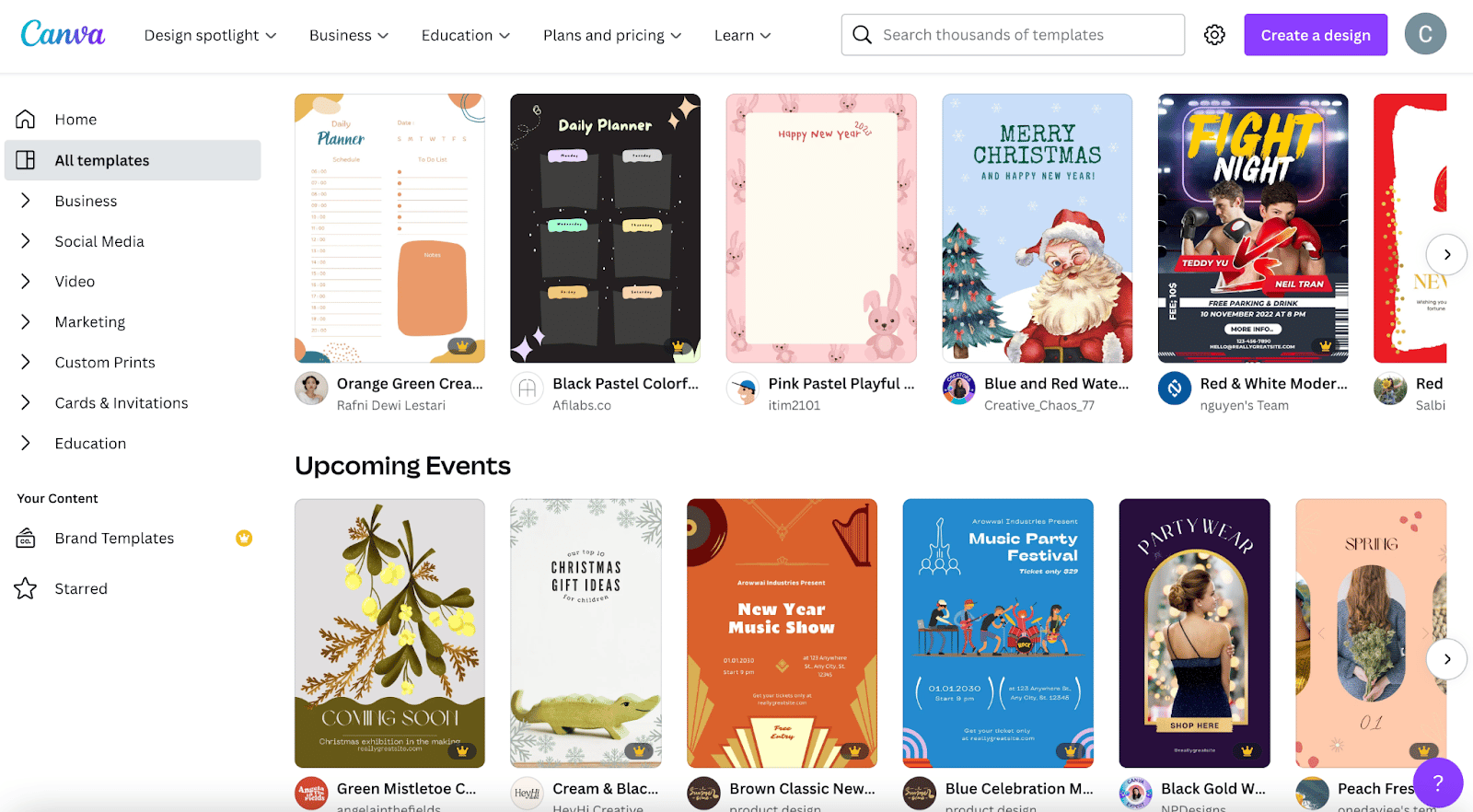 So, users are spoilt for choice! Users are also spoilt for choice when it comes to app integration. Their huge directory features almost every kind of app you could possibly want to integrate with:
One of Canva's best features is their Smartmockups. This allows you to see your designs on screens, packaging, different products, and more – so you know exactly what they're going to look like before you hit publish or print:
Other features include the Brand Kit, which allows you to keep your designs consistent, and the Content Planner, which gives you the power to plan ahead when creating marketing content for your brand. However, both of these features are for Pro users only.
Canva also has an amazing and comprehensive design school built into the platform:
Users can sign up to different courses and access thousands of tutorials on everything from logo design to print advertising.
Pros & cons of Canva
Pro 1 – Easy to use
Canva is so user friendly. The drag-and-drop editor makes it easy to switch and change things in an instant. It's intuitive, fast, and doesn't overwhelm users with features which is exactly what's needed from a tool like this.
Pro 2 – Free to get started
Obviously, being free is a huge plus. This makes Canva accessible to everyone and is especially important for startups and entrepreneurs who don't have the money to hire designers, but still require professional design content to grow their business.
Pro 3 – Huge library
Canva's library of assets and templates is huuuuuuge! It's completely unrivalled as a free platform. And this huge library of assets is important for those who want to continuously create professional designs that look unique.
Con 1 – Free plan is limited
This makes sense, of course. However, Canva recommends the Pro assets and templates. So when you click on one of those and then get a pop up informing you that this isn't available on your plan it can be frustrating.
Con 2 – Can't create unique design elements
Canva allows you to personalise pre-built designs all you like, you can change the sizes, colours, alignment, and more. But you can't conjure elements within Canva. This could be considered a limitation if you want your designs to be truly different to everyone else's.
Con 3 – Tough to use on mobile
The mobile app version of Canva isn't as intuitive as the web version. It also lacks some features so it's recommended that, where possible, you use Canva on desktop.
Canva pricing plans
Canva has 5 pricing plans: free, pro, teams, education and nonprofit.
The free plan is a great way to get started. The library of templates and assets available is of course smaller than the one offered to paid users, but the free plan still offers access to 24/7 support and 5GB of cloud storage.
Canva Pro is $12.99 per month and is suggested for freelancers and solopreneurs. It offers everything the free plan does, plus more features and a lot more assets, templates, and 1TB of storage.
Canva for Teams is $14.99 per month for the first 5 users (and then increases incrementally after that). This plan builds on Canva Pro with additional features designed specifically for team collaboration.
Canva for Education is completely free! And it includes all of the Canva for Teams features, as well as additional features specifically for educators. Teachers can invite their students, create engaging lesson plans, and send assignments directly through Canva.
Canva for Nonprofits is similar to Canva for Education. It's a free, tailored version of Canva that charities can use for creating impactful communications.
Canva's main competitors
There are many other design tools out there, but looking at Canva's direct competitors there are probably only two: Visme and Snappa.
Snappa is like a smaller version of Canva. It's cloud-based, free to get started, and users can choose from pre-defined templates or stock libraries to quickly create stunning, professional graphics.
Visme is for users who are looking to create visual content that's a little more involved, think videos and infographics rather than social media ads and flyers. It's similar in that it's also a cloud-based app, free to get started, and comes with templates that make it easy to begin.
There are also more heavy-duty tools available, like Photoshop, if you're serious about design, want more freedom to create bespoke graphics and have the skillset to understand a complex array of features. But Photoshop isn't cheap, starting at $20.99 per month.
Canva's customer support
One of the great things about Canva is that 24/7 customer support is available to everyone, even people on the free package. However, there is a sliding scale that determines when support will respond to you (based on your pricing plan):
We wanted to test out Canva's customer support for this article and as we're on the free plan we were expecting a response in one week.
We filled out the support form and waited for our response:
Surprisingly, Canva got back to us really quickly – within one hour! The response was professional, friendly, and comprehensive: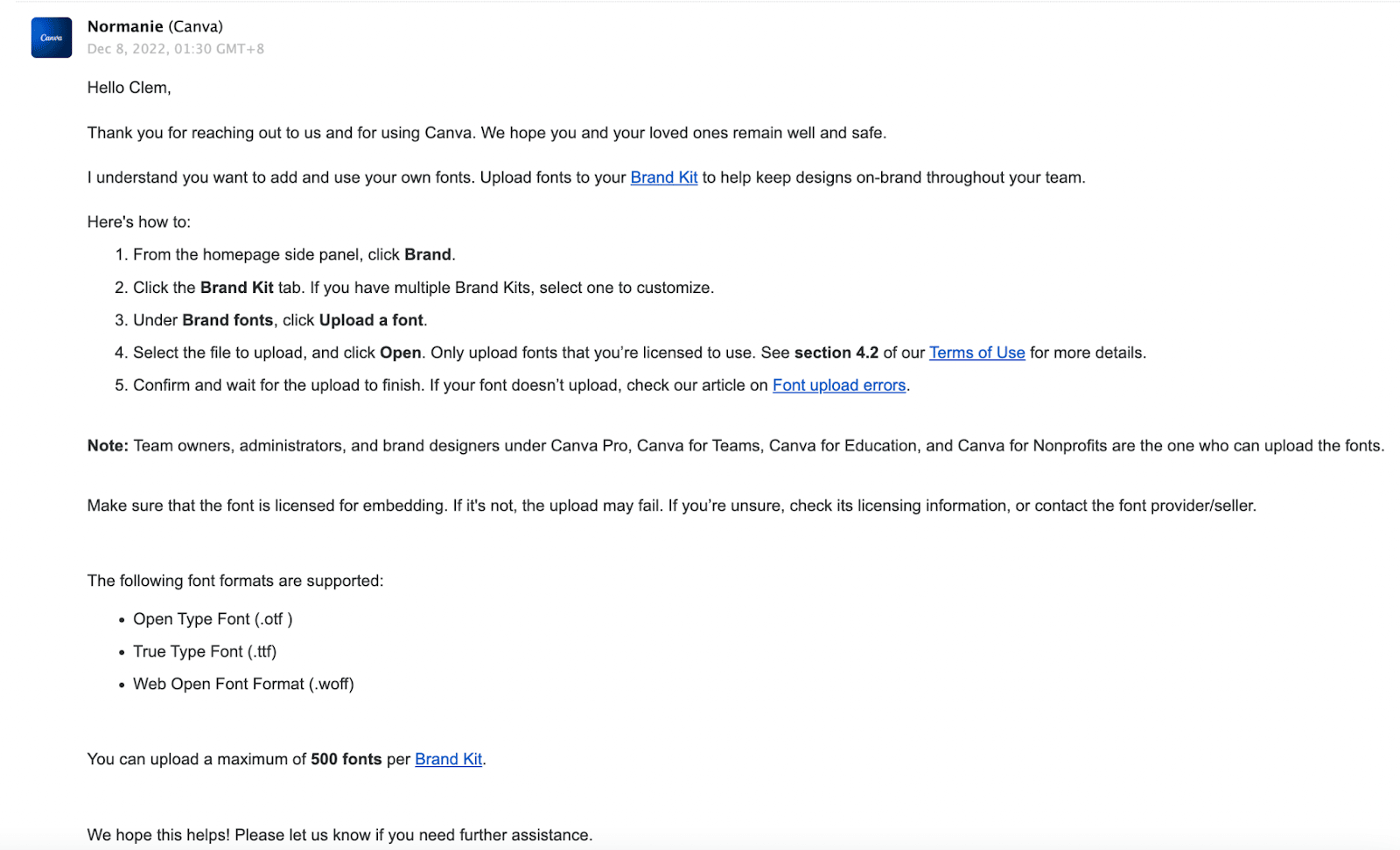 There's also self-help tools included that can help you solve your issue more quickly, including a small help icon in the bottom right-hand corner of the screen.
Clicking on this will open an intuitive search bar that allows you to search for your issue and find articles that will help solve your problem.
You can also visit the Canva Help Centre. This is available via the Learn tab at the top of the screen:
This is where you'll be able to find the contact form for the support team (if you need to get in touch with a human). All you need to do is search for "contact Canva support":
Overall, we found the whole experience with Canva support to be easy and painless!
Canva: Final score
Canva has been referred to as a unicorn company, which is a term for start ups that reach a valuation of $1 billion without being listed on the stock market.
But Canva is also a unicorn in the sense that it's an amazing tool that can bring great results to your business for free! With all of the assets available, the ease of use, and the amazing customer support, we think it's a no-brainer to add Canva to your marketing tool belt.
However, if you're still feeling unsure then check out this article: Snappa vs Canva – Which is Better in 2023?