Last updated on 20th June 2023
Looking to build your personal brand, grow your business or simply get your message out there? The answer for many people lies in three simple words: 'create YouTube channel!'
In this article, we're going to take you through the steps required to create a YouTube channel in 2023.
YouTube has been around for a long time now. It's accessed by an incredible 315 million of us every single day, and is available in 91 countries and 80 languages. It's safe to say that YouTube isn't just a video platform; it's part of today's cultural cloth.
If you're ready to harness the power of YouTube for your business, here's a step-by-step guide to how to create a successful YouTube channel.
Why create a YouTube channel?
Before we dive into our guide, let's review why you should consider creating a YouTube channel in the first place. Setting up your own YouTube channel gives you the power to reach your target audience on a whole new medium. Not only does it give you access to a huge and increasing number of users, but YouTube can help you:
Reach new customers: Your YouTube videos will show up in search results on the platform, putting your content in front of users who might not have known you existed.
Drive traffic to your website: After viewing one of your awesome videos, a viewer who wants to learn more can click on a link in your video description to check out your website.
Amp up your SEO: Many companies are using video SEO to enhance their searchability and increase web traffic. This powerful strategy is simple to implement and can be wildly effective.
Another great reason to start a YouTube channel is to make the most out of the video content you're already creating. If you're spending time and money creating videos for your website, sales presentations, advertisements and more, why not put them on YouTube as well? They could start delivering the benefits we mentioned above in a matter of days.
How to create a YouTube channel
Are you ready to realise the benefits of using YouTube as a marketing platform and content channel?
If the answer is yes, here's how to create a YouTube channel in three easy steps.
Step 1: Set up your YouTube channel
The first step to creating YouTube channels is, unsurprisingly, setting up your channel! If you've used YouTube before, even as a viewer, you may already have an account. A YouTube account is required to comment on videos, subscribe to channels, and create playlists.
Also, if you have a Google account then you will automatically have a personal YouTube account and channel.
To find this, click on your avatar in the top right-hand corner and select "Your channel".
This will likely be the starting point for most people.
If you don't have an account at all then you can still click on the avatar and then click settings:
This will take you to a settings page where you can instantly create a channel:
You'll be asked if you want to add a profile photo and update your name:
Whether you have a personal channel or not, you should still create a new channel for your business so that you can keep all of your videos and YouTube analytics separate.
This is super easy. Just click on "Settings" again and then select "Create new channel":
Give your new channel a name and you're ready to go!
You'll be taken to the homepage of your new channel where you can upload videos, create playlists, write an about page, and more.
Step 2: Customize your YouTube channel
As you can see, your YouTube channel starts as a blank canvas, so the next thing you'll want to do is spruce it up a bit!
Get this process started by selecting the "Customize Channel" button on your dashboard. This will automatically take you to the YouTube Creator Studio, which looks like this:
Click on the "Basic info" tab to fill in some basic information about your business, including a description and customized links.
When writing your description, be informative but also strategic. YouTube scans this content to optimise users' search experiences, so infuse it with keywords as much as possible.
You'll also see your channel URL here. It may look long-winded and clunky, but after having an active account for 30 days and gaining a minimum of 100 subscribers, you can change this to something more catchy and fitting for your brand.
Scrolling down further, you'll see the Links section. This is your opportunity to add marketing links to your channel profile.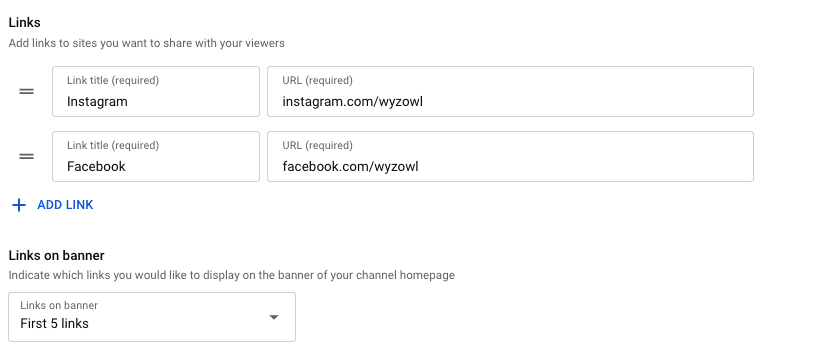 You can also select the option to include up to the first 5 links as icons on your channel's banner, like this:
The last piece of information to add to your channel is your email address. This makes it easy for people to contact you and is a great opportunity to increase your inbound leads.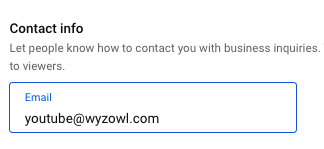 Next it's time to spice up your channel with some visuals, specifically your channel trailer, banner and avatar. This can be updated by heading to the "Branding" tab:
Your avatar/channel icon is like your profile picture and should ideally be an image of your logo to increase brand recognition. The banner image sits at the top of your YouTube channel page. It's a good way to introduce new viewers to your channel and as such should include important information like when you post your videos, or a snippet of what your YouTube content is about. If you want to know more, check out list this of 36 banner ideas and examples to inspire you.
If you're not a professional designer, don't worry. There are plenty of free tools you can use to create your channel art in just minutes. And we've got you covered on banner dimensions too! Check out this article for all you need to know: YouTube Banner Size and Dimensions Guide 2023.
Be sure that all of your channel art matches your brand and is consistent with the visuals you're using on your website and other social media accounts. Use fonts, colours, and graphics in your YouTube channel art that match your brand identity.
Here's a look at ours for some inspiration:
And here is another great example from our founder's YouTube channel:
Step 3: Add videos and optimise your channel
Now that your channel is all set up, it's time to start uploading content. To upload your first video, head back to your channel homepage and then click on "Upload Video"
Then simply drag and drop the video you want to upload (or click "Select Files" search for it in your file manager).
As your video uploads, you can start entering in your video's data, including the title, description, and tags. Your title should describe what's in the video while being eye-catching and intriguing, and your description should be filled with SEO-friendly keywords. Just like with your channel description, YouTube will reference this text to serve up relevant content to users when they search – and you want to be in those results.
Scroll down further on this page to select a thumbnail for your video from the still frames, or upload your own:
Your thumbnail is super important as it's often a huge deciding factor on whether someone will watch your video or not.
If you scroll down and click "show more", you will also be able to add tags to help boost your video's SEO ranking.
For more on maximising your YouTube SEO, check out our blog on 13 ways to rank higher in YouTube's search engine results. Here are a few quick tips as you're thinking about YouTube SEO:
Be sure your title packs a punch; it's the first impression your audience will get of what's inside your video, and you want them to click through without scrolling past you.
Use focus keywords multiple times instead of lots of keywords once or twice.
Include your URL in the video description so viewers can check out your website if they want to learn more.
Just create great content. More views means better search results, and you'll never get millions of views without having solid, shareworthy content.
When you're all finished, click "Publish" to publish your video, or "Save" to save any updates you've made once you've posted the video.
Simply repeat this process for all of the videos you want to upload and there you have it, your own fully-fledged YouTube channel!
YouTube channel FAQs
What are the requirements to create a YouTube channel?
You need a Google account and be at least 13 years old to create a YouTube channel.
Can I create a YouTube channel without a Google account?
No, a Google account is required to create a YouTube channel.
Is there an age restriction to create a YouTube channel?
Yes, you must be at least 13 years old to create a YouTube channel.
Can I change the name of my YouTube channel after creation?
Yes, you can change your YouTube channel name by going to your channel's settings.
How do I upload videos to my YouTube channel?
Click on the camera icon at the top of YouTube, select the video you want to upload, and follow the prompts.
How do I schedule or publish videos on YouTube?
While uploading a video, you can choose to publish it immediately or schedule it for a specific date and time.
How do I monetise my YouTube channel and start earning money?
Meet YouTube's monetisation requirements, apply for the YouTube Partner Program, and enable monetisation on your videos.
What are the requirements to be eligible for YouTube's Partner Program?
You need at least 1,000 subscribers and 4,000 watch hours in the past 12 months to be eligible for the YouTube Partner Program.
How do I promote my YouTube channel and increase subscribers?
Share your videos on social media, collaborate with other YouTubers, engage with your audience, and optimise your content for discoverability.
How do I use analytics to track the performance of my YouTube channel and videos?
Go to YouTube Studio and navigate to the Analytics section to access data on views, watch time, demographics, and more.
Final thoughts
Now that you know how to create a new YouTube channel, you're probably thinking about all the amazing content you want to create for your new channel. As you do, check out 21 YouTube Video Ideas for Businesses. It's packed with tips, tricks, and inspiration to guide you as you brainstorm new YouTube video ideas and start building a powerful YouTube channel.
Happy YouTube channel creating!