Last updated on 2nd August 2023
With consumers watching over a billion hours of YouTube videos a day, the market is only going to become more and more crowded.
YouTube creators need all the help they can get to stand out, which is where a professionally crafted video intro can make all the difference. We've reviewed 16 of the best intro makers to give you a head start!
What is a YouTube intro or video intro?
A video intro is an introductory clip at the beginning of a video that gives an instant snapshot of a brand's identity. They usually feature the company logo, animated graphics and a punchy soundtrack.
While they might only last a few seconds, that's all you need to grab your audience's attention and for your business to live long in their memories.
Video intros have become increasingly popular among YouTubers, and if you're hoping to make a mark in that arena it's worth creating a polished intro that helps viewers to relate your content with your brand.
Check out these distinctive intro video examples, which demonstrate how to do it right and gain a huge following in the process…
Video intro examples
Dude Perfect
Trick shot aficionados, Dude Perfect, encapsulate the lively personality of their videos perfectly with a video intro that gives some live action snippets of their shtick and a futuristic animated logo reveal.
TED
TED Talks have been around since 1984, believe it or not. But it's only really since appearing on YouTube that they've gained worldwide popularity. Their graphic-heavy video intro is simple but effective at conveying their 'Ideas worth spreading' ethos.
5-Minute Crafts
With 57 million subscribers, 5-Minute Crafts is one of the world's most subscribed YouTube channels. Check out how their video intro fuses a combination of traditional and stop motion animation to illustrate their crafty credentials.
16 best intro makers – reviewed
Here's our full list of tools…scroll down to see what we make of each of them!
FXHome by Artlist
Wondershare Filmora 11
Adobe Express
Animaker
Renderforest
OFFEO
Panzoid
Wideo
LightMV
MotionDen
Flixpress
Biteable
Tube Arsenal
PlaceIt
Ivipid
IntroCave
Regardless of whether you want to personalise your YouTube content or develop a branded intro video that gets your business noticed, you'll need the right tools for the job. Thankfully, there are countless intro maker tools online that take away the hassle of making an intro from scratch.
We've reviewed 16 of the best to give you an introduction to what's available.
1. FXHome by Artlist
FXHome is a video and image editing software that's part of the Artlist family of products. Artlist is a creative technology company with over 1M digital assets available to license via its range of tools for creators.
Not only is FXHome's Hitfilm product a great choice for creating video intros – there's enough here to fuel creation of longer-form videos, too (if that's what you're into!)
And what's beautiful about it is that there's no steep learning curve – it's a pretty simple (but surprisingly powerful) tool which lets you start creating amazing content pretty much right away.
With loads of editing tools, not to mention integrated free music and sound effects, and a range of ready-to-use customisable template designs, you can get up and running with creating great intros in no time at all.
All you have to do is choose a subscription tier that fits your needs and you're off to the races! Free, Creator, Pro and Enterprise levels are all available, with a subscription level to fit everyone from hobbyist through to business creators.
FXhome HitFilm software is available to download for free. You can use the free version for an unlimited time. Then upgrade if you enjoy using it. Click here to visit FXhome for more info & to download >>
2. Wondershare Filmora 11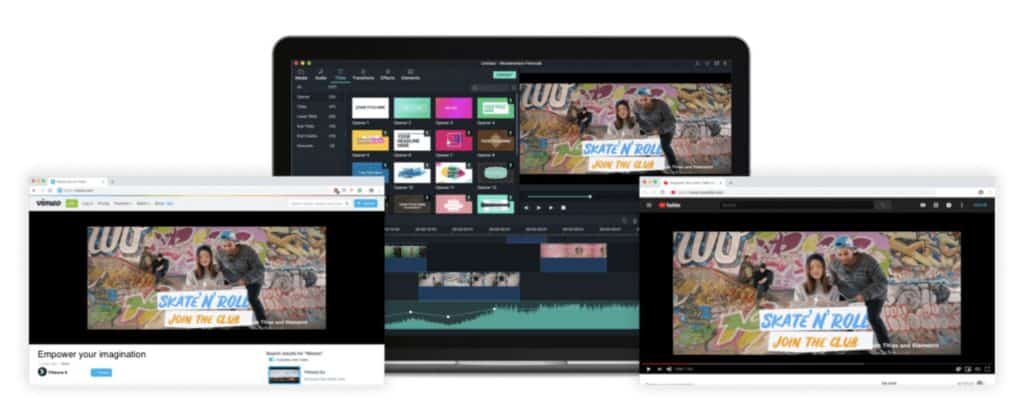 Filmora 11 from Wondershare is a powerful intro maker software that lets you create kick-ass intros using an array of cool filters, overlays, transitions and custom titles.
Filmora's biggest draw is its sheer versatility and breadth of features. Its user-friendly and intuitive interface is packed full of features and allows you to drag and drop video clips and effects into your editing timeline.
Among its best features are the super-crisp 4K quality, green screen compositing, post production enhancements including filters, and sharp sound tools like background noise removal and an audio equaliser.
On the downside, rendering and exporting videos can be slow-going.
Filmora 11 is available as a free download but your exported videos will feature a watermark. If you'd like to create videos without a watermark there are a couple of individual paid plans to choose from, starting from $51.99 per year.
3. Adobe Express
Adobe Express (formerly Spark) is a mobile and desktop intro maker from the software giants behind Photoshop. Express is pitched at social media creators who want to create a decent video clip without spending hours on it. Therein lies the main advantage of Adobe Express: it's quick.
It's easy to splice together your intro, dragging and dropping your clips and icons before adding in a cinematic soundtrack or even your own voiceover.
Perhaps surprisingly, Express doesn't integrate particularly well with other Adobe products and the cost of the paid plans could be off-putting.
Adobe Express is available in a free version, but this is seriously limited in terms of features. For instance, you won't have access to premium templates, you won't be able to use your own logo, and a watermark will appear in all your videos.
The premium plan is $99.99 per year, or Adobe Express is also available in full with any Adobe Creative Cloud plan.
4. Animaker
Animaker is a free intro maker that's used by more than three million people and over 1,000 brands worldwide. Animaker boasts the world's largest animation library and lets you create vertically optimised videos for your mobile audience.
The simple and easy-to-use interface makes this a great intro maker for novice movie makers. Features include pro-level camera and transition effects, as well as a broad range of background tracks and sound effects, and the ability to directly voice record or import your own voiceover or soundtrack.
Because Animaker is a web-based platform that uses Flash, you might find your editing experience lags if you're not using the latest hardware.
The free version lets you make an unlimited number of two-minute videos that you can upload to YouTube in SD quality. However, you can only export five videos a month and are locked out from premium features like custom fonts. Plus, your videos will all feature a watermark.
Paid subscriptions start from $120 per year.
5. Renderforest
Renderforest lets you make high-quality intros in minutes. One of the best and worst features of this video intro maker is the fact that it's entirely web-based.
On the plus side, that means you can create your intros no matter what device or operating system you're using. The downside is that you can't work on the fly without an internet connection.
Renderforest lets you choose from a huge catalogue of 50,000+ video intro templates that you can edit and personalise in minutes with fonts, logos, colour palettes and a soundtrack.
Renderforest has a free intro maker package that enables you to create an unlimited number of 360p videos up to three minutes in length. Although, they will feature a watermark and you'll only have a limited number of music tracks to choose from.
Paid subscriptions start from $5.99 a month, billed annually. This allows you to make up to seven five-minute long HD720 videos a month with no watermark.
6. OFFEO
OFFEO is a free intro maker for the wannabe designers among us. Its main selling point is the sheer number – we're talking thousands – of templates and graphical elements that you can use to make your intro really fizz.
There's a real aesthetic quality to all their design elements, from expressive doodles to high-quality stock images – there's everything you need to make an impressive intro video.
OFFEO's templates are handily grouped into categories, like intros, outros and logos, or by your industry. Which makes it simple and straightforward to create your project.
7. Panzoid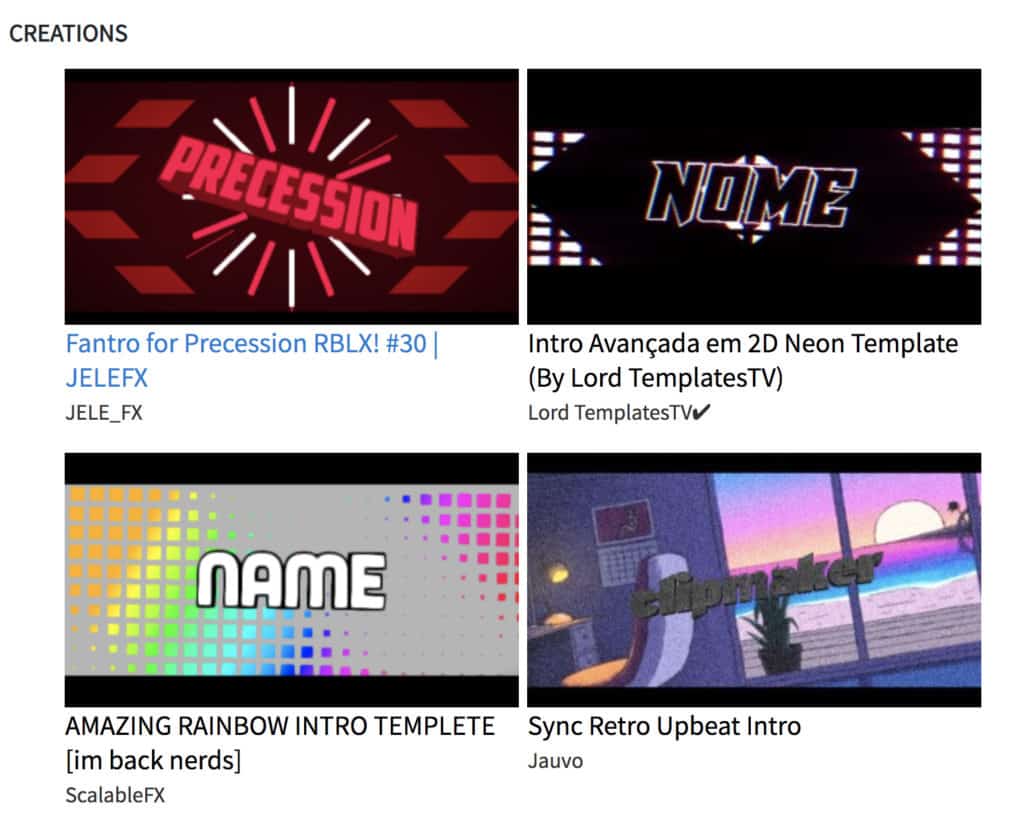 Panzoid is an intro maker tool and online community for creating custom content. Don't be fooled by the grungy, low-fi interface because with a bit of effort this free intro maker lets you make highly customisable video intros.
You can either start your project from scratch or choose from a limited number of templates created by the Panzoid community. Panzoid's editing suite is simple enough to use but the ultra-basic layout looks and feels outdated.
Panzoid has a free version that features a watermark but its paid plans are quite reasonable, starting from just $1.99 a month (billed annually) for a Starter plan. For that, you get 360 render credits a year and three months of video storage. At the other end of the scale, Pro plans give you 6,000 annual render credits and unlimited storage for $11.99 a month (billed annually).
8. Wideo
Wideo is an intro maker that has some handy tools to make an animated intro video in no time. Some of the best things about Wideo are the fact that you can save your favourite scenes (like your logo animations, for example) and easily reuse them across all your videos.
You can also customise your videos using more than 100 templates, countless fonts and according to your brand colours. Wideo also lets you save your videos into folders to stay organised or download them in full HD and MP4.
The cons are that you'll need to be online to use this web-based intro maker and, with a clunky interface and limited templates, the subscription fee is harder to justify compared to other platforms.
As with so much software, it's cheaper to buy into an annual Wideo subscription, which makes their intro package work out at $19 a month. That includes 10 downloads of 1-minute videos a month and 20 video templates to choose from. A free 7-day trial is available across all their paid plans, but downloads aren't included during that period.
9. LightMV
LightMV is a cloud-based intro maker that lets you turn photos and video clips into a professional-quality intro video.
LightMV's strength is in its simplicity. Its archive of bold, bright and impactful professional video templates is categorised by industry or event to make it really easy to zero in on the one for your project.
You can make full HD resolution videos easily across all your devices and upload them with one click. As with other web-based intro makers, you will be reliant on an internet connection to use LightMV.
LightMV is a free intro maker but you'll be hampered by a watermark and limited features. VIP subscriptions start from $179 per year. This not only gets rid of the watermark but also enables you to download your videos in HD 720p, produce two videos simultaneously, and add up to 100 photos.
10. MotionDen
MotionDen lets you create distinctive animated intros using their cache of ready-made professional templates, which is undoubtedly their strongest suit. These are arranged into logical themes, like eCommerce or YouTube, so you can quickly match the right template to your niche.
Simple and easy to use, the customisation editor lets you tinker with your text, colours and backing track to create an intro in minutes.
Trustpilot reviewers have reported that MotionDen can be prone to crashing and is slow to render videos.
MotionDen doesn't require a credit card or a trial period and lets you create up to five videos using their entire catalogue of video templates. However, you'll have to put up with the dreaded watermark. To remove it and publish HD quality videos straight to YouTube, you can pay $29 a month for the most popular plan.
11. Flixpress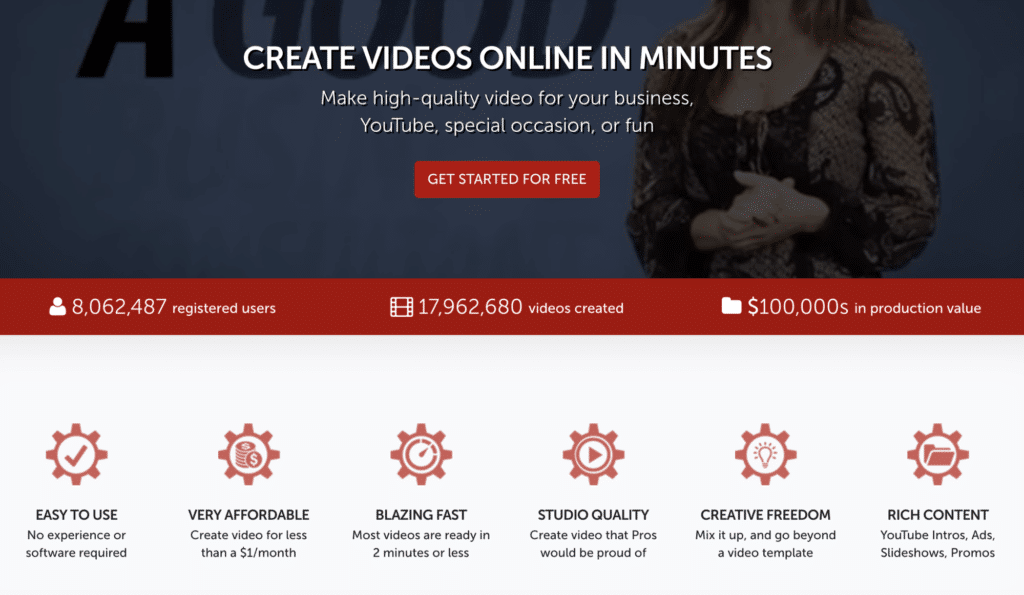 Flixpress is another cloud-based intro maker that lets you create a video intro quickly and with minimal hassle. One of the main advantages of Flixpress is you won't need to download a hefty file to use its features.
You can get started online in minutes and it's straightforward to use. While that ties you to an internet connection, it means you can use it across any number of different devices and operating platforms.
Flixpress lets you create video previews, which can be overlaid with royalty-free music from their extensive audio library. As a minus, the overall look of their templates and site itself are slightly dated.
While Flixpress is available as a free intro maker, the free version is seriously limited in features. You only have two minutes of video time a month, a watermark to contend with, 15 templates, and 360p video quality.
Subscription plans start from $0.83 a month on an annual Personal plan through to a $79.99 monthly Enterprise plan. All of which remove the watermark, enable 1080p video quality and provide a sliding scale of video minutes and templates.
12. Biteable
Biteable claim their intro maker software can help you 'make a masterpiece in minutes.' That's a bold claim but one that 4 million attest to.
Biteable has a range of video templates to use, all of which are grouped thematically according to the type of video you want to produce and where you'd like to upload it to (YouTube or Instagram, for example).
Their main selling points are speed and ease, with an interface that's simple enough for total beginners to master quickly.
On the downside, templates aren't updated as frequently as you might like and there aren't currently any square format templates for Instagrammers.
Whilst you can get Biteable as a free intro maker, your options are extremely limited with a watermark and no monthly downloads.
Subscriptions start from $228 per year for their Plus plan. That removes the watermark and allows you to download one HD quality video a month, access 85,000 Shutterstock clips, and gain commercial usage rights.
13. Tube Arsenal
Tube Arsenal might be just what you're looking for if you're planning to create the occasional intro. This web-based video intro maker comes without the hassle of having to sign up to a paid subscription service. Therein lies Tube Arsenal's greatest asset for the occasional intro maker.
It also boasts an impressive array of templates for you to use. Some of which bear more than a passing resemblance to famous pop culture intros, like DreamWorks' man in the moon intro. Their templates are logically tagged and filterable, so you can find your top pick easily.
The drawback to Tube Arsenal is the relative lack of customisation. Plus, if you're going to create regular intros, those pay-as-you-go payments are going to add up. Speaking of which, a customised 720p intro video costs $9 on average and an extra $4 to make it HD 1080p. This is one of the few intro makers that doesn't offer a free version.
14. Placeit
Placeit is an intro maker that's backed by Envato; the world's leading marketplace for digital assets. Perhaps unsurprisingly, that means their video intro maker packs a big creative punch, with a library of more than 20,000 categorised templates for you to adapt and a wide array of music tracks to soundtrack your video.
You can add your logo, slides, music, images and video to each template design. With a simple and logical interface, Placeit has created an intro maker that needs little to no previous editing experience to make decent video intros.
Unfortunately, there's no free option here. It's simply $9 per intro video. Or you can gain full access to all of Placeit's templates and get unlimited downloads with an annual subscription of $89.69.
15. Ivipid
Ivipid lets you make quick and fun intro videos for your social channels. While you're not going to create a highly polished, professional video with Ivipid, what you do get is a range of quirky and kitsch video templates – many of which mimic the intros of big Hollywood film studios, such as MGM's famous roaring lion.
It's pretty basic, with a 3-step process of choosing your template, tinkering with the text and logo, and then downloading your creation for sharing. However, if you're building a credible brand identity then this probably isn't the intro maker for you.
There's no free version of Ivipid. Instead, it works on quite a confusing credits system. Essentially, the more credits you buy into the higher the resolution your intro video will be. So for $1.99 you can buy 200 credits, which will entitle you to one measly 270p video – just about the lowest definition you can get. If you're willing to spend $6.99, you'll get full 1080p quality.
16. IntroCave
IntroCave is an intro maker that lets you pick from hundreds of base video templates that you can use to add in your own content and render it for downloading.
These templates are nicely designed and more akin to traditional logo reveal style of videos. They're categorised either by common industry areas or by their duration.
Depending on the base video, you can either input just your logo, text (if you haven't got a logo), or both. IntroCave templates feature an existing backing track, which you can change using their library of audio tracks or by uploading your own MP3 or WAV file.
Unfortunately, it must be said that the IntroCave site isn't as slick as some of its competitors here. The pricing system works on a pay-as-you-go system, starting from $5 a video. Or, you can sign up to one of their plans, starting from $19 per month.
The best free intro maker
To be perfectly honest, none of the free intro makers are particularly viable if you want to create a workable intro that doesn't feature a watermark.
Of course not, they want you to pay for their service.
Who can blame them?
But, if we had to pick one, we really like OFFEO. Yes, the free version is limited but the whole interface and creative tools are really eye-catching. This is one video intro maker that's seriously tuned in to pop culture and who's creating beautiful digital assets for YouTubers and Instagrammers.
The best paid intro maker
A relative newcomer to the space is a clear winner for us. FXhome HitFilm has a wealth of features that will make making intros infinately easier and help you expand your creative ability.
And as an added benefit you can start for free and upgrade to the right paid plan based on the featues you need, when you're ready.
An alternative…
Of course, there is another option: hiring an agency to make your intro video for you.
Whilst you might have started off with the best of intentions to create something yourself, having weighed up all the options above, could it be easier in the long-run just to get it done professionally?
That way, you know you're getting an expertly crafted video from industry specialists. You won't have to worry about watermarks, subscriptions or spending hours editing yourself. If that's an option that appeals, we can create a professional intro video to be proud of.
Summary
Creating an intro video for your YouTube channel and promotional videos can work wonders to promote your brand. With our research showing that 87% of marketers now use YouTube to promote their businesses, it's essential to create a professional looking video to compete. Done well and your intro video can help to develop essential brand awareness and familiarity.
Whichever intro maker software you choose to use, make sure it enables you to produce an intro that speaks of your company's personality and echoes your brand values. With all these tools at your disposal, you could be taking your YouTube videos to the next level in no time!
If you're a YouTube creator, and are looking for more inspiration, check out more of our content, including these YouTube ideas and how to advertise on YouTube.