Last updated on 9th March 2023
In this article we're going to take a look at Artlist, covering everything from pricing, to features, customer support, and more.
According to our Video Marketing Statistics 2023, 91% of people say they want to see more online videos from brands in 2023. So, whether you're currently making video content or not, it's probably time to up your game.
And one way you can do that is with amazing soundtracks and sound effects in your video content.
With that in mind, let's take a look at everything you need to know about Artlist in 2023…
TL;DR
Artlist is a royalty free music and sound effects site that was initially made for filmmakers, but can be accessed by anyone who requires quality tracks for their content. The site is very user friendly, there's new music added all the time, and Artlist also offers additional assets, including stock footage and video templates.
Pro 1 – Easy to navigate
Pro 2 – You can use it for free
Pro 3 – Next-level customer support!
Con 1 – You'll need a paid subscription for full access
Con 2 – There are bigger libraries out there
Bonus: We've partnered with Artlist to get you 2 extra months on your subscription when you sign up here: Get 2 months extra >>
What is Artlist?
Artlist offers creative assets to content creators. The company was founded in 2016 by Ira Belsky, an Israeli filmmaker who recognised that licensing and sourcing creative materials for videos was a difficult task.
Belsky made the transition from filmmaker to entrepreneur and Artlist was born. The company still operates out of Tel Aviv, but is now focused on all content creators rather than just filmmakers.
The assets on the site include stock footage, video templates, plugins, editing software, and of course, royalty free music and sound effects.
Who is Artlist for?
As mentioned, Artlist was initially created to make sourcing assets easier for filmmakers, and this is still the brand's primary target audience. On their About Us page, the platform is described as a place where "filmmakers can always find something inspiring, evocative, or moving to underscore their work."
However, you definitely don't have to be a filmmaker to use their tracks and sound effects. Artlist is great for anyone who makes video content, whether that's an explainer video for your start-up or an Instagram video to grow your social following.
Artlist users range from hobbyists to huge companies, like Calvin Klein and Volvo. It's not clear how many users the platform has but according to the homepage it's somewhere in the millions:
Artlist: Library size
Artlist has over 300,000 premium assets in their library, 30,000 of which are royalty free songs. The site also adds to these regularly, with around 150 new ones being added every month. This means there's a lot of variety, and a chance you could find tracks that aren't available anywhere else.
On the music section of the site, 'Staff Picks' are first suggested to users, with other categories on the left hand side that people can switch between. These are: Mood, Video Theme, Genre, Instrument, and Spotlight.
Clicking on each category gives you the chance to narrow down further. So, if you click on Instrument, you'll then be asked to select one from the list before being shown suitable tracks:
The list of tracks seems to go on forever as more and more are automatically added to the list as you scroll down.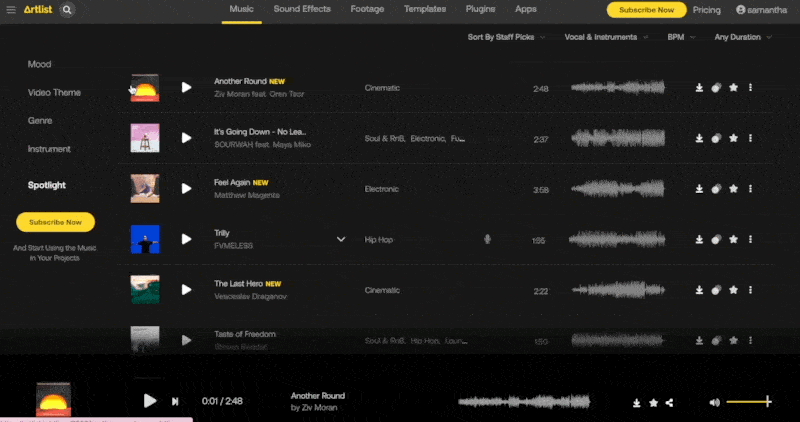 When it comes to sound effects, the experience is pretty much the same. Users can select a category, like "horror" or "gaming", or search for a specific sound effect:
Again, there's plenty to choose from and you could easily spend all day listening to tracks and sound effects on Artlist.
Artlist: Music quality
The music that Artlist sources is of the highest quality. Artlist prides itself on finding the best professional musicians in the world and then curating their music into a powerful platform for filmmakers and content creators alike: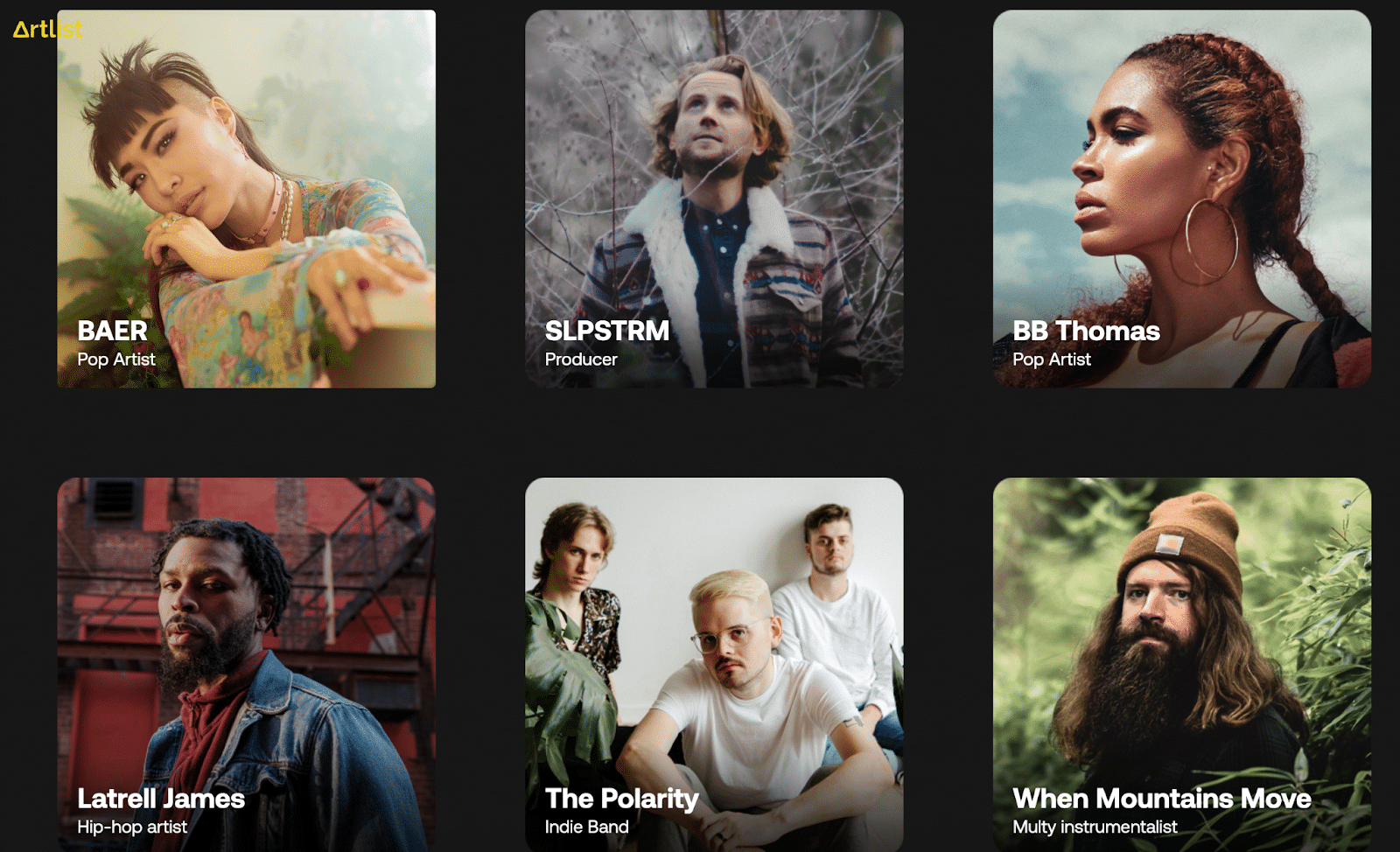 When you find a track or sound effect you like, you can click the download button to access the track as an MP3 file:

WAV files are also available, however this is for paying subscribers only (more on that in the pricing section).
Artlist's user experience
We found Artlist to be an easy and enjoyable platform to navigate, even as first time users. From the music homepage, you can click into different categories or sort tracks by a number of different parameters, including newest, duration, and even BPM: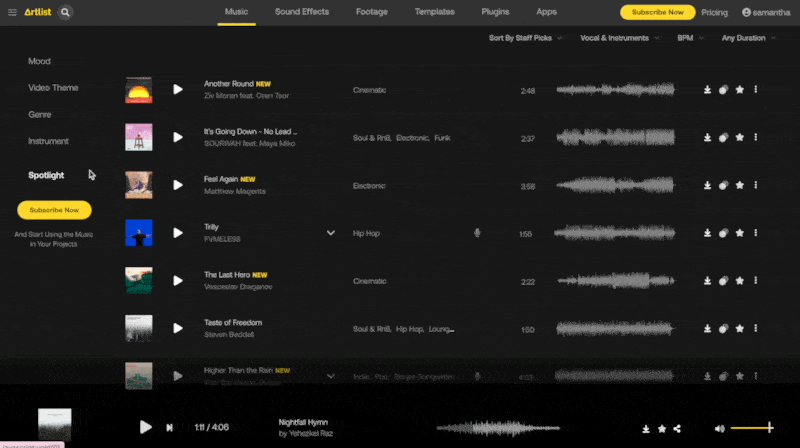 If you're more certain on what you're looking for then you can use the search bar at the top of the page:
When you click on a track or sound effect, you're taken to the content's page. Here you can find out more about the track, including finding similar sounds.
You can also save the track, share it, and add it to your own collection of sounds.
Overall, Artlist is intuitive, fun to browse, and couldn't be simpler to navigate.
Artlist: Licensing
Artlist has two different types of license – Social Creator and Creator Pro. Both of which offer unlimited downloads that you can use 'forever' in your content.
The biggest difference is that the Social Creator license is specifically for personal social accounts. Those covered are: YouTube, Facebook, Instagram, TikTok, Twitch and podcasts.
It's important to note that you can only link one channel per platform (so one YouTube channel, one Facebook page, one podcast, etc.). But the good news is that you can monetize your videos using this license – so it would be perfect for social media influencers.
Creator Pro is better for companies that create content on behalf of others. This license allows you to link unlimited channels and use the soundtracks and sound effects in client work. In addition to the social media channels mentioned, Creator Pro also covers you for: Commercials, broadcasting, websites, and even wedding videos!
Artlist: Pricing
Artlist has 4 pricing plans: Music & SFX Social, Music & SFX Pro, Music & SFX Teams, and Enterprise.
The lowest costing plan is Music & SFX Social. This is aimed at social media content creators or hobbyists and is priced at $9.99 per month. This plan covers everything we discussed above for the Social Creator license.
Next up is Music & SFX Pro. This is $16.60 per month and covers everything we discussed for the Creator Pro license. This plan is for professional video creators, especially those who make videos for clients.
The Music & SFX Teams plan is for creative and production teams. It costs $28.20 per month, and this covers you for everything in the Pro plan, as well as the ability to add up to 7 team members. It's recommended for organisations of up to 100 employees.
For organisations bigger than that, there's the Enterprise plan. This covers you to use tracks and sound effects in your apps, software, and games. Plus, you get access to dedicated curation services and premium customer service. There's no price on the site for this because it appears every enterprise plan is customised based on the company's specific needs, so you'll have to get in touch to find out more.
Artlist's customer support
If you get stuck while using Artlist it's easy to find help. Just scroll to the bottom of the page and click on 'Help Centre'.
The Help Centre allows you to search for popular topics, look through FAQs, and also go through troubleshooting, so you can try to independently solve any issues you may face while using the site:
If you find an article that looks helpful then you can click into this and give it a read. There's also the option to contact support if you didn't find what you were looking for:
This will open up a chat box that allows you to speak with a customer service rep in real time.
This functionality is great. You can see when the rep is typing their reply and also attach assets, if needed. This is really next-level support from a royalty free music site as it allows you to solve issues instantly.
Artlist: Final score
Overall, Artlist has everything you could possibly need from a royalty free music site. Lots of soundtracks and sound effects, with more added every day. Plus, amazing customer support and reasonable pricing plans.
Bonus: We've partnered with Artlist to get you 2 extra months on your subscription when you sign up here: Get 2 months extra >>
But, we get that it can be a tough decision to make. If you're still undecided, check out this article next: The 20 Best Royalty Free Music Sites in 2023.