In our rapidly developing digital world the music that soundtracks our professional endeavours can make or break an audience's interest and buy-in. The trick is finding the right songs to accompany your film, explainer video, app or video game. Unless you want to pay megabucks to a music publishing giant, you'll also want those tracks to be royalty free. Which is why we've compiled this guide to the 20 best royalty free music sites in 2021.
What is royalty free music?
Before we go any further, let's just establish exactly what royalty free music is and isn't. "Royalty free music is a specific kind of stock music or production music that is produced for unlimited use in any number of applications and productions," according to Buzzsprout, which requires "no additional license fees owed to the composer or publisher when it is used".
What it isn't is free. Yes, it's "free of royalties" but most of the time you've still got to pay for it. The good news is that you only pay once for royalty free music. After that you can use the track as many times as you wish. For example, if you purchased a royalty free music license to use in a video on your website, you'd pay a single price whether your video received 100 views or 10,000 views.
As you can imagine, the benefits of choosing royalty free music – for the sake of cost, legality and ease – are huge. Few companies have the time or inclination to wade through the legal side of acquiring copyrighted music, much less the resources to pay for it. Which is why royalty free music can be such a lifesaver if, for example, you're a marketer crafting an explainer video or an independent developer looking to launch a game or app.
Fundamentally, royalty free music levels the playing field for startups, SMEs and anyone else looking to audibly enhance their digital content. So, without further ado, let's take a look at the best of the best in our ultimate review of the top 20 best Royalty Free Music Sites available in 2021.
AudioJungle
With tracks available from as little as $1, AudioJungle provides all the genres of royalty free music you could wish for – from pop to heavy metal, through to vocals and instrumental tracks. The site also offers a range of music kits and sound effects. Whatever kind of audio files you're after, you'll find plenty in their collection. AudioJungle also offers monthly freebies for you to enjoy, including royalty free music, video effects, stock footage, 3D assets and stock photography. You can even commission your own tracks via Envato Market; a creative ecosystem with over 35,000 professional designers, music makers and developers creating all the assets you need for your projects.
PremiumBeat
A subsidiary of the global image library, Shutterstock, PremiumBeat's website is easy to navigate, so you can quickly find what you're looking for. Their 'curated by music experts' library of royalty-free music offers you the polished feel you'll only usually get from big production houses. All tracks are exclusive and cleared for copyright. What we like most about this site is that it's not crowded with information and the signposting is super clear. There's no messing about with PremiumBeat. Plus, you've got the backing of Shutterstock, so you can rest assured you're dealing with a high quality, reputable brand. Tracks cost $49 for a standard non-commercial, web-based license or $199 for a premium license that covers revenue-generating content.
Pond5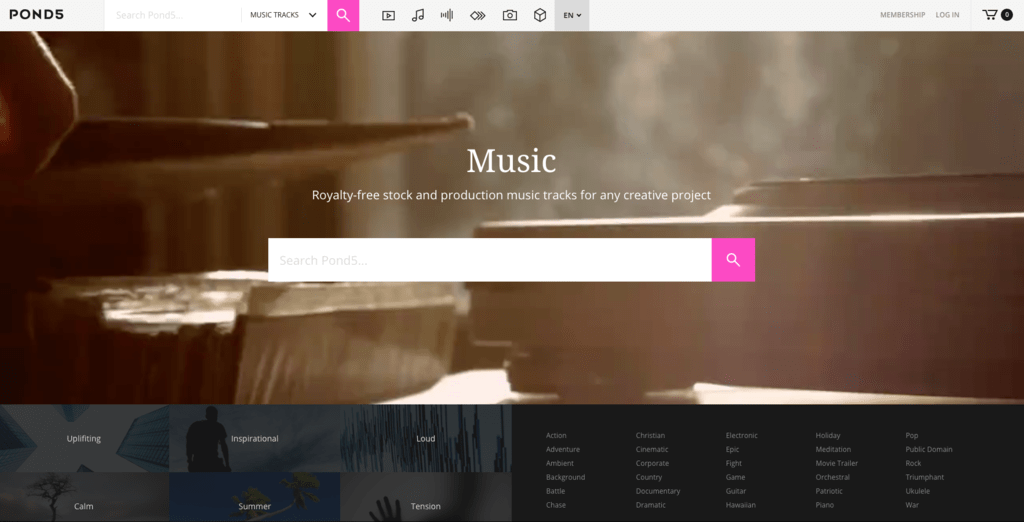 Pond5 markets itself as the "world's largest collection of royalty free stock video and creative assets". Needless to say, the sheer breadth of the media that they offer is impressive. How does a library of 500,000 tracks to choose from sound? Their thematic grouping of songs is spot-on, covering everything from adventure, to orchestral, meditation and even war! All of which makes it easy to pick out the ideal sound for your medium. Pond5 also offers sound effects, after effects and royalty free stock video. You can either buy individual tracks from around £16 each, buy pre-purchased credit bundles or go all in with monthly (£155) or annual (£775) memberships. This is certainly one of the pricier options out there.
Soundstripe
If there was a prize for best named royalty free music site, then Soundstripe would take that mantle. However, there's more to this site than just a pithy name. Geared up to provide production music solutions, Soundstripe differs from some of the sites we've touched on before in that it's a subscription service, rather than a means of buying single license tracks. What that means in effect is that your membership enables you to gain access to unlimited licenses to their hand-picked music collection. If you've ever browsed Spotify's playlists, then navigating Soundstripe's curated libraries will be a doddle. It's incredibly intuitive and easy to use. With standard unlimited license memberships starting from $135 a year, and customers of the magnitude of Amazon and Microsoft, Soundstripe has a great deal to offer.
Audioblocks
Audioblocks offers unlimited access to their library of more than 100,000 tracks. Now that's a lot of music to search through. Plus, there are no download caps, so you can download and use as much as you want. All tracks provided on Audioblocks can be used royalty free for personal or commercial projects and their listings are continually updated, so you've always got fresh audio to choose from. The navigation is slightly more clunky than some of the previous sites we've mentioned. You can either search for the type of music you need or you're helped along by a series of prompts that ask you to choose particular moods, genres and instruments before it throws up relevant suggestions. Pricing goes along the lines of monthly ($79), annual ($149) or bespoke enterprise subscriptions.
Music Vine
This "oasis of beautifully produced music" is relatively new to the scene, having launched out of Leeds, UK in 2015. So, it's pool of audio tracks is currently limited to 2062 tracks from 146 recording artists. Don't let that put you off however, because Music Vine go for quality over quantity; producing tracks that feature "real performances, real instruments and real emotion." The site is simple to navigate, with thoughtfully curated and visually pleasing libraries split out by genres, moods, instruments and duration. Music Vine's licenses are priced according to their usage, ranging from $40 for a single web project with an audience of less than 1 million (ideal for corporate or YouTube videos) through to $334 for a one-off film project for an audience of more than 10 million viewers.
Bensound
We like the name Ben. It's solid and dependable, rather like this royalty free music site from the eponymous Benjamin Tissot – a composer and musician based in France. The site is a little busier than other options, which makes navigation a touch jarring when you first land on it. That said, there's no messing about as you can get straight into the tracks with no preamble or explanation. If you're short on time and up for diving in, then Bensound is a great way to test the aural waters and see where it takes you. A great bonus with Bensound is that as long as you credit Bensound.com with any music used in online videos, websites or animations, then you're able to use certain tracks for free under a Creative Commons License. If you're unable to credit Ben, or need slightly more scope, you can buy a license which starts from €24 a track or €129 for a standard annual subscription.
Productiontrax
Productiontrax is a community of creatives that produce exceptional music, sound effects and stock audio that you can use free from any copyright anxieties. With no credits to buy, subscriptions or contracts, Productiontrax provide all the stock music, sound effects, stock music, audio and production music you need, when you need them. While the browsing experience might not be as slick or aesthetically pleasing as some of our other featured sites (there are no fancy libraries, just a drop-down menu of categories), you can just delve right in and buy your individual tracks. It's quick, simple and straightforward, which is a total breath of fresh air. Tracks are keenly priced from around $15 to $60.
YouTube Audio Library
Well, as you'd expect from video giants YouTube, this essentially does what it says on the tin. There are plenty of free (yes, you heard us – free!) tracks and sound effects to choose from. The stripped back visuals belie a fantastic resource at your disposal here. It's not often that a multi-billion-pound multinational offers up freebies, so this is a particular goldmine if you're producing short YouTube explainer videos and you're on a really tight budget. Songs are grouped by genre, mood, instrument, duration and attribution requirements. You might have to search a little deeper to find what you're looking for but, as far as free resources go, YouTube's offering is pretty hard to beat.
Stock Music Site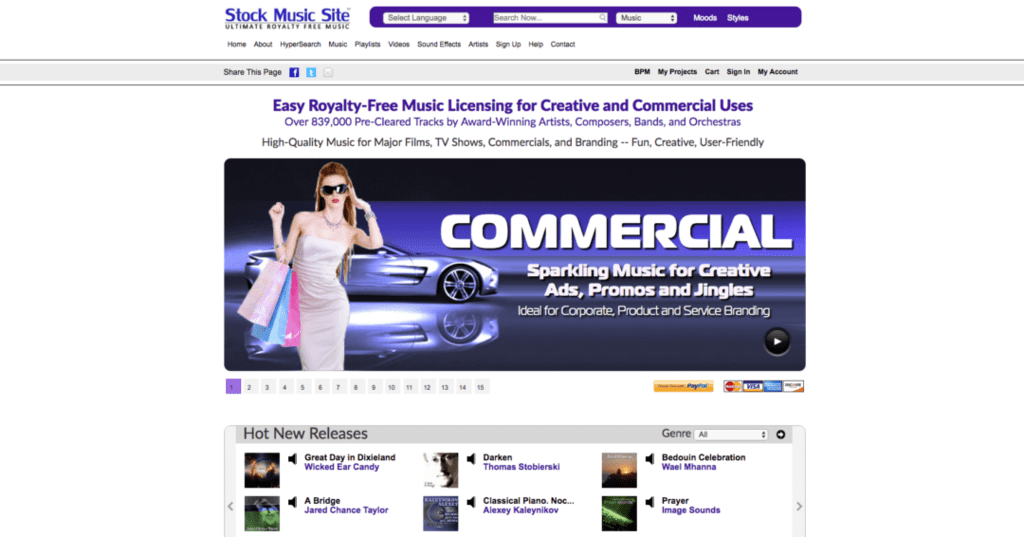 This is probably our least favourite site in term of its design. It's very crowded and kind of haphazard in terms of its menus and navigation but aesthetics aren't our primary concern here and Stock Music Site isn't without its positive qualities with regards to the tracks available. Boasting more than 836,000 pre-cleared tracks from esteemed musicians, music from this site has been used in productions by the likes of Warner Bros, Miramax Films, Universal Pictures and many other top-name clients. You can buy full-length tracks that start from $44.95 and if you're in the market for multiple tracks you can get volume discounts the more the you buy. Or you can opt for a MusicPack (starting from $99.95), which gives you a bundle of a composer's tracks at a heavily discounted price.
Epidemic Sound
Royalty Free Music re-imagined, is the Epidemic Sound approach to tackling the complexities of music licensing. Whereas other libraries claim to be royalty free then require you to report usage and pay performance royalties, Epidemic Sound includes everything; packaging all the legal rights you could need into one simple license. With a varied and easy to navigate library of tunes, Epidemic Sound is definitely one of the more accessible royalty free music sites available. Single track licensing is £79 for a standard single track, while YouTube subscriptions start from as little as £10 a month.
TeknoAXE
To be honest, TeknoAXE isn't the prettiest. But it's what's behind the doors that counts. If you can get over the metal-head sounding name and the garish visuals, then there's a solid selection to be plundered. One of the great advantages of TeknoAXE is that all their tracks are covered by a Creative Commons license (CC BY 4.0), which means that as long as you give appropriate credit you can share and adapt their songs – even for commercial use. If you're looking for dance tracks, TeknoAXE features everything from breakbeat to dubstep. Or, if rock and metal are your thing, then you're also well catered for. For more niche sounds, TeknoAXE comes up trumps.
dig ccMixter
Now this is a nice looking site. With attractive icons and a fabulous opener – "You already have permission". dig ccMixter gives you access to thousands of hours of free music for commercial projects, with a host of instrumental tracks ideally suited to video game projects. Their sister site, TuneTrack, offers a broad range of royalty free music from professional recording artists and composers. Licenses start from $44 for 'hobbyist' projects, like YouTube or website videos, through to $222 business licenses for commercials, film and television projects (to name but a few). The user experience is somewhat clunky; the music does all the talking here.
Amazon
Amazon is a mighty giant and if you're familiar with their platform (after all, who isn't these days?), then you'll know exactly what to expect. Whilst the range of tracks isn't particularly spectacular (Amazon list 1019 royalty free tracks on their site), the pricing is similar to a normal download song: 79p to 99p. If you're on a budget, there are some bargains to be had. Truth be told, the navigation is a bit of a letdown. Songs are listed as single tracks and albums, rather than grouped into themes or genres. You're going to have to play around with inventive search terms or else scroll through what's on offer. If you've got the time, this is a half-decent resource.
Purple Planet
As you would expect from a name like Purple Planet, their website is indeed purple and resembles a planetarium. What we like about this site is the way they've divided the genres into what the music either sounds like or how it makes you feel. So rather than the straight up rock, pop, country choices that you so often get, here we have active, creepy and cute! While the selection of free downloads isn't exactly out of this world (sorry!), it is free for small commercial projects, like YouTube videos, as long as you credit appropriately. If you'd prefer to buy a high-quality WAV file, say for a game or to use in a film, you can buy a standard license for as little as $5 or an unlimited license for $40. This is a great budget option.
Artlist
Artlist is a beautiful music licensing site for video, film and YouTube. This slick and professional looking website effortlessly fuses a highly artistic aesthetic with an extensive list of cool indie tracks. It is indeed an arty list of curated tracks. It's a joy to use, with super easy navigation that lets you delve into the works of fresh new artists based on the mood, video theme or genre you're aiming for. What's more, Artlist present artists and albums that they're currently spotlighting. Plus, you can pick out songs based on the duration of your video and even the tempo you'd prefer. Pricing is a straight up $199 a year (which equates to $16.60/month) for an unlimited license, giving you access to Artlist's complete catalogue, unlimited downloads, lifetime use for any project (including commercial) and all their songs are pre-checked for YouTube monetisation. If you hadn't noticed, we're somewhat smitten with Artlist!
AKM Music
What we like about this site is that it's super direct and easy to navigate. The search box on the homepage means that you can get searching immediately or you can browse by moods and genres. It's not the prettiest by any means. In fact, there's a slightly dated feel to AKM, but it gets the job done and is very well organised. The licensing and pricing is explained in simple terms, so you know what you're getting straight away. It ranges from £14.95 for royalty free tracks up to £36 for album downloads.
Amazing Music Tracks
Amazing Music Tracks is a busy site to navigate, and has a somewhat home-made feel to it, but there are loads of tracks and genres to choose from, including some free Creative Commons tracks. Once you're into the site itself there's a whole heap of music to tempt you. The subscription plans are quite hefty, with basic subscriptions starting at $119.95 per month for 5 tracks, rising to a whopping $399.95 per month for 40 tracks. You might want to shop around a bit before committing.
Hooksounds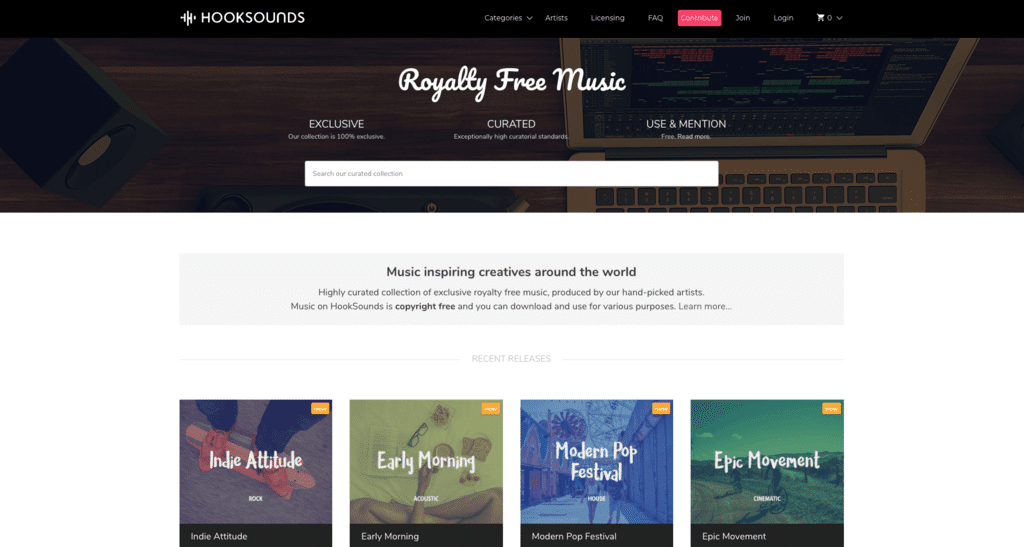 Hooksounds is a catchy titled royalty free music site that invites you to join their community of more than 100,000 people around the world using their highly curated collection of exclusive royalty free music, produced by a selection of handpicked artists. Music on HookSounds is released free of copyrights under Creative Commons, so you can download and use it in as many ways as you wish. You can browse track listings based on genres, like 'Enthusiastic' and 'Ukulele' (really!) or artists. Licenses range from $24 for a basic Pro package (ideal for freelancers and vloggers) up to $580 for a Premier Broadcast license for TV and radio projects.
Filmstro
Finally, we reach the last site in our review: Filmstro. This site features a good range of tracks but also has an instructional video on the Products page. We also like the price packaging menus that divide customers into personal, freelancers and companies, which is an inclusive way of doing things. Pricing is from $9.99 a month or $99.99 a year for personal and freelance users (you can also get a 30-day pass for $14.99 if you'd like to test the water first) and $24.99 a month or $249.99 a year for a company subscription (30-day passes are $37.99 for companies).
Our top 3 royalty-free music sites
With so many sites to choose from, how do you turn down the noise and find a royalty free music site that's in harmony with your requirements? Well, with such a lot of options available, the decision ultimately lies with you. But, if you want our take on things, there are three that stood out for us. We're basing our judgement on cost, usability and music selection.
In no particular order, the three royalty free music sites we recommend in 2021 are:
YouTube Audio Library
This is a real gem of a surprise package. If you're an aspiring YouTuber, or are creating an explainer video on a shoestring, YouTube Audio Library has what you need for the best price possible – free! It's super easy to use and there's plenty of musical choice. If you're less bothered about sourcing hipster tracks and simply want to lay down a backing track, then look no further.
PremiumBeat
Backed by the might of Shutterstock, PremiumBeat is well-named indeed. This is a top-notch service that's a joy to use. It's fast, intuitive and the licensing couldn't be clearer. While $49 for a track might seem a little steep, the breadth of quality tracks to choose from means that you're more than likely to find value for money.
Artlist
We fell hard for Artlist. Every aspect is dialled up to 11: the visuals, the navigation, the song collection – it's all impeccable. This is one royalty free music site that's style and substance rolled into one. You can really sense the passion behind it. Not only does it look and feel dynamite but the indie songs and featured artists really are top drawer. With unlimited access for $199, we think it's a worthy investment.
And that's all folks! Lots to consider and look at (or rather listen to!), so make sure you put aside some time and budget to find the right music for your project. A great track really can enhance any visual content you're putting out, so explore these sites to your heart's content and we're certain you'll unearth some treasures.