In this article we review the 20 best free stock video and stock footage sites that you should be using this year…
According to our State of Video Marketing 2020 survey, 85% of businesses now use video as a marketing tool. Video is a great way to increase awareness of your brand and engage your customers, but it can be difficult to keep churning out video content. Enter: Free stock video.
With stock video sites, all you need to do is click the download button and you have content at your disposal, ready to use in your video marketing efforts.
But, with 92% of video marketers feeling that the level of competition has increased in the past year, it's important to make sure that your videos stand out above the noise.
So what role does stock footage play?
What is stock footage?
First, let's talk about what stock footage actually is. Stock footage refers to videos that have been uploaded and archived online ready to fill the needs of anyone who wants to use them.
There are different licences when it comes to stock footage and these are usually clearly available when you download a stock video. The main ones are:
Royalty Free – meaning you can use the video in any way that you want (personal or commercial) without giving attribution to the creator or distributor.
Attribution Required – which means if you use the footage you must credit the creator and/or distributor.
Free for Personal Use – as the name suggests, you can use the stock footage for personal use but not in projects that you expect to profit from.
The biggest benefit of using stock videos is that they are usually free, although some sites will charge a fee for certain 'upgrades' such as 4K quality or to remove the attribution. As video marketing soars in demand, free stock video can be a great way to keep your output of video content high–across your social media posts, on your website, and even as adverts for your business–while keeping costs low.
And now, time for the websites…
The best sites for stock video
1. Pixabay
Pixabay has thousands of stock video clips and footage shared by their community members. All videos are free for personal and commercial use, and attribution is not required. That means all you need to do is find a video you like, hit download, and you're good to go.
Stock footage on Pixabay is high-quality, and users can choose between HD and 4K downloads.
While you don't need an account to download videos, you do need one if you want to take part in any community activity, for example liking videos and leaving comments.
The site is really easy to use and you can filter videos easily by popularity:
Effects, like slow motion and time lapse videos:
And also by category:
A highlight of the site is that you can preview videos just by hovering over them, but watch out for the 'Sponsored Videos'! These will take you to Shutterstock, which is another stock video site that isn't free.
2. Videvo
Browsing Videvo for free stock videos is easy. From the home page, you can choose one of the categories along the top of the page or simply enter your chosen keyword.
The site has almost 8,000 free stock footage and motion graphics clips, and they're always adding more. Most videos are licensed as royalty free, so you can use them however you please with no need for attribution. But be on the lookout for videos labelled with 'Videvo Attribution License' as you will need to credit the artist if you use these.

The great thing about Videvo is that all content is curated by an in-house team, so you can rest assured that you're getting high quality content that is safe to use in your project.
3. Pexels
Pexels is made of a community of talented videographers who upload free stock videos that can be used for personal or commercial use, with no attribution required.
The best videos can be found on the homepage, in the 'Trending Videos' section:
Some of the videos have a 'home movie' feel to them, which suggests the videos on Pexels aren't as curated as some other sites. On top of that, the layout is quite difficult to navigate. Users are required to scroll through various thumbnails and can only receive information about a video (such as length and quality) after clicking on it and being taken to a new page.
However, with thousands of videos available all at the click of a button, this is still a great site for anyone looking for free stock videos to use in their content.
4. Videezy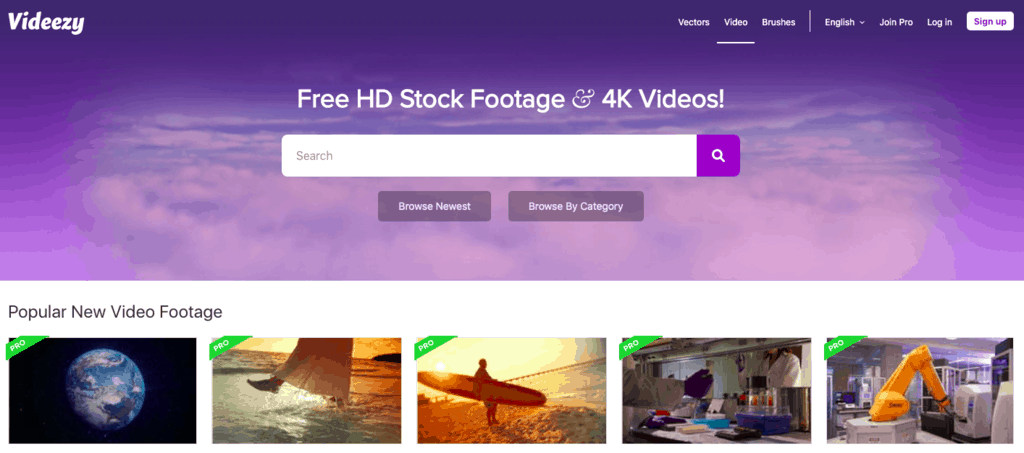 Videezy boasts thousands of videos, including HD and 4K quality. It's easy to search for a keyword from the homepage and you can also filter results with the handy tool bar on the left-hand side of the video results page:
Videos are free for personal and commercial use, but attribution must be given to Videezy.
The best videos are marked as 'Pro' and to use these you need to sign up for a Pro account. Pro videos must be paid for in credits and the more credits you buy, the better value you get. You can also benefit from a Videezy Pro License which means you receive a commercial use license without having to give attribution.
5. Vidsplay
While not the best looking site on the list, Vidsplay has much to offer in the world of stock footage. All videos are free to use but you must give credit to Vidsplay.
There aren't that many videos to choose from, but in an industry that is so saturated it is worth venturing down every avenue that you can.
You can search for videos by clicking on a category or typing in a keyword. Videos can be downloaded instantly, but the information given on each video is pretty basic, simply the duration, resolution, format, and frame rate:
At the time of writing, Vidsplay users also get 30 days of free access to Adobe Stock – a catalogue of carefully curated, premium stock assets.
6. Life of Vids
Life of Vids is a great site to visit if you're looking for inspiration. All of their videos are hosted on Vimeo and are free for commercial and personal use with no restrictions–although there is a 'Buy us a beer' button if you fancy saying thanks!
The only condition is that users are limited to 10 videos. This is simply a way to protect the site from having all of their videos posted elsewhere.
The keyword functionality isn't great. We tested it with a couple of generic keywords and got no results, which is why this site is better for inspiration. You can scroll through their beautiful collections that are based on broad topics, like nature, people, and cities.
When you find a video you like, you are given the option of downloading it in various sizes and SD or HD format. Unfortunately there don't appear to be any 4K videos on the site yet.
7. SplitShire
Splitshire is primarily a stock photo site, but they do have a small collection of videos that are free for commercial and personal use.
The interface isn't the most user-friendly and the search function doesn't allow you to select between videos and photos. As the site is primarily for images, it is likely that most of the results from a keyword search are going to be images, so this can make it difficult if you're looking for a video for a specific purpose.
If you're just looking for some cool stock footage then Splitshire may be for you. They have a lot of aerial/drone footage and their videos are hosted on YouTube, making it easy to use them in your own content:
8. Dareful
If only the highest quality will do for you, then look no further than Dareful. All stock videos on Dareful are shot in 4K–and they're free! You can use the videos in any way you want as long as you give attribution.
The library size is small right now, but new videos are being added all the time so this is likely to grow.
The only catch with this site is that you need to sign up in order to start downloading. But this is free to do and there's no credit card required.
All of the videos are hosted on Vimeo. Check this one out to judge the quality for yourself:
9. Mixkit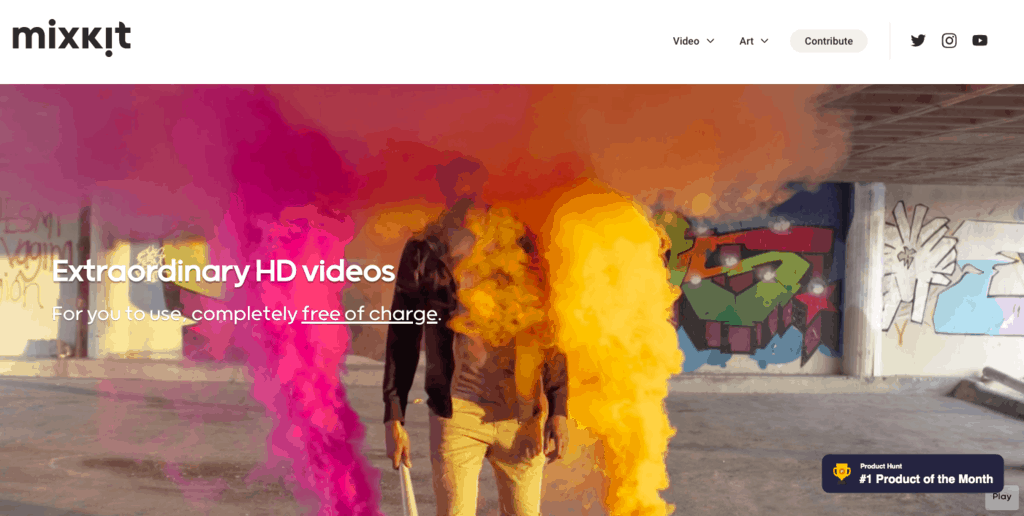 From 4K videos to HD, Mixkit focuses only on extraordinary HD videos (as stated on their homepage). You can use their videos in any way you desire for free and there is no attribution required, although it is appreciated.
This is definitely not the biggest collection of stock videos out there, but the quality is consistently high. You can search for videos by category but not by keyword:
The biggest con of Mixkit is that there is no search bar, but this shouldn't be a problem if you're simply looking for some inspiration.
If you're getting really serious about video you can sign up to their newsletter to get 10 new videos sent directly to your inbox each month.
10. Stock Footage For Free
Stock Footage for Free offers pretty much what you would expect from the name! It's not the easiest site to use, or the prettiest, but it is functional. Users can search for HD stock videos by clicking on a category or entering a keyword to find something specific.
This site (and some others on the list) source their content from VideoBlocks, which is a subscription-based stock video site. One of the aims of Stock Footage for Free seems to be to direct users to VideoBlocks for 7 days of complimentary access to over 115,000 assets.
All videos on this site are accompanied by great descriptions that were written with love and care, like this one: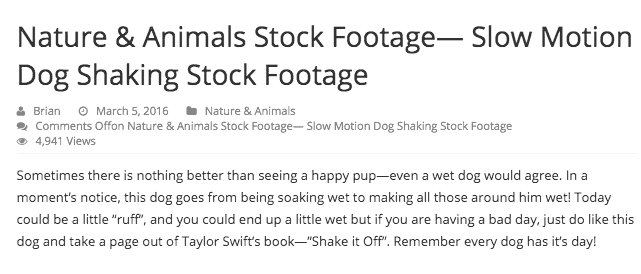 Another great feature is that you can see how many times a video has been downloaded. This is a good way to make sure you aren't using footage that hasn't been used by lots of other businesses already: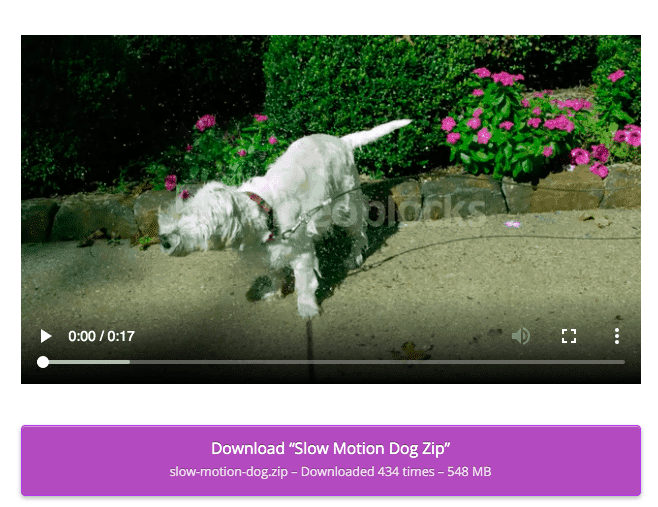 11. Motion Places
As the name suggests, Motion Places is a curated collection of stock footage that mainly focuses on different places around the world. If you're looking for videos of historical sites or breathtaking landscapes then this is the site for you!
Videos are categorised by place, colour, and season. And there is also a Featured Clips section if you're interested in finding out what's popular:
Users are required to sign up to download clips, but all videos are free and in HD quality. There is also the option to purchase 4K clips, and this is currently priced at $99.
All videos are free to use in editorial, commercial, or personal projects but attribution is required. However, for users that opt to purchase 4K videos, there is no attribution requirement.
12. XStockvideo
XStockvideo has a small collection of around 500 free video clips available to download and use personally or commercially. There are two different licences available on each video:
The Regular Licence can be used in a single end product which end users can not be charged for.
The Extended Licence can be used in a single end product which end users can be charged for.
All videos are listed on the homepage. You can choose from 9 different categories, from Animals/Pets to Technology, and also filter the videos if you want to view the most popular or the newest ones available:
There is no search functionality but you can change the number of videos that show up on the homepage to make browsing easier.
The videos are a little random so if you're looking for something specific you may not find it here. There is also no option to preview videos so you must download them in order to watch them. Videos are available in .mov format and a variety of different sizes:
13. MotionElements
MotionElements is a huge site that boasts over 3 million videos. However, for free videos you need to make sure you're searching in the 'Free Stock Footage' section. They still have a wide variety of free videos (4,000+) ranging from HD live action to animated backgrounds, and even some 360 degree videos.
The search bar at the top of the homepage is for the entire site, so to search free videos you will need to select from the categories listed. However, once you click into a category you can search within that, so it's a little bit easier to find what you're looking for.
The filtering options allow you to make your search even more specific. You can filter by duration, resolution, framing, and more! You can also view all of the videos from within the same window:
The website can be difficult to navigate, especially if you're looking for free videos as most have a charge. There is also another catch–users can only download one free element per email address. If you sign up then you can access 5 free elements per week.
14. Beachfront B-Roll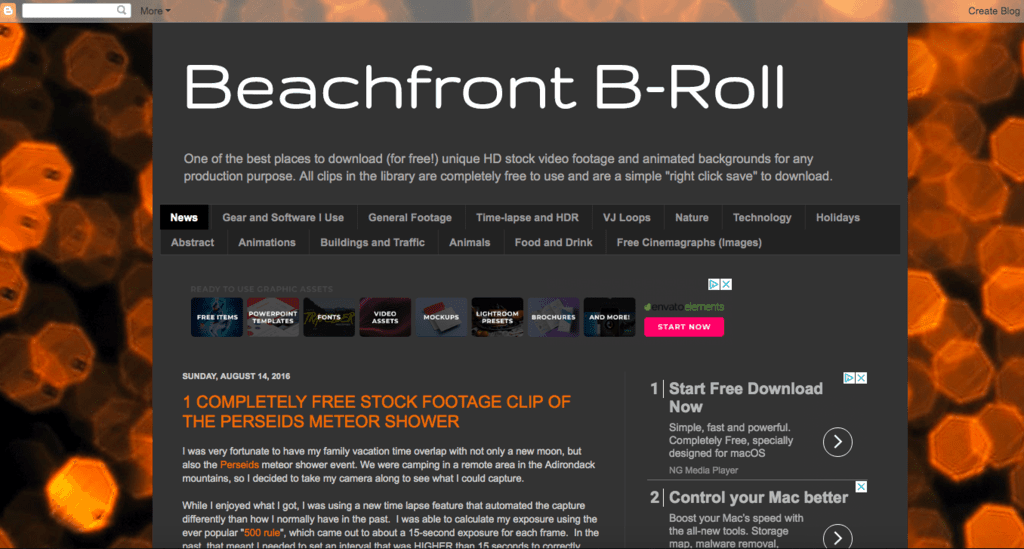 You know where you stand with Beachfront B-Roll. Everything on the site is free to use with no attribution required. All you need to do is download and use your video as you wish.
Videos are split into different categories, such as Nature, Technology, and Holidays. But there's no search bar so you might need to spend some time scrolling through to find what you're looking for.
All of the videos are hosted on YouTube and if you click on a thumbnail then you will be taken to YouTube to view a sample. Here's an example:
There's not a lot of information about the videos other than the size and the camera they were shot on. Additionally, the library is quite small but there are a lot of beautiful videos to choose from.
15. Freestock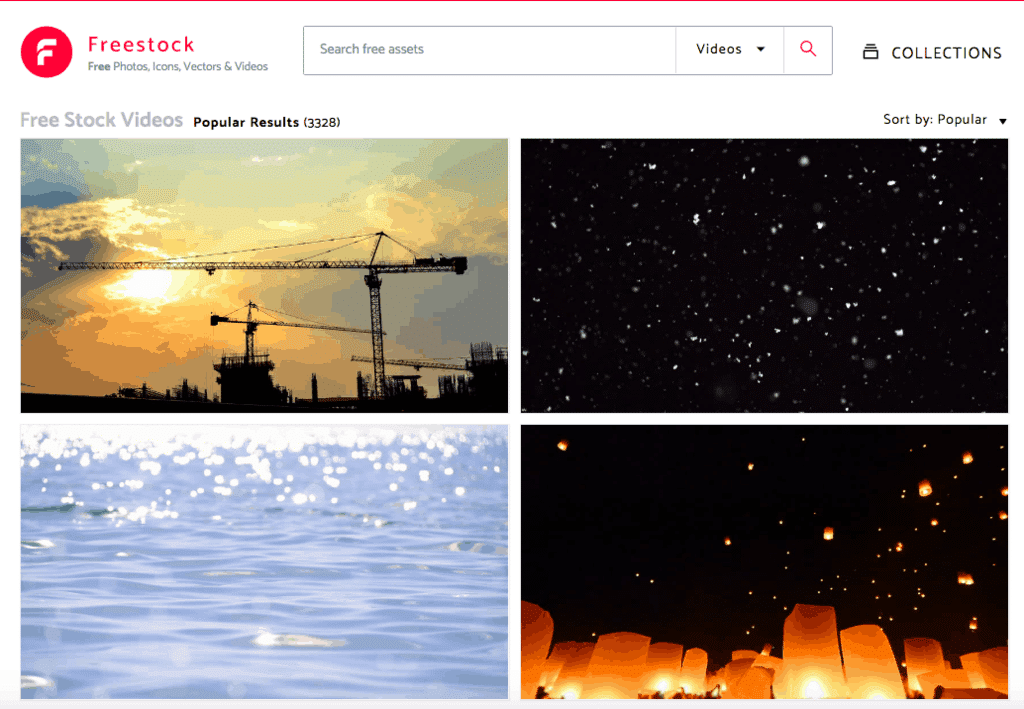 Freestock has a saying, "Free forever and curated with care." This definitely shines through when browsing the high-quality stock videos on their site.
Their video collections are small, but growing. They currently have the following collections:
You can also use the search bar at the top of the page to find what you're looking for: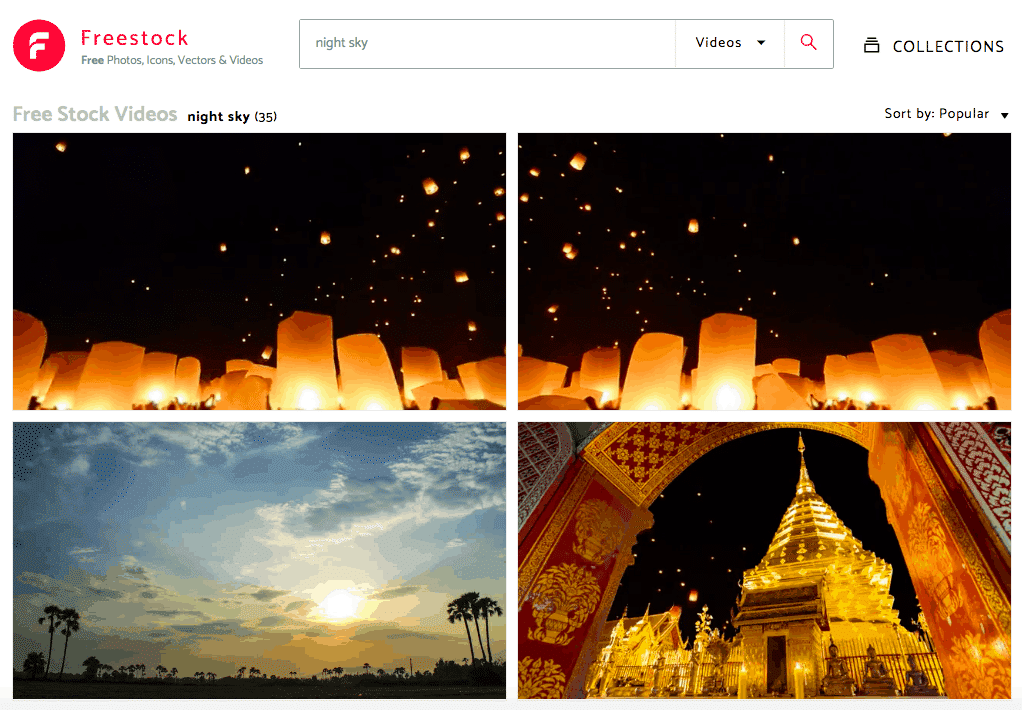 A nice touch is their 'hover to preview' feature. You simply leave your cursor over a video and it starts playing within the window, making it quick and easy to choose a favourite.
All of the videos are free to use with attribution back to Freestock. They make this easy with a simple line of code that you can copy and paste on your site.
16. CuteStockFootage
At first glance, CuteStockFootage doesn't appear to be a strong contender on this list. The videos on the homepage appear in a random order, although this can be changed with the filters at the top of the page.
The search bar is very responsive and probably the best way to find a video that you're looking for. Just be sure that you've checked the 'video' filter as the site has other royalty free assets too.
When you find a video you like, you can see how many times it has been viewed and downloaded. And you can also view a sample of the video in standard definition before downloading it in full HD with a single click.
17. ISO Republic
ISO Republic has a collection of royalty free videos that can be used in personal and professional projects with no attribution required, although it is encouraged.
If you're looking for inspiration then scroll through the various videos on the homepage, or if you know what you're looking for, use the search bar to find it.
The videos on the site are quite short in comparison to some other sites on the list. But there is no login required and videos can be downloaded in one click.
Just be sure to look out for the related videos by Shutterstock as these pop up beside every search and, while tempting, they aren't free!
18. IgniteMotion
IgniteMotion focuses on one type of stock video: animated motion backgrounds. All backgrounds are HD quality and free for commercial and personal use.
These backgrounds would be perfect for use in videographic-style videos as all you would need to do is add text and/or statistics to appear in front of the moving background.
Users are required to filter by category to find relevant videos as there is no search bar. Here is the full list of categories:
Interestingly, the site also has a dedicated 'Holiday Videos' section with motion backgrounds specific to certain holidays, like Halloween:
All of the videos are hosted on YouTube and most seem slightly longer than the average for stock footage, at 1-2 minutes in length.
19. Motion Array
Motion Array has over 150,000 assets to choose from, including stock video and stock motion graphics. Not all of the assets are free, but it's really easy to filter the results to make sure you only see the free videos.
The search functionality is also really responsive. Just type in what you're looking for and within milliseconds you'll see results for those videos.
You can preview videos from the search results page, or click on them for more information. All videos can be used in an unlimited number of projects with no additional fees. The site even specifies that you can use the footage in a Hollywood blockbuster or a local ad, and there will still be no additional fees to pay. This has helped them amass a number of impressive clients, including Universal and EA.
In order to download videos, you'll need to sign up. Once you do, you can download as many free videos as your heart desires!
20. CLIPSTILL
CLIPSTILL is a little different to the rest of the sites on this list in that it doesn't offer stock videos or footage, but cinemagraphs. Cinemagraphs are essentially 'moving photographs'. They are still but for some minor, repeated movements.
All cinemagraphs on the site are free for personal and commercial use without attribution. While their library is relatively small, the site uploads new cinemagraphs every month and encourages users to sign up to be the first to know.
Users can download a 'web' version of each cinemagraph for free or pay extra for SD and HD versions:
All you need is an email address and you can download as many as you want!
Our top 3 free stock video sites
Ok, so let's get off the fence. All these sites have something to offer. But, taking everything into account, which are the 3 sites we'd recommend as THE go-to places for stock video? Drum-roll, please….
1. Videvo
Videvo is an easy choice for our top pick! It's so easy to use and has thousands of high-quality stock videos, all curated by a passionate in-house team.
2. Dareful
Although it doesn't have the biggest library on the list, Dareful's videos are works of art. Plus they're all shot in 4K which future-proofs them to a certain extent.
3. Stock Footage for Free
We love the personal touch given to the video descriptions on Stock Footage for Free. Plus, the fact that you can see how many downloads each video has means that you can ensure your content is as original as possible.
Thanks for reading
According to a Cisco study, 82% of all internet traffic will be video by 2022. By bookmarking some of these sites you can ensure that you have a steady stream of stock footage to use in your video marketing.
Did you know we also wrote articles about the best places to find royalty free music and royalty free images?