If you're new to the world of internet business then chances are you'll benefit from a web video production. In fact, even if you are a veteran of the online world of business, a video could totally revamp your brand and generate a huge amount of conversions for you.
Online videos are very powerful marketing tools for the simple reason that customers enjoy watching them.
In this post, we are going to present four signs that you need a web video production. If you agree with even one of these points then I suggest you check out our video packages page!
1. You need to Increase Web Traffic
Getting people to your site is the first step towards turning them into customers, so increasing web traffic is kind of a big deal! A web video production can increase traffic to your site because videos grab people's attention, and encourage engagement.
Videos are also really popular with search engines. In fact, pages with video are 53x more likely to rank on the first page of Google search results. And, we all know how important it is to be on that first page! I mean, when's the last time you clicked onto the second page?
Not only will a video increase web traffic, it will also keep people on your site, therefore reducing your bounce rate.
If you get views to your site that last for only a couple of seconds then your bounce rate increases, and this tells search engines that you have an unreliable site. To avoid this, you have to do everything you can to keep people on your site, and one way of doing this is to have a video. After all, 53% of people agree that video is now something their customers expect from them.
2. You need to Raise Awareness
Awareness is often a quality that is overlooked, but when you actually stop to think about it, awareness is everything. Your company could be the greatest in the world, and your product could turn out to be the most sought after thing in history — but if no one is aware of it, or you, you won't make a single sale.
Posting videos on YouTube is a really great way to increase the awareness of your brand because YouTube is one of the most popular search engines in the world, second only to Google.
Videos also raise awareness because they are shareable! Check out this image below that shows how people spend their time online: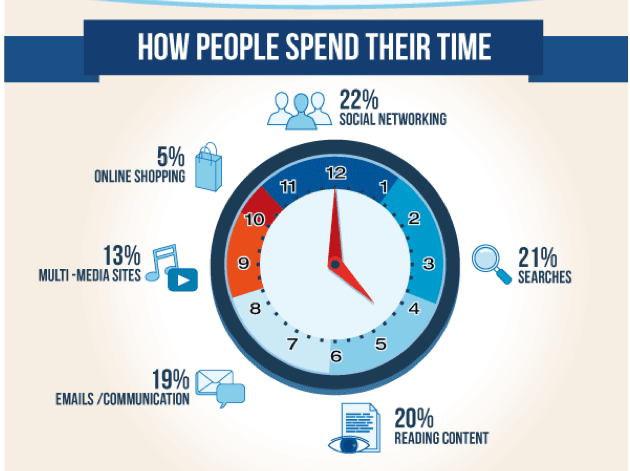 The highest percentage, is social networking. This is exactly why it is beneficial to create a web video production that you can share on social sites (and encourage other people to share with their friends!)
3. You need to Increase Conversion Rates
The challenge with selling online is that buyers cannot hold the product until they have hit the pay button and committed to purchasing. Before that, the only resources you have to persuade them to buy is a product description and an image.
By adding a product video, you can give customers a better understanding of what you're selling and this can then give them the push they need to buy. Product videos can answer questions that an image cannot, and it's because of this that 73% of people said they've gone on to buy from a company after watching one of their videos.
However, it's not just product videos that can increase conversion rates, a great explainer video can also encourage people to buy.
An explainer video doubles up as a quick 'about us' story for your company. Explainer videos encourage people to buy because they humanize your brand and show that you are a trustworthy company.
4. You need to Increase Understanding
As mentioned above, product videos can give customers a better understanding of your product, and an explainer video can give people a better understanding of your company.
Videos are effective at increasing our understanding because we like to listen to the sound of a human voice explaining information to us. This is much more attractive to the brain than reading explanations such as a product description or an About Us page.
Customer research shows that videos increase people's understanding of your product or service by a huge 74%! This shows how important it is to have a web video production on your site, not only to increase understanding, but to develop a larger customer base.
Final Thoughts
Videos are so popular with consumers that every company could benefit from having a web video production on their site. Not only because of the four signs in this blog, but because videos are practically becoming the Number #1 marketing tool.
If you want to know more about web video production, check out our previous article: Animation Costs vs. Value: Does video pay for itself?