Last updated 23rd February 2023.
In this article we're going to take a look at 8 ways to increase brand awareness with video in 2023.
When compiling our Video Marketing Statistics 2023, we asked over 500 marketers to tell us about their experience with video. And 95% said video marketing has helped them increase brand awareness.
95%!
Video is one of the best ways to get your brand's message across in a way that's compelling and shareable.
Let's take a better look at exactly how you can use video to increase brand awareness…
What is brand awareness?
Brand awareness describes how familiar (or 'aware') consumers are of a certain brand, or a brand's products and services.
In this sense, it's a metric that measures how recognisable a brand is. And this can also extend to how the brand is viewed, whether favourably or unfavourably.
The difficulty with measuring a metric like brand awareness is that it's not exactly tangible! The best way to measure brand awareness – and to increase it – is to focus on creating marketing campaigns and then measure their success by metrics that are tangible, such as website traffic, social media followers, video views, and so on.
The importance of building brand awareness
Aside from the typical "people need to know your brand exists in order to purchase from you", there are more reasons why you need to build brand awareness.
For starters, it gives you a point of differentiation. It's difficult to find a market that's not saturated at the minute, and that means competition is tougher than ever. Building brand awareness and making sure people are aware of what you stand for and what makes you different is a great way to gain a competitive edge.
Here's an example of a brand awareness video from Thrive Market:
Thrive Market is in the heavily saturated meal-kit industry, competing with brands like HelloFresh, Blue Apron and Gousto.
However, in just 30 seconds, Thrive Market is able to set aside what's different about their brand. After watching the video ad, viewers know this is the meal kit for them if they like eating organic food, using sustainable products, and saving money.
This leads us onto another reason why brand awareness is so important: it gives your customers something to identify with.
Today's consumer wants to shop with brands that they feel connected to. According to SproutSocial's #BrandsGetReal report, 53% of people say they feel connected when a brand's values align with their own. And 51% say their relationship with a brand starts when they feel the brand understands them and their desires.
What's more, the report also found that more than half of consumers will increase their spending with a brand they feel connected to, and 76% will choose them over a competitor.
It's worth keeping these statistics in mind as we move onto looking at different ideas for increasing brand awareness with video.
How to increase brand awareness with video in 8 simple ways
1. Build organic reach on social media
One of the best ways to increase brand awareness, without a doubt, is through social media. Social media is where most people spend most of their time online. So if you want to get eyes on your brand, social media is the best place to start.
Video is also becoming increasingly popular across all social media platforms. One example of this increase comes from the Hootsuite Global State of Digital 2022 report, which found that video accounted for 31.8% of all posts from business accounts on Instagram, almost doubling from 16.3% the previous year.
When posting videos on your social media channels, it's important to take advantage of social media trends. Trending hashtags, trending audio, and even just trending topics will all give you the opportunity to boost the exposure of your video and increase your social media presence.
When it comes to Instagram reels in particular, there are several reel marketing coaches out there that can give you timely tips that will help your video content reach more people.
Here's an example:
Click to watch Instagram reel.
Social media platforms are all pretty fast moving so it's important to create and share new videos as often as you can if you want to build organic reach and increase brand awareness.
Another social media platform that's booming right now is TikTok, so it definitely couldn't hurt to have a presence there if you want to increase your brand awareness with video. Check out this article to find out more: What is TikTok? A Complete Guide for Marketers.
2. Share testimonials
Testimonial videos are a great way to increase brand awareness through the experience of your happiest and most loyal customers.
According to our research, customers would rather hear from each other than from brands directly, with 37% of people believing testimonial videos are effective because they're more authentic than a business' own pitch.
In addition, 2 out of 3 people say they'd be more likely to make a purchase after watching a testimonial video demonstrating how a business, product or service had helped another person like them.
Here's an example of a testimonial for Wyzowl:
The great thing about testimonial videos – aside from the fact that people want to watch them – is that they're relatively inexpensive to make and they give you a lot of credibility in your field because they come from the point of view of previous paying customers.
3. Create targeted video ads
In addition to growing brand awareness organically, you should also create targeted video ads to increase your success rate.
Targeted video ad campaigns will allow you to get your video in front of the right people (your target audience) and give you access to metrics that can help you understand how people are interacting with your video content.
This is a great way to spread awareness of your brand if you're just starting out and have no online or social media presence.
Platforms like YouTube and Facebook (the biggest video marketing channels in the world right now) have great targeting capabilities so that you can be sure only the most interested consumers will be watching your brand awareness ads.
You can target people based on location, gender, age range, income, hobbies, and much more. And you can be sure that your video ad will only play before, during, or after relevant content. Here's a great example:
This animated video ad for Brilliant.org, an online education platform, is played before a Kurzgesagt video, which is a YouTube channel that creates educational animated videos. So there's a very clear connection there between the video content and the video ad, and it's highly likely that the target audience for Kurzgesagt will also be interested in Brilliant.org – that's the power of targeting!
4. Tell your brand's story
Another brand awareness strategy is to tell your brand's story through video. Consumers don't want to just be sold to anymore. They want a reason why.
A video that tells the story of your brand, for example, how you came to be, what motivates you, and what your values are, can really help to build brand awareness. Let's take a look at an example from Bombas:
This marketing campaign delivers Bombas' brand message in an engaging way that can grab the attention of new audiences. It's a little on the long side, but that's okay for a brand story or brand history video. Plus, you can easily create cuts, like this one, to share on social media:
This cut, although short, still does a great job of building brand recognition by calling out a key reason why the company exists, and also a benefit of purchasing with them.
5. Show off your personality
Video is a great way to get your brand voice across so you can really speak to your target audience in a way that resonates.
Your brand awareness video should be interesting, clever, and show off your personality. This is what's going to help you spark the connection that turns brand curiosity into brand loyalty!
Instead of selecting a new example to showcase this pointer, we're going to stick with Bombas.
The Bombas brand awareness campaign above does a great job of showing off the personality of the brand, and even includes the founders in the video.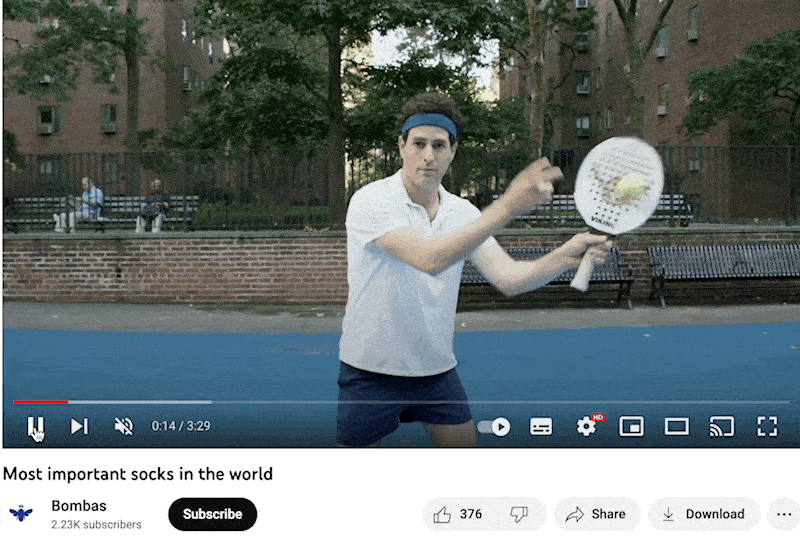 We understand most business owners probably wouldn't be comfortable in front of a camera, but if you are then this is an amazing way to generate strong brand awareness – Dollar Shave Club, anyone?
6. Encourage user-generated video content
If you're not starting out completely from scratch and already have a small customer base, you can use those customers to help you find more – through user-generated video content!
User-generated video content (UGC, for short) is exactly what it sounds like – it's videos created by your users or customers that help to raise brand awareness.
This is a good brand awareness strategy to take advantage of because, like testimonial videos, the content is coming from someone external to your brand – and this can give it more credibility.
Encourage customers to share videos of themselves using your product or service to their social media channels. You can do this by creating a branded hashtag or, even better, by launching a competition. Here's an example from pet accessories brand Doodlebone: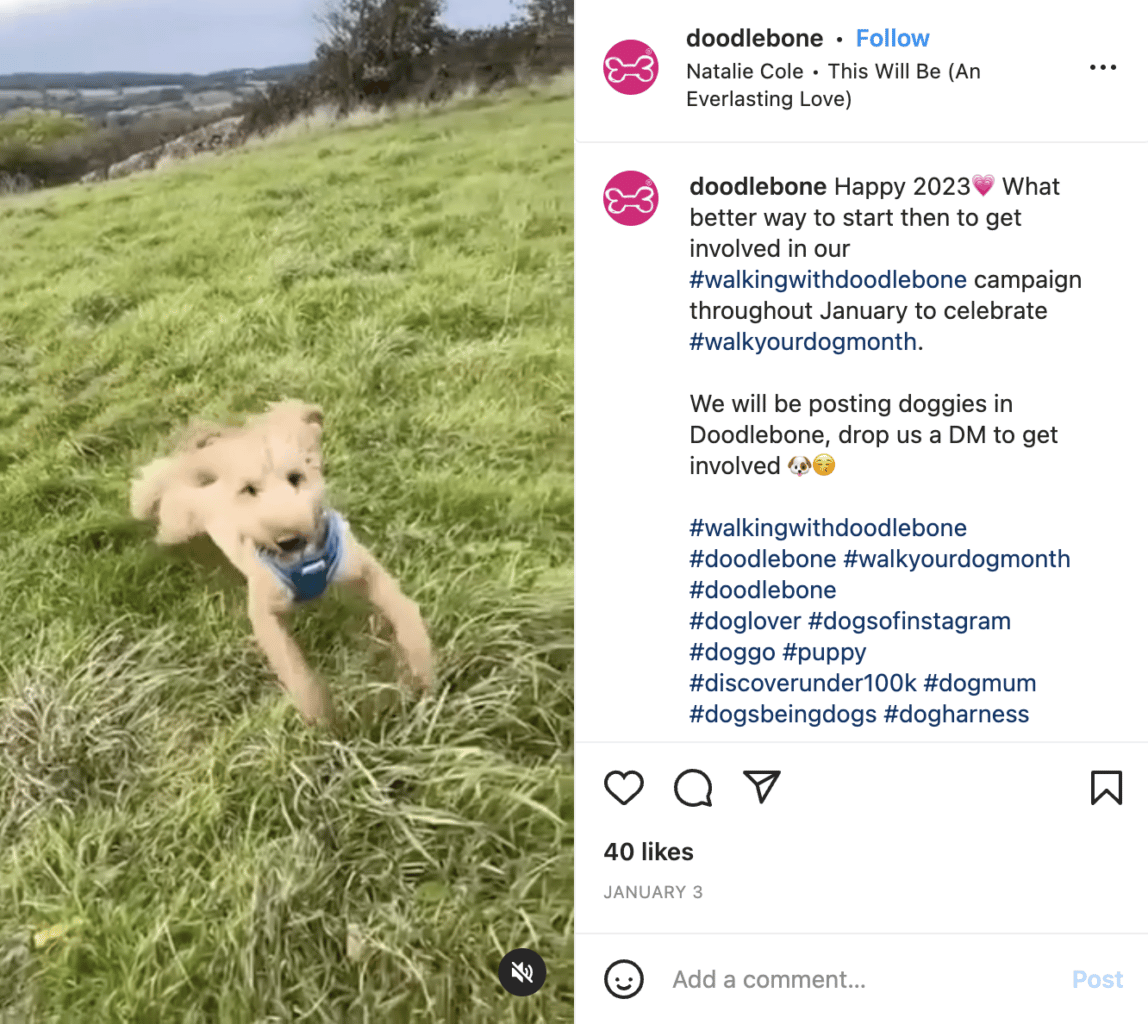 Click to watch Instagram reel.
Social media posts like this one show other potential customers that there are lots of happy customers out there already. The video post takes advantage of a trending hashtag (#walkyourdogmonth) and also encourages users to share their own content using a custom hashtag (#walkingwithdoodlebone).
This is a great way to encourage customers to become brand advocates and is an amazing way to promote your brand online.
7. Partner with another brand
Partnering with a brand that complements yours is another way to improve brand awareness. You'll both have a similar target audience and this gives you a chance to cast a wider net.
A brand that does this quite often is Vans. They frequently promote different apparel collections that partner with another popular brand. Here's a campaign where they partnered with Disney:
Each brand awareness campaign like this gives Vans an opportunity to branch out. As a brand initially associated with skaters, these partnerships put Vans in front of people who may never have considered buying their clothing, like Disney fans.
8. Improve SEO
In order for your brand awareness campaigns to stand a good chance of being found online, you need to make sure your SEO is top notch.
While it's been rumoured that Google prioritises results with video above results without video, search engines largely still use text to categorise and index results. This means that keywords are your friends if you want to gain more brand awareness when posting your videos.
It's best practice to include keywords in your video title and description. Even including keywords in your video thumbnail could help.
Video SEO is a topic you can really deep dive into. If that's something you're interested in then check out this guide: Video SEO: The Ultimate Guide.
4 brand awareness examples
Now let's take a look at some successful brand awareness campaigns, so you can gather inspiration and think about different ways you might raise brand awareness with video.
1. SessionCam
When it comes to building awareness of your brand, an animated explainer video like this one is a great place to start.
Another thing that's important to note through your brand building marketing efforts is that colour matters! By sticking to a limited range of brand colours in your video, you can create a piece of content that clearly belongs to your brand.
Brands do this all the time in their marketing. Think of the vibrant Coca Cola red or Apple's cool grey.
2. Teapigs
This brand awareness campaign falls under the "tell your story" category of videos we mentioned above.
Yes, it's a little on the long side but it's jam-packed with valuable information about the brand and also features one of the company's staff members, which gives the video a genuine and authoritative feel.
These types of videos give you the opportunity to speak in your brand voice and reach new audiences that want to know more about why they should be interested in your brand.
3. The Oxford Club
This is a beautiful animated video (if we do say so ourselves!) and it does a great job of creating brand awareness because it gives viewers a lot of context behind the brand, starting with an intriguing question.
Not only does the video start well, it ends well too. The strong call to action at the end directs viewers to click a button (on the video landing page) to find out more. This is a good way to measure brand awareness, because you can calculate how many people have viewed the video and clicked on the call-to-action button.
4. Olipop
This 30 second ad does a great job of raising brand awareness for Olipop, a new kind of soda.
The ad begins in quite an ingenious way, by talking directly to people who currently drink the soda that Olipop is looking to replace. The voiceover starts off confidently and loses faith in the so-called 'benefits' of current sodas before listing off all of the great things about Olipop.
This is an awesome way to boost brand awareness because it hooks in the exact target audience for the brand and presents them with a solution for a problem they didn't even know they had.
Final thoughts
The more you build brand awareness, the more people will be interested in your brand, the more they will purchase from you, and the more successful you'll be. It really is that simple!
And it could all start with an amazing video that can not only help you to establish brand awareness but also assist you in many other marketing efforts.
Ready to get started? Click here to take a look at our explainer video examples.