Last updated on 7th March 2023.
In this article we're going to take a look at 3 of the best ways to increase sales with video in 2023.
As you may already know, video is an incredible tool for marketing and selling your products. Video allows you to get your message across in a simple and engaging way. Plus, people enjoy watching and sharing video content.
According to our Video Marketing Statistics 2023, 87% of marketers agree that video marketing has helped them increase sales, and 89% of people say watching a video has convinced them to buy a product or service.
So the figures speak for themselves. The question is…HOW can YOU get more sales with video in 2023?
Let's find out…
3 Best Ways to Increase Sales With Video in 2023
1. Know your goal
Okay, this might sound obvious. But you need to really really know exactly what goal you're hoping to achieve with your video if you're going to boost sales.
Of course, the primary goal is probably increasing sales. But you may have other goals around that, for example, increasing brand awareness, educating existing customers, hooking new customers, and so on.
As leaders in the video marketing world, we've spoken to many different clients in many different industries and sometimes brands can find it difficult to hone in on one specific goal for a video.
This can be an issue, especially if you have several different audiences to target or different value propositions you want to get across. However, with video it's best to keep it short and specific.
If you try to do or say too much you could risk viewers switching off either out of boredom or because they don't think the video content is relevant to them.
The best thing to do is make different videos for each target goal and/or target audience. Hotels.com have done this successfully with their 'Find your perfect somewhere' video marketing campaign.
As a hotel booking site, Hotels.com has a wide range of customers, from families looking for a budget holiday, to couples seeking a boutique escape, and even businesspeople just on the hunt for the most practical stay.
Instead of trying to speak to all of these people at once, Hotels.com created three 30 second ad spots to speak to each audience individually. Here's an example of one of the video ads:
This ad speaks directly to the target audience and shows viewers all of the features and benefits that people looking for a business stay would want to see.
Here's the same ad but for the boutique stay target audience:
As you can see, both videos are completely different and trying to hold the attention of both audiences in just one video would've been extremely difficult, confusing, and probably not the best for increasing the business's sales.
According to Hector Muelas, senior vice president of global creative at Expedia Group, Hotels.com created these marketing materials because "Just as every traveller is unique, every property has its own personality too… Hotels.com's new creative platform was designed to convey the idea that what's perfect for some might not necessarily be what's perfect for you. And we're here to make that match happen."
The brand even expanded the series of videos from the initial set to focus on specific types of properties. Here's an example:
This series of successful video ads shows exactly how important it is to know your goal and stick to it if you want to increase sales with video.
2. Use emotion
According to psychological research into shopping behaviour, consumers do not make rational purchasing decisions. Shoppers supposedly go through a three step purchasing decision process.
Step 1 is the start of the process and it begins with the consumer's overall perceptions about a brand, product, or service.
Step 2 is where motivations and needs come in. This is where most consumers, if they were asked, would probably assume their decision making process ends. Do I want this? Do I need this?
But there is a 3rd step, and that relates to the perceived emotional end-benefits of owning and using the specific product or service. How will this make me feel? How will this benefit my life?
And, if you're asking yourself how to increase sales, then this is the crucial step that leads a lot of consumers to choose one purchase over another!
So, in order to increase sales with video you need to consider emotional marketing. Emotional marketing is exactly what it sounds like – marketing content that uses emotion to appeal to customers and prospects in a way that creates an emotional response that triggers a desired behaviour or action. In this case, that desired action would be to purchase from your brand and boost sales.
Emotional marketing, particularly in the video marketing world, is not a new sales strategy. It's been used for decades to grab the attention of viewers and stick in their minds. Here's a very old example from Budweiser:
The product isn't at all part of the video, instead the story focuses on the relationship between a puppy and a horse, stirring up strong emotions in viewers. The only mention to Budweiser is the call to action at the end and the hashtag #BestBuds.
In a subtle way, and using lots of emotional marketing, this campaign encourages people to think of Budweiser and friendships simultaneously. This not only makes for an engaging and shareable video, it can also work to increase sales of the product.
Here's a more recent example from Budweiser:
As you can see, the video uses a lot of the same tropes to make viewers feel emotional while watching and keep Budweiser at the top of their mind without being overly salesy.
So many brands use emotion to increase sales with video all the time. Check out this video from Amazon:
This video ad is the perfect example of content that uses emotion to show how the product will make viewers feel, rather than listing the features of the product and going in hard with sales tactics.
You don't always have to be overt in your marketing strategy, and this is definitely something to consider when creating sales videos for your brand.
3. Make sure you have a strong call to action
Your video content needs to be engaging. There's no doubt about that. But, the real metric that's going to help you understand just how much your video has increased sales is your call to action.
A strong call to action is what's going to gain you new customers and lead to more sales. There are lots of different types of CTAs that can attract attention and encourage customers to purchase from you. So let's take a look at some examples: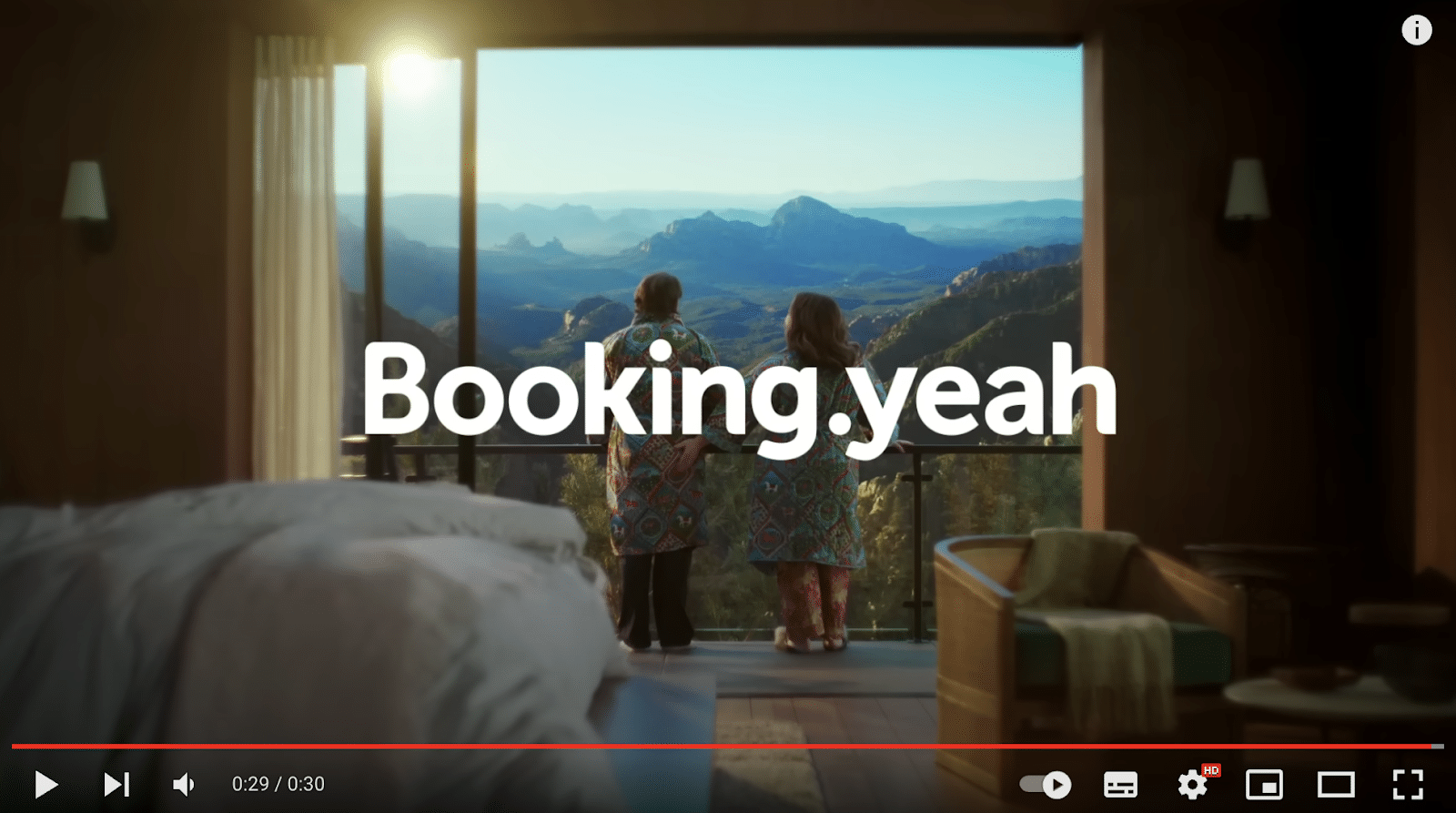 Click here to watch the full video.
Booking.com has a unique and memorable call to action that creates a positive association with their brand and encourages action in a subtle way.
When thinking of how to increase sales, this tactic is probably not the first thing that springs to mind. But many brands have had success with fun and memorable taglines like this. Others include McDonalds "I'm lovin' it" and Tesco's "Every little helps".
Here's a different example: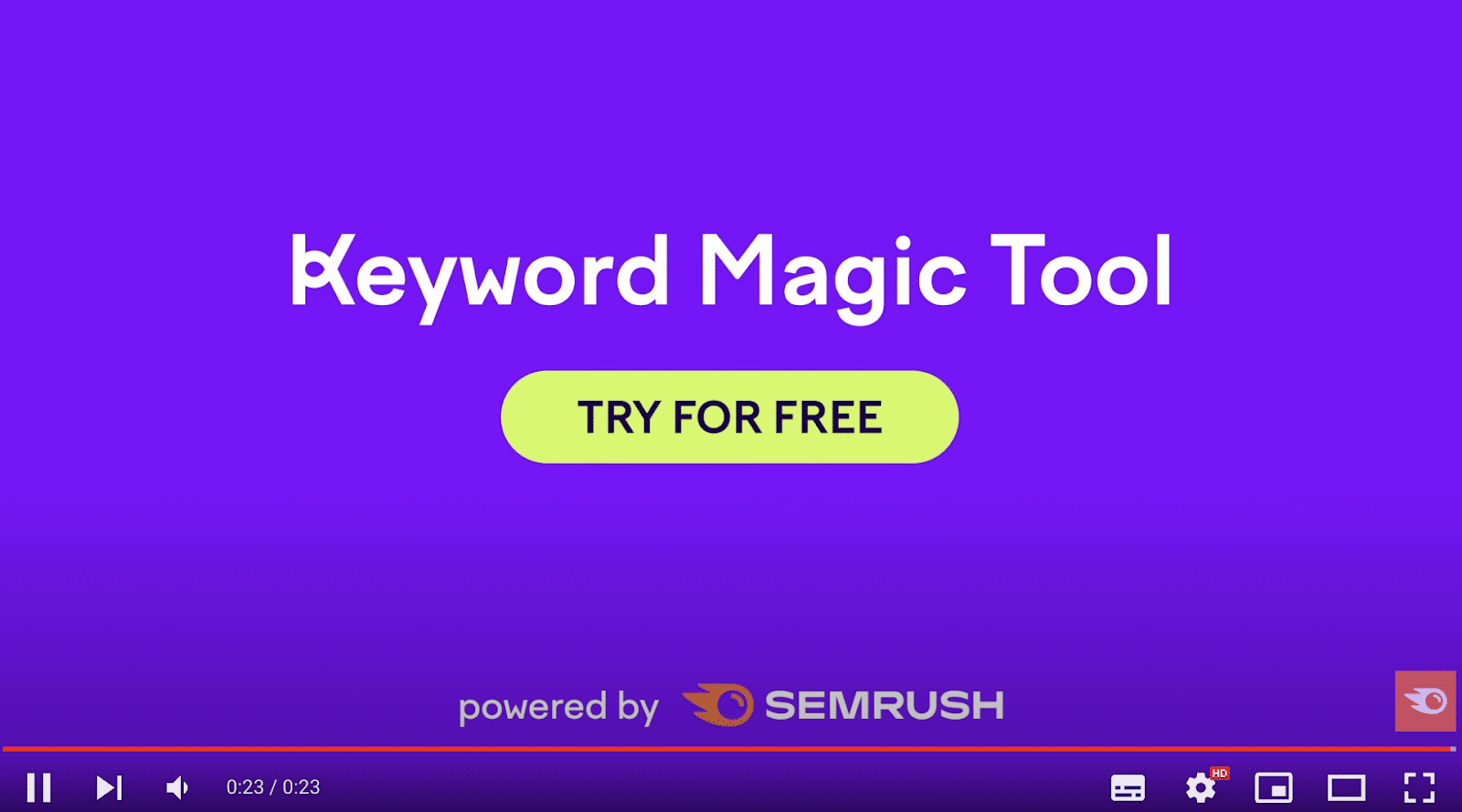 Click here to watch the full video.
This is a more traditional CTA for increasing sales. It creates urgency with the text "TRY FOR FREE" in capital letters. This is a great way to get more sales from your video marketing strategy because it gives viewers something to do next, and the urgent phrasing can encourage people to take action more quickly and become new customers!
Other urgent phrases to use for your next call to action include:
TRY NOW
LIMITED OFFER
GET IN TOUCH TODAY
FREE FOR 30 DAYS
NO SIGN UP REQUIRED
All of these phrases just work to make the decision to become a customer easier for prospects.
5 types of videos that increase sales
1. Personalised video
Regardless of the industry you're in, sales will always be competitive. One way to use video to increase sales is to get straight to it with personalised video content when you're prospecting.
Prospecting is HARD, especially when you consider that the number of emails sent and received every day is almost 350 billion!
Imagine how much easier it will be to cut through the noise with a personalised video aimed directly at your prospect. According to SuperOffice, emails with the word 'video' in the subject line are 6% more likely to be opened.
This sales strategy can work on existing customers as well as new ones, and it shows upfront that you care and are more likely to provide excellent customer service.
Video prospecting tools like Vidyard can make this incredibly easy, and also give you access to analytics that will help you better understand how to increase sales with video.
According to a Vidyard case study, personalised video messages can drive an 8x improvement in click-through rates and a 4x improvement in reply rates.
2. Explainer video
An explainer video is going to help you increase sales because it allows you to share more information about your brand, product, or service with potential customers.
A typical explainer video script follows a problem-solution-benefit storyline. You can see this in action here:
The problem is laid out at the start so that target customers can relate instantly to the situation. In this case the problem that potential customers have is that they want to improve their website. The video even lists on screen the reasons why viewers might want to solve this problem:
The next step in this storyline is to present your brand, product, or service as the solution to these problems. In this video, the solution is SessionCam, a web analytics and optimisation tool.
The last ingredient required for an amazing explainer video that's going to help you increase sales is a list of benefits. After presenting viewers with the solution, you need to hammer home all of the great reasons why your brand, product, or service is the perfect solution for viewers.
This formula makes explainer videos one of the best ways to increase sales for your business.
3. How-to/demo video
How-to and demo videos can help to increase sales because they show current customers how to get the most out of your products or services, and new customers how they work – to encourage more people to make a purchase.
Product demo videos are particularly valuable if you're selling a software platform. Here's an example that we made for Brightstores:
This video acts like a 'try before you buy' almost, showing people the features and benefits of the product and hopefully piquing their interest enough that they want to book a demo and move one step further along the sales funnel.
If you're wondering how to increase sales with this technique if you don't have a SaaS platform, check out this video from Portal:
This video shows that even hardware and tangible products benefit from how-to/demo type videos. This allows viewers to see how the product works and imagine how it might benefit them if they bought it.
4. Testimonial
Testimonials are one of the BEST ways to increase sales with video. According to our Testimonial Statistics 2020, 9 out of 10 people say they trust what a customer says about a business more than what the business says about itself. That's huge! And a clear sign that if you're not making testimonial videos, you're missing out.
Let's take a look at this fun example from Babbel:
While it's not a true testimonial video, it hits all the same notes. You need to interview one of your happy current customers about their experience with your brand, product, or service so they can share all about the excellent customer service they received from you.
Let your existing customers do the talking and allow potential customers to understand how you can help them too.
Another revealing statistic from our survey was that 39% of people say testimonial videos are effective because they help illustrate the impact a product or service can have on their life.
If you're wondering how to increase sales on a budget, this is it! All you need is one of your current customers, some simple recording and editing equipment, and boom: you're increasing sales with video.
5. Video ads
Video ads are probably the most traditional way to increase sales with video, as that's exactly what they're designed to do!
Ads allow you to get your brand, product, or service in front of new potential customers so that you can drum up excitement and hopefully drive results for your marketing campaign.
You can't always assume that people will come across your site and watch your videos there. You need to go where the people are, and that's social media platforms. Social media advertising is one of the best ways to increase sales with videos.
Related reading: 24 Social Media Statistics for Marketers (Updated for 2023).
Now let's take a look at an awesome video ad from Mini Cheddars:
We just love this fun animation. It's short, sweet, and not overly "salesy". The main aim of this video ad is obviously to increase the sales of Mini Cheddars, but instead of telling viewers all of the reasons why they should buy Mini Cheddars, the brand has created an earworm of a song that will be stuck in viewers' heads all day, and keep them thinking about Mini Cheddars. Now that's how to increase sales!
Final thoughts
There are many different ways you can increase sales with video, so we hope this article gave you some food for thought and a couple of ideas for your next video marketing campaign.
According to our Video Marketing Statistics 2023, 40% of marketers created sales videos in 2022. Why not join them for 2023? Click here to get started.