Last updated on 16th January 2023
Let's start with the bad news:
78% of transactions were bailed on because of a poor customer service experience.
It takes 12 positive experiences to make up for one negative experience
And now for the good news:
On average, loyal customers are worth up to 10 times as much as their first purchase
It goes without saying that great customer service should be at the foundation of all that your company stands for, but it can also be highly beneficial to your bottom line if you get people to use your service again.
So how often do you go the extra mile for your customers? And that's not just about offering a service with a smile. Sometimes it means going out of your way to do something that's worth stopping the press for.
The 6 brands below managed exactly that.
Check out these examples of great customer service and get inspired…
1. Making up for mistakes
The mobile phone company O2 ran a competition to win free pizza, but the winner – Dan from Essex – never did receive his prize.
To his dismay he went straight over to Twitter and tweeted his outrage, whilst threatening to leave the mobile phone company and move to their competitor, Three.
Three decided to get involved and offered Dan free ice-cream to try and tempt him over to their side.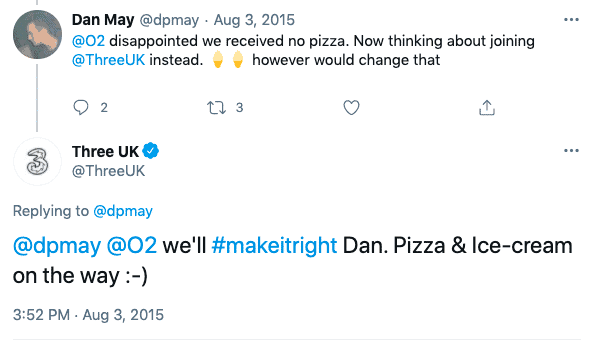 But as you can imagine, this didn't go down well with O2 who instantly begged or his forgiveness and offered him free pizza for the ENTIRE year!
Needless to say, Dan was left a very happy chap and O2 did well to make up for their terrible mistake.
2. Going the extra mile
This heartwarming tale comes from the hotel chain Ritz-Carlton. A family stayed in their Florida hotel whilst on vacation, but once they arrived home, they realised that their son had left his beloved giraffe (Joshie) behind.
Luckily, the hotel called the family to let them know that they had indeed found the giraffe. But when it came to getting Joshie back, included in the package was a brochure of photos that told the story of what Joshie had been up to whilst he was absent from his family.
They took photos of Joshie on the beach, getting a spa, and tanning himself on a sun lounger to name just a few of the activities!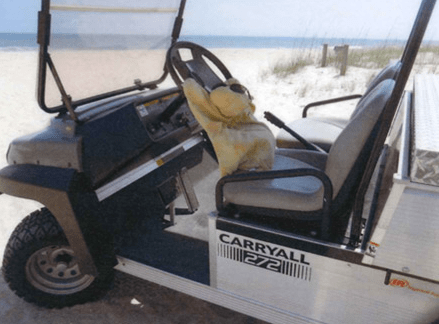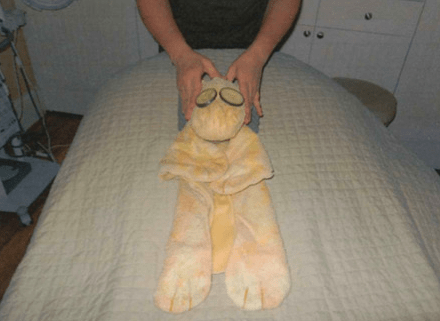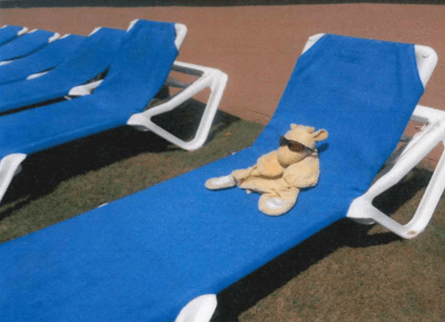 The unexpected effort of going the extra mile and creating a loveable story for the child to enjoy, has turned the family into lifelong customers of the hotel, and has earned the chain respect across the globe.
3. Showing your social conscience
Trader Joe's is a grocery store that doesn't deliver, but in this instance they decided to make an exception to the rule…
There was a storm in Pennsylvania around the holidays and an 89 year old man was snowed in at his home. His daughter rang around grocery stores, worried that her father wouldn't have enough food to eat during the storm.
After her luck was wearing thin, she finally called Trader Joe's and explained the situation. They told her that they don't normally deliver, but in this special case they would – and the food would be completely free of charge.
It was a small gesture that earned Trader Joe's massive customer service points!
4. Using customer feedback
Have you ever tasted tiger bread? Delicious isn't it!
It would seem 3 and a half year old Lily also likes the taste of tiger bread, but she disagrees with its name.
She wrote to Sainsbury's asking why the bread was called tiger bread, when it looks more like a giraffe…
The team at Sainsbury's kindly wrote a letter back explaining that it was named by the first baker who thought it looked like the stripes from a tiger, but suggested that the baker was perhaps "a bit silly".
After Lilly's mum posted the letter on social media, it went viral and a campaign began to change the name of the bread….
And it wasn't long until the supermarket did indeed change the name…
5. Doing something unexpected
JetBlue is known for exceptional customer service, and is also a brand that's quick to react on Twitter. Whether they receive bad comments or good, JetBlue go out of their way to respond to every tweet.
They also operate a strapline of 'Just ask', designed to empower their travellers to ask for the things they need for an incredible experience.
That strapline became very literal in this example. JetBlue customer Alexa tweeted about how upset she was that her vacation was over and she was having to come home. She jokingly asked for a parade to greet her when she landed…
And what Alexa asked for, Alexa got….
The JetBlue team got together and organised a mini welcome home parade, which as you can imagine – completely made her day!
6. Making things right and avoiding the blame game
Things can go wrong along the customer journey for many complex reasons. The person who who has to fix a problem won't necessarily be the person who caused it.
But it's important to understand that the customer sees each person, and each team, as representative of the brand. Bluntly, they don't care which team or person messed up. They care about getting their problem solved.
If they come forward to have an issue resolved and are met with people blaming others in the organisation, passing the buck or simply telling them 'We don't deal with that,' you're missing a huge opportunity to fix things up.
Getting around this can be the key to turning a bad experience into a good one. Take this story for example, about a McDonalds breakfast gone wrong. Tina Farmer, travelling from St Louis to Indianapolis, stopped to order two Egg McMuffins without any meat from the drive through. Unfortunately, they got her order wrong and gave her an Egg McMuffin that included Canadian bacon.
She saw a sign advertising another McDonalds at the next exit and decided to try her luck. She explained what happened to the guy behind the counter, who was friendly, sympathetic and apologetic – and, without hesitation he gave her two meatless McMuffins, on the house.
In a business you have to look out for each other and cover each others mistakes, and remember to observe a sacred mantra: just fix things for the customer.
What can we learn?
Going that extra mile can really help your business stand apart – and if you're lucky – get plenty of free publicity by doing so!
But it's not just about trying to get your business some good press.
The stats prove that good customer service can and will save you money. And, the more you start to impress people, the more that your customers will turn into raving fans of your brand!
Connect with customers in real time
Don't forget to use social media to engage with your customers in real time. Whether you receive good or bad feedback, you can use your social media platforms to directly connect with your customers and really show that you care!