What goes into creating a successful Facebook video ads campaign? How do you get the right message to the right person? How do you achieve maximum impact – and minimum waste?
Let's take a deep dive into Facebook videos to find out what you need to do to create a successful Facebook video ads campaign for your brand.
5 Types of videos that Facebookers love
Before you can create the next best Facebook video ad campaign, you need one crucial ingredient:
An awesome video.
There's a lot of different directions you can take when it comes to creating a video ad, so we thought it would be best to look at some different types of videos that perform well on Facebook.
1. Self-aware
Online advertising has been around long enough for consumers to become wise to what you're doing. They know you're trying to sell them something. So why hide from that?
Companies that are more self-aware with their video marketing are appreciated for their honesty – and you can also find a bit of humour in it!
This Tide ad pokes fun at practically every other type of ad out there:
And in doing so, it becomes less of an ad itself, and more of a fun video that people will enjoy watching and maybe even share with their friends!
2. Timely
Social media is always on. In order to stay current with your video marketing, you need to take a look around at what's currently trending or relevant at the time.
Take a look at this Colgate ad as an example:
This short and sweet video takes advantage of the hashtag #NationalKissingDay to advertise the brand.
Using relevant hashtags like this is a great way to gain more traction for your video and increase the awareness of your brand.
3. Aesthetically pleasing
Sounds obvious, right?
ALL videos should be aesthetically pleasing, of course. Video is a visual medium.
But on Facebook, this is even more important.
Users on Facebook will be distracted by tons of other content. The goal is to make your ad the most tempting to look at. You need to draw the customer's eye away from everything else and towards your video.
Here's an 8 second ad from Kitchen Aid:
In 8 seconds we go from raw ingredients to colourful ribbons of pasta. The slow-mo, close-up shots in this video do a great job of hooking viewers in.
And the constant motion keeps them there until the end.
You'll have noticed that this video has no audio – and that's not uncommon for Facebook, as a number of users watch videos without the sound – this just makes visuals all the more important!
4. Funny
Even though you're advertising your product, this is still social media – so it's important to keep things light!
According to Edison Research, 81% of US mothers are on Facebook, making it a great place for Chatbooks to post this video ad:
At 3:46, this video is a bit on the long side. But with joke after joke, it keeps potential customers entertained and watching.
5. Short & simple
The Chatbooks video ad above, at close to 4 minutes long, is definitely an exception to the rule.
Typically, videos that are successful on Facebook keep it short and simple. Here's an example from Starbucks:
This video ticks all the boxes: it's short, it's to the point, it's visually pleasing, and it makes sense with or without audio.
The 5 videos listed here are great examples of the types of videos that do well on Facebook, but it's also important to consider the requirements – for example, the accepted dimensions, file types, and so on. Facebook has a handy list of all those here: Facebook video ad specs.
How to create a successful Facebook video ads campaign in 3 steps
1. Create an amazing video
Now that you know what types of videos work well on Facebook, you can start to think of how to create the perfect one for your ad campaign.
The videos above can provide great inspiration, and here's some more: 21 of the best video ads of all time.
But creating a video really comes down to two things: Planning & Execution.
Planning
When planning your video, you need to think about the storyline. If you're trying to sell a product, this could be a problem > solution > benefits kind of story.
If you're looking to raise awareness of your brand then maybe you want to tell the story of how your brand started out and how it works today.
When planning your video, you also need to think about equipment, locations (if you're shooting a live action video), timing, and budget. 
Execution
This is where you bring everything together to create your amazing Facebook video ad.
Of course, creating a video can be really overwhelming if it's not your forte. So it could be easier to get in touch with a video marketing agency that can help you.
We've also created a free eBook full of detailed examples and tips that can help: The ultimate guide: How to create the perfect explainer video.
2. Create your campaign
Once you've created your video, it's time to upload it to Facebook and create your campaign.
To start, head to your business page and click Ad Center and then Create Ad:
The first thing you need to do is choose a goal. For this video ad campaign, we're launching a rebrand of our company so we're going to select Build your business:
Facebook likes to make suggestions to make it easier for you, so the page will look a little something like this:
Now it's time to customise it. Click the video icon and upload your video:
And then you can tweak the thumbnail, description, and headline until you're completely happy. All of your changes will appear in the Ad Preview section: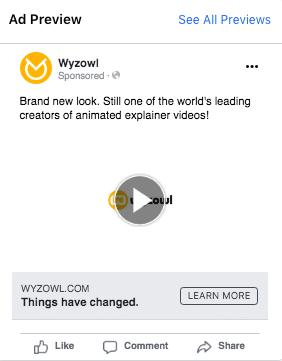 Then it's time to scroll down and focus on the audience. If you've already used Facebook ads before then this part is probably covered.
If you're brand new you can create a new audience by adding in as much information about your ideal customers as possible – from their age and gender, all the way down to their interests and shopping behaviours:
Next, it's time to adjust the duration your ad will run for and your daily budget.
As you adjust this, you'll see your Payment Summary and Estimated Daily Results update on the right-hand side:
The only thing left to do is enter your payment details and click Promote Now!
3. Monitor results and improve
So, your ad is out there in the world! Your work here is done…
…not necessarily.
If you really want your Facebook video ad game to be at it's best, you need to constantly monitor the results of your current campaigns and analyse them to see how you can improve in the future.
3 Surefire tips for Facebook video
1. Don't rely on audio
According to a widely circulated study, 85% of Facebook video views happen with the sound off.
There could be a number of reasons for this – people could be browsing Facebook in a public place, they could be using more than one device (e.g. watching TV and scrolling through social media), or it could be the fact that all Facebook videos initially play without sound.
Whatever the reason, it's important to pay attention to the above stat and think about how your video will work without sound.
Facebook suggests that videos on the platform should be 'Designed for sound-off, but delight with sound-on'.
Here's an example of a video we made for a client that does exactly that:
It also helps to add closed captions to your video ad. According to Facebook's own research, captioned video ads increase video view time by an average of 12% – further proving that videos on Facebook should not rely on audio.
2. Optimise for mobile
According to recent figures, almost 80% of Facebook users only access the site via a mobile phone.
So, optimising your video for mobile has never been more important. This is something that Facebook even encourages themselves, stating:
"We've found that mobile-first creative has a 27% higher likelihood of driving brand lift and 23% higher likelihood of driving message association compared to video ads that are not optimized for mobile."
3. Capture attention immediately
As the biggest social networking site out there, Facebook is a busy place. It can be difficult to get noticed.
According to a Hootsuite study, the average Facebook user clicks on 11 ads per month – that's approximately one every three days.
If you want your ad to be the one people watch and click on, then you need to capture their attention immediately.
The first 5 seconds of your video are crucial – really consider what you want the first thing your viewers see and hear to be.
Final thoughts
There's no getting away from the fact that Facebook is a crowded, competitive place for brands. But, with a great video and the right know-how under your belt, you're already on your way to a successful Facebook video ads campaign.
To find out more about social media videos, and to see some of our examples, click here.