Last updated 3rd April 2023.
In this article, we're going to take a look at 6 ways to increase your conversion rate with video in 2023. 
Video is a popular tool for brands looking to improve all kinds of performance metrics, including conversion rate optimisation.
Why?
Well, video is one of the most popular marketing tools out there. According to our Video Marketing Statistics 2023, 91% of people say they want to see more online videos from brands in 2023.
With that in mind, let's take a look at some different ways you can increase your conversion rate with video, as well as some great examples.
What is conversion rate optimisation?
Conversion rate optimisation is the process of working to increase the number of people who interact with your content or website to take a desired action, like making a purchase or signing up to your newsletter.
Conversion rates differ from industry to industry, but according to a study by Ruler Analytics of 14 industries (everything from automotive to dental to travel) an average conversion rate is only around 2.9%.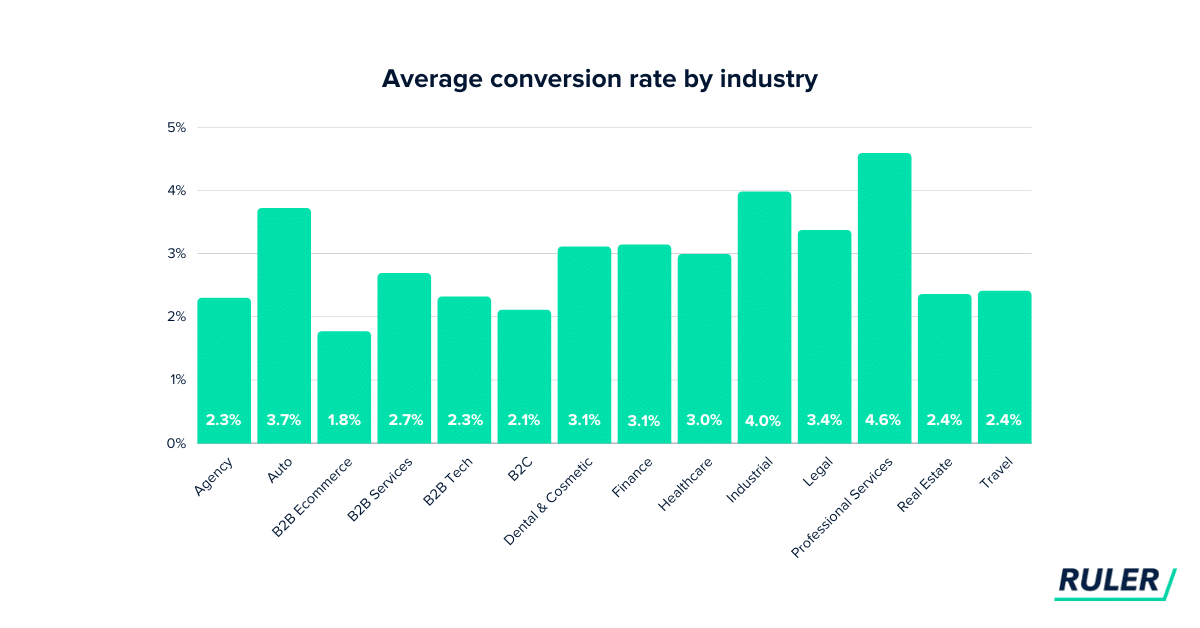 So, lots of room for improvement there!
Video can help when it comes to conversion rate optimisation because it captures people's attention much faster than text. According to our Video Marketing Statistics 2022, when asked how they'd most like to learn about a product or service, 73% of people said they'd prefer to watch a short video. Whereas, only 11% said they'd prefer to read a text-based article.
This makes video incredibly helpful when it comes to increasing conversions, especially when you consider that the number one reason people don't convert (according to Startup Grind) is because they don't understand what you [the business] are offering them.
Of course, there are other reasons people don't convert. Maybe they don't trust your brand, or they don't think they can afford or need your product. Maybe you're just not speaking to them on their level.
Let's take a look at these conversion rate issues in more detail and, more importantly, find out how you can solve them with video.
6 ways to increase your conversion rate with video
1. Humanise your brand
Video content allows you to show off the human side to your brand and this can help you establish a trust with your target audience that will hopefully lead to an increase in conversions.
When you humanise your brand, you adopt a more relatable attitude that allows potential customers to form a deeper connection with your company. And this is important to consumers, with 64% saying they want brands to connect with them (according to SproutSocial).
Here's a great example from Lego:
This backstage tour of the Leicester Square Lego store exudes joy and childlike wonder – pretty much what you'd expect from Lego video content!
They don't actively try to sell the products or persuade viewers to come to the store, they simply show what they have on offer with a pride and excitement that's infectious.
2. Explain, don't sell
If you're working on increasing your website's conversion rate, then it may seem counterintuitive to hear the phrase "don't sell". But this is 2023, the hard sell doesn't work anymore.
If you're only pushing your products or services, rather than explaining the value of them to viewers, then people are going to see that a mile off and click or scroll onto the next thing.
Increasing conversions is all about showing people why your product, service, or brand is so great, and giving them all of the tools they need to make an informed decision to convert.
Here's an example we made for Vacation from Cleaning:
An explainer video like this will help to increase conversions because it uses the power of story to show site visitors why this would be a great service for them.
The video also does a great job of showing viewers how this service would make them – and their family and friends – feel, which is really important for encouraging people to convert.
3. Think of your video as a "try before you buy"
More and more people are making purchases online. According to Statista, online shopping currently equates to almost 21% of all retail purchases, and by 2026 this will reach 24%.
The problem with online shopping is that visitors to your landing pages can't actually hold the product in their hand and get a real good look at it. Video can act as a fix for this issue and at the same time help you work towards conversion rate optimisation.
You can use video almost like a "try before you buy" tool to give your website visitors the confidence to convert into customers and make a purchase.
Tutorial videos, like this one from Remington, make great "try before you buy" content:
This video eases any potential concerns that website visitors may have that would prevent them from converting.
It's an especially nice touch that the professional hands over to the client and allows her to use the tool, demonstrating to potential customers how easy it is to use.
4. Write a strong CTA
Your call to action is one of the most important parts of your video, especially when it comes to conversion rate optimisation.
This is your last chance to leave an impression on viewers before the video ends, and it also gives them the direction or the action you want them to complete in order to convert into customers.
A strong CTA pairs clear direction with emotive and urgent language, such as "Sign up now" or "Get in touch today". It tells your target audience that if your video resonated with them then they shouldn't hesitate when it comes to next steps.
5. Talk directly to the audience
Another powerful way to increase your conversion rate with video is to make sure that your tone of voice and way of speaking matches that of your target audience.
You want people to be able to relate your content and make a connection with it, this is what's going to give you a better chance of converting prospects into customers.
According to SproutSocial, when customers feel connected to brands they are more likely to increase their spending with that brand, and 76% will buy from them over a competitor.
Here's a great example from Mini Cheddars:
This animated video does a great job of hooking in the ideal customers for Mini Cheddars – kids that want a snack!
The video is fun, energetic, and has a catchy song. It's likely that lots of kids asked for Mini Cheddars after watching this video ad!
6. Create personalised videos
Personalisation makes customers feel special, and that will of course lead to an increased conversion rate.
According to research by McKinsey, 71% of consumers expect companies to deliver personalised interactions and 76% get frustrated when this doesn't happen!
You may think creating personalised videos is too time-consuming or expensive, but it's made a lot easier by tools like Soapbox from Wistia (this is not an ad, we just really like this tool!)
Soapbox is a chrome extension that allows you to record your webcam and screen simultaneously, and then edit the footage together to make an impressive video that's easy to share with anyone.
This explainer video can tell you all about it:
Tools like this allow you to quickly and easily create personalised versions of the same video that you can send out to prospects to impress them, and hopefully convince them to convert!
4 conversion rate optimisation examples
1. Product demo (Sellfy)
One of the biggest barriers to conversion, especially for software products, is potential users not understanding how to get the most out of the product.
Product demo videos, like this example from Sellfy, solve that problem and work to increase a site's conversion rate.
A snappy, straight-forward product demo like this one allows potential customers to experience a little 'try before you buy'.
Website visitors get to see the actual product in action and are also taken through some key features, while being shown just how easy the software is to use.
2. Landing page video (Samsung)
When someone arrives on one of your landing pages, the hard part is almost over. It means they're aware of your brand and want to find out more about your products or services, and possibly even convert into customers!
Video can help you to hook website visitors and ensure you don't fall at this final hurdle. According to research by Wistia, site visitors spend an average of 1.4x longer on pages with video than without.
Samsung has 3 videos on their Galaxy Z Flip4 landing page, each one offering potential customers something different that will hopefully increase the site's conversion rate.
3. Testimonial video (The Met)
Testimonial videos are a great way to build trust with potential customers and optimise your conversion rate. Sometimes people want to hear from others about their experience, rather than directly from the business itself.
This video by The Met is a great example. It features lots of different people who all share what The Met means to them and why they enjoy visiting. The Met could've asked their staff to create a similar video, but hearing from real customers is much more impactful and persuasive – and that's exactly what's needed for conversion rate optimisation.
4. Influencer/UGC (Twiggy Tags)
Influencer videos or user generated content (UGC) can be used in a similar way to testimonial videos. 
These videos usually feature a customer promoting your brand, product, or service to the people who follow their social media pages.
Influencer marketing in particular can be extremely powerful for conversion rate optimisation because 61% of people trust recommendations from online influencers.
The above video is the perfect example. It shows the product being used and enjoyed, and the post also tags the brand to give them recognition and drive traffic to their page.
Final thoughts
Conversion rate optimisation is difficult, and will be an ongoing task for your business. However, video is definitely a great tool to help you and we hope the conversion rate optimisation examples we showed you in this article were useful!
Interested in more ways you can get results with video? Check out this article: 3 Best Ways to Increase Sales with Video in 2023.