Last updated on 27th September 2023
YouTube is more than just a platform for entertainment – it's also a powerful search engine, second only to Google, and the second most visited website in the world.
As a result, smart marketers are focusing on YouTube SEO strategies, with one of the key components being the use of the right keywords.
YouTube keyword tools help eliminate guesswork and provide insights into consumer habits, giving businesses a potential edge over their competition.
In this post, we'll explore the importance of YouTube keyword research and review 11 of the most popular tools available today. Let's jump in!
What is YouTube keyword research?
Keyword research is an SEO best practice marketing pros use to find the most relevant search terms and discover alternate search terms that people enter when looking for information. This research helps businesses understand what kind of keywords to work into website copy, page titles, tags and more, to help them optimise organic content discovery.
Specifically, as it relates to YouTube, keyword research is the process of discovering what search terms users type into the video platform when looking for content. How many people search for your keyword – and similar ones?
Once you know what your target audience is searching for, you can add those keywords to your video's name, tags, description and transcript to boost your results and appear higher in SERPs (search engine results pages).
But more than this, you can be sure that you're creating video content that you know your audience is likely to be looking for.
Businesses of all sizes, including one-man shops, local eateries and small businesses need to approach search engine optimisation thoughtfully and strategically. But not every business can afford to hire an SEO agency to do that work – which is why YouTube keyword tools, like the ones in this list, are so helpful.
The 11 best YouTube keyword research tools – reviewed
Let's get to it! Here are the best YouTube keyword tools (in no particular order), and a review of each. Peruse this list to find the features, functions and pricing plans that are right for your business.
1. TubeBuddy
TubeBuddy is a video SEO nerd's best friend. This tool was designed to discover tags that are related to your search terms. In the below example, when exploring the search term "san diego surfing," TubeBuddy shows users that there are many other popular video search terms like "san diego surfing beaches" and "san diego surfing season" that are trending. But the tool shows much more than that.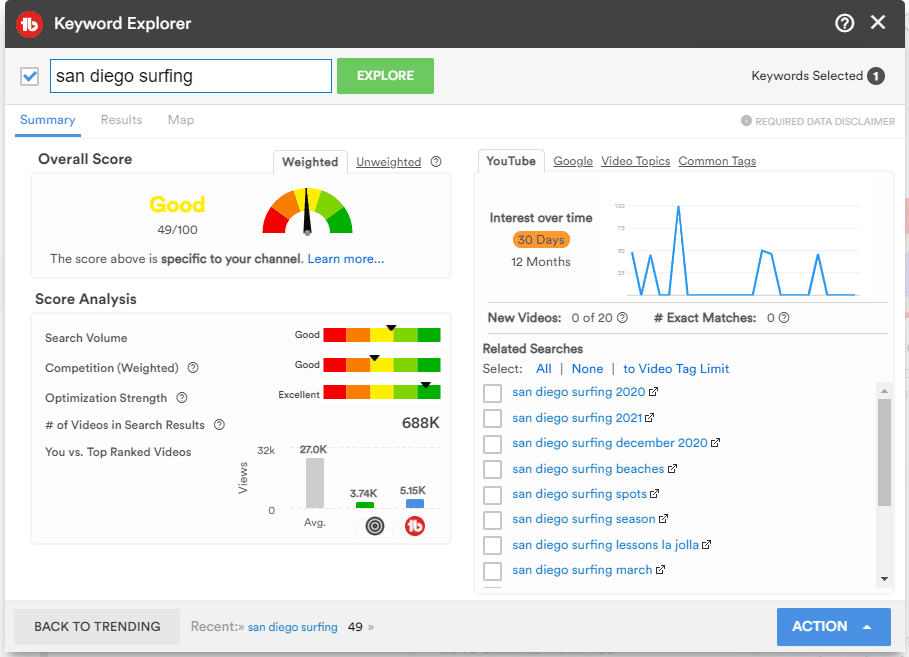 TubeBuddy's dashboard also shows the overall score of your search terms, how competitive that term is, the total number of times that term was searched and more. And since it's a light-weight Chrome extension, TubeBuddy isn't just easy to use – it's easy to install too. The best part: you can use the whole thing for free!
Install TubeBuddy for FREE: See the power of TubeBuddy for free. Check it out here: Go to TubeBuddy >>
2. VidIQ
VidIQ helps video content creators determine the best keywords for improving searchability. When you research a search term, VidIQ pulls data from YouTube to give you a look at what's going on with that term. You'll be able to see helpful information like recommended tags and what top-performing videos are currently displayed in SERPs.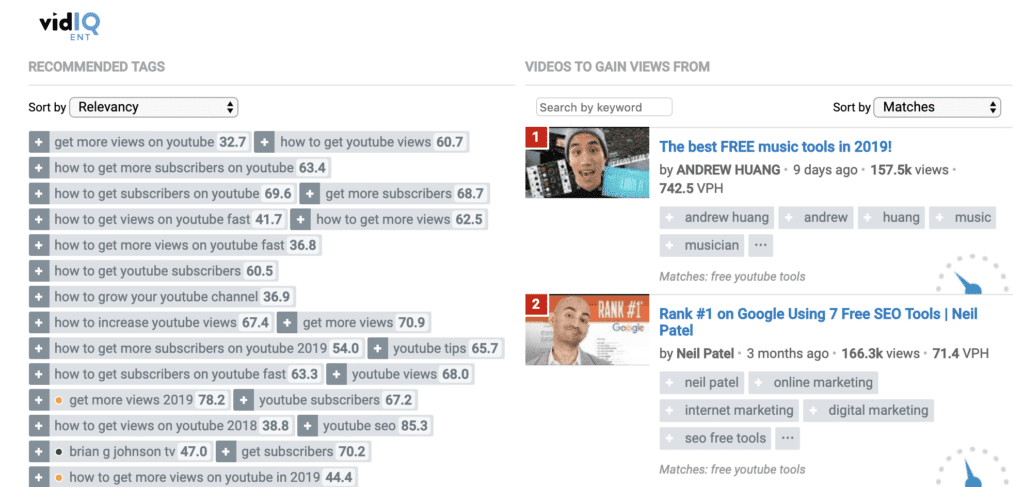 If you want to get more granular, you can also use VidIQ to explore additional related keywords and look at search volume reporting in the past month or year, or even since YouTube was created.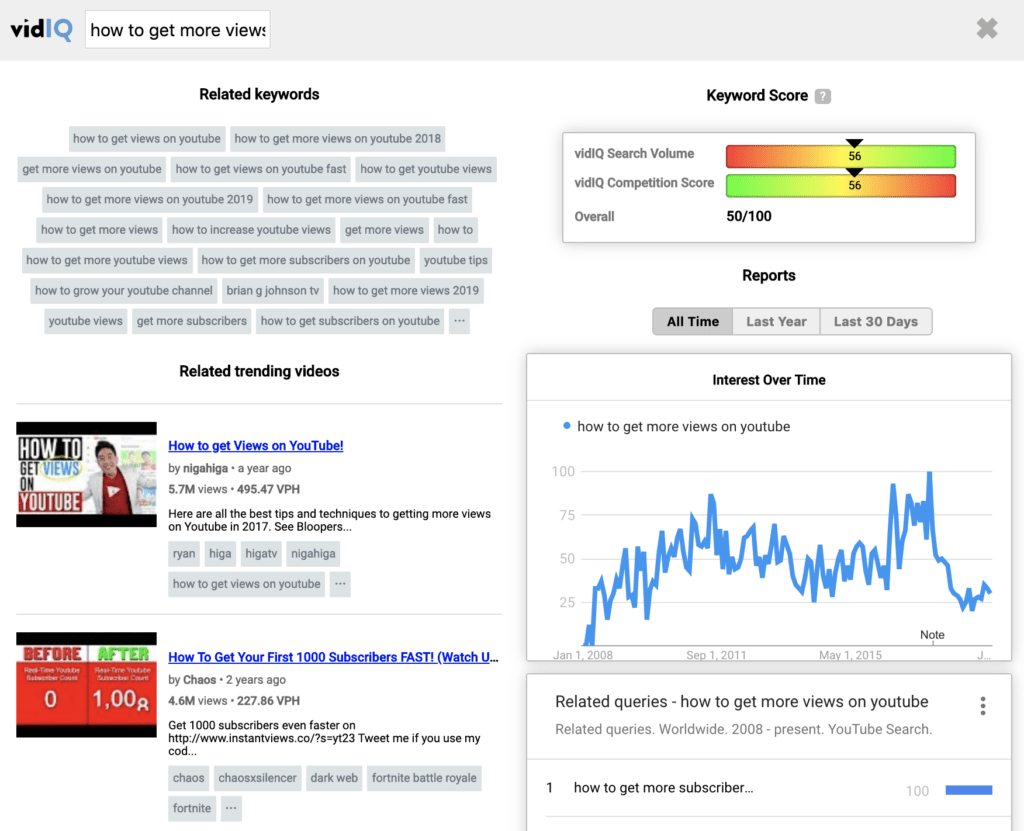 This tool is great for helping marketers confirm whether they're using the right keywords, explore new keyword options, and assess who they're competing against for higher search rankings. VidIQ comes with dozens of other features designed for video creators, but the keyword research tool requires a subscription. However, at only $7.50 per month, it's pretty affordable for even small businesses on tight budgets.
Try VidIQ for FREE: Get amazing insights into your YouTube channel. Check it out here: Go to VidIQ >>
3. Ahrefs
Ahrefs is a marketing analyst's best friend. This tool has a huge collection of SEO, competitor analysis, keyword research and keyword identification functions to help you optimise your digital content. With clients like Facebook, Netflix, and Uber, you know it's big time. We're really impressed with the platform's YouTube Keyword Tool, which pulls YouTube search volumes for keywords from up to 170 countries.
The tool is managed in a sleek, easy-to-use dashboard. Simply type your keyword in the search bar and Ahrefs pulls data from around the world to show you the total search volume for each term and how many clicks that search phrase earned.
If clicks are low, it might mean that users aren't happy with the results they're seeing; maybe they need an engaging video from you to be satisfied with their search results. Low clicks could also mean a video's thumbnail, title, and description aren't interesting enough for people to bother clicking on them; for more on that, check out this post.
Ahrefs also pulls a few other interesting data points, including relevant search phrases that use your keyword and other keywords or phrases that are relevant to your term, making this tool not just a research platform but a keyword generator, too.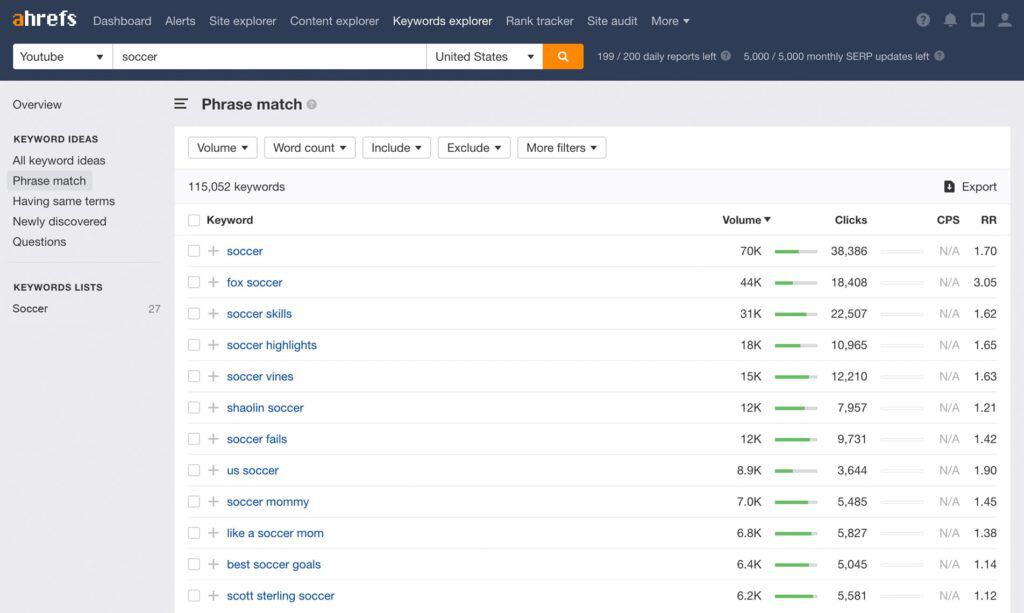 Ahrefs offers four pricing tiers, ranging from $99 per month for a single user to $999 per month for 5 users. It's one of the more expensive options on this list, but if you're serious about keyword research, it might be worth the investment. You should definitely take advantage of the tool's 7-day trial for $7 to see whether you like it before you subscribe.
4. Keywordtool.io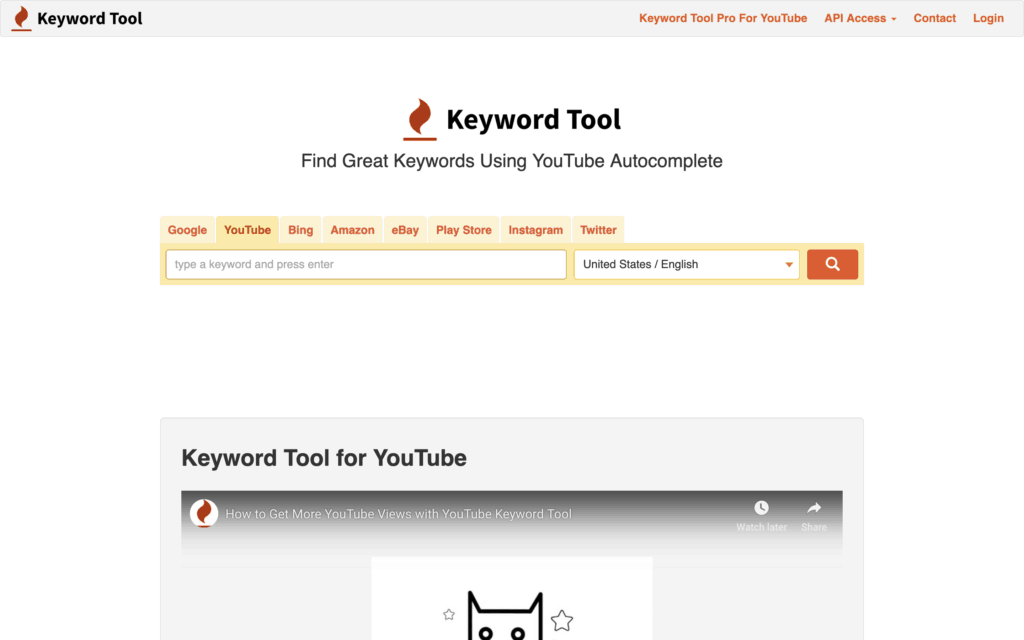 When you search for a video on YouTube, the platform gives you a longer list of recommended results based on what other people searched for in the past. Keyword Tool leverages that data to help marketers like you improve your YouTube SEO.
Keyword Tool is a YouTube autocomplete keyword program that generates popular search phrases from base terms. For example, a company that makes clothes for toddlers and infants might regularly use the term "baby clothes" as a keyword.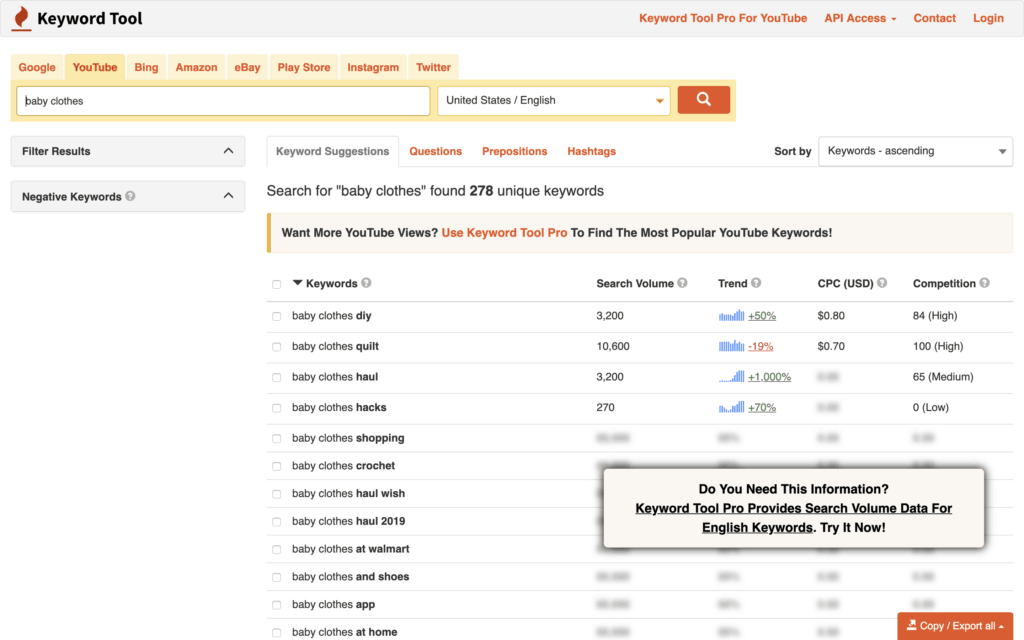 After using Keyword Tool, that company could improve its keyword strategy with additional phrases like "baby clothes diy" and "baby clothes quilt," both of which rank high as common search terms. You can also use the platform's trend data to see what times of the year certain keywords perform best to change your strategy depending on consumer habits and holidays.
You can access Keyword Tool's most basic features for free, but it has plenty of other features that are worth paying for, like cost-per-click data and competitor keyword analysis. Keyword Tool's monthly plans range from $69 to $159 a month depending on the volume of keywords you plan to analyse.
5. Keyword Keg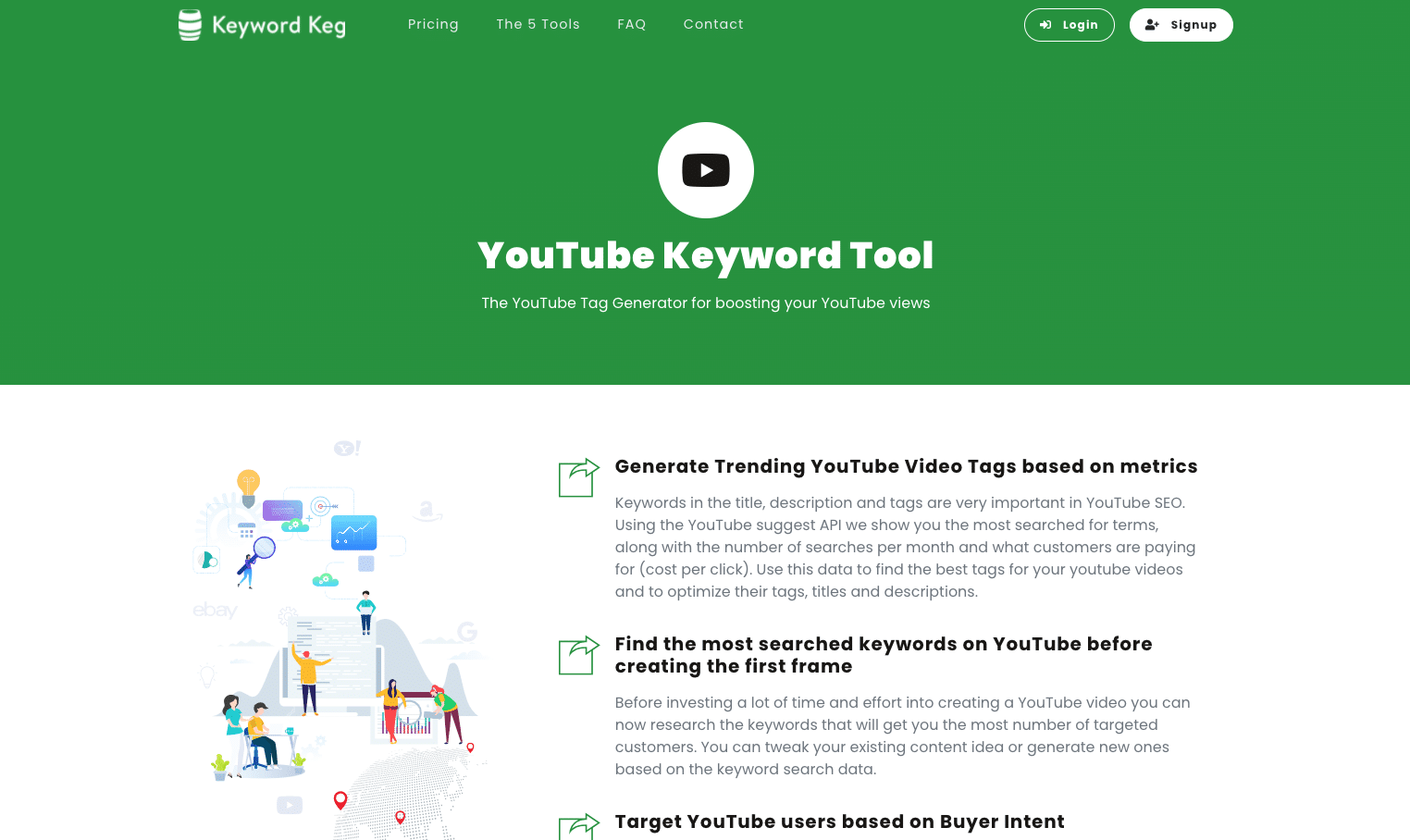 Keyword Keg is a 5 tool suite focused solely on keyword research, which collects data from 12 APIs in total. Where YouTube is concerned, Keyword Keg's main use is as a tag generator.
All you need to do is pop your keyword(s) into the search bar and wait for the tool to populate a list of suggested keywords. You can then use these to help you decide which keywords to use in your titles, descriptions and tags.
Pretty standard so far, right? Well, there's a neat little trick on offer – you can filter the results to only show keywords related to buyer intent, allowing you to shortlist keywords that are more likely to convert. Cha-ching!
Another handy bit of info can be found in the 'Trend' column – here you're able to see whether a keyword is trending up or down based on search volume. Anything trending sharply downwards might not be worth your time.
Packages range from $38 per month for website owners and entrepreneurs to $762 per month for agencies, but you can save up to 40% on these prices with an annual package.
6. Keyword Tool Dominator
With a name like Keyword Tool Dominator, our expectations for this platform were high. While it isn't quite as mind-blowing as its moniker would have you believe, it is a pretty easy-to-use tool for keyword research newbies.
Simply type a term into the search bar, and voila – Keyword Tool Dominator generates a lengthy list of the suggested YouTube search phrases that incorporate your term.
You can pick and choose which keywords you want to add to a custom list, and export your list all from the same screen. This tool keeps keyword research – and its pricing model – simple.
Keyword Tool Dominator is free for up to two searches per day. If you want to search more terms more frequently, you can get stuck in for a one-time price of $44. Keyword Tool Dominator also works with other major search engines, like Amazon, Etsy, eBay and more.
7. Keywords Everywhere
Keywords Everywhere is a Chrome and Firefox extension that has a very specific set of features. Unlike the other tools on this list, it doesn't focus on suggesting new phrases or tags. Instead, it's all about cold hard data.
Search for a term on YouTube and you'll immediately be shown monthly search volume, cost per click, competition level and trend data:
Another cool feature is the Search Insights Widget, which presents you with more handy data for each search you make. This sort of information should give you a good idea of what your video(s) will be up against in your chosen niche:
Keywords Everywhere is by no means the only keyword research tool you'll need, but it's a great addition to add to your arsenal. Some but not all of the data is free to access. Unlike the other tools we've covered so far, Keywords Everywhere uses a credits system – basically, you pay for a package ranging from $15 to $960, each one coming with a certain amount of credits. You then spend these credits whenever you carry out a search (1 credit = 1 keyword).
8. Sitechecker
Sitechecker is a keyword tag generator. Simply type in a word or phrase, and Sitechecker will generate a list of other high-performing tags that are related to your topic, search volume for those tags, and their cost per click. This tool is specifically great for international businesses; you can review keyword data and generate terms based on geography to modify your SEO strategy by country and by language.
Sitechecker is free for its basic features, but those won't get you very far. If you decide to upgrade to a monthly membership, it'll cost you from $41 per month for a Basic plan, up to $208 for a Premium account.
9. HyperSuggest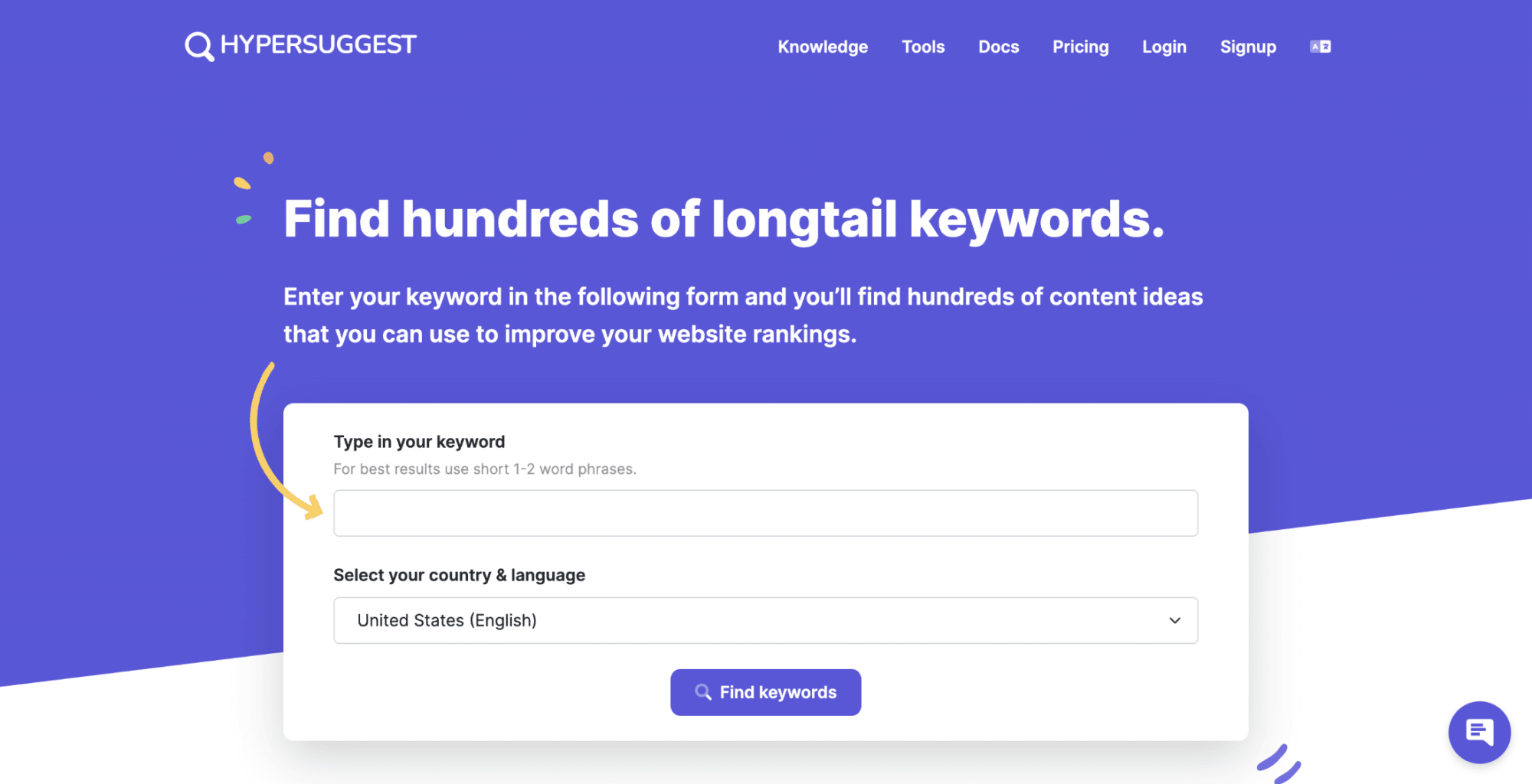 HyperSuggest is a single keyword tool that works across nine different search channels, including YouTube, Amazon and eBay. Specifically, as it relates to YouTube, this tool is super easy to use.
Simply type in a search phrase and in seconds HyperSuggest pulls the top tags for YouTube videos related to that term, giving you a qualified list of search terms to include in your video title, description, tag list and transcript.
HyperSuggest also makes it easy to see what videos currently own the top spot for those terms; it links every phrase to its corresponding YouTube SERP. HyperSuggest gives you a basic list of results for free, but if you want to upgrade to see a complete list, you'll need to pay for a Pro plan, which costs around $49 per month.
10. YouTube Autosuggest
Here's a completely free tool hiding in plain sight! Ok, so perhaps not technically a tool, YouTube's own autosuggest functionality is an under-the-radar option when it comes to keyword research. Simply head over to the search bar and start typing a keyword. You'll then be presented with a host of suggestions containing that keyword.
For example, after typing "ab workout" we're shown a number of useful ideas including "ab workout with dumbbells" and "ab workout for beginners":
Crucially, these aren't just random suggestions cooked up on the spot – they're actually based on real search queries that people have previously searched for on YouTube.
11. Google Trends
Google Trends is another free resource worth checking out as part of your research. Enter your keyword, select your preferred date range and change the filter to "YouTube Search". You'll then have a good idea of whether that topic is becoming more or less popular over time.
You can also compare the relative popularity of two or more topics.
Our favourite YouTube keyword tool
Our #1 spot on this list goes to TubeBuddy. Why? We could go on and on, but here are the top four reasons we think this YouTube keyword tool rocks.
It's easy to use: TubeBuddy takes the most important information you need to do effective keyword research and populates it into a simple, sleek interface. It's so uncomplicated even tech novices will feel comfortable using it.
It's comprehensive: TubeBuddy combines multiple functionalities into a single tool, meaning you won't have to download several different programs to do all the research you need to do.
It's light-weight: TubeBuddy doesn't require you to navigate a complicated, tiered subscription model or install yet another clunky piece of software onto your computer. This simple browser extension was designed to be straightforward and painless.
It's free: For most small and medium-sized businesses, paying for a tool that does something this specific isn't in the budget, which is why we love TubeBuddy's price tag: $0.
Click here to visit TubeBuddy Website >>
Wrapping up
Now that you're armed with an arsenal of YouTube keyword tools and knowledge, you're ready to find the right search terms and phrases for your marketing strategy.
But ranking higher in YouTube results is about a lot more than just keywords. If you really want to amp up your video SEO on YouTube, check out our blog post: YouTube SEO: 13 Ways to Rank Higher in 2023. It's packed with things you can do today to improve your SEO results on YouTube in a matter of hours.