Interactive video has been promising to transform video marketing for…forever. At least that's what it feels like! And yet, until recently, expense, complexity and just general inertia, have kept it firmly penciled on the drawing board.
But as technology catches up, so are marketers, with brands now using interactive video to really get under the skin of their audiences.
The payoff?
Better and longer engagement than has ever been achieved with standard linear video. This is definitely one emerging trend to watch, click, and interact with, in 2018.
What exactly is interactive video?
Remember 'Choose Your Own Adventure' books? Where your decisions created a divergent narrative and several different endings? Well, interactive video is the video equivalent. Viewers direct the flow of the video by clicking on-screen objects, answering questions and buying products – all within the video – creating a fully immersive experience.
This is disruptive marketing reborn for the digital age, and packaged in a far more inviting, engaging and memorable way. Interactive video speaks directly to the consumer and gives them a greater degree of control. And as far as consumer-led marketing goes, it's very effective. According to Magna, viewers will spend 47% more time with an interactive video advert's marketing message than with a linear video advert. Magna also assert that interactive videos are 32% more memorable, making viewers 9x more likely to show purchase intent.
Given that one of the main barriers cited for not using interactive video is its perceived expense, in actual fact, Magna found that an outlay of investment in interactive video goes 52% further than traditional, linear ads when their persuasive impact is taken into account.
Another historical stumbling block to rolling out interactive video has been technological limitations. Until very recently, interactive video didn't scale or work on iPhones. But interactive video has finally come of age! It now runs in HTML5 and on a browser. Plus, with the release of Apple's iOS X, interactive video now works on iOS devices. With American adults consuming 51% of their digital media on mobile, compared to 42% on desktop, interactive video could become a star player in multi-channel marketing campaigns.
Marketers are certainly sitting up and taking note. In our State of Video Marketing 2018 Survey, we found that while just 20% of marketers have used interactive video before, 78% found it to be an effective strategy and 28% are planning to use interactive video in 2018.
Here are 5 different industry examples of how interactive video is already being used to great effect…
1. Product demonstration – Maybelline New York
Maybe she's born with it…Maybe she's been privy to some sassy styling secrets from Maybelline New York's interactive product demonstration. To promote the launch of their Big Eyes Falsies Mascara, Maybelline hired popular fashion blogger, Kelly Framel, to star in their step-by-step interactive video tutorial. Combining a cast of glamorous models and New York's stunning skyline, Maybelline invite you into their aspirational, exclusive world:
(click here to interact with the video)
For a brand that prides itself on making catwalk looks accessible, a digital demonstration that breaks down several cutting-edge day and night mascara styles makes perfect sense. With a large portion of Maybelline's consumers being millennials – who spend more than five hours a day on their smartphones – interactive video was definitely a clever choice.
Top Tip: If you're about to launch a new product and are looking for a way to stand out from the crowd, then a step-by-step tutorial that subtly accentuates your product's features is a great strategy to try.
2. Recruitment – Deloitte
Company culture is important. At least that is what over 90% of CEOs and CFOs who responded to a Forbes survey said. It's important because hiring the wrong person can lead to all kinds of problems, including lost profit and productivity.
With interactive video, you can get to know potential employees, before you hire them. Deloitte New Zealand created a gamified recruitment video that allows candidates to walk in the shoes of a new recruit. Taking a first-person perspective, which purposely feels like a role-playing game, viewers are given the chance to make in-video decisions, and they are introduced to the culture at Deloitte in a fun, light-hearted way that is far more effective than any text job description.
(click here to interact with the video)
Once again, the target audience here is mobile-toting millennials, many of whom will have grown up with video gaming at the heart of their adolescent lives. It's a really intelligent pivot to package recruitment in a way that speaks directly to a new tech-savvy generation of candidates in a quirky and engaging style. In the wrong hands, a video about a company's culture and senior management figures could easily be stuffy and dull. However, Deloitte have humanised themselves in a very endearing, tongue-in-cheek style.
Top Tip: If you're a recruiter looking for a way to make a splash in the graduate talent pool, then why not follow Deloitte's lead? Set out your wish list of candidate attributes in an interactive, engaging style that encourages your audience to delve deeper into your company's culture.
3. Education – Nicky Case
Do you know how a neuron works?
Yeah, me neither…until I watched Neurotic Neurons by professional video explainer (what a cool job!), Nicky Case. In this educational interactive video, we're taken on a crash course through some pretty heavy concepts, including Hebbian and Anti-Hebbian learning, to learn how neural pathways work.
(click here to interact with the video)
Interactive video is a great tool for learning because it is engaging and demands the viewer to pay attention. Plus, when you consider that people only remember 10% of what they hear and 20% of what they read, but 80% of what they see and do – interactive video is a no-brainer!
What's really intriguing about this video is that we're shown in very real terms how humans learn through doing. It's exactly this interactivity that makes it entirely possible to retrain our misfiring neurons – a major tenet of Cognitive Behavioural Therapy (CBT). Whilst you click away, you're absorbing a huge amount of theory here. It's a very clever ploy that any teachers reading will be very familiar with.
Top Tip: If you're a teacher, try breaking down complicated ideas with an interactive video that gives your audience a chance to dive into whatever theories you want to convey.
4. Entertainment –WarGames
The cult 1983 Cold War science fiction movie, WarGames, portrayed a hacker who stumbles upon a US military supercomputer programmed to predict the outcomes of nuclear war. He launches what he and the computer think is a nuclear war simulation, only to unleash what actually threatens to be the start of WWIII. Eerie given current political tensions, don't you think?
(click here to interact with the video)
Well, this modern-day TV reboot allows you to 'hack' into the video conversations of the series' new protagonists. Mimicking our propensity for multi-screen interaction nowadays, this incredibly intelligent interactive drama allows you to zero in on the screen action that you find most compelling. Based on your screen choices, the episode will play out differently. WarGames is a game-changer, giving us an on-demand televisual narrative that feels new and immediate.
Top Tip: If you're aim is to entertain, then you might like to follow the trend of giving your audience ever-more control to shape the narrative curve of your interactive video. This is a great way to keep your audience invested in your messaging.
5. Convert and sell – Travel Dudes
Once upon a time, travellers were beholden to well-thumbed travel guides (actual books – imagine that!) to glean tips and advice about their chosen destination. How times have changed. Now, inquisitive globetrotters can watch interactive videos, like the one below, to not only gain a regular visual insight into some of the main tourist hotspots, but also actively book flights and excursions while viewing. This could soon be the way we make all our online purchases – as part of a much more interactive and immersive experience.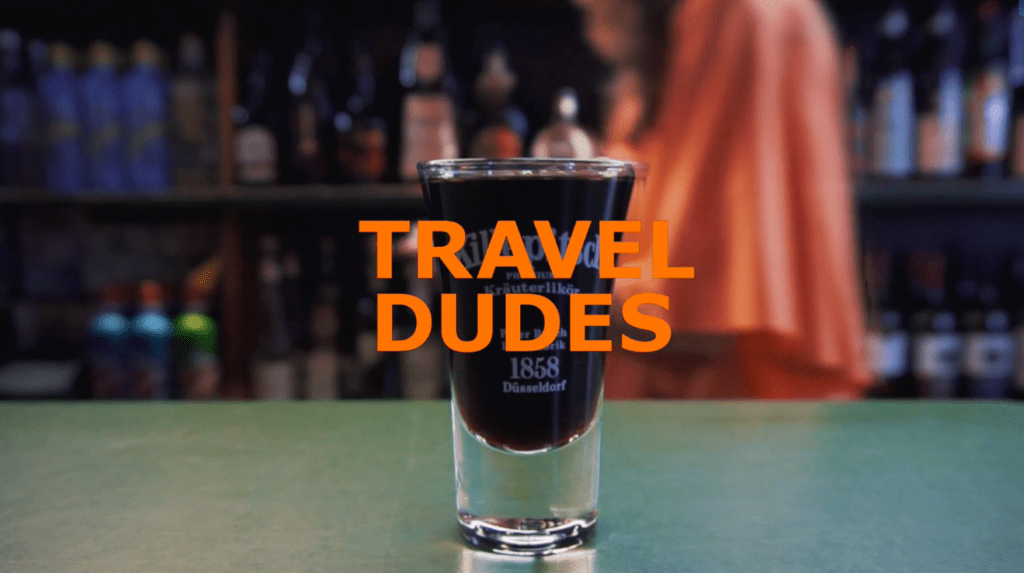 (click here to interact with the video)
The experience of watching this interactive guide about Dusseldorf really does feel like an interactive guide book. Just like the real deal, you can jump between chapters and skip to the juicy bits that interest you most. It's an incredibly immediate way to convert viewers into buyers, giving them the opportunity to 'strike while the iron's hot'.
Top Tip: If you have a product to sell, you can bridge the disconnect between adverts and actual sales with in-video purchasing options in an interactive video that combines both.
Final thoughts
Interactive video isn't about to herald the death knell of traditional, linear video just yet. But it does provide a different option (quite literally in some cases!) that can not only promote brand awareness and loyalty, but also give marketers the opportunity to capture valuable data insights and instant feedback via each personalised viewing journey. This is a gold mine of information that can be ploughed back into your sales and marketing strategies to increase conversions further.
Whether you're a retailer, an educator, in sales, recruitment, or entertainment, interactive video has much to offer as an alternative means of grabbing your audience's attention. With the average attention span now said to be just over 8 seconds, marketers need all the help they can get!
If interactive video sounds like something you'd like to explore further, check out our free eBook, Getting Started With Interactive Video, for more useful insights into this exciting new video trend.