Last updated on 24th October 2022
As interactive video continues to grow in popularity amongst both brands and consumers, many companies are exploring how to add it into their marketing mix.
And it makes sense; viewers watch interactive video ads 47% longer than linear video ads, giving you much more bang for your buck than traditional, static videos.
The best part: you don't have to be a video production pro to make your videos interactive. There are several online tools you can use to add interactive elements to your videos with just a few clicks.
In this post, we'll take a look at 12 of the most popular interactive video platforms in the business.
What are interactive videos?
But before we jump in, let's start with a basic question: what are interactive videos? Well, essentially, they're videos that allow users to control the content and direction of a video.
This means that viewers can choose what happens next with branching stories, or even create their own experiences within the video – things like quizzes, forms, surveys, virtual tours and even eCommerce 'shopping' functionality are all on the menu, as well as other interesting features.
Interactive video is proven to significantly increase audience engagement – Wirewax data suggests it yields 5x longer engagement as well as 68% increased brand recall and 9x increased purchase intent.
This type of video is growing in popularity as it allows for a more personalised and engaging experience.
Some benefits of interactive video include:
Allowing viewers to control the content and direction of the video, meaning they can have a more personalised experience
Increased engagement as viewers are actively involved in the video
Greater retention of information as viewers are more likely to remember what they watched if they were actively involved in it
The ability to track viewer data and understand how they interact with the video, which can be used to improve future videos.
Interactive video is a powerful tool that can be used to create more engaging and personalised experiences for viewers.
What's an interactive video platform?
When we talk about interactive video software we're talking about simple, powerful – increasingly user-friendly software – that lets you create interactive videos.
It's a sort of video editing software that lets you upload your own video and add interactive features to your video, turning it into immersive, interactive content.
But which is the best interactive video platform? Let's cast a beady eye over 12 of the top challengers.
12 of the best interactive video software companies
1. Wirewax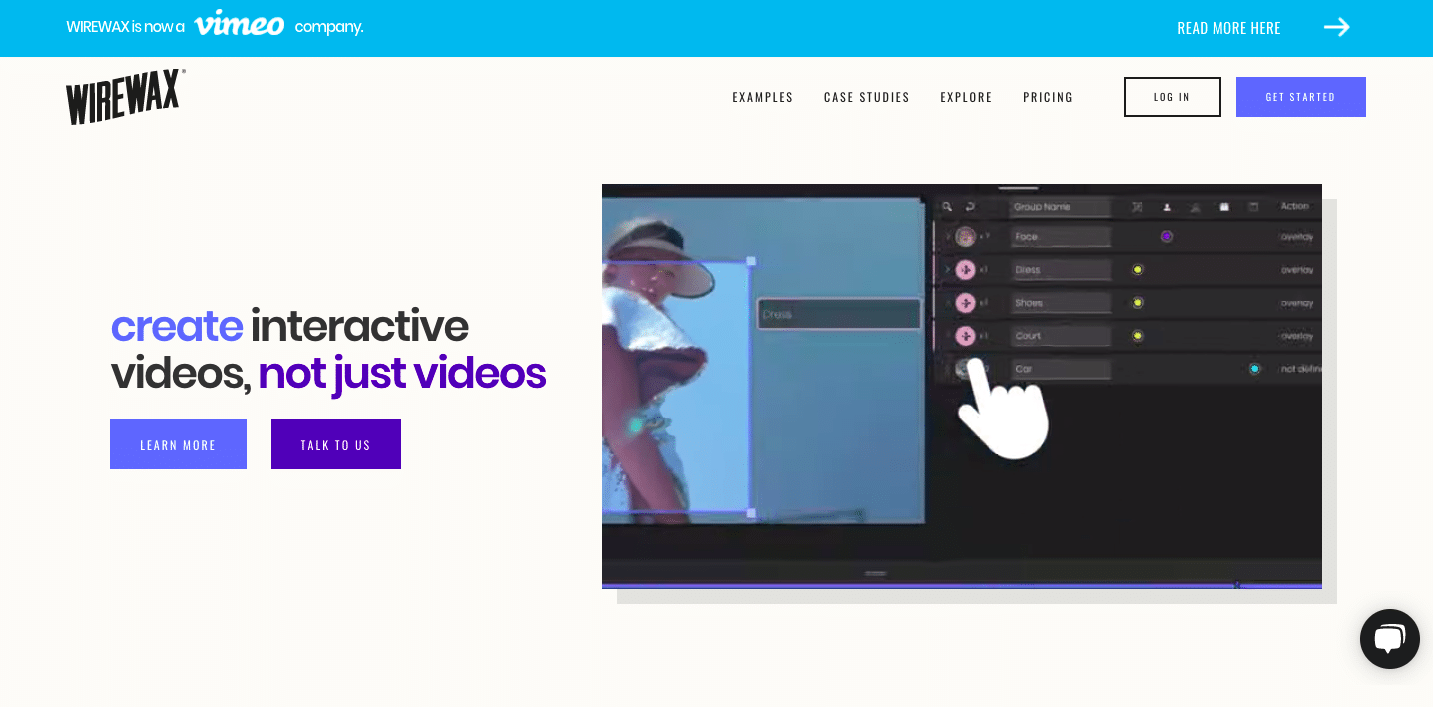 Wirewax – acquired in late 2021 by Vimeo – is an interactive video tool that allows you to use hotspots, branching, camera switching, 360-degree experiences, slider views and more in your videos.
As you can see, the biggest benefit of Wirewax is its broad capabilities; Wirewax covers nearly every type of interactive video functionality being used today.
The company offers a range of packages for different customers, who can choose the right one for their specific needs. They also offer a range of webinars and video tutorials to help people get up and running with the software.
2. Rapt
Rapt is a holistic cloud-based interactive platform that allows you to easily create, embed and analyse interactive video experiences. Their editor, Composer, uses simple drag-and-drop actions to add clickable elements and branches to your videos. Then you can embed your videos almost anywhere you can put HTML, including your website, blog or app.
Finally, use Rapt's robust analytics dashboard to track and improve your videos over time. Rapt work through partner companies so you'll need to find the most suitable partner for your needs and contact them.
3. Adventr
Adventr is an easy-to-use tool that allows you to drag-and-drop video clips to create branching effects. It's an open platform, which means you can easily post your videos to social media platforms, web pages, ad networks and more. It also comes with a built-in analytics feature that tracks your viewing metrics across all the sites where your video is hosted.
Adventr has four packages, starting with a very limited free version, moving all the way up to an enterprise package for companies that need a more robust solution.
4. Brightcove (fka HapYak

)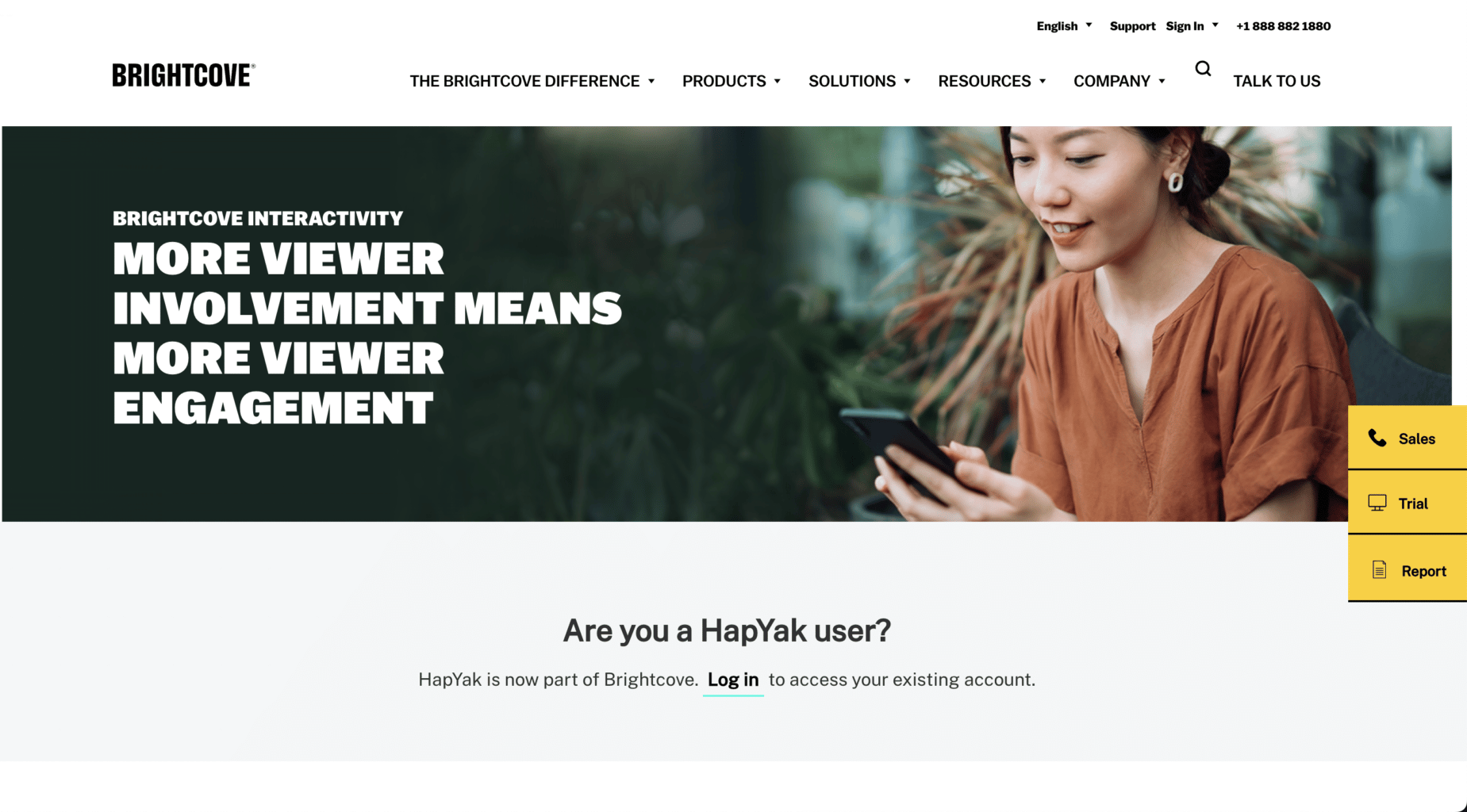 HapYak is a video SaaS platform that allows you to layer interactivity onto your video, purchased in late 2021 and added to the Brightcove suite of tools. With HapYak, you can add links, e-commerce functionality, quizzes, slide show presentations and more to your videos. The biggest key differentiator HapYak touts is their built-in analytics tool. The platform uses an API to connect viewer clicks and behaviours with popular marketing and CRM tools, helping you track your video metrics from a bird's-eye perspective.
5. Verse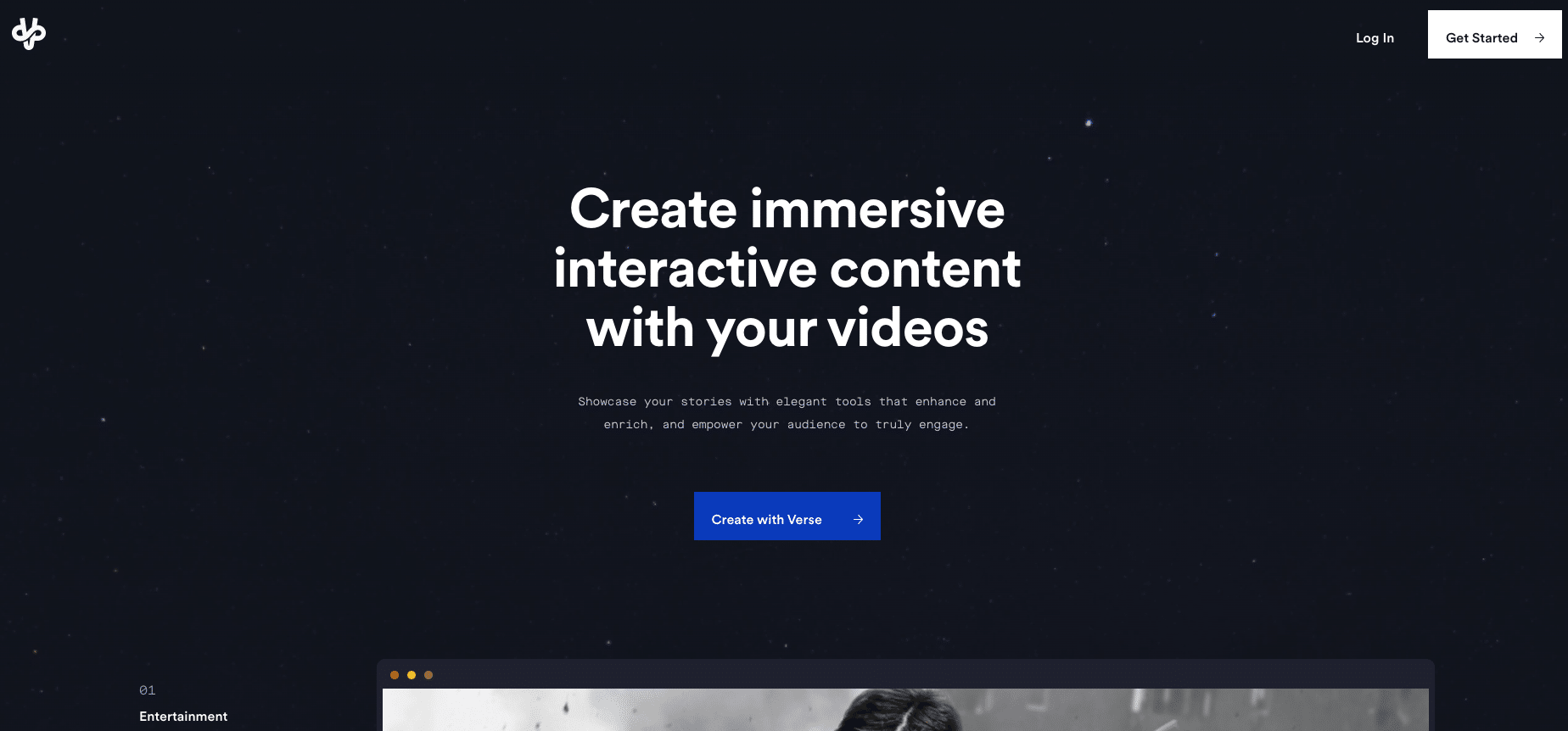 Verse is a well-rounded interactive video editing tool that allows you to add hotspots, branching, chapters, slideshows and even Q&A features to your videos. It also comes with a built-in analytics tool so you can track views and in-video interactions.
Verse has a subscription service that costs $100 per month for personal use, $1,000 a month for professionals, and an enterprise package with custom pricing.
6. Smartzer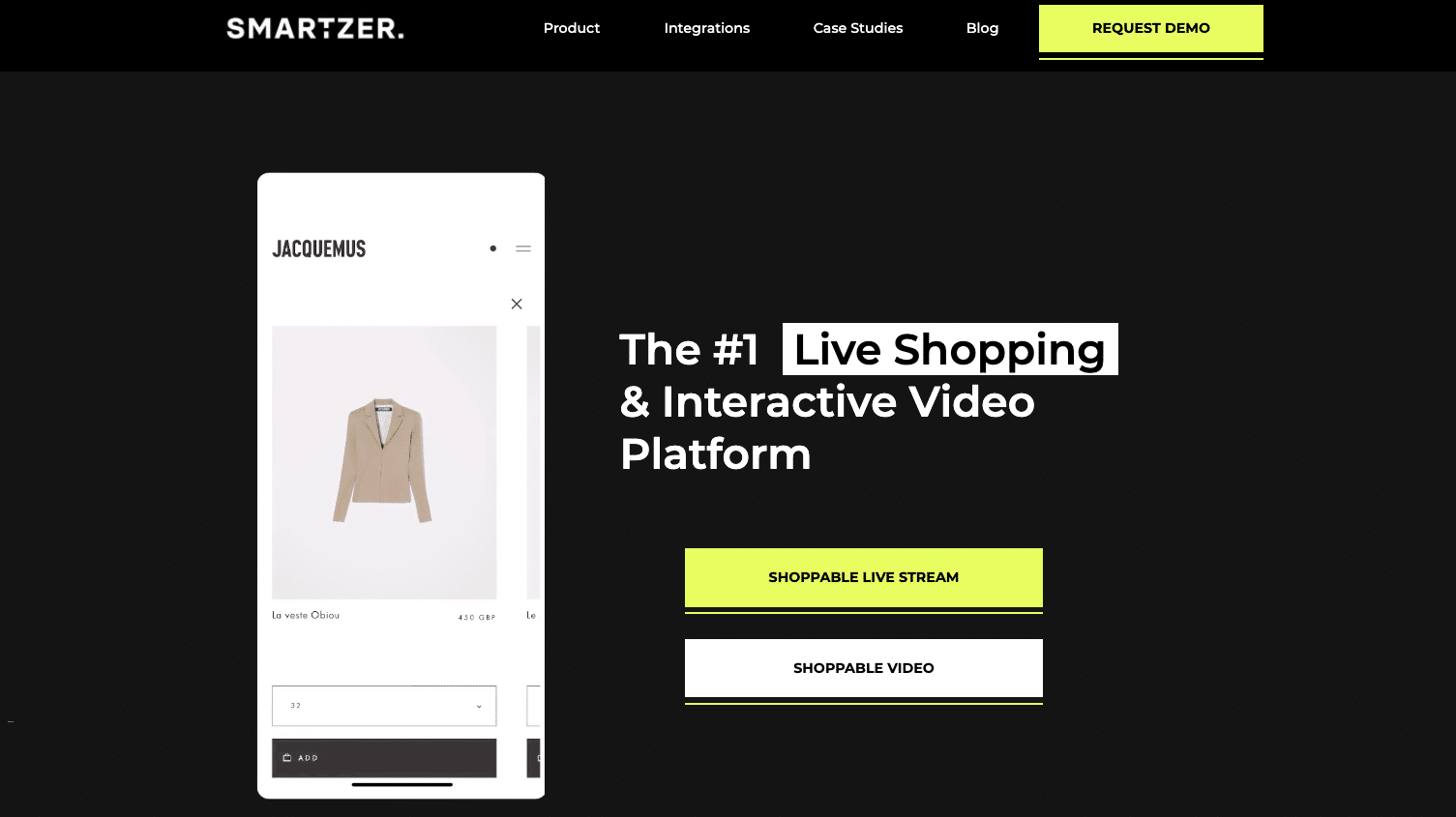 Smartzer is an e-commerce-focused platform, allowing businesses to create interactive shoppable videos. It's pretty straightforward to use: upload your video, add clickable hotspots, and customise the video player to match your branding. You can then measure video performance through the accompanying analytics dashboard. Impressively, the Smartzer platform even lets you transform your livestreams, which is a feature not many (if any) competitors can boast about having.
Pricing is subscription based, though the amount depends on your required features and usage levels, so you'll need to get in touch with Smartzer for an exact figure.
7. Spott
Spott is another platform that makes it easy to add interactive functionality to videos, as well as creating interactive images – in fact, its simple and intuitive user interface is one of its biggest appeals. As well as turning videos interactive, Spott can transform images and product catalogues too, so it's ideal for marketers looking for an all-round solution.
There are three plans to choose from – there's an 'Essential' account with limited features costing $99 per month billed annually, and at the top end is the $1,499-per-month Enterprise account.
8. Eko
Eko, a shoppable video platform, has a product called Eko Studio through which users can create branching video experiences that empower customised, user-driven stories.
While the platform has a very intuitive user experience to create branches, if you're looking for a tool that can create multiple kinds of interactivity, this may not be the right one for you.
On a more positive note, Eko is completely free to use.
9. HiHaHo
HiHaHo excels at offering users a range of interaction types. Seriously, it's an impressive list, including things like hotspots, images, forms and ratings. You can add questions during your video to quiz your audience throughout their viewing experience.
HiHaHo also allows you to create an in-video menu that links to your website and other URLs. Pricing is on a 'per video' basis, with each video costing €97 – you can then add extras like white label branding for an additional cost.
10. Mindstamp
Mindstamp says that it's the "simplest and most powerful interactive video solution available". A bold claim for sure, but one that's backed up by almost universally positive user reviews. Simply upload a video or use an existing one hosted on another site, add an interactive function (buttons, hotspots, questions etc) and integrate with your marketing automation tool of choice.
Monthly plans range from $29-249, though you can save 15% on these prices by purchasing an annual plan. There's also a handy free trial allowing you to try before you buy.
11. Engajer
Engajer is a tool where you can create interactive video content, distribute it and measure audience engagement. Engajer was built to be a branching platform, so while it allows users to easily create choose-your-own-adventure style videos, it doesn't have any additional interactive functionalities. You can, however, integrate Engajer with several CRMs.
For only a few users, you can access Engajer for either $49 or $150 per month, depending on your needs. For enterprise plan pricing, you should contact Engajer directly.
12. Wootag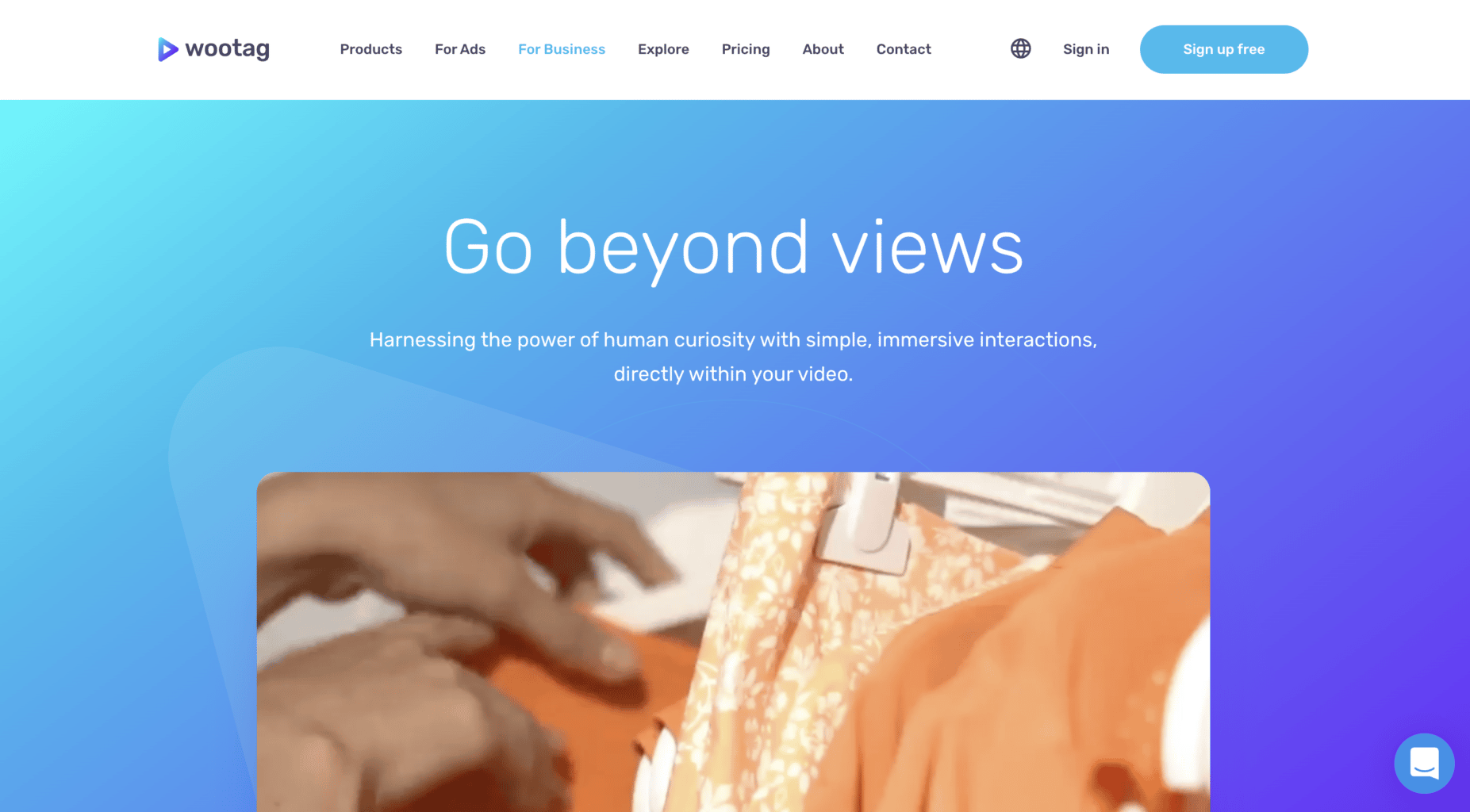 Wootag is a self-service video tool optimised for e-commerce conversions. It empowers your users to click on and buy products within your video, and tracks those clicks and conversions in their accompanying analytics tool. You can also add user polls to get custom feedback directly in your videos.
Wootag has several different plans; one ($250 per year) targeted at startup/SMB level, the next ($999 per year) medium/scaling up, and the final one aimed at brands/agencies – you'll need to get in touch for a custom quote on this one!
Interactive elements + video = 🏆
If you're ready to dabble in the world of interactive video marketing, you're not alone. 17% of marketers plan to give it a try this year. As you're determining the best way to integrate interactive video into your marketing strategy, consider your two options:
1. Use dedicated software: You can try interactive video with a DIY approach and learn to use existing software like the ones listed above. While some brands choose this option, you should be prepared to spend a lot of time learning to use the platform you choose.
2. Hire an interactive video agency: If you're already strapped for time and wearing too many hats, you should consider hiring an experienced agency to produce your videos. With this option, you skip the hassle of learning complex software yourself, and can have peace of mind knowing your project is in the hands of seasoned experts.
Regardless of the route you choose to take, we've prepared some additional resources to help you learn more about interactive video. Check out The 8 Best Interactive Videos of All Time blog post and our Interactive Video info page.