Adding subtitles to your videos can be important for a variety of reasons.
These include:
Accessibility – Did you know that over 37.5 million people in the US alone are deaf or hard of hearing and therefore can't fully understand your video unless you add subtitles?
Reach – 85% of Facebook videos are played and watched without sound.
Localisation – Out of around 7.8 billion people in the world, only 1.35 billion speak English (about 17.3%) – using subtitles is an easy and inexpensive way to repurpose your video to be understood around the world
Engagement– According to PLYMedia, 66% of videos without subtitles are watched to completion, compared to 91% with subtitles. What's more, videos with subtitles are linked by Instapage to 15% more shares, 17% better reactions and 26% more call-to-action clickthroughs.
Discoverability – video content can't be fully indexed by search engines, but adding captions to your videos helps them better understand the content so they can index and rank it more effectively. In other words, adding subtitles to your video can actually help search engines understand what the video's about – so they can help more people find, and watch it.
So how do you do it?
In this article we'll show you how to add subtitles to your videos in just a few short minutes.
1. Zubtitle
If you're looking for a tool that makes adding captions quick and easy – Zubtitle is an option for you.
Simply upload your video to Zubtitle and it will automatically detect the dialogue and convert it to captions automatically. Of course, there's always going to be some margin for error here.
That's why Zubtitle lets you edit the captions quickly and easily by simply clicking the relevant part of your transcript and entering or correcting the wording.
As you can see, the dialogue updates in the subtitles right away. (You could also, theoretically, use this functionality to copy and paste translations so your video can be localised.)
Another great selling point of Zubtitle is the power it gives you to quickly and easily edit the video file itself, and how the captions are displayed.
For example, you can quickly and easily edit the aspect ratio. For obvious reasons, this makes Zubtitle a particularly effective tool for creating subtitled video files to be shared on social channels.
You can edit the background colour for your captions, keeping everything on brand…
As well as adding headlines to your video, making them ultra-attractive to people scrolling their social feeds.
You can choose from a range of preset styles for both captions and headlines…
With a dizzying range of options to edit each of those styles including font, size, padding, formatting, shadow and more.
When you're done, clicking the 'Download' tab takes you through the simple process of rendering and downloading your video. It downloads as an MP4 so you can upload it to your website, hosting platform or social media channel.
The whole process takes minutes and you won't need to download any software – it all happens right within your browser.
Pricing – Less prolific creators can render 1 video per month for free (but it'll include the Zubtitle watermark, as you can see in our example above.)
If you're creating a lot of subtitled videos – or want that watermark removed – you can get 10 watermark-free videos per month for $19/month, and 30 for $49/month.
2. Subtitles.love
Similar to Zubtitle in many ways, Subtitles.love boasts the ability to auto-detect and transcribe from 10 different languages.
Simply upload your video and select the language…
The subtitles are automatically generated after a minute or so.
They can be edited using a slightly more complex editing tool – but still really simple to use.
From there, you can edit the style of your subtitles. Again this includes things like aspect ratio…
Whether the video is zoomed and cropped or displayed in its original proportions, but 'clipped' to appear within the chosen aspect ratio…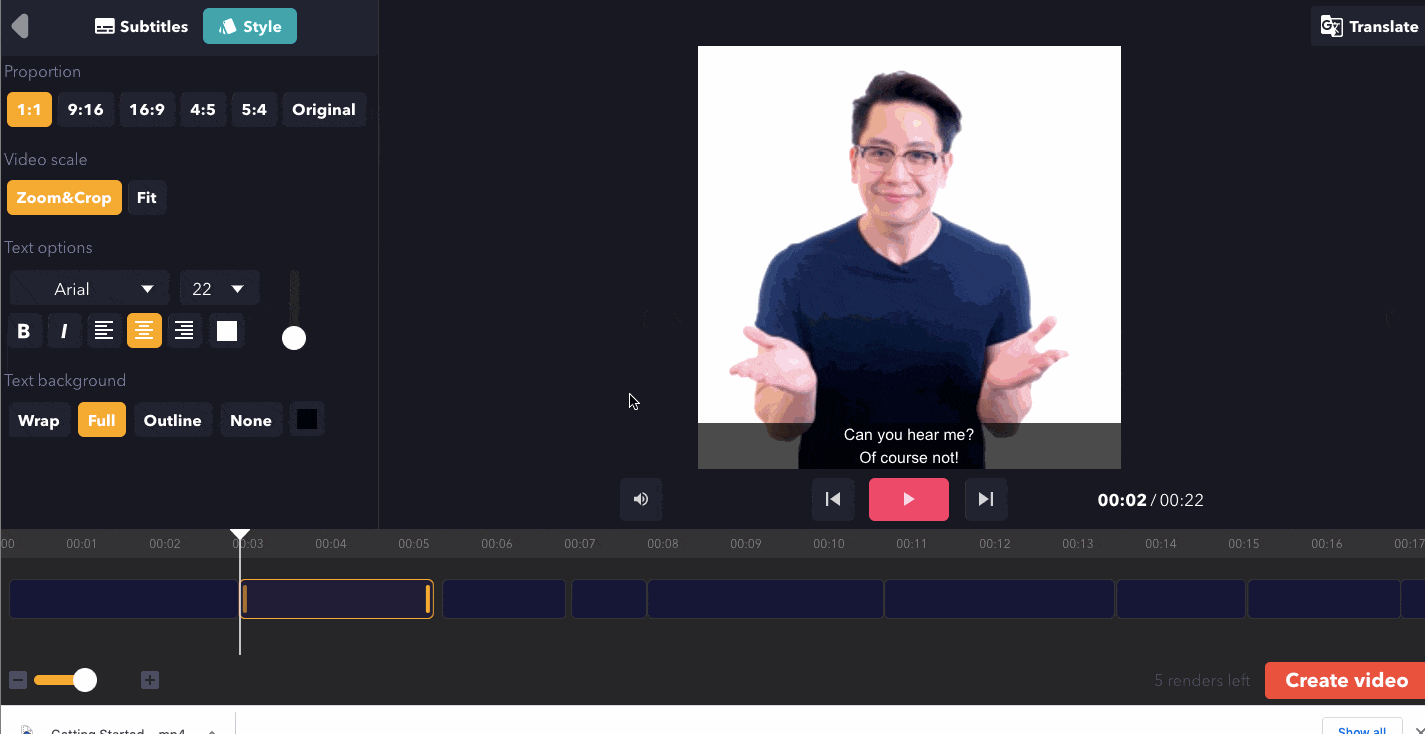 As well as pretty granular control over the text style – font, size, formatting, positioning, colour, position within the player window, and background style/colour.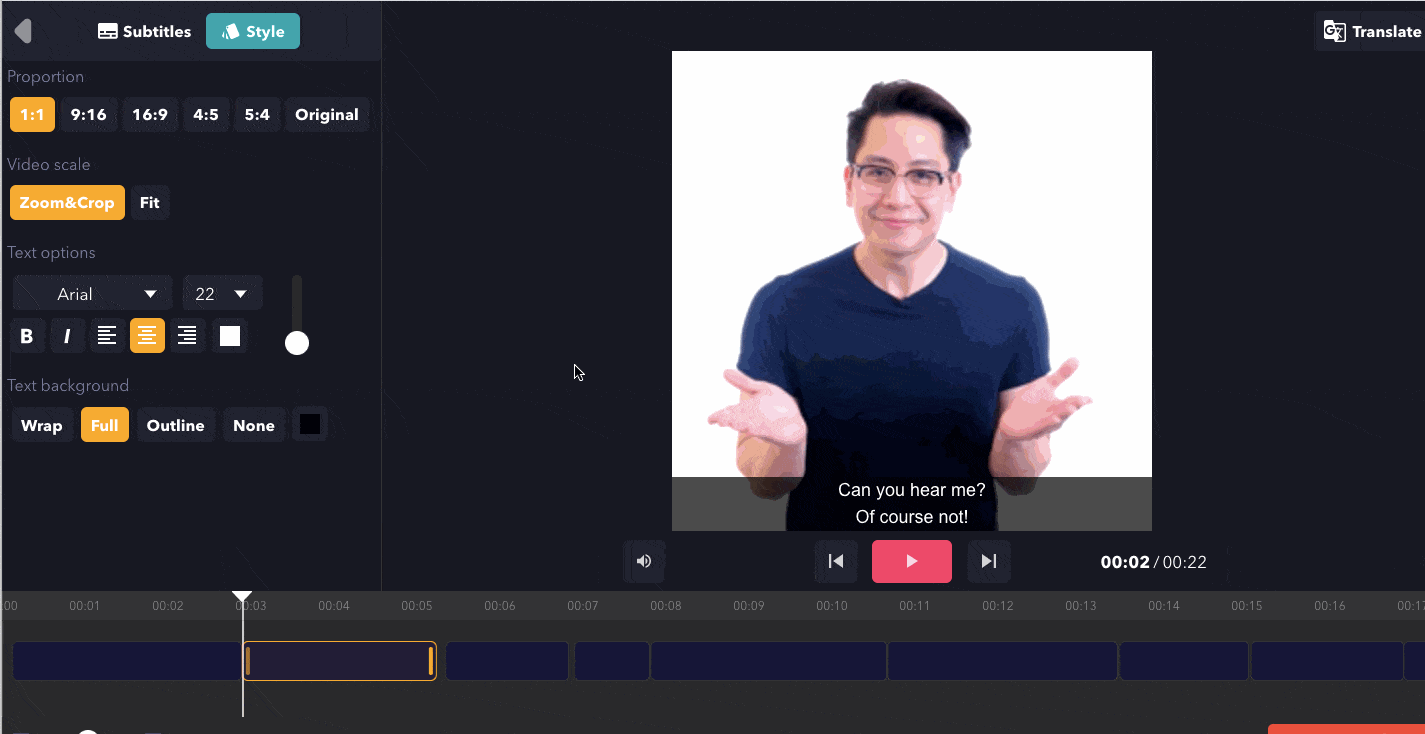 Once you're done, hit the 'Create video' button and it'll render in a minute or so.
You'll then be given the option to download your completed video file with subtitles overlaid – as an MP4 – or the 'Edit video' button which takes you back to the studio for further edits.
Pricing – Again, the hobbyist – or people just looking to kick the tyres! – can create 1 video per month, with a watermark, for free.
More consistent creators can upgrade to the paid plans – with the watermark removed – with the light plan $5/month (1 video), medium at $13/month (15 videos) and premium at $49/month (75 videos.)
Tied into these plans are also caps on video duration and file size. You can get full details on the pricing page.
3. Kapwing
Now, in all fairness to Kapwing, subtitles are really only a *part* of what they offer.
This is important to note since when you're comparing it directly to tools like Zubtitle and Subtitles.love, you're struck by how manual and complicated it is in comparison.
However those are tools that are specifically built for subtitling and don't really do anything else.
Kapwing, on the other hand, is a comprehensive video editing studio. As you can see, this is essentially a browser-based video editor, allowing you to overlay with text, add images, edit the timeline, change the audio, add visual elements and – of course – add subtitles.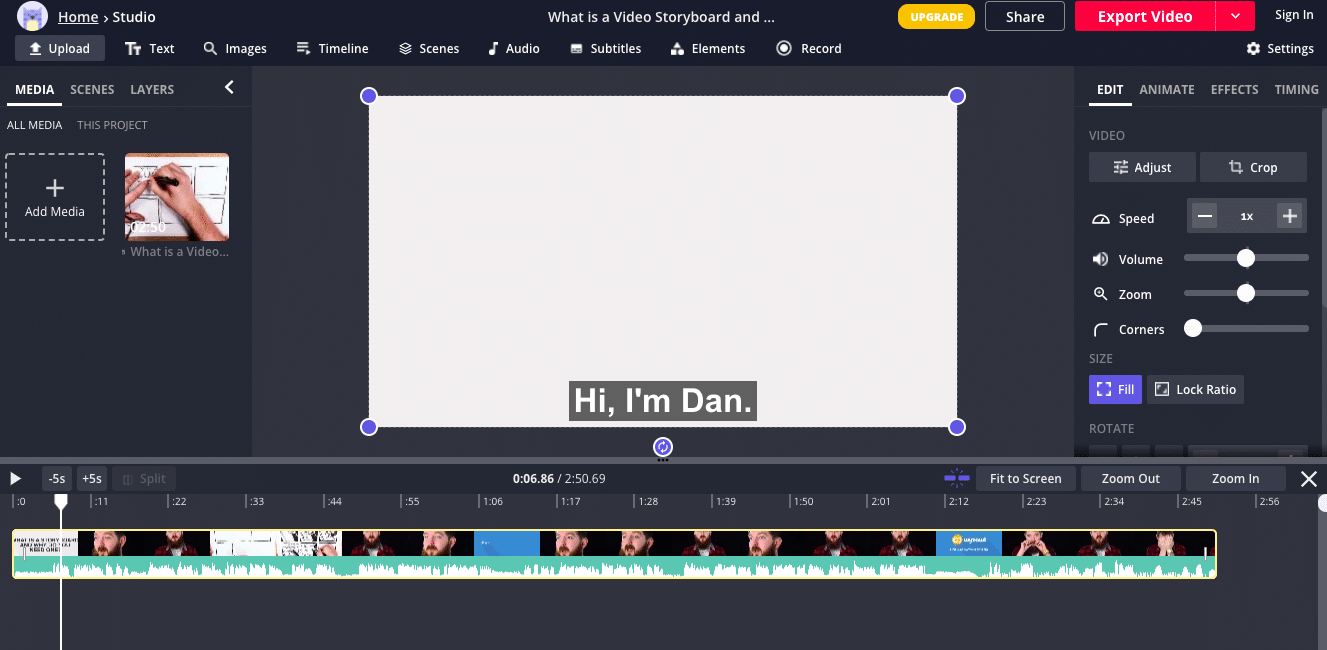 The other bit of mitigation for Kapwing is that they offer a lot for free. As long as you're happy with your videos being watermarked, it seems that you can edit and export an unlimited number of subtitled videos.
They can be exported as MP4 and GIFs which can be handy.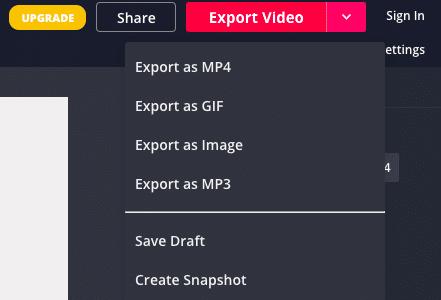 All the content you export is also set to 'public' and you'll need to upgrade to a paid plan ($20 per month or $204 for a year) to change this to private – and access other premium features.
As you can see, the actual process of adding subtitles to video is pretty manual and fiddly in comparison to other tools we've reviewed.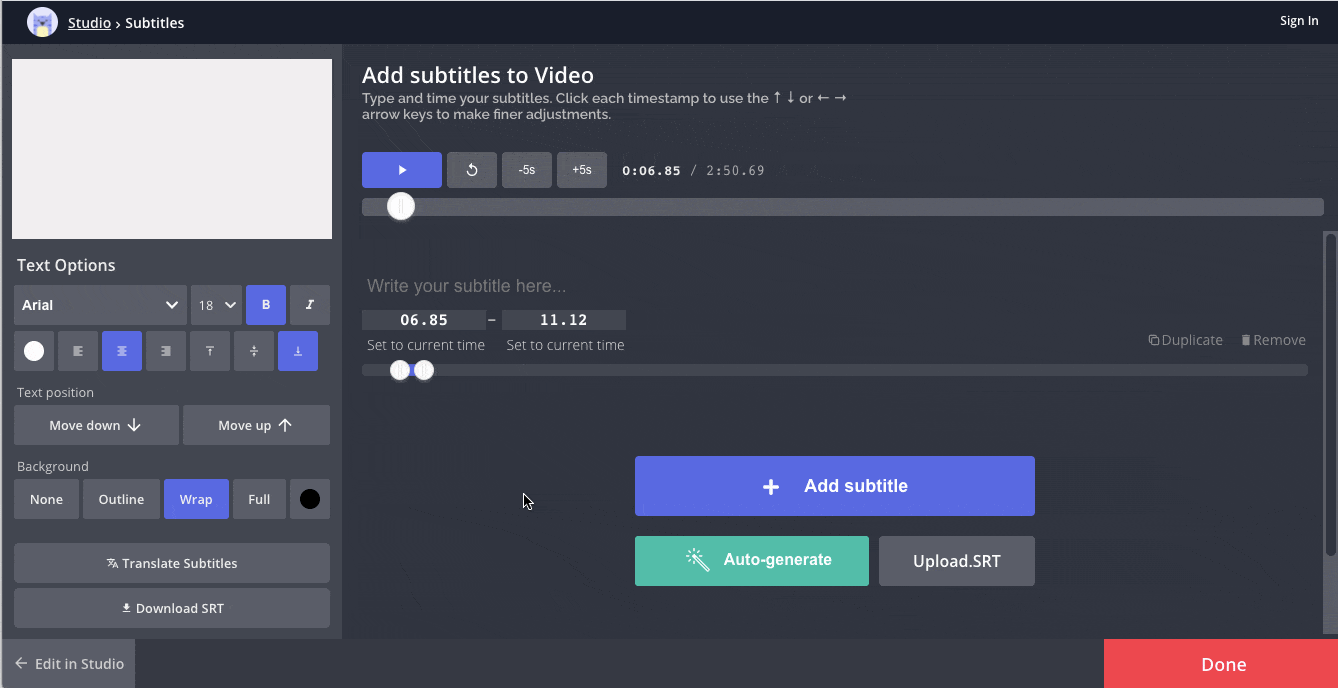 For starters, obviously, Kapwing isn't able to automatically transcribe and create captions by analysing the audio of your video file.
So as well as manually entering dialogue – you also need to manually enter timestamps, or use the slider tool to set the 'start' and 'end' of each caption.
You can also upload a .SRT file to get all the dialogue added in one go.
Beyond this, the options are pretty plentiful – you can, as with other tools, customise the style, look and feel of your subtitles relatively quickly and easily.
Pricing – as mentioned above, if you're happy with a watermark (and your content being publicly available) you're fine with the free plan which allows you to do most things. Want to ditch that watermark or access other premium features? You're looking at $20/month, or $204 for the year, which works out at $17/ month.)
4. Maestrasuite
Maestrasuite is a tool that lets you generate automatic transcripts, subtitles and voiceovers in minutes. First and foremost, it's a speech to text software that incorporates English, French, Spanish, German and 50+ other languages.
As with the other tools we've explored, the journey starts by uploading your raw MP4 file to the system.
Prolific creators will find value in Maestrasuite's organisational features – we can imagine that the ability to create folders and keep your videos organised could be super useful.
Once your video's done uploading and processing, you'll get Maestrasuite's interpretation of the transcript.
Unfortunately we have to report a few inaccuracies – "I'm Dan, an illustrator at Wyzowl" became "I'm Don and illustrate to hear that wiser." Dan speaks in a fairly heavy regional accent, which excuses it slightly – but it's still annoying!
Of course, you can click each box of the transcript and make corrections as well as using the timeline tool to drag timings.
Next you can format your subtitles – changing font, font size, background, colour, vertical position and more.
Unlike some other tools, we couldn't see an option to change the aspect ratio of your video file which is pretty limiting when it comes to posting videos on social media channels etc.
When you're done, there are a number of ways to get completed videos where they need to go.
Of course they can be exported as MP4 files. They can also be embedded directly to your website. And you can export transcript documents, or subtitle files (SRTs) at the click of a button.
We've made a few criticisms of Maestrasuite so let's say something positive…their strong suit is their localisation feature set. We hinted at it above – 50+ languages dwarfs the competition and that alone makes Maestrasuite a good choice for businesses working in international markets.
These translations are immediate and seem to be fairly accurate.
When you upload your video you're invited to nominate a language for translation. In this case, we selected French, so it appears as an option when we hit the drop down menu.
However if you click the 'Translate' option, you can select any of those 50+ languages for translation. It's an incredibly comprehensive list!
Pricing – One final reservation with Maestrasuite is that the pricing model seems fairly confusing. It's based not in the number of videos, or file size but in 'minutes,' ostensibly referring to video duration.
Plans range from 5 hours to 20 hours/month, but it's really quite difficult to understand which one you'd actually need, and what 5 hours of video really looks like.
This further manifests itself in a fairly strange quirk whereby operations that don't seem to refer to video length at all – such as converting an audio file to a voiceover file – have a 'minute' rather than a financial or credit-based cost.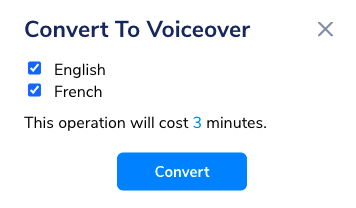 On the whole, though, Maestrasuite's localisation tools make it a compelling choice for multinationals, and it's worth a try for other companies, too.
Thanks for reading
So, there you have it.
4 cheap (free in some instances) browser-based tools to help you quickly and easily expand the reach and accessibility of your videos through the magic of subtitles.
While you're here – it'd be remiss of us not to mention that, if you're looking to achieve amazing things with video, our team has years of experience to help you do exactly that. We'd love to talk to you about how.