Last updated on 27th June 2023
In this article we're going to take a look at Artlist vs Epidemic Sound to find out which is better for your brand in 2023.
We'll be taking a look at everything from user experience to library size, licensing options, and pricing to give you all the information you need to make an informed decision.
So, let's begin the comparison…
TL;DR
Artlist is a royalty free music and sound effects platform that was initially made for filmmakers, but can be accessed by anyone who requires quality tracks for their content. The site is very user friendly, there's new music added all the time, and Artlist also offers additional assets, including stock footage and video templates.
Pro 1 – Easy to navigate
Pro 2 – You can use it for free
Pro 3 – Next-level customer support!
Con 1 – You'll need a paid subscription for full access
Con 2 – Epidemic Sound has a larger library
Epidemic Sound is a site that provides royalty free soundtracks and sound effects to users looking to make everything from Instagram posts to feature films. The site is easy to navigate and boasts over 35,000 songs and more than 60,000 sound effects, created by professional producers, composers, musicians, and artists.
Pro 1 – Easy to use
Pro 2 – Huge library
Pro 3 – Excellent customer support
Con 1 – There's no free plan
Con 2 – If you have multiple channels, then you need to purchase multiple plans
What is Artlist?
Artlist is a platform that offers creative assets to content creators. This of course includes royalty free music and sound effects, but also features stock footage, video templates, and even plugins and editing software.
The company was founded in 2016 by Ira Belsky, a filmmaker who recognised that licensing and sourcing creative materials for videos was a difficult task. So, he transitioned from filmmaker to entrepreneur and Artlist was born.
What is Epidemic Sound?
Epidemic Sound provides royalty free soundtracks and high quality sound effects to anyone who wants to create something special.
The company was established in Sweden in 2009 and while their headquarters is still in Stockholm, the music tech company now also has offices all over the globe, from New York to Seoul.
Even though the company is over 10 years old, they're still very much growing. At an equity round in 2021, the company raised $450 million, taking the valuation of Epidemic Sound to $1.4 billion and giving them the envied title of 'soundtrack to the internet'.
Who is Artlist & Epidemic Sound for?
Artlist, first and foremost, markets itself as a brand aimed at filmmakers. On their About Us page, the platform is described as a place where "filmmakers can always find something inspiring, evocative, or moving to underscore their work."
However, you definitely don't have to be a filmmaker to use their tracks and sound effects. Artlist is great for anyone who makes video content, whether that's an explainer video for your brand or an Instagram video to grow your social following.
Epidemic Sound is more overtly advertised towards people making social media content. On the homepage, tracks are split into the following popular use cases:
However, it's not just for the 'little guys'. The platform also has some big clients, like Coca Cola and Nike.
Artlist: Library size
Artlist has a pretty impressive library that's growing all the time. There's around 30,000 on the site, with around 150 new tracks being added every month.
It's not the biggest library out there but the fact that new tracks are added all the time means that there's a lot of variety, and a lot of new stuff you may not be able to find elsewhere.
On the music section of the site, 'Staff Picks' are suggested initially to users, with other categories on the left hand side that people can switch between. These are: Mood, Video Theme, Genre, Instrument, and Spotlight.
Clicking on each category gives users the chance to narrow down further. For example, if you click on Instrument, you'll then be asked to select one from the list before being shown suitable tracks:
The list of tracks seems to go on forever as more and more are automatically added to the list as you scroll down.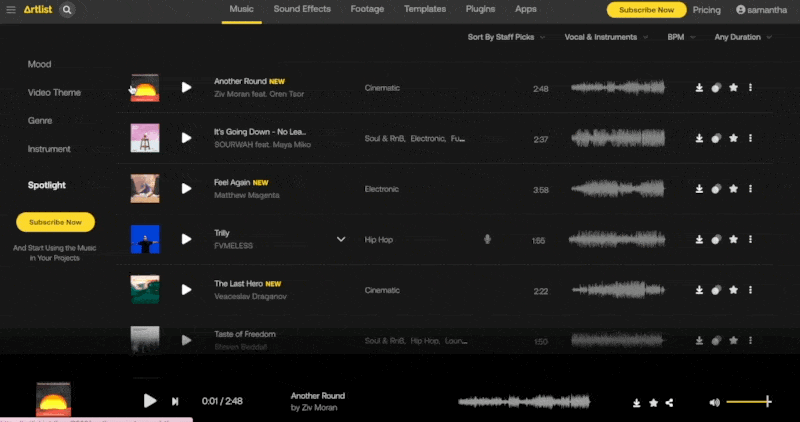 When it comes to sound effects, the experience is pretty much the same. Users can select a category or search for a specific sound effect: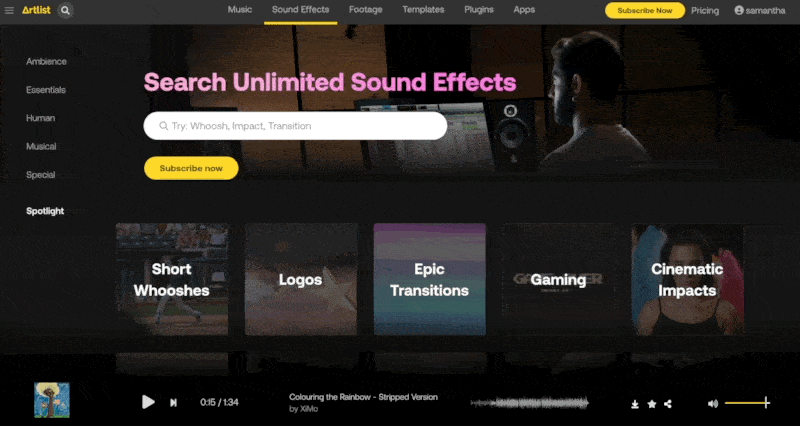 Again, there's plenty to choose from so Artlist's library feels far from small.
Epidemic Sound: Library size
Epidemic Sound has a substantial library, with over 35,000 songs and more than 60,000 sound effects.
Taking a look at the music section first, tracks are initially split into 4 categories: featured, genres, moods, and themes.
This offers a great starting point for users, and the sound effects section is pretty similar. Sound effects are split into different categories that make it easy to find what you're looking for. There's everything from weather sound effects to whips!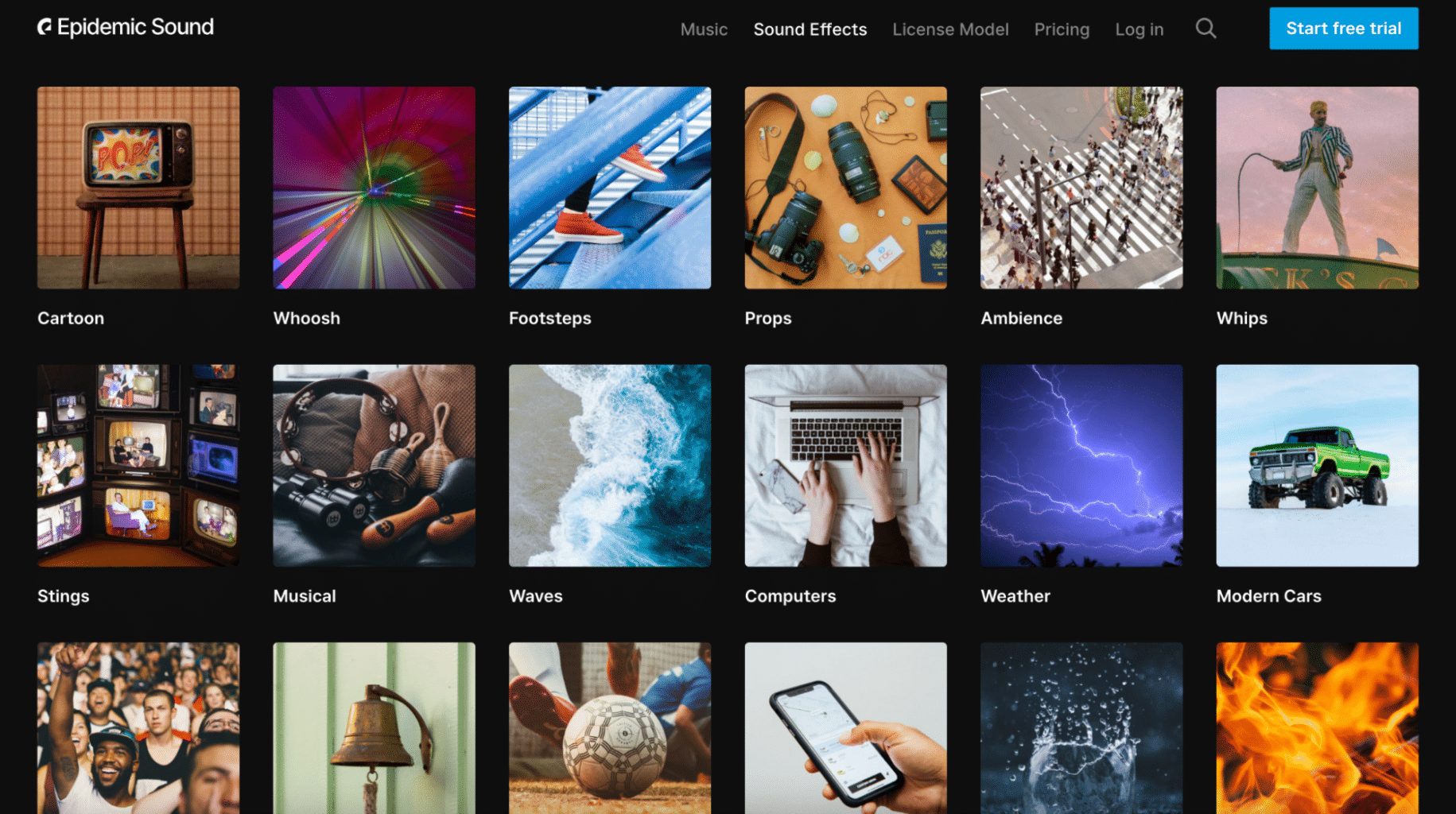 There's also a search bar at the top of the page that you can use if you know exactly what you're looking for: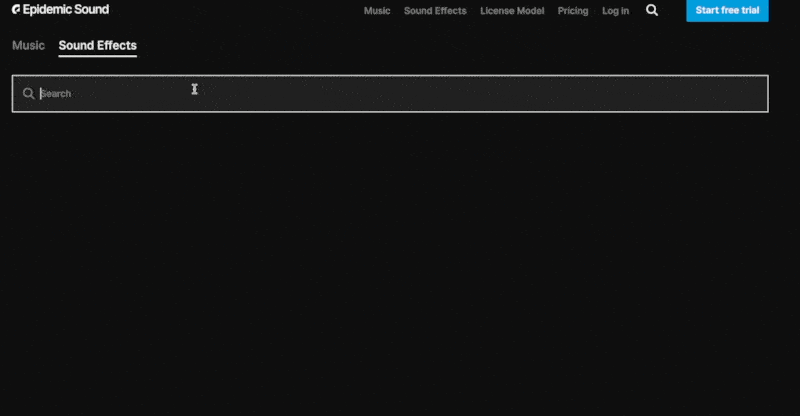 Overall, Epidemic Sound's library is huge but is organised in such a way that it doesn't feel overwhelming when you navigate it.
Artlist: Music quality
Artlist prides itself on finding the best professional musicians in the world and then curating their music into a powerful platform for filmmakers and content creators alike. And the quality of music on the platform reflects this.
Artlist is proud of the artists they work with and even showcase a selection of them on the site:
When you find a track or sound effect you like, you can click the download button to access the track as an MP3 file:

WAV files are also available, however this is for paying subscribers only (more on that in the pricing section).
Epidemic Sound: Music quality
Epidemic Sound partners with professional producers, composers, musicians, and artists, so you can rest assured knowing that the music you source from this site is of the highest quality.
In addition to partnering with professional creators, Epidemic Sound also has an in-house team of songwriters, producers, and sound engineers that help to elevate music that is submitted into world-class tracks.
When you find a song you like, you can listen to it in full and get a comprehensive list of track details before downloading:
Tracks are downloaded as WAV or MP3 files:
So they should be perfect for any use case you have in mind, whether that's some background music for your podcast or audio for your latest TikTok video.
Artlist's user experience
Artlist is intuitive and easy to navigate, even for first time visitors to the site. From the music homepage, you can click into different categories or sort tracks by a number of different parameters, including newest, duration, and even BPM: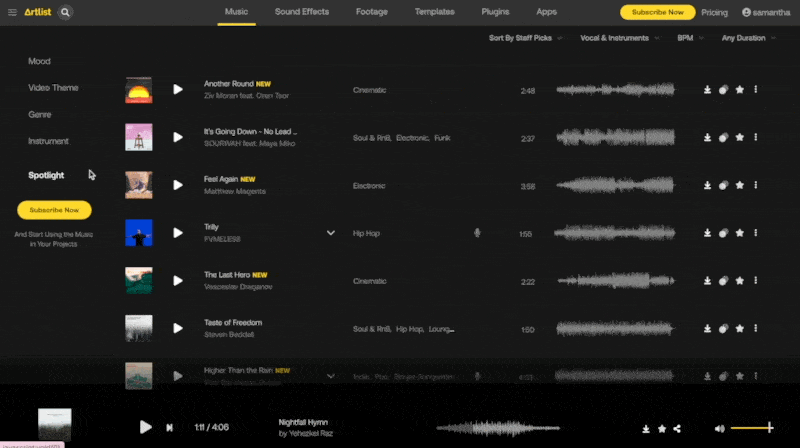 If you have an idea of what you're looking for you can use the search bar to find it:
When you click on a track or sound effects page you can easily save and share it. You can also create your own collection of sounds, and find similar sounds directly from here:
Overall, it's an easy and enjoyable platform to navigate and we have a lot of fun with it!
Epidemic Sound's user experience
The user experience on Epidemic Sound is close to perfect. When landing on the homepage, you'll be shown featured playlists and themes. There are also 3 tabs at the top of the page: Discover, Browse, and Saved.
If you like the look of the featured tracks, you can click on a tile to instantly start sampling music from the collection. You can also quickly shuffle through these at the bottom of the page, or you can click into one of the categories to find out more: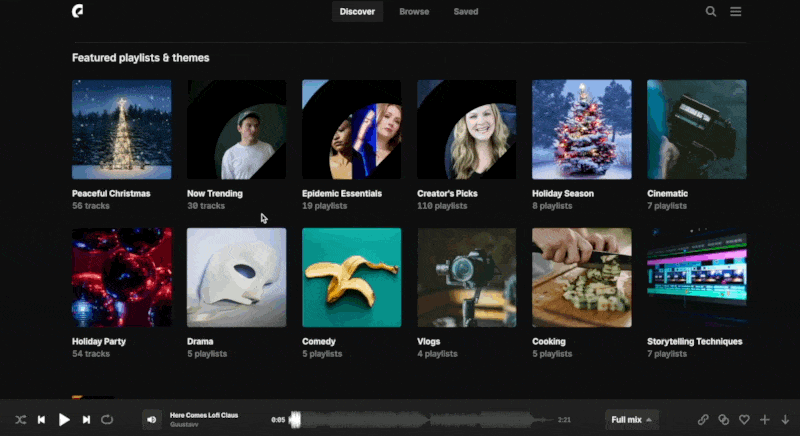 Clicking on the Browse section allows you to explore even further. You can switch between Genres, Themes, Moods, and Sound Effects, and also get a list of search terms A-Z to see if anything catches your eye:
We clicked on 'Disco' as an example, and, as you can see, there are lots of tracks to choose from. These can be organised in a number of different ways. Tracks can also be favourited, saved and downloaded directly from here.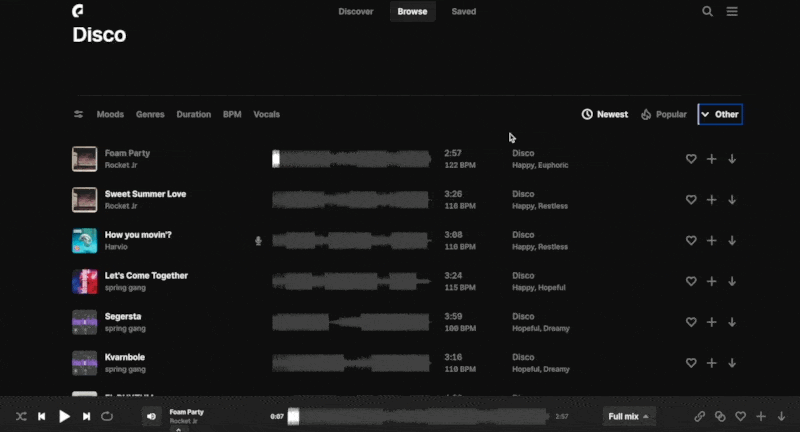 It's easy to find tracks that sound similar by clicking the 'Find Similar' icon:
And you can easily search for whatever it is you're looking for by hitting the magnifying glass at the top of the page and entering your search term:
The platform couldn't be easier to use and it makes finding music and sound effects completely stress free.
Artlist: Licensing
Artlist has two different types of license – Social Creator and Creator Pro. Both of which offer unlimited downloads that you can use 'forever' in your content. The biggest difference is that the Social Creator license is specifically for personal social accounts. Those covered are: YouTube, Facebook, Instagram, TikTok, Twitch and podcasts.
You can only link one channel per platform (so one YouTube channel, one Facebook page, one podcast, etc.). But the good news is that you can monetize your videos using this license. The action of linking your account to Artlist prevents your videos from getting demonetised for using copyrighted music, because it shows the channels that you have paid access to this library of tracks. This license perfect for social media influencers.
Creator Pro allows you to link unlimited channels and use the soundtracks and sound effects in client work, so this is the best license for companies that create content on behalf of others. In addition to the social media channels mentioned, Creator Pro also covers you for: Commercials, broadcasting, websites, and even wedding videos!
Epidemic Sound: Licensing
Epidemic Sound refers to their licensing model as not royalty free, but worry free.
So, what does this mean?
It means that if you sign up for a subscription, then you can use any track or sound effect in the Epidemic Sound catalogue without worrying about copyright infringement.
Epidemic Sound owns the rights to all of the music in their catalogue, and as a paying subscriber you have a direct license that gives you access to the entire catalogue. Hassle free!
If you need a track for a one-off production, Epidemic Sound also offers users the opportunity to buy a Single Track License. You can find out more about that here.
Artlist: Pricing
Artlist has 4 pricing plans: Music & SFX Social, Music & SFX Pro, Music & SFX Teams, and Enterprise.
The cheapest plan is Music & SFX Social. This is aimed at social media content creators and is priced at $9.99 per month. This plan covers everything we discussed for the Social Creator license.
The next step up, Music & SFX Pro, is $16.60 per month and covers everything we discussed for the Creator Pro license. This plan is for professional video creators, especially those who make videos for clients.
The Music & SFX Teams plan is for creative and production teams. It costs $28.20 per month. This covers you for everything in the Pro plan, as well as the ability to add up to 7 team members. It's recommended for organisations of up to 100 employees.
For organisations bigger than that, there's the Enterprise plan. This covers you to use tracks and sound effects in your apps, software, and games. Plus, you get access to dedicated curation services and premium customer service. There's no price on the site for this because it appears every enterprise plan is customised based on the company's needs, so you'll have to get in touch to find out more.
Epidemic Sound: Pricing
Bonus: We've partnered with Epidemic Sound to get you 10% off for 12 months when you sign up here: Get 10% off for 12 months >>
Epidemic Sound has 3 pricing plans: personal, commercial, and enterprise.
The Personal plan is £10 per month and aimed at non-commercial customers, like hobbyists and influencers. As such, the plan gives users access to unlimited downloads that can be used across social media channels like YouTube, Facebook, TikTok, Instagram, and Twitch, and also podcasts.
However, the important thing to note with this plan is that, similar to Artlist, you will only have the ability to link one channel and one podcast feed. So if you wanted music for both YouTube and Facebook usage then you'd need to sign up for two personal plans.
The Commercial plan is £39 per month and gives users access to everything covered by the personal plan, plus the ability to connect to online platforms and websites, publish content for businesses and clients, and also use tracks in digital ads.
This plan is best for business users and freelancers who need soundtracking content for advertising and commercial use, either for themselves or clients.
The Enterprise plan includes everything the commercial plan does, plus all rights covered for TV shows and ads, a dedicated customer success contact, the ability to add multiple user accounts, and create customised deal terms.
There's no price available on the site for this plan, and we're guessing this is because the Enterprise plan could vary widely depending on a company's needs.
This plan is best for big operations. And it boasts all rights included for one monthly fee, with no legal risks and no reporting.
Artlist's customer support
Artlist has a Help Centre that you can access by scrolling to the bottom of the music page. This Help Centre allows you to search for popular topics, look through FAQs, and also go through troubleshooting, so you can try to independently solve any issues you may face while using the site:
If you find an article that looks helpful then you can click into this and give it a read. There's also the option to contact support if you didn't find what you were looking for: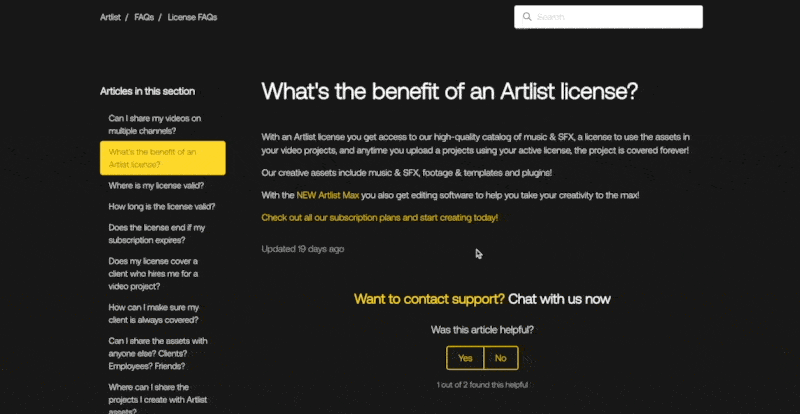 This will open up a chat box that allows you to speak with a customer service rep in real time.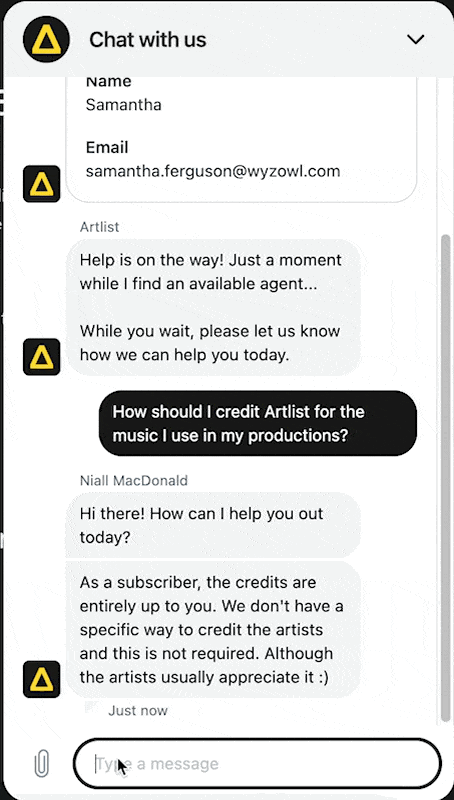 This functionality is great. You can see when the rep is typing their reply and also attach assets, if needed. This is really next-level support from a royalty free music site as it allows you to solve issues instantaneously.
Epidemic Sound's customer support
If you get stuck while using Epidemic Sound, scroll down to the bottom of any page to find the Help button:
This will take you to the Help Centre, where you can search for answers to your queries and/or read articles that answer common questions: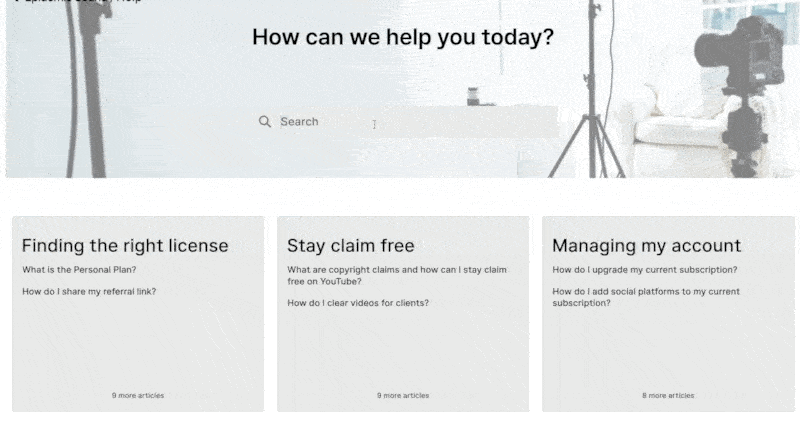 All of these articles are pretty comprehensive, but if you still can't find what you're looking for then there's also the option to contact the support team directly.
You can do this by clicking the 'Contact Us' button at the bottom of the Help Centre page and filling out the contact form:
We did this to test out Epidemic Sound's customer support team for the purposes of this review.
We received an automatic response straight away, pretty standard for most customer support teams:
And then something not-so-standard happened. We received a response from the customer service team just ONE MINUTE later:
Super impressive!
The response was short, polite, and answered our question clearly.
Artlist vs Epidemic Sound: who's the winner?
Judging on how well each platform performed in every category, it's plain to see that both Artlist and Epidemic Sound would be excellent choices for a royalty free music partner.
We've scored both 5/5, but if you really want to break it down then it all depends on what's more important to you as a user.
Artlist has live chat customer support so that issues can be resolved instantly, the music quality is high and there's definitely a focus on big productions, so it's perfect for filmmakers.
Epidemic Sound has a bigger library and while the customer support isn't real time, they are quick to respond! This platform seems to have more of a focus on short-form, online video content, making it a great choice for social media influencers.
As you can probably see, there's not much in it between these two. The platform you choose will depend solely on your needs – and hey, nothing is stopping you from signing up to both!
Final thoughts
The perfect soundtrack can do wonders for your video marketing, so it's important to find a platform that offers the content and features you require as a business.
We hope this article told you everything you need to know about Artlist and Epidemic Sound. But if you're still undecided, this article might help: The 20 Best Royalty Free Music Sites in 2023.