Sharing videos on Instagram is a great way to drive engagement with your followers.
In fact, Instagram video posts receive twice the engagement of other types of posts.
The only problem is that sharing YouTube videos on Instagram isn't exactly straightforward.
Why?
Well, Google-owned YouTube doesn't exactly want to make it easy for Facebook-owned Instagram to benefit from cross-pollinated content!
But despite being a slightly convoluted process, it's not entirely Mission Impossible to upload YouTube videos onto Instagram.
We're here to walk you through the whole process with a handy step-by-step guide.
We'll give you everything you need to know to download, edit, and post YouTube videos directly onto Instagram.
How to post YouTube videos to Instagram
As we've mentioned, posting YouTube videos to Instagram is no picnic.
Unfortunately, it takes a little more effort than simply clicking a few buttons.
In actual fact, you'll need to follow a three-step process, which we're going to run through in detail.
So, without further ado, let's get started.
Step 1: Downloading a video from YouTube
The first thing you'll want to do is download your YouTube video onto your device.
1. We're going to use Video Get Pro on iPhone. There are plenty of other similar apps – such as YTMP4 and Clipbox – that will do the same thing. Not that we're endorsing any of these and YouTube definitely doesn't!
2. Select "Download Browser" and paste in the URL to your video.
3. We're going to use one of our videos. We are a video marketing company after all! Plus, if you're using your own content, you can be certain you won't fall foul of copyright laws.
4. Once the download is complete, make sure you save it to your camera roll. Then you're ready for the next step.
Step 2: Repurposing a video for Instagram
The second step is to get your video Insta-ready, bearing in mind the maximum length of a video for Instagram is one minute.
1. If the YouTube video you've downloaded goes beyond that duration, you're going to need to trim it to size. We're going to use the InShot app to do this but there are plenty of alternatives, like Splice or Instasize. In fact, we've written a whole different blog about the best video editing apps if you need any more inspiration.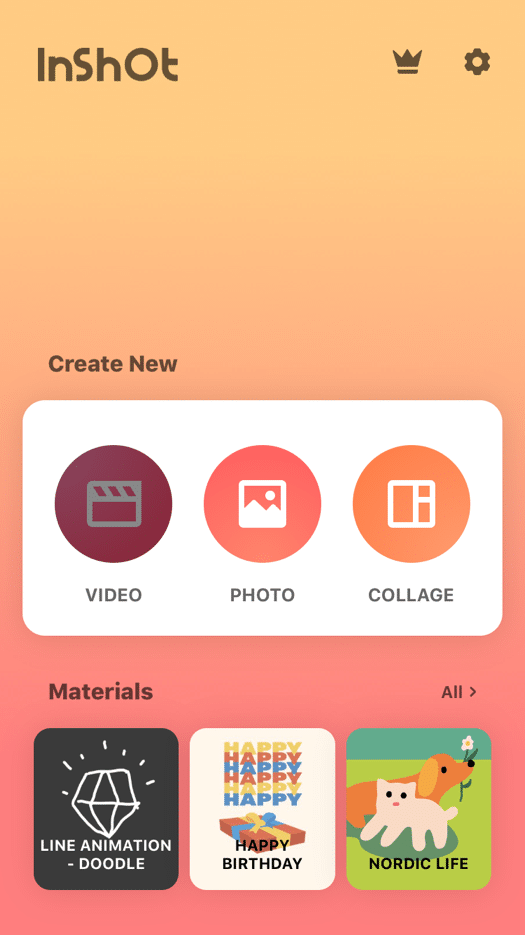 2. Not only can you trim your videos down to size, but InShot, and other similar photo editing apps, also let you add filters and effects to make your video Instagram-worthy.
Once you're happy with your masterpiece, you're ready for the third and final piece of the jigsaw.
Step 3: Posting a video to Instagram
The final stage is to upload your awesome new video directly to Instagram.
1. Hit the "plus" (+) button, find your video on your camera roll, and press "next".
2. Add any final filters and edits, then hit "next" again.
4. Add your caption and any relevant hashtags to make sure your video gets seen. You definitely don't want all that work to go to waste!
5. Press "share" and there you have it; your fabulous new video is now on Instagram and ready to be released into the wild.
Summary
To sum up this whole process… Can you upload YouTube videos to Instagram? Yes, you can. Is it a quick and easy process? Not entirely. It will take some legwork and it might take time to find the right apps to get it done.
But, in actual fact, once you've got everything set up, and have gone through the process several times, it will get quicker and easier every time. It's just like anything: the more you practice, the simpler it becomes.
Let's recap those three steps again quickly:
Step 1. Find the right video on YouTube. Bearing in mind the appropriate copyright laws. The best way to ensure you don't fall foul of copyright laws is to use your own content. This is also a great way to market your YouTube content to another audience.
Step 2. Get creative with your editing. Remember, you're repackaging your video for a different audience. Get yourself a video editing app that does everything you need it to do and in a way that suits you. Once you've done all your trimming, touch-ups and text overlays, save your video to your camera roll.
Step 3. Upload your content to Instagram. Remember that 60-second limit that Instagram imposes on videos. Keep your video short, snappy and to the point. This is actually a great mantra for all your video content. If you want to keep people's attention these days – especially on Instagram – you need to make an impact. FAST!
And, voila, you've just created some fantastic new content for Instagram!
Keep the right side of copyright laws
Remember, if you're going to use a YouTube downloader, it's really important to keep copyright laws in mind. Be super-careful about downloading any content that isn't yours.
If you're in any doubt, we strongly recommend researching the laws of the land wherever you are. Just to ensure you don't land yourself in hot water. After all, the penalties for copyright infringement can be severe. It's definitely not worth getting into serious trouble just for the sake of driving up your Instagram following.
If you've enjoyed this article, why not head over to our blog for more hands-on tutorials? We've got plenty more video marketing advice to share with you from the sharpest creative minds in the industry here at Wyzowl.