Last updated 14th April 2022
Looking to generate leads, build thought leadership, make friends and influence people? Webinar marketing might be your secret weapon. In this guide, we'll walk you through how to plan and promote a truly memorable webinar that works wonders for your brand.
The Wyzowl guide to the webinar
Phase #1 – Do your research
There's no substitute for research, so why not take a look at what other companies or businesses are putting out there in their webinars before setting up your own? Even if you're a webinar wizard, it can still be useful to see how other people are presenting themselves and their topics. There are literally thousands of webinars out there, covering a wide range of subjects. Watching how other people do it will tell you more than any theory.
Marketing Week showcase dozens of webinar examples that you can view to get a feel of what you might like to host or present. Or try out the Campaign Monitor's webinar resource pages for further inspiration.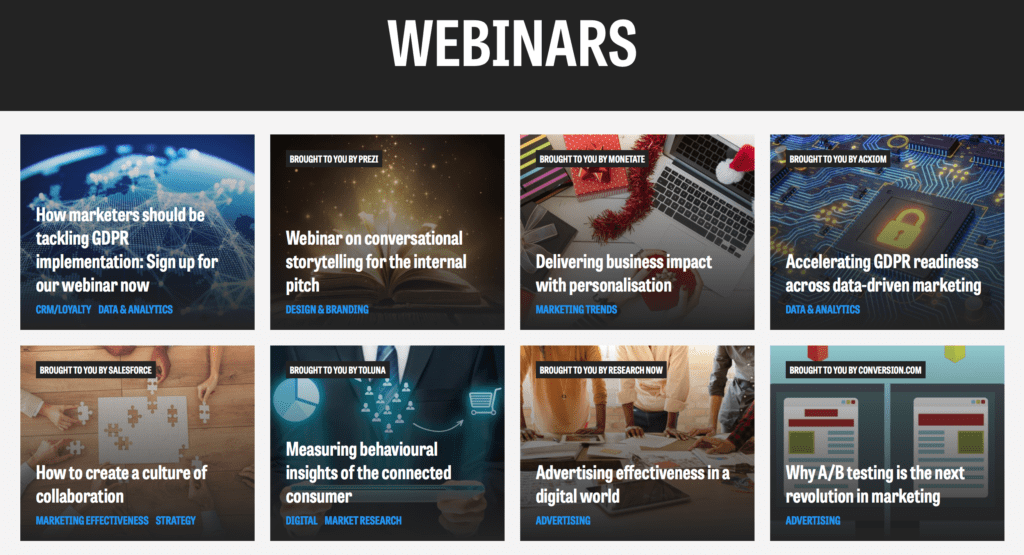 Phase #2 – Choose a host
All webinars need a host to make the magic happen. Some are free and some require a subscription. To save you doing the legwork, we researched a range of webinar hosts before running our own webinars and decided on ClickMeeting; a webinar-hosting site that boasts the following credentials:
See how many people took part in your webinar
Tell you what device was used to log on
Where in the world your customer or audience is/are
Other companies we analysed included GoToWebinar (a sister platform to the hugely popular GoToMeeting), ReadyTalk, Webinar Ninja and Cisco WebEx, which claims to host a staggering 71 million meetings every month.
Most companies offer a free trial period but be sure to check the exact subscription fees and terms for when the trial period is up. At the other end of the fee-paying scale is good old Google. Their Hangout app is free and claims to do everything any other webinar service offers. In a straight comparison of quality and performance, carried out by Finances Online, GoToWebinar scored 8.6 out of 10. Google Hangouts was awarded 8.8. While for user satisfaction, GoToWebinar earned 91%, with Google Hangouts earning 98%. Impressive for a free platform.
Phase #3 – Choose a topic
This is the most vital decision to make. The topic of your webinar is the primary hook for any would-be customer or audience. Go too broad and you won't be able to fit everything you or your audience need to know into one session. Too narrow or niche and you may find yourself running out of things to say. Start with what you know about and what you think other people will want to know about. If you're still stuck for ideas, then why not mine your old blog posts for ideas or look back through some of your tweets.
Use a tool like BuzzSumo to identify which content resonates and performs well on a given topic; or try out AnswerthePublic, which pulls out actual questions people are asking on Google. Industry-specific forums are a great jumping off point for topic ideation, too. You can guarantee if someone is willing to ask a question on a forum, they'll be willing to attend a webinar to receive an expert answer.
Phase #4 – Choose the right time
They say that timing is everything, and choosing the right time to timetable your webinar is a case in point. According to GoToWebinar, the optimum time for a webinar to be broadcast is 11am. But if you're reaching out to a global community, then you'll of course need to consider the time difference before promoting your webinar.
(Image: Brafton)
Phase #5 – Select a style
There are 4 main styles of webinar that you could opt for:
1.The interview – With an industry-specific expert who has influence in your industry and is known in some capacity. Someone whose reputation alone should be enough to secure a good signup to your webinar. The interview webinar works best when the person is live on screen but make sure you send over the questions you're going to ask well in advance. You'll both need to agree on a script where possible, as well as clear timings, to ensure that there are no surprises when you go live
2. The Q&A – The Q&A format is the most engaging, as it means your attendees can participate. Always ask for questions to be sent in advance. This will not only give you a chance to vet them but it also means that your audience are more likely to engage if they're waiting to see if their question will be chosen. Q&As provide an excellent opportunity for your top brass or influencers to place themselves in the hot seat. They are an excellent way to build brand loyalty and add value to your offer.
3. The presentation – Possibly the easiest webinar to deliver, the presentation format is also the most popular. But don't underestimate what's needed. To host a really successful presentation webinar, your presenter will need to be as engaging and enthusiastic as possible. A presentation webinar is exactly what it sounds like – a PowerPoint style presentation accompanied by a prewritten speech. To maximise your success, you'll need to guarantee content that is relevant to the audience, sharply written and delivered with aplomb.
4. The panel – Providing access to experienced professionals who are willing to discuss hot topics in a panel format can work exceptionally well. You'll need to brief everyone fully and always have an agreed script in place. Using an experienced and unbiased facilitator is also crucial to the flow of conversation. You'll want to select someone who's impartial, knows how to handle a panel and is also familiar with the subject.
Phase #6 – Promoting your webinar
And finally, that all-important promotion strategy. There are lots of different tactics to adopt when promoting your up and coming webinar but the highest response rate still seems to come from email. According to The 2017 Big Book of Webinar Stats, compiled by GoToMeeting, 45% of marketers use email as their primary promotional tool. Don't be surprised if you receive a flurry of interest at the last minute though because, according to the same study, 69% of signups take place in the final week leading up to the webinar.
Here are some useful hints and tips on promotional techniques you could try:
Post on your blog: Sounds obvious but, if you've got a readership and/or following, then using your company blog is a great way to draw attention to your up and coming webinar.
Email your customers directly and any other prospective attendees: Holding a webinar is like hosting a party. Make the most of any database or contact list you already have and get inviting.
Partner with someone else to maximise email reach: If you're running a webinar that involves a partner organisation or business, then it makes sense to join promotional forces and maximise on the email reach.
Post on social media: Maximise your reach by leveraging your social media channels. Twitter, for example, is a great way to nudge any potential audiences that the time and date of your webinar is fast approaching.
Create adverts on social media: Make sure you use a platform where your audience hangs out. For example, there's no point developing Instagram adverts if your audience is largely active on LinkedIn.
Put a link in your email signature: Such an obvious promotional tool but often one that gets forgotten. Your email signature is an ideal place in which to advertise a webinar.
Post on industry forums: Promote where you know others will be interested. Whatever your webinar topic, research the people and places that you think will be most interested in your subject.
Write a guest post and mention the webinar: Use your guest posts to promote your webinar. Always ensure you include the key information points in the post – time, date, and host site details.
Create a website pop-up to alert web visitors: Pop-ups are annoying, yes. Yet, they're also extremely effective.

Sumo

users collected 23,645,948 email addresses in less than two years using their List Builder pop-ups.
Tell people you meet at networking events or through your sales team: Walk, talk, live and breathe your up and coming webinar. Encourage your team members to do the same. Promotional word of mouth still counts – even in this age of algorithms!
(Image: Jason Rosewell via Unsplash)
First impressions are everything
Whichever webinar format or host you choose, you can't cut corners with quality. Always remember to:
Plan well in advance
Keep a copy of any script or questions to hand
Stick to time
Stay on point with content
And finally…
If you're just starting out on your webinar career, then we'd advise you to start small and test the water first. Host a webinar that you know will be of interest and see what the take up is before hosting another one. It might be useful to set up a series of webinars that are hosted at the same time – either weekly, monthly or quarterly. Having a regular series of webinars means you can plan your marketing for each webinar well in advance, building on the success and interest of each one as you go.
If you're interested in knowing more about webinar and video marketing, then why not download the latest State of Video Marketing Report today? Wyzowl's very own comprehensive study into the video marketing arena is packed full of insightful statistics, insights and comparisons into all matters webinar and video.