Video marketing is on the rise across all forms of digital media, but that's especially true of social, specifically when it comes to Facebook and Instagram. 68% of marketers have published a video on Facebook, while 41% of marketers have used Instagram video, and we expect those numbers to rise as brands continue to experiment with using this powerful media to reach their audience on social networks. But when it comes to Instagram vs Facebook, which is better for video marketing?
At first glance, these networks might appear to be the same. Facebook and Instagram both let brands post free video content, pay for video ads, stream live video, and post Stories. And since they're both owned by Facebook, you'd expect them to be similar. But after diving deeper, it's clear these platforms have distinct advantages (and disadvantages).
As these two social media giants battle for first place in our Instagram vs. Facebook video marketing competition, consider which platform is better suited to meet your marketing needs, and learn a few things about each platform along the way.
Instagram vs Facebook: Great video marketing examples
Some of the most popular brands around the world are seeing success with video marketing on both Facebook and Instagram. 78% of marketers who used video on Instagram and 87% of marketers who used video on Facebook found the platforms to be effective. But before we dig into more specific stats about each platform, let's take a look at how some global companies are using video on these networks to build brand value and drive sales.
Instagram: Ben & Jerry's
Ice cream for breakfast? According to Ben & Jerry's, that's not such a bad idea. This superstar sweet treat brand uses video regularly on Instagram to promote new flavours, engage their users, and share new ways to use their products – like they did with this video promoting their dairy-free version of Cherry Garcia.
This video strategy deserves a spot on this list for many reasons. First, it's visually stunning. Ben & Jerry's uses vibrant footage and beautiful videography to put their product on a pedestal. Second, it's a great length; at around 20 seconds, it's the perfect length for today's attention-averse audiences. Finally, they deliver value, showing their fans a new and innovative way to incorporate their favourite flavours into their day – and it shows in their metrics. Most of the brand's Instagram videos earn around 35k views, while this one earned more than 110k. For those reasons and more, we give this video strategy two thumbs up.
Instagram: GoPro
Warning: this video (and GoPro's Instagram feed in general) is not for the faint of heart. But it's perfect for those looking for examples of Instagram video excellence. It makes sense that a camera company's social feed would be filled with video, but GoPro takes that to the next level, injecting intense, jaw-dropping, death-defying moments into their feed to earn views and wow viewers.
This video, which earned more than 3 million views, is perfectly crafted for Instagram. On top of being captivating (potentially even terrifying for some), it promotes a lifestyle, not a product – something that's critical on social platforms where consumers are looking for value-adding content and reject anything overtly salesly. As you're thinking about your video presence on social media, take a tip from GoPro and focus on videos that promote your brand and add value to your consumers' lives, not ones that simply push product.
Facebook: LADbible
Speaking of adding value to your customers' lives, look no further than socially conscious content creator LADbible for some great examples of how to do just that with Facebook videos. One of their most popular videos, which earned more than 37 million views, shows that it doesn't take a complicated narrative or climactic story arc to engage on social; all it takes is a few quirky animals.
This short video stars cats, dogs, ducks, and even a pig playing on a playground built just for these furry friends. While initially this video might seem like a fluff piece, it's a prime example of how to use video to amplify your marketing on social. It's in line with their brand, which is known for supporting the fair treatment of animals, and also capitalises on a major social media trend: animal videos. To top it all off, it earned almost one million shares – the ultimate measure of success for any Facebook content. If we can learn anything from LADbible, it's that mixing your brand story and a trending topic is a recipe for social media success.
Facebook: BMW
For brands who want to use social videos to more directly promote product, BMW shows how it's done. Their "Experience the racing line 360" Facebook video is largely product focused. The entire video is centred around their cars, and they even end the video with a direct call to action to test drive a car. The innovation they bring to this piece is what earns it a spot on this list.
BMW capitalised on a new video trend, 360 video, to give viewers an experience they'd never seen. While they earned attention and views by using this emerging form of video marketing, they seamlessly told their brand story, both giving viewers a reason to watch and pitching their product along the way. We're not surprised that a brand known for innovation brought an ingenious approach to this Facebook video, but we are impressed – and the video's 3.5 million views tells us their followers were too.
Comparing Instagram vs Facebook
Now that we've seen some great examples of how major brands are using both of these platforms, let's dig into the details. Here's some information about the demographics, engagement, and effectiveness of each platform that you should consider as you plan your social media video strategy.
Reach and demographics
When it comes to the sheer number of users, it seems that no platform can surpass Facebook. The social media pioneer has more than 2.2 billion monthly active users around the world – more than any other social media platform – while Instagram clocks in at 1 billion monthly active users. But a platform's number of users isn't the best indicator of how your marketing efforts will perform; we need to dig deeper into demographics to understand each network's user base.
Facebook is a demographic catch-all when it comes to users. More than half of Americans across every age group are on Facebook, and two-thirds of those people log onto the platform every day. Those users consistently span all age groups, with millennials ages 25-34 leading the way. However, we might soon see a decrease in the platform's popularity as younger generations grow up; 34 percent of teenagers think Facebook is for older people, and they're not necessarily wrong. 40 percent of people 65 and older are on the platform, which explains why only 1-2% of people ages 13-17 use Facebook.
Facebook also has equal representation from people across different education and income levels; between 70% and 80% of people from all education levels (including people with less than a high school diploma to those with an advanced degree) are on the platform, and all major income brackets are fairly equally represented as well.
On the other hand, Instagram has a much more concentrated user base when it comes to age. Their users are overwhelmingly young adults, with 61% falling in the 18-34 range. Marketers targeting consumers over 45 will find their advertising dollars better spent on other platforms, while those targeting young people, new parents, and young professionals will feel right at home.
Instagram's audience also skews slightly more female; 38% of women online use Instagram, while only 28% of men have an account. When it comes to income and education level, like Facebook, the profile sees fairly equal representation across the board.
Engagement
Facebook's 2.2 billion users spend an average of 35 minutes per day on the app and visit it 8 times per day. On top of that, every 60 seconds Facebook users around the world share 54,000 links, 147,000 photos, and 317,000 status updates, which adds up to more activity every minute than any other social platform in the world. But while those numbers sound good for brands, 40% of users have never liked a Facebook Page, meaning to get in front of consumers, companies need to spend money on advertising to promote their posts.
Meanwhile, 80% of Instagram users follow a business, giving brands a better chance at social media success than they might have on Facebook. And while not as staggering as Facebook's user activity, Instagram still has an extremely active user base. Instagram users share more than 95 million posts per day and "like" more than 4.2 billion posts per day. On top of that, more than 300 million people use Instagram's story feature every day, while Facebook's story feature is still struggling to gain traction, earning about half that daily activity.
When we look at what time users engage, Instagram and Facebook are nearly identical. Both sets of users are more likely to engage during the week and in the midday range, so when scheduling your posts, consider targeting those windows to boost engagement.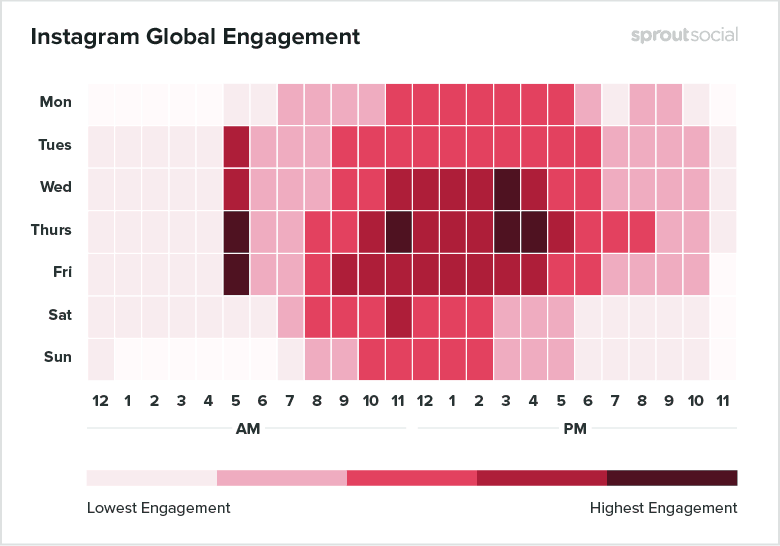 Brand use and ad effectiveness
While Instagram provides huge opportunities for businesses, Facebook is still the most popular network for brands, hosting 80 million business pages compared to Instagram's 8 million. Those numbers translate when we look at how many brands are paying to promote ads on each network.
93% of marketers use Facebook advertising regularly, and 62% of marketers find it to be their most important social media channel. While the platform has powerful paid advertising potential, Facebook intentionally hides company posts so brands spend more ad dollars; organic reach for branded Facebook pages is only 2% on average.
But since 500 million people watch Facebook videos every day, you shouldn't discount this outlet just because of its algorithm. However, if you pay to promote your video on Facebook, be sure to add subtitles; 85% of Facebook videos are watched without sound, so if your video's voiceover or music is critical to the viewing experience, you might consider another platform.
Meanwhile, only 24% of brands use advertising on Instagram, but that could be because organic branded content performs better on the platform. 75% of Instagram users take action after viewing a post, and Instagram users are 70% more likely to make mobile purchases than non-Instagram users, meaning the platform could work well for advertisers without them paying to promote content.
Facebook's strengths and weaknesses
It's clear both social networks have their own advantages and disadvantages, but let's break them down to make your video marketing strategy decisions easier. Here are Facebook's top strengths and weaknesses.
Strength #1 – Massive reach: Facebook is the biggest, widest-reaching social media platform in the world, hands down. Couple that with their ability to hyper-target users based on demographics information like location, age, income level and more, and you've got a perfect platform for reaching your exact market.
Strength #2 – World-class metrics: Facebook has its measurement system nailed down. Their ad management system lets you see incredibly granular data about your paid video's performance so you can learn from missteps and replicate success.
Weakness #1 – Algorithm uncertainty: It seems like Facebook changes their algorithms every month, which can make it hard for brands to know what kind of content they should be posting to maximise engagement. Unless you've got a full-time social guru on staff or outsource your social media management, keeping up with Facebook best practices for businesses can take more time than it's worth.
Weakness #2 – Forced ad spends: Facebook intentionally makes it hard for business page content to be seen because they want businesses to pay for content. That means as much effort as you spend updating your business profile with fun pictures and videos, their reach is still limited unless you cough over some money to sponsor them.
Instagram's strengths and weaknesses
Just because this platform is younger doesn't mean it doesn't have a lot to offer. Here are Instagram's biggest advantages, along with a couple things you should consider before you pay to promote your video on the platform.
Strength #1 – Non-intrusive ads: While Facebook ads can look spammy to users, Instagram's video ads look just like a typical post but with a small disclaimer. This less invasive approach seems to be working for the platform as 30% of Instagram users have purchased something they found on the app.
Strength #2 – Prime real estate: While your paid Facebook video ad has to fight for attention from busy banner ads, friends lists, menus, Stories, events, and a busy feed, Instagram puts your video ad front and centre without any content lingering in the periphery. This simple interface design gives your videos a better chance of being seen by your target audience.
Weakness #1 – Limited demographic: This can be a strength and a weakness on our list. For brands looking to target young adults, Instagram is a highly concentrated outlet where you can get a lot of ROI for your marketing dollars. But for brands with a target audience outside of that demographic, your resources are best spent elsewhere.
Weakness #2 – Smaller reach: While Instagram's popularity is on the rise, it's reach is still nowhere near Facebook's. If you're planning to promote video on Instagram, it may make sense to also use Facebook to maximise your reach.
The verdict
When it comes to video marketing, we've got to give this win to Instagram, the king of all things visual. It's no surprise that Instagram won this challenge; the platform was designed and built specifically to showcase visual posts. And while brands are overwhelmingly more present on Facebook than on Instagram, this platform has a lot of value to bring to a marketing mix. The benefits that most influenced our decision and earned Instagram the crown include:
Instagram has better organic reach. Facebook is a great platform for highly targeted paid ads, but if you're looking to build brand awareness and connections with your consumers without paying for content, you're in the wrong place. Facebook demotes unpaid business posts to encourage brands to pay for impressions, and while that makes sense for their business model, it doesn't necessarily make sense for other businesses. Meanwhile – at least for now – Instagram makes it much easier for brands to reach consumers with posts and Stories, giving brands two ways to directly share video content with consumers without paying for it.
Instagram has less visual clutter. Facebook's interface is crowded, especially on desktop. Your video posts and paid ads are competing for space with multiple menus and navigations, Stories, events, Facebook Watch videos, and other posts in user feeds. On the other hand, Instagram's interface is much more minimal; when you post videos on the platform, your videos shine, uncrowded by other kinds of distracting content.
Instagram is growing, and Facebook… isn't. Facebook's time as the global social media leader may be coming to a close sooner than we think, especially when it comes to young people. The platform has seen a 9.9% decrease in users ages 12 to 17, and if those numbers are indicative of the future of the company, Facebook might be in trouble. Quite the opposite, Instagram usage around the world continues to grow, and there's no sign of that teetering off anytime soon.
There's no telling how big Instagram could get or what video features this app could launch in the coming years, but we advise brands to come along for the ride. As you set out to make the most of your Instagram video marketing, consider these three tips:
Take advantage of testing. A/B test to make the most of your paid ad campaigns. Test different captions and calls to action to ensure you're making the most of your advertising budget.
Don't look spammy. Instagram is built to display stunning visuals, not sales collateral. Stand out in a feed by using bright, vivid, captivating visuals to draw your audience in. Then gracefully weave in your story and inspire action.
Check out our ebook. Read How to Use Video on Social Media for more tips and tricks to optimise your social media video marketing.