If you haven't heard of GIFs by now, you must be living in a black hole.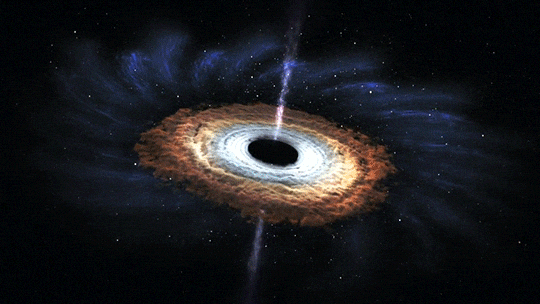 (GIF link)
Or under a rock.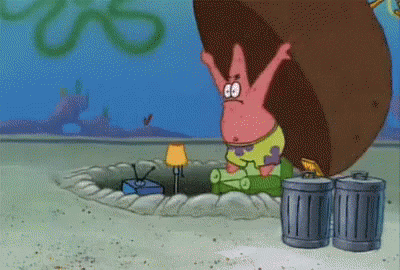 (GIF link)
Or maybe you're never heard of the internet, in which case: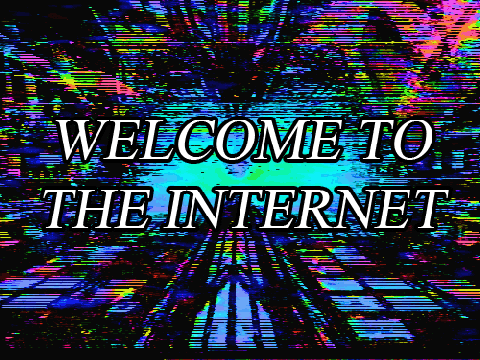 (GIF link)
Arguably the most fun part of online communication, GIFs are a sequence of static images that create a unique effect when strung together like the examples above. They add excitement to social media posts, energy to text and email conversations, and generally make the internet (and this post) a more fun place to be.
Many people like to create their own GIFs to use on their website, in social media, or on other digital platforms. If you're one of them, you've come to the right place. We've collected a list of the best GIF creator apps around – organised by iPhone and Android compatibility – and reviewed them so you don't have to.
What is a GIF creator app?
GIF creator apps are apps that let users collect or upload videos or images to make GIFs from scratch. Most of these tools let users add special effects like emojis, images, text, filters, and backgrounds for extra customisation. They also come with the ability to export files, and some of them integrate directly with social media channels to facilitate seamless posting.
Each tool on this list has a different set of features, so be sure to read the entire post before selecting the right app for your personal or professional use. Spoiler alert: we've selected the best apps for iPhone and Android at the bottom of the post.
12 of the best GIF maker apps – reviewed
Without further ado, let's jump in! Here are the 12 best apps available for iPhone and Android, plus our favourites for each platform.
GIF maker apps for both iPhone and Android
1. GIPHY Cam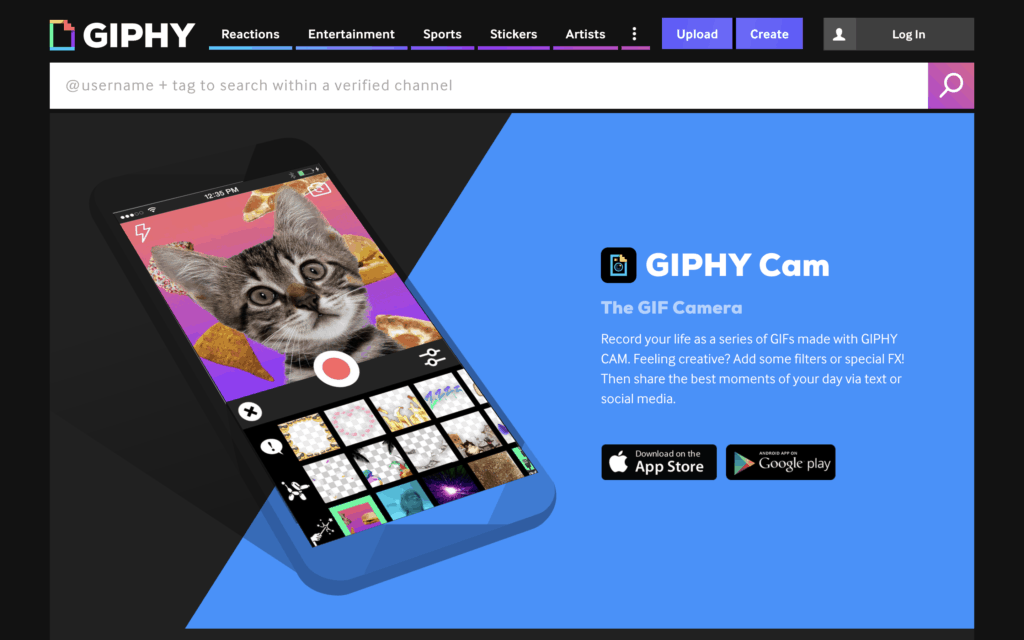 GIPHY Cam is an app developed by GIPHY, one of the biggest names in the GIF world. As you can imagine, this industry leader packs a punch in their app. GIPHY Cam allows you to capture footage with your phone and then add special effects, text, and filters before sharing them on social media or in text messages.
But GIPHY Cam isn't just for creating GIFs from scratch. You can also import your own videos and use their tool to add fun elements to existing footage. The only downside we can find about this app is its reliability; some users report system crashes when they try to save GIFs to their phones. GIPHY Cam is available for free on both iPhone and Android.
2. Gif Me! Camera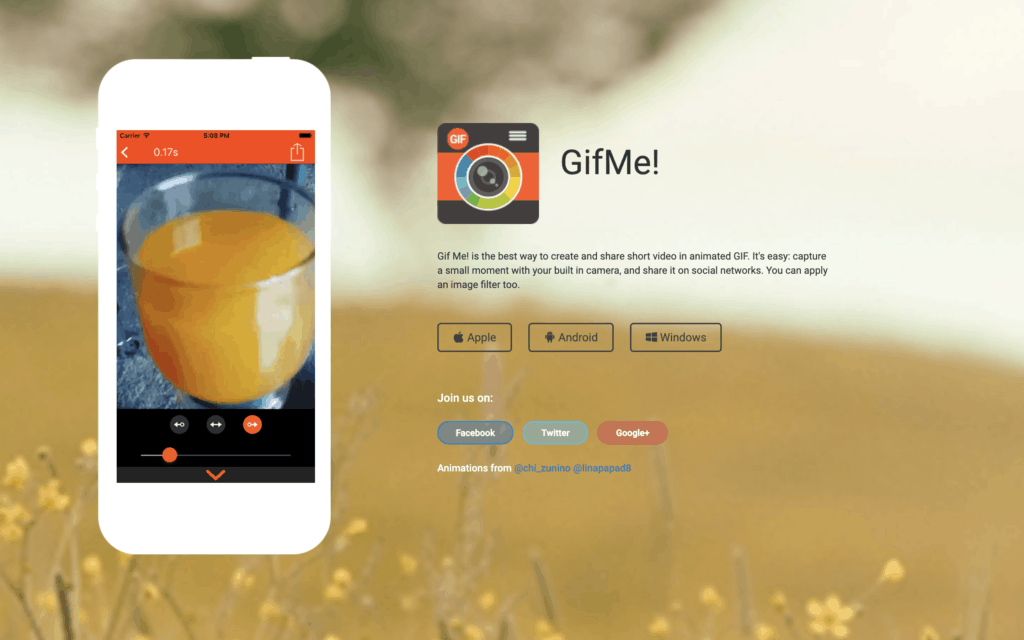 Gif Me! Camera is an easy-to-use GIF creator app made with usability in mind. This app was designed with a simple and intuitive interface, which makes GIF-making quick and easy. In many ways, it's a lot like the other apps on this list. You can add filters, special effects, and other fun elements before exporting your GIFs to social media.
The most impressive part of Gif Me! Camera is its massive collection of features. You can make GIFs from scratch, edit existing GIFs, convert videos into GIFs, and even convert images into GIFs. While a few users report buggy experiences, mainly unexpected crashes during the exporting process, this app is well engineered and well designed. Gif Me! Camera is available for Android and iPhone for $1.99.
3. Pixel Animator: GIF Maker
Pixel Animator: GIF Maker puts a unique spin on GIF making by focusing specifically on pixel-based GIFs. This app lets you create pixel art and turn it into a GIF for a unique, retro video game-style feel. With Pixel Animator: GIF Maker, you can make sprites and avatars pixel by pixel, or piece together characters with existing parts from their library. Then turn your design into a moving GIF and export it to social media, or save the file to your phone. The app is easy to use and puts a fun twist on GIFs with this retro art form. It's available for iPhone and Android for free with the option to buy additional in-app features, filters, and effects.
4. ImgPlay – GIF Maker
ImgPlay – GIF Maker was designed with fun and practicality in mind. Select from multiple canvas sizes depending on where you're posting it (use a 1:1 canvas for Instagram, but use a 2:1 canvas for Twitter) to get started, and then select from a huge collection of design elements. ImgPlay – GIF Maker has an extensive collection of static stickers, animated stickers, filters and more. You can also sketch on top of a GIF using their pen drawing feature to get super custom designs.
What we like the most about this app is that it's 2-in-1 functionality – you can also use ImgPlay – GIF Maker to make the second-best thing on the internet: memes. The only thing we don't like about this app is unless you pay to upgrade, each GIF automatically comes with a watermark in the bottom-right corner. ImgPlay – GIF Maker is available on iPhone and Android; both versions are free and come with the option to purchase additional features in the app or pay to remove the watermark.
5. Tumblr
If you've heard of GIFs, you're probably familiar with Tumblr. Tumblr is a microblogging and social platform that took off in 2007 and is still going strong. The app has a built-in GIF maker feature, letting users create and customise GIFs. While not as robust as some of the other apps on our list that were created specifically for GIF making, Tumblr does allow you to create them, add stickers, overlay text, and more. This feature is free on Tumblr's app on both iPhone and Android devices.
6. GIF Toaster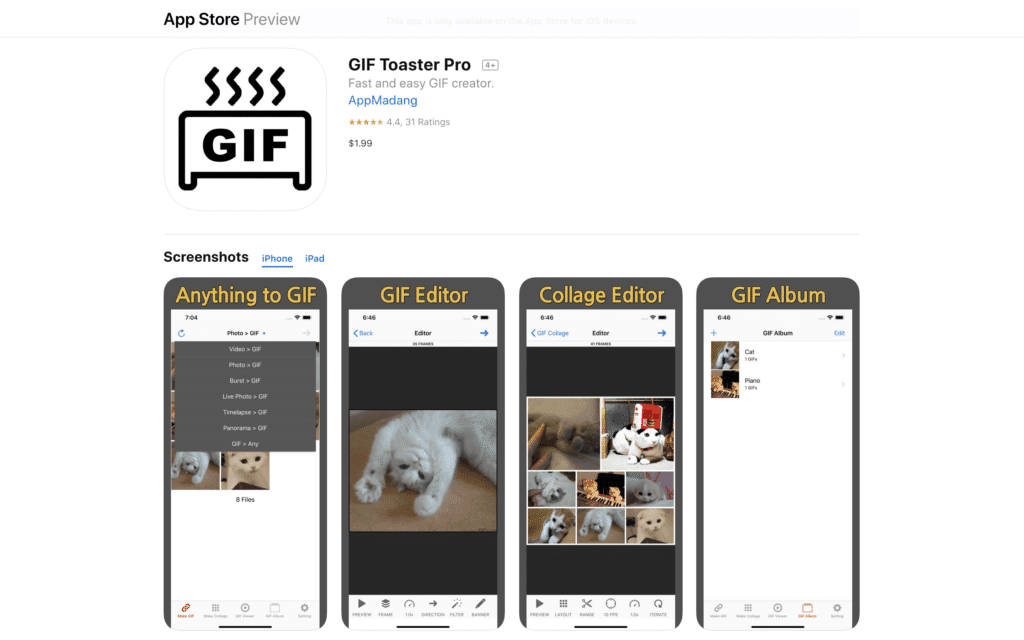 GIF Toaster lets you convert almost anything into a GIF. Videos, photos, bursts, timelapses, panoramas – if you can name it, you can make it a GIF with this app. Their editing features are pretty standard, but GIF Toaster also comes with a photo collage creation feature, which adds a little differentiation to the app. GIF Toaster is available for iPhone and Android; both versions are free with the option to upgrade to a Pro package to access additional features for $1.99. However, Android users beware. Many Androiders report technical issues with quality, functionality, and ease of use.
GIF maker apps for iPhone
7. GIFX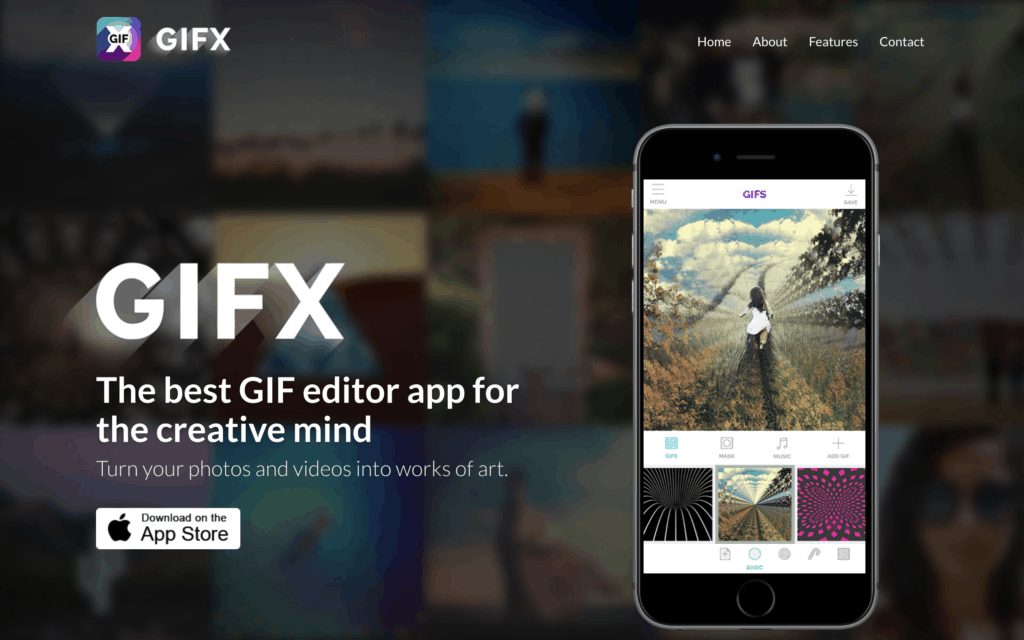 GIFX is an iPhone-compatible app that lets you make a GIF from a collection of photos, an existing video, or an existing GIF. Simply upload your original content to get started, and then add one of their 300 artistic masks, stickers or frames to your content and export a file. The app is unique in that you can layer an animated visual mask on top of a static photo to create a trippy, artistic look. We love that it lets you turn a GIF into a piece of art, not just a funny moving meme. We recommend this app for people who want to use GIFs as a more sophisticated, creative piece of content. GIFX is available on the App Store for free with the ability to upgrade to access premium masks and frames.
8. GIF Maker
GIF Maker is an iPhone GIF creation app that allows users to turn photos, videos, and live content into GIFs in an instant. Upload your existing content or record content in the app, and then add funny memes, filters, and captions. Customise it even more by choosing the speed of your GIF loop, and then share your creation to social media or save it to your phone. This app is easy to use, straightforward, and comes with all the standard features. However, unlike some of the other apps on our list, those features come at a price. GIF Maker is available in the App Store for free for 30 days, and then costs $9.99 per month.
9. Video to GIF
Video to GIF is an app available for use on iPhone only. Its most unique feature is the ability to upload a video directly from YouTube to turn video content into a GIF. While easy to use, this app's features are somewhat limited. The biggest piece of feedback users have is the limitations around text overlays; they report frustration with limited colours and layout options. While Video to GIF offers extra features for purchase within the app, the foundational features get the job done and don't require a watermark. We recommend this app for people who want to take advantage of its unique and seamless integration with YouTube.
GIF maker apps for Android
10. GIF Maker – GIF Editor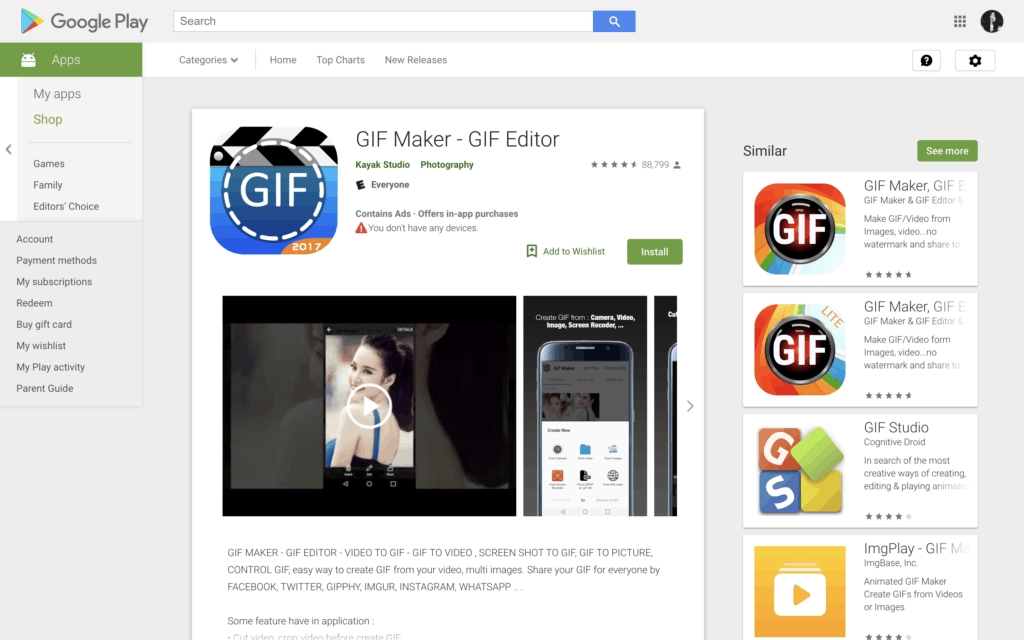 Cut, crop, edit, speed up, slow down – it's all possible on GIF Maker – GIF Editor. This app comes with all the functionality you'd expect, and while it nails the basics, it doesn't provide any outstanding features that make it jump out on this list. In addition, many users are reporting errors with the most recent version, so be sure to have a back-up plan if you experiment with this app. GIF Maker – GIF Editor is available for download via Google Play. The free app comes with in-app advertisements, and users can pay $2.99 for the ad-free version.
11. GIF Studio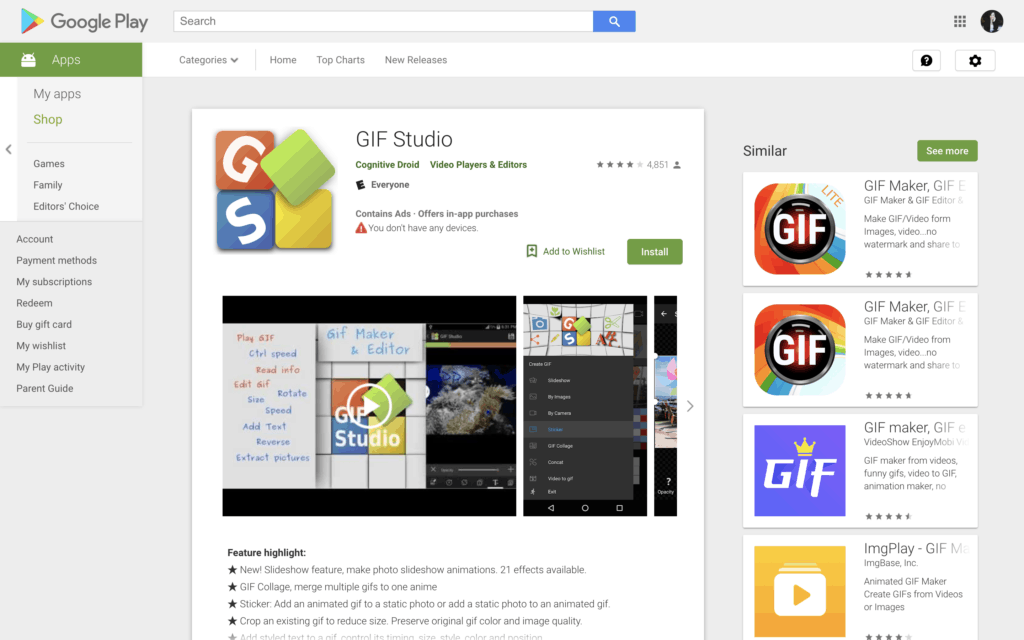 GIF Studio's tagline is "More than a GIF Player," and they're right. You can do all the basics like control timing, add filters, and crop and edit GIFs. But GIF Studio has some unique features too. Users can merge multiple GIFs into one animation, reduce file sizes while preserving quality, and create a collage, adding an entire new dimension to this medium. The app's easy-to-use interface was designed to make editing easy and hide the technical intricacies going on in the background – and it does. GIF Studio is available for Android on the Google Play store. The free app comes with ads, but users can upgrade to an ad-free version for $0.99.
12. GIF Camera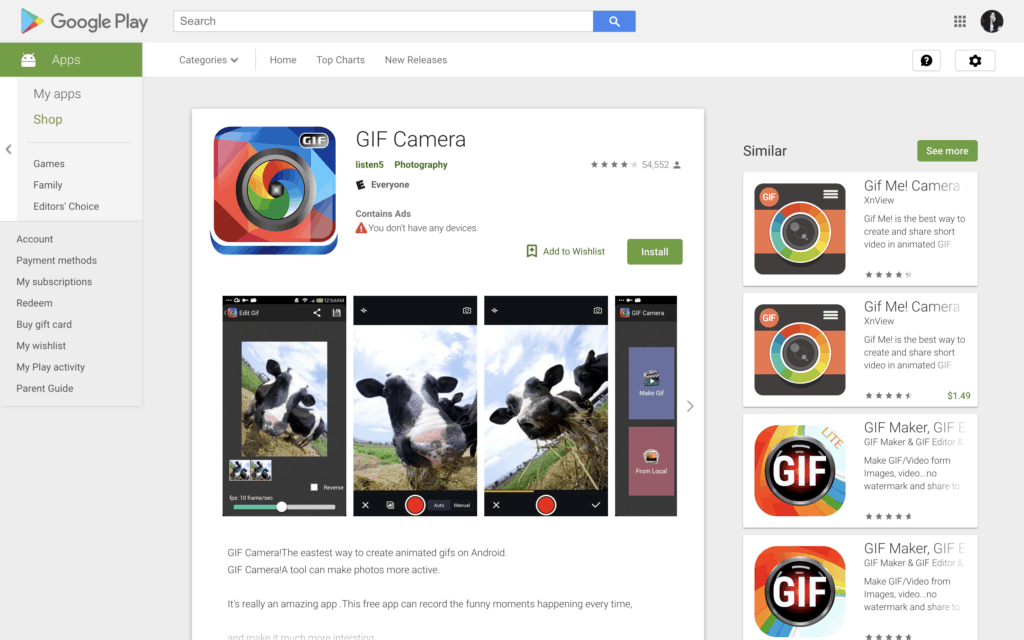 GIF Camera was designed to create GIFs from your own collected footage. This is a simple app; there aren't a ton of bells and whistles, but users who are looking to turn images or videos into simple GIFs will love how easy it is to use. However, if you're looking for an app that allows you to add artistic stickers and filters, you'd be better served checking out another option on our list. GIF Camera is free on the Google Play store but comes with in-app ads. There is currently no option to upgrade to an ad-free platform.
Our favourite GIF creator for iPhone
Our favourite app for iPhone earns the top spot not just because of its features and easy-to-use interface, but because it takes this media to the next level. GIFX takes this simple piece of content and turns it into a piece of art. Sure, you can do all the normal things other apps offer, but this app allows for more sophisticated artistic expression and polished final pieces. Whether you want to spice up your Instagram feed, create looping graphics for an artistic brand's website, or design a GIF for an email campaign, GIFX will empower you to step up your game and play in the major leagues.
Our favourite GIF maker app for Android
Our award for best GIF maker app for Android goes to GIPHY Cam. Not only is the user experience super slick on Android, but it has unmatched customisation options. Add colourful text and then animate that text so it moves on screen. Add hand-drawn overlays. Layer on filters and stickers. You could spend hours perusing the different features on this app and still not cover everything. And did we mention it's free? If you're looking for the ultimate GIF maker app for Android, look no further. GIPHY Cam is what you've been searching for.
Wrapping up
Is your mind spinning with visions of creating and sharing awe-inspiring GIFs? If so, remember that you don't have to make them from scratch. If you have existing videos you want to turn into GIFs, you can use a simple video-to-GIF converter. If you're ready to GIF it a try, check out our Top 12 Video to GIF Converters post, where we review the most popular converter apps out there so you can find the one that's right for you.