The names Jawid Karem, Steve Chen and Chad Hurley probably don't mean all that much to the average person on the street.
But perhaps they should: these three men are responsible for the creation of the world's second most visited website.
They were working at PayPal, when, in 2004, they were inspired by their inability to find video footage of significant cultural events. Their solution? A video sharing site that would make it easy to share and discover video content.
They called it YouTube. And, of course, the rest is history.
But the truth is, YouTube is the tip of an enormous iceberg. Video content has soared on the back of a perfect storm of faster, cheaper internet and increased demand for video content.
In a recent survey we found that people watch an average of 18 hours of online video per week, an average increase of 2 hours from last year, and over 7 hours across since 2019.
Sure, YouTube is the biggest player in the online video space. (It's not even close!)
But there are other sites, too.
In this article we'll be taking a look at 10 other video websites, beside YouTube, that are essential for your business.
Vimeo is an established name in its own right, and that's unsurprising: it actually predates YouTube, having been founded in 2004.
Initially, the premise of Vimeo was very similar to YouTube – a place for individuals to upload video content, for consumption by a global audience.
But, presumably in response to the unstoppable rise of YouTube as a direct competitor, Vimeo has been forced to recalibrate slightly, and now has a much more business-focused offering.
This is reflected by the fact that the Vimeo home page takes you not to a video catalogue but to a pretty formal landing page which offers viewers the chance to check out pricing, or join the site for free.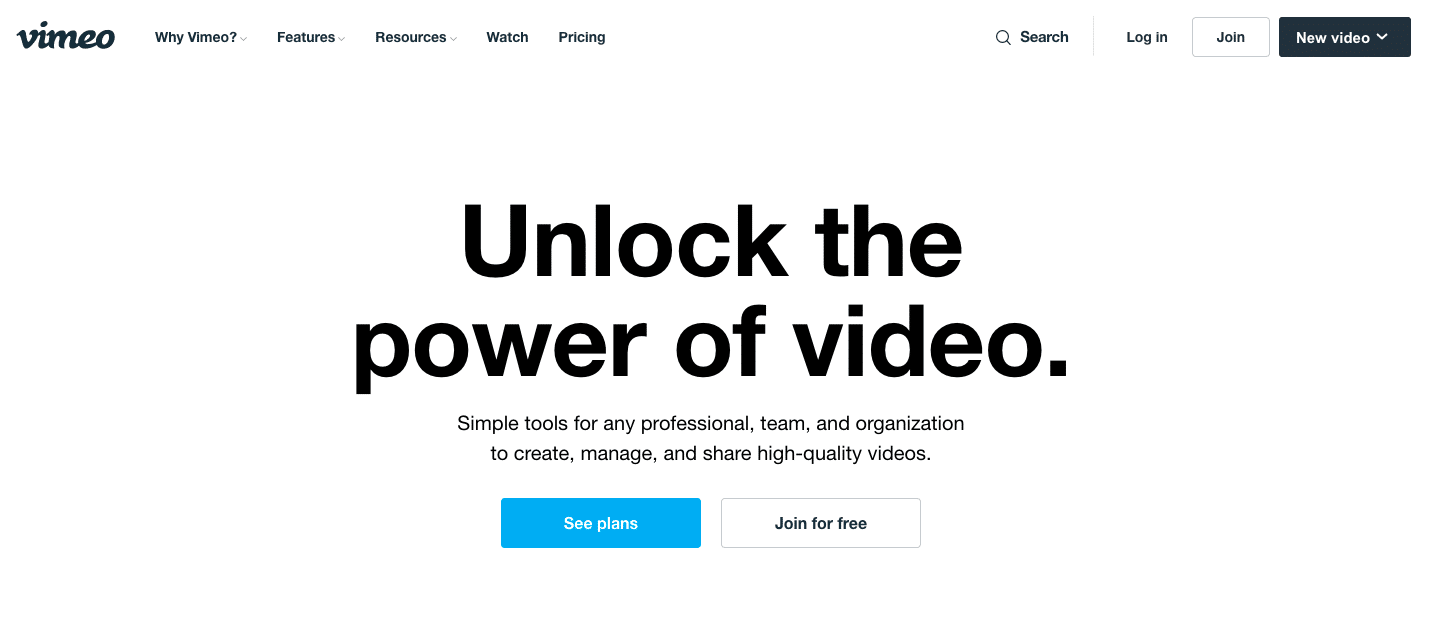 If you 'search' for videos uploaded to Vimeo, you can still find them…
…and videos uploaded to Vimeo will also appear in the 'Videos' tab of Google's SERP, which is a bonus…
…but Vimeo as a tool for organic discovery is really not what it once was. It's just not the sort of site that people are going to be browsing to find videos that may take their interest like YouTube.
This means that, essentially, Vimeo has pivoted towards being more of a hosting platform – with smart business features like customisable video players, plus streaming features with graphs, Q&A's and polls.
But it's fair to say that, when compared to pure 'hosting' sites, Vimeo's history as a searchable video portal makes it a useful tool for creative businesses to share their portfolio.
Give it a try if…you're a freelancer/creative team/small business looking for rich video functionality to showcase your work, or looking to directly reach your customers with examples of past projects.
A relative newcomer to the video marketing landscape, IGTV (Instagram TV) was launched in June 2018.
It was designed to satisfy a very particular need: until that point, Instagram videos were limited to 60 seconds in length.
IGTV allowed individuals and companies to create and share long-form video content (up to 60 minutes long) on Instagram.
Although IGTV was initially highly visible in the Instagram app – with a button on the home screen – this has since been pared back slightly.
However, if you upload a video longer than 60 seconds, it'll appear on your followers' timeline, and play the first 60 seconds – after which the viewer is given the option to 'Watch on IGTV' which takes them into the IGTV player.
IGTV emulates YouTube with its content discovery mechanism. Viewers can click and scroll to find content Instagram thinks would be good for them, trending videos, or content from brands they already follow. This means it isn't just a case of uploading video for your existing audience: there's a network effect that can amplify your reach, and grow your following.
Although videos initially had to be uploaded in portrait/vertical format, this has now been opened up and you can upload traditional landscape/horizontal video content.
This is great for businesses because it means that, rather than tailor-making content for IGTV, you can simply use it as a channel to cross-promote content you're already using on YouTube or elsewhere.
We can't leave Instagram behind without touching on Reels, too. This feature – launched in 2020 – was ostensibly Instagram's attempt to compete with TikTok, allowing creators to upload short-form 15 or 30 second videos. (This has since been increased to a 60 second limit.) So if short-form video is still your bag – check out Reels.
Give it a try if…you're looking to reach a wider audience with your longer-form video content.
There's really no need for introductions or background when it comes to Facebook. It's clearly a social media phenomenon with a staggering worldwide audience.
For a number of years, it's been reported that Facebook is looking to directly challenge YouTube's video market share and dominance. For example, they're directly looking to recruit YouTube creators for their own platform.
But what does this mean for you? Well, while you can share YouTube uploads to Facebook – and have them play in-window – as you might expect, Facebook much prefers to prioritise 'native' video content, over content shared from other platforms.
With organic reach already a considerable stumbling block for achieving ROI on Facebook, you need to take any advantage you can get. So while uploading your videos to Facebook as well may not guarantee success – it costs nothing, and it can't hurt.
Beyond reaching your own followers, Facebook Watch offers a route to a potential new audience.
This is Facebook's own version of YouTube – a curated video library of content which Facebook's omnipotent algorithm deems to be well-suited to your own tastes.
There's a search function in the top-left corner of the screen, and users can also collate their own 'Watchlist' which notifies them when new videos have been uploaded.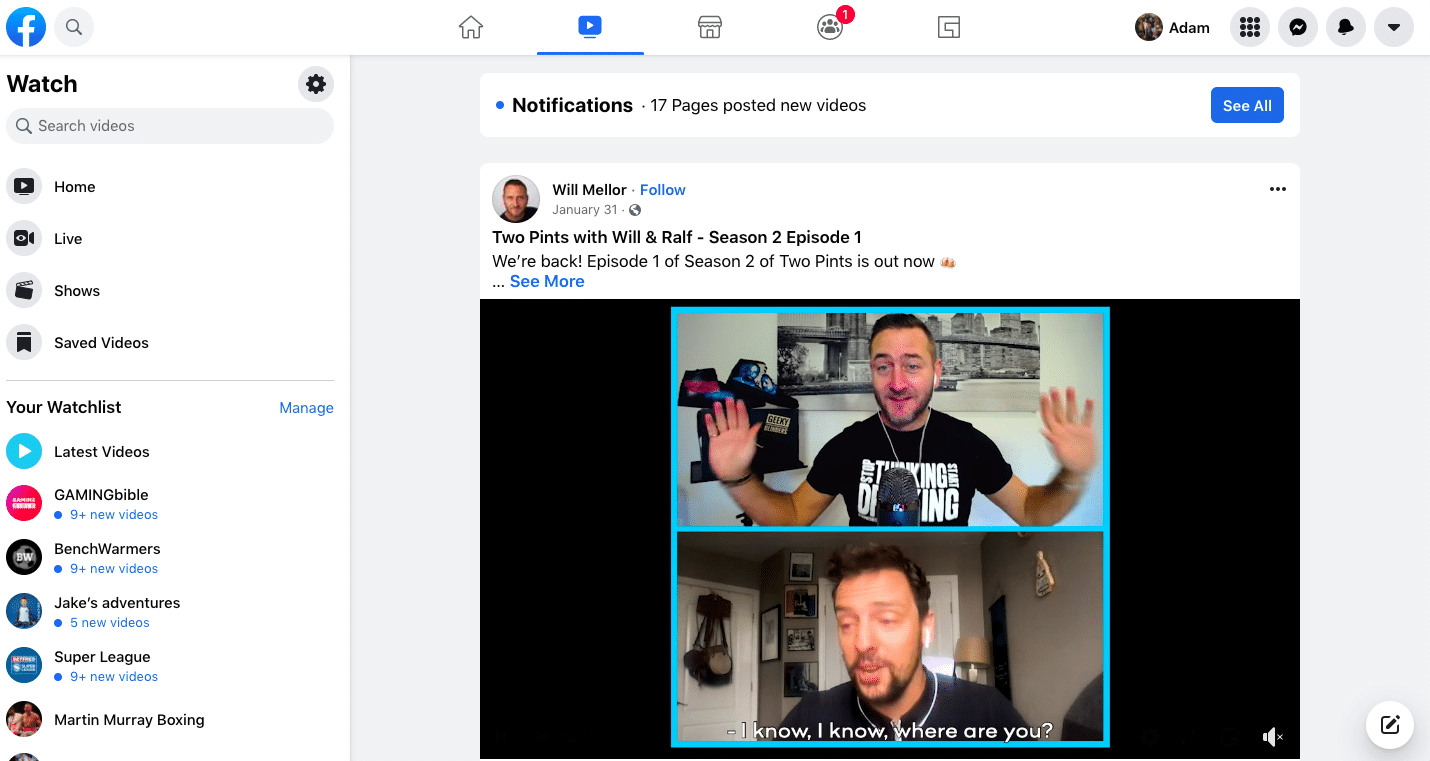 Give it a try if…you want to extend the organic reach of videos posted to your timeline, or reach a new audience through Facebook Watch.
Launched in September 2016, TikTok has quickly become a viral sensation.
It's been downloaded more than 2 billion times, in 200 countries, and Android users spend an average of 13.3 hours on the app each and every month. (Source)
To be blunt, the jury's still out on TikTok as a content vehicle for brands – with adoption among businesses still relatively low compared to other channels.
However, there are grounds for cautious optimism here…
Our research shows that usage of Tiktok as a marketing tool doubled from 2019 to 2020, and over two-thirds of marketers report having success with the channel.
And although it's still a bit of a 'Wild West' for brands, there are success stories, like Ocean Spray – a 90-year old drinks company who saw 15 billion media impressions and upticks in reach, sales and other metrics on the back of a TikTok video they didn't even create.
A note of caution though: it's important to understand the TikTok audience, and what they're looking for. When asked in the 2020 GlobalWebIndex survey how they mainly use TikTok, the majority of respondents answered: "to find funny/entertaining content."
This isn't a platform for sharing your sales patter or going heavy on product features, but if you have a story to tell or can bring some humour to your brand, there's plenty to suggest that TikTok has potential for business. (Not to mention the usual advertising opportunities that exist beyond organic content.)
Give it a try if…you've got a flair for creating funny, entertaining or emotive content and aligning this with your brand offering, or you're looking for an untapped ad platform to reach a new audience.
Dailymotion is a French video-sharing platform that, just like YouTube, was launched in 2005.
Those familiar with YouTube (which is, er, everybody) will find this experience much more similar than others we've covered in our list so far.
Clearly, Dailymotion has been left behind and dwarfed by the success of its Google-owned competitor – but it remains a good site for potential video discovery with home page categories such as featured, news, sport, entertainment and music.
The brand's strapline – 'The home of videos that matter' – does hint at its slightly more nuanced positioning as a hosting platform for current affairs and topical video content.
Publishers can monetise content, just like on YouTube, although – with a smaller audience – as you'd expect, you'll find fewer creators and, on the whole, less content. (Not to mention that the difference between the money you can earn through YouTube and Dailymotion is like comparing night and day!)
There are caps on what most users can upload to Dailymotion, including a 60 minute maximum length, and a limit of 10 uploads per day (for a maximum of 2 hours of content). These won't be a big deal for most users but they're worth pointing out.
One final but important point to mention is that, whether this is a good thing or not, Dailymotion does have a reputation among many for its lenient approach to piracy – which has led to the site being banned in some countries, and some high-profile lawsuits that have hurt the brand's image.
Give it a try if…you're uploading topical/news content, you want to potentially amplify the reach of your video, or you want to embed your videos on your website with a different player window to the ubiquitous YouTube one.
Twitch is a live streaming service which launched in 2011, and was later purchased by Amazon.
It's typically been seen over the years as a platform for gamer streaming, but increasingly, it's diversifying into a channel for comedians, entertainers, variety acts and more. (This was accelerated during the 2020 lockdown, with many comedians and entertainers unable to entertain at live venues, and seeking alternative revenue sources.)
In fact, the top category of Twitch stream is 'Just Chatting' – in 2020, more than 1.9 billion hours of global watchtime worldwide were spent on these ostensibly non-gaming streams.
We won't dwell on Twitch's monetisation options, because unless you're interested in streaming yourself, the main interest for brands here is in advertising and sponsored content.
Give it a try if…you're looking for a new (and increasingly popular) channel to advertise on.
Wistia is a video hosting service specifically for business.
It comes with tons of cool features tailored to help companies get the absolute maximum out of video, including a sleek, professional and minimalistic player window which you can embed on your website, as follows…
Wistia also comes with a host of other functionality, including turnstile tool – which can turn your videos into gated lead magnets…
…and Wistia Soapbox, a free, standalone webcam and screen recorder for Chrome extension that lets you record and mix talking head/screen recorded footage in seconds with no equipment and minimal editing.
This is a fantastic tool for training, presentations, sales videos and more.
Give it a try if…you're a business and you want to take advantage of (in our opinion) the most beautiful player window, and a bunch of business-specific functionality to maximise your video ROI.
Squarely aimed at creatives, Behance is owned by Adobe, who call it 'the world's largest creative network for showcasing and discovering creative work.' It isn't just for video, but more of a social network for all sorts of creative work including design, branding, illustration, animation and more.
Founded in 2005 (a recurring theme) Behance grew quickly before being acquired by Adobe in late 2012.
Behance visitors are invited to 'search the creative world at work' and can 'Appreciate' (like) any project, as well as messaging the person who made it.
On the whole the site is very much 'C2C' – creatives to creatives – meaning it's a must-use site for video professionals, as it can lead to career opportunities, networking, publicity and more.
For businesses looking to reach an audience and gain sales? Not so much.
Give it a try if…you're a creative or creative team looking to get your work out there, gather feedback, and build your reputation.
Brightcove is another site that predates YouTube, having been around since 2004, and they're another company that have pivoted towards a business audience.
Their strapline, "Video that means business" speaks volumes – as does a stellar client list which includes the BBC, Adobe, MasterClass, Ford and Burberry.
They also profess to have 'the most complete video tool set available,' which is a bold claim – but one that does stand up to scrutiny, with their product including everything from storage, to video management, to live streaming, interactivity and more.
They invest over $40m per year in R&D, with an obsession over uptime, reliability and security.
And perhaps their most impressive feature is a HTML5 video player – which they claim is 70% faster than any other player out there and can be used in every type of screen available.
Give it a try if…you're looking for a business-specific hosting provider with a lot of neat bells and whistles.
Loom offers something a little different to others in the list: quick, seamless video messaging for work that lets you record your webcam and screen, and send quick, powerful messages to people inside (and outside) your team.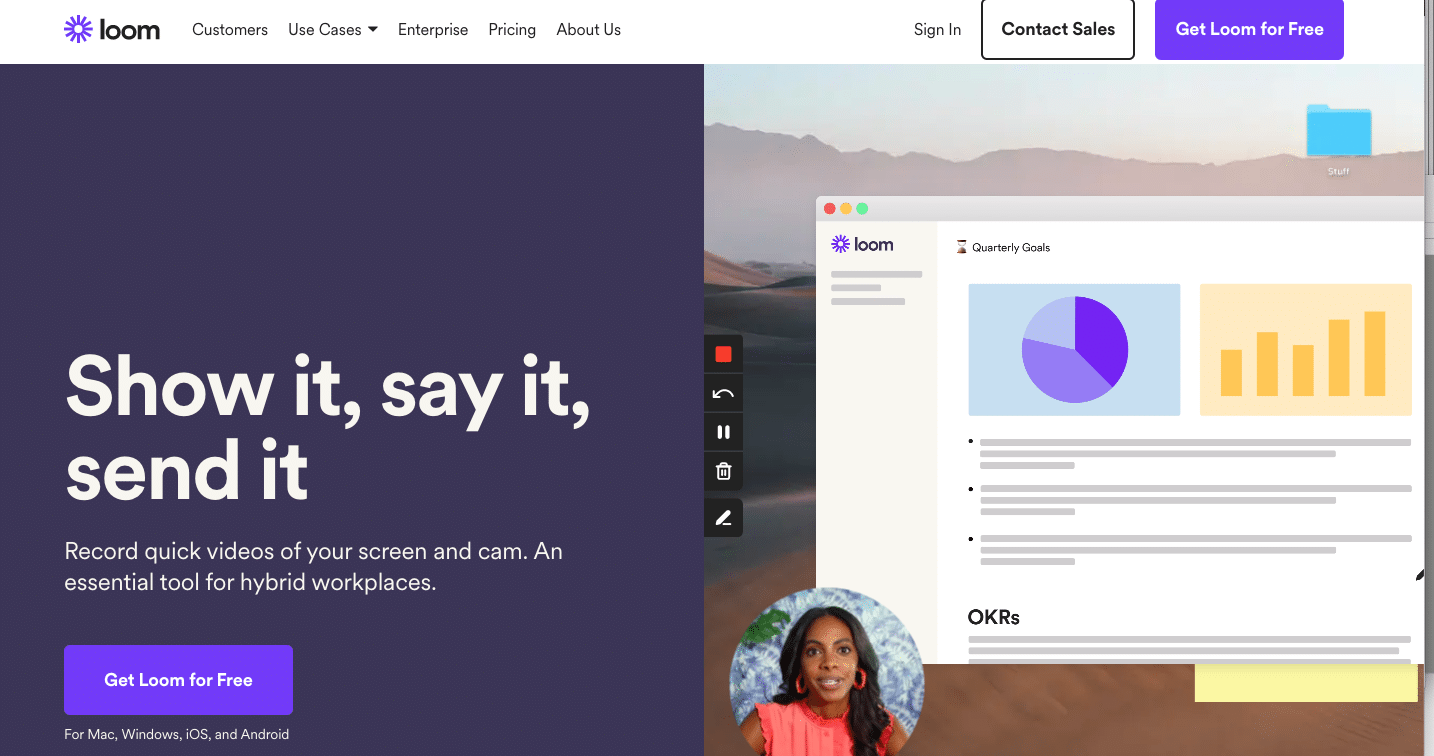 Founded in 2015, they experienced rapid growth amidst the backdrop of the pandemic which created many remote or hybrid workplaces overnight.
Recording video messages in this way isn't always your first instinct when it comes to explaining something or getting in touch with a colleague. But it's often much quicker than typing an email, or arranging a meeting. You can simply record, send – and the recipient can watch, and learn, at their leisure!
Give it a try if…you want to roll out quick, seamless video messaging in your team.
Thanks for reading!
The power of video is vast, and wide-ranging. From video messaging, to hosting, to content amplification and social networking, video is the fuel that drives the engine of growth for many businesses, across niches and industries.
If you take nothing else away from this article, take away this: there's more to video than YouTube!
Take your pick of the sites we've outlined above and you can start to use video in different, exciting ways, generating maximum ROI throughout your business.
Good luck!