An explainer video is the perfect weapon to add to your online marketing arsenal. According to 76% of businesses interviewed in a recent survey, video provides a good ROI.
And consumers like videos too!
A staggering 98% of users say they've watched an explainer video to learn more about a product or service. So, as you can see, it pays to have an explainer video.
Creating an explainer video can be an exciting process, or a terrible one — it all depends on the company you work with.
A video is not exactly a light investment. A typical explainer costs thousands of £££ and it can take weeks, or even months, to get it perfect. So it's important to find the perfect explainer video company to work with.
In this article, we're going to run through three of the most important factors to consider when looking for an explainer video company.
Alternatively, if you want to create your own explainer video (DIY style!), check out this article: What is the best animation software?
1. Cost
Cost is often the most important factor in every decision we make, whether at work or in our home lives. If something is too expensive for our budget, we simply can't afford to purchase it.
Some marketers tend to feel this way about video, with 15% saying they don't use video because it's too expensive. But the great thing about video is that the price is highly variable. You can make an explainer video for as little as £1,000 to as much as £25,000 — depending on the style of video you're after, and the company you work with.
If you're happy creating a video from stock images, then you may be able to make it for as little as a few hundred pounds. However, it probably won't give you a return on investment because it's unlikely it will be engaging enough to attract viewers.
On the other hand, if you have a huge budget with thousands to spend then maybe you want to get in touch with a renowned director and a few of your favourite actors. A video like this will surely be engaging, and may even reach viral success. But again, it may not give you the ROI you're looking for. An all-star cast is definitely capable of attracting a lot of people, but maybe not the right people for your brand.
Here at Wyzowl, we make web and mobile app videos from as little as £645 per minute, and bespoke animated explainers from just £1,795 per minute. For more information on this, take a look at our pricing page.
2. Style
Whether you are an established brand or a startup, it's important that you have a unique style that helps you stand out among competitors. Seeing as your explainer video will be sitting on the homepage of your website, your unique style needs to be transferred to your video.
Just like your brand has a unique style, so do explainer video companies. Some are energetic, colourful, and fun; others are more corporate and straight-talking. To find the perfect one for you, you need to find a company on your wavelength, and one that can emulate your style into an awesome explainer video.
There are many different styles of explainer video, but the main three are as follows:
Animation
Live Action
Screen Recorded
These three styles all have pros and cons. I guess it all just depends what you are looking for as a brand. Let's take a look at these styles in more detail:
Animation
Animated videos are fun, engaging, and enable you to tell a story. Animation is often a popular choice for companies making an explainer video because there are no limits to what you can show on screen.
Want to show a guy jumping from a plane and landing on a unicycle?
With animation you can!
Take a look at this video example to see what's achievable with animation:
We're a little biased towards animation at Wyzowl, after all, it's what we do!
However, there are some cons to animation. With animation, the video becomes more about the story and less about the specifics of your product, service, or brand. This is great for engagement, but not exactly ideal if you want to drill down and show customers exactly what they're getting.
Live Action
Like animation, live action videos are great for storytelling. Here's a hilarious example that I'm sure you've seen before:
Live action videos can help prospects relate to the specific problem that your company provides a solution for. The main problem with live action videos is that they are generally a lot more expensive than the other two video styles in this article. It's also important to note that, once you choose an actor for your video, they may become the face of your brand whether you want them to or not.
Screen Recorded
Screen recorded videos are perfect for showcasing the features of an app or website. They allow users to take a detailed walkthrough of the product or service before committing to purchasing.
A positive thing about screen recorded videos is that they are usually much more inexpensive than the two styles above. A negative is that they don't look as good. With a screen recorded video, you are literally just showing your product — nothing else. No funny characters, no eye-catching animation, just your product. But this can be a positive thing, particularly if users have been struggling to understand what your website or app does and why they need it.
3. Reputation
There is a saying that goes: "Build your reputation by helping other people build theirs."
This quote sums up exactly what a perfect explainer video company should do for you. But how do you separate the good from the bad?
With more and more information being available online, it's easy to thoroughly research a company before contacting them. You can visit review sites, watch video testimonials, and see what people think on social media.
If you take the time to find an explainer video company with a good reputation, then it is more likely that you are going to end up with a video you are happy with.
Usually, all you have to do is type a company name into Google to find reviews:
Be sure to read reviews in detail to give you a better idea of what you would be getting if you chose to do business with this explainer video company: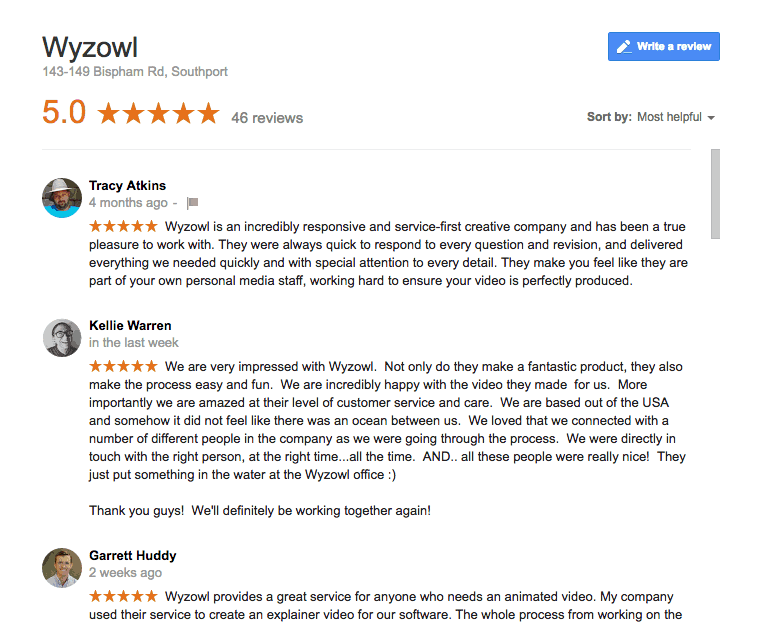 Video testimonials can also give you a more in-depth view of how the company works, and the specific trials and/or benefits that others found from working with them:
However, video testimonials are usually always very positive — companies wouldn't put them on their site otherwise!
If you want to dig up some dirt on a company then social media is the place to go. When customers aren't happy, they take to social media. In fact, over 1 million people view tweets about customer service every week, and roughly 80% of those tweets are negative or critical in nature.
So, if you want to find out if the explainer video company you're thinking of working with really is perfect, then go to their social sites and find posts from users.
On Twitter, posts to a company from users can be seen under the tweets and replies section. Or you can search for the company name in the top right-hand corner and see what comes up. On Facebook business pages there is a section down the left-hand side that allows users to post, so it's always a good idea to look here for any complaints. If you can't find any, then great! The explainer video company you've chosen really must be perfect!
Closing Thoughts
Finding the perfect explainer video company is important to ensure that you end up with the perfect explainer video! For more information on explainer videos, contact Wyzowl today!